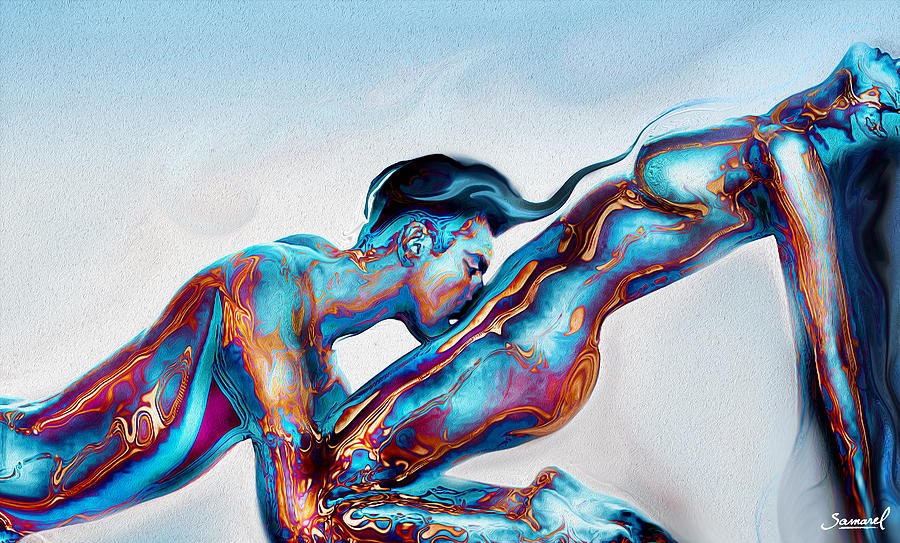 It was noon, sun blazing and the cab ride seemed endless. The day was beating like it was repeating cycles, but it was a rare moment in time. The cab finally came to a halt: Miss, you are here. Raven opened the cab door, stepping her long, svelte legs out one after the other. She straightened her tight, high-waisted skirt and began to sway her way to lunch, walking just a short distance down the cobbled street in her high heeled pumps towards the bistro.
She suddenly paused, distracted… and bumped into a man in a dark aegean blue pinstriped suit, grey collared shirt and a deep indigo tie. Her work bag fell, scattering her naughty secrets all over the curb. The man leaned down to retrieve the bag's contents, his silver and sapphire cufflinks flashing as he reached for Raven's stash of toys. She looked up, blushing with surprise, guilty as charged; she was facing a gorgeous, tall, grey bearded man holding her most precious secrets in his hands.
Raven felt her heartbeat pumping, blood rushing to her face. The man gave her a silent, seductive smirk, winking as he passed the precious belongings back to her. She felt confused; not a word from this mysterious man as he vanished into thin air. Puzzled by his presence, she collected her belongings and gracefully walked into the quaint bistro. She found a quiet spot by the window and began to sort through her belongings. As she scrambled to hide her secret toy stash, the mysterious man walked into the bistro and gave her a glance. He winked again and smiled. The embarrassment was rushing through her veins as she crossed her long legs in anticipation.
The man made his way towards her table, and asked if he could join her for lunch. She nodded, momentarily lost for words. He took a seat, set his briefcase down and introduced himself — My name is Demarco — in a deep, sultry voice. Raven introduced herself in turn, adding, So very nice to meet you. Demarco offered to buy Raven lunch for bumping into her, and spilling her belongings all over the street. But before she had a chance to respond, he continued by offering himself up to her.
Raven, would you be interested in a playful adventure with me instead of your toys after lunch? I am staying at a hotel walking distance from here.
Blushing in utter bemusement, she responded with a spark of excitement, accepting the offer. Words were few and far between over lunch as they amused each other with body language, shivers of anticipation and seduction and moans of provocation, arousing each other's palate. They closed their tab and he watched her wag her tail back down the street to a voguish hotel.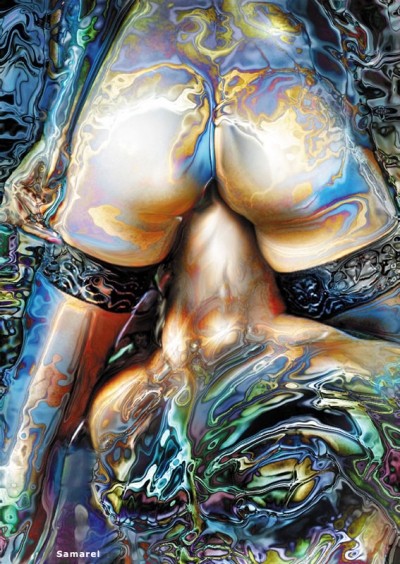 He opened the giant gold plated doors for her to enter, wrapped his arm around her bare shoulder and guided her to the seventh floor. He unwrapped himself from her body, grabbed his key and unlocked the door to mystery. It was one o'clock, prime-time for any business dealings, and they were ready to make a deal that would set rockets blazing into the sky. The door swung open, and Raven crossed the path from light to darkness.
Silent and secret they began to lay their lips upon each other, Demarco exploring Raven's neck one kiss at a time, starting at her ear and gently making his way down her neck. Her sweet spot: it ruled carnal feelings of primal pleasure up and down her spine. Demarco slowly undressed her, revealing her soft bare skin, his hands strong and firm. He grabbed the back of her neck and the shelf below her butt, picked her up with ease and carried her to the bedroom.
This lavish suite was in for a real treat. The chemistry between these two was hot like a burning flame. Demarco lay Raven on the bed and she watched him make the setting even more enticing. He lit each of the four candles in their mahogany candlesticks, reached to shut the black curtains over the windows, and turned the music to a subtle melody.
Demarco sat at the edge of the bed, unbuttoning his shirt to reveal his fit chest with a romantic intensity. His eyes were deeply connected to Raven; lying on the bed watching him in anticipation, she felt her nipples begin to harden and goosebumps spread over her skin.
She sparked with a twinkle in her eyes, watching the layers of his clothing disappear one at a time. She crawled to the edge of the bed, unbuckled his pants and stroked his stomach in sovereignty, her hands placed on his chest pulling him towards the bed. He moved like a god, confident in his own power, deliberately placing his hands with strength to please, and devouring her essence as she opened her body up to the divine experience.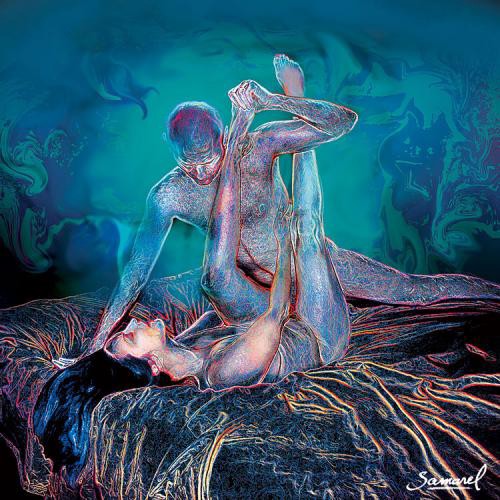 Erasing time as the intensity was building, he unzipped her skirt while rousing her. He used his tigerlike teeth to pull her panties down her legs and flipped them onto the floor. Returning his hands to the cage that had caught him, he grazed his hands all over her naked body, touching with impatience as his inner tiger roared. Deepening their chemistry, he placed his hands upon her face and moved her slowly downward. Erotic fireworks of lust and passion were exploding as this man's energy devoured Raven whole.
They stimulated every morsel of each other until the preparation was too hot to handle. Demarco picked Raven up off the bed, placed her on top of the glass table and spread her wings wide open. Sliding his hands from her knees to pelvis, rocking her hip bones left and right, swiveling in sequence as they melted away deeper and deeper into one another. Tossing and turning, the fire was burning, candle lit and pressing on her clit; this was one lunch they would never forget.