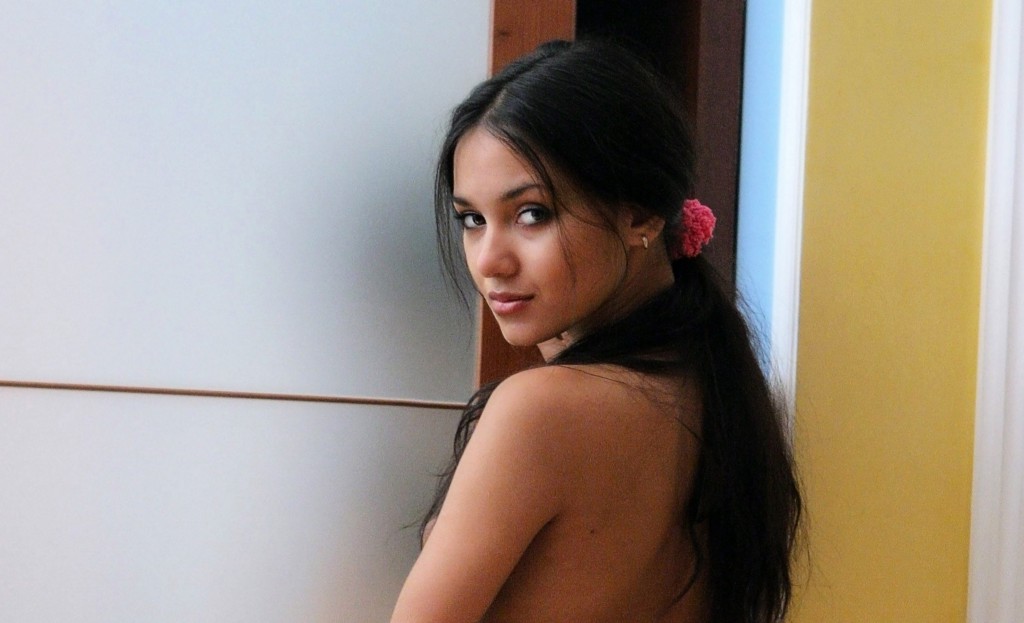 Stories from quarantine days with my boyfriend
Day one of the lockdown.
Anand was working from home. He sat at his desk in our living room, busy on a conference call from his office. He had combed his hair and was wearing a crisp shirt, looking all formal and presentable. But underneath, he hadn't changed out of his boxers — the same ones that had been stuffed in my mouth last night as he fucked me, to prevent me from screaming loud enough to wake the neighbours.
That flash of memory from last night turned me on.
I bit my lip and looked at myself in the mirror. I was dressed in one of Anand's hoodies that reached my thighs, hiding the tiny white shorts I wore underneath from view. I hadn't worn a bra; my nipples were poking through the grey fleece of the hoodie.
I too was working from home, but I write porn for a living. So, the more action Anand gives me, the richer I get.
Without guilt and with a smirk on my face, I fluffed up my hair in the mirror. I turned towards the living room and walked towards Anand, crossing my legs and swaying my hips with each step, like I was a model walking on the catwalk. Like I was a predator walking towards my prize.
Anand looked up at me. He shook his head subtly and indicated towards his screen to let me know he was in an important meeting and not to be disturbed.
Of course, I had no intention of disturbing him.
I did have other plans, however.
I got on my palms and knees and crawled on all fours to under the desk where his legs were.
He kept looking at me, pleading with me to stop. He was unable to say anything for fear his clients would know something was up. He was helpless. I loved the feeling of power this gave me.
I placed both my palms on his feet and ran them up his calves. His body shuddered at my touch. He held my head and urged me to stay away. I paid him no heed. He had tortured me several times when I was working. This was my turn.
Oh, sweet revenge. This was going to be fun.
My fingers fiddled with his boxers. I tried to pull them off. He resisted. I let go. I knew my time would come.
He was mumbling something to his boss on the call, but his voice changed as I slid my hands inside his shorts, touching the warm skin of his inner thighs. I reached up to his balls and brushed my fingers lightly against them.
His body jolted. He tired to push me away again. I resisted. Like he knew I would.
He kept his hand in my hair — in place to hold me back if I tried new tricks. But this was Anand. I knew him well. I knew what got him turned on.
I pressed my cheek against his thigh as I started playing around with his balls. I held them gently and stroked their skin. Then, I gave them a little squeeze, just the way he liked it.
I heard him let out a sigh, then suppress it with a cough.
This time, when I attempted to pull his boxers down, he didn't object. He leaned back in the chair for an instant and lifted his ass so I could pull them down in one go.
With unrestricted access, I took a moment to admire the full glory of his nakedness. It gave me a savage pleasure to think that he was still online, talking to his boss about the deadlines for today. And here I was, my ass on the floor, playing with his beautiful dick in my hands.
It was already hard — the chocolate-coloured foreskin deliciously warm. I pressed my lips to the head and gave it a long, wet kiss.
I felt his body stiffen. My view was blocked by the under-surface of the desk, but I could imagine how hard he must have been trying to keep his face from showing any expression.
"Yes, Naresh," he was saying to the screen, "I have already checked the logs and I think we can work with that."
Hmm, this was going to be a challenge. But if you know Anamika — she is always up for challenges.
There was a drop of precum shining like a pearl on the tip of his dick. I licked it off, savouring the taste. Then, I wrapped my fingers around the root of his dick and pressed my lips around the head. I started sucking softly, bobbing my head up and down as I sucked, going deeper each time. I stroked the base with my fingers, matching the rhythm of my mouth. I swirled my tongue around on his shaft, licking the surface, lubing it before I sucked.
Then, I pushed my mouth all the way down the length of his dick — taking his manhood inside me in its entirety. I held it there, rubbing the head around the insides of my mouth.
"Ggggghhhh," I gagged softly, but I held on. Tears were streaming down my face.
"Our earlier report covered that," Anand said to his computer, then stopped mid-sentence, drawing a huge breath. He continued with a lot of effort — "I will make sure the one I send tonight will cover all the aspects."
I didn't let go. I kept sucking, taking him all the way in — as far as his beautiful dick would go down my throat. I clamped down the insides of my cheeks and swirled my tongue all the way from the tip to the root. My fingers were playing with his balls, giving them the gentlest of squeezes, fondling the skin delicately.
I was out of breath. But from the way his dick pulsated and the way he breathed so hard, I knew he was close. I sucked as hard as I could, my long black hair flying around me as my head moved up and down.
"I-I am sorry," I heard him say to his clients and boss. "You guys continue. I will be — I will be back in a moment."
He must have turned the camera off. For the very next moment, he kicked the table away and grabbed my hair hard. I looked up at him, my eyes filled with tears. I gave him a look that said I would do anything for him.
"Oh, Anamika," he said, "my dick looks so beautiful on your face."
"Ggggghhh," I said in response. He grabbed hold of my hair and aided my movement. I dug my fingernails into his thighs as I sucked his dick hard. I went so fast, my vision blurred. I closed my eyes, but I didn't let go.
Up and down, my head bounced. In and out, his beautiful dick went.
Up and down and in and out. In and out and up and down.
His breathing quickened. His grip on my hair tightened. "Fuck fuck fuck," he groaned. "I am — Aaah, I am going to come."
I wanted to look at his face, but I didn't want to let go. So I clamped down harder and moved my head faster, taking in all of his seven inches and choking on it, but not letting go.
And finally — when I felt like I could hold on no longer — he exploded. He threw his head back to the ceiling, closed his eyes, and groaned loudly. Warm, sweet cum filled my mouth. I licked off every last drop of it.
I heard him let out a huge sigh, then felt his whole body relax.
Slowly, gently, I withdrew. I swirled his cum around in my mouth and stuck out my tongue to show him his load.
He looked down at me. Then, in a throaty whisper, said, "Oh, fuck. You look so hot."
With the sluttiest look I could muster, I rolled my tongue back in and swallowed his cum — all of it. It tasted sweet. It tasted musky. It tasted like him.
He was covered in sweat. He wiped his forehead with the back of his hand and looked at me, blinking rapidly. "Damn, Nami," he said, using the name he often called me. "What was that about? You knew I was in the middle of an important work meeting."
"If you are complaining…" I said, pouting my lips in mock anger, "then I will make sure this never happens again."
I stood up and walked away, not waiting for his reply.
I heard him bring the desk back close to him and turn on the speaker and camera. "I need the complete
reports by tonight," Naresh's voice wafted into the room.
I turned to look at Anand, eyebrows raised.
"Yes, I agree that this job is still not finished," he said to the computer, but his gaze was fixed on me. "Give us time till tonight. I understand this is incomplete, but I will finish what we started and leave no stone unturned to make sure you are satisfied."
He hung up. Then, he looked and me and repeated his last sentence, "I will finish what we started."
I stuck out my tongue playfully at him and said, "Oh yeah? I am very hard to please, you should know that."
He cleared his throat and laughed, "I think you didn't get me clearly. I said I will leave no stone unturned to make sure you are satisfied."
I sashayed off into the bedroom. His footsteps told me he followed close behind — like I knew he would.
This quarantine was going to be fun.
Thanks for reading. I always appreciate claps, comments, and feedback.
Read more interesting stuff here, but be warned, follow me only if you can handle the heat.