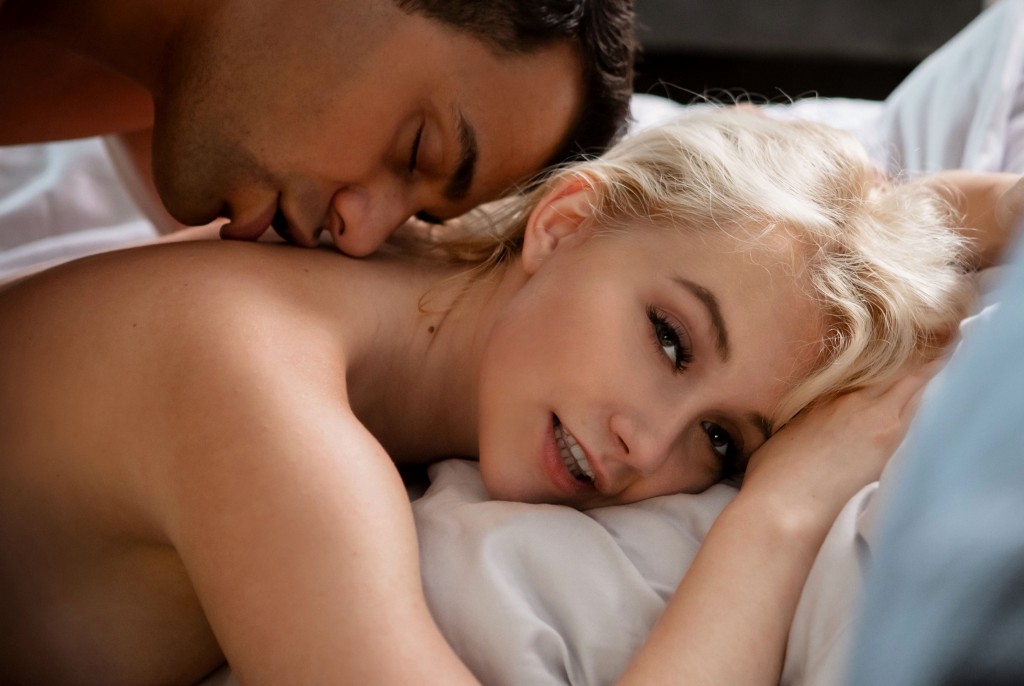 Mark was my mentor, and I playfully described him as my "work husband." He always knew the answer to every question I had about the system and nurtured my career. I learned so much, and I was forever grateful for his guidance and support.
He was so encouraging. "You should be proud of yourself, Alyssa," he said to me as he reviewed the latest report that I put together.
He was much older than me, but I couldn't help but notice how attractive he was. He had jet black hair and a lot of it. He wore slim fit dress shirts, and he had the body to pull it off, unlike most of the frumpy "relaxed fit" men in my office. Fitness was a priority, and I enjoyed soaking him in.
My lust for Mark began to invade my fantasies. At night, I would usually masturbate to my favorite streaming content. Instead of looking at my standard fare, one night, I turned to his Instagram. I looked at pictures of him and his beautiful, blonde wife. I imagined how hot it would be to see the two of them fucking. I imagined their bodies slamming into each other, and it was all I needed to get me going. I barely needed the vibrator that night; my imagination was enough to make me cum.
When my lease was up on my apartment, Mark offered me a room in his house while I was between places. I refused at first, but he insisted, and I promised him it would only last a few months. Mark and Lisa graciously let me stay in a guest room.
Lisa's beauty was striking. They had no kids, and she was extremely career-oriented. She often wore black skirts with leggings and a button-down dress shirt that tightened around her breasts. Her hair was platinum blonde. She was always very reserved and very professional. It was hard to imagine her cutting loose.
It was hard until I heard them fucking one night. Her moans filled the house; it was like she didn't even care that I was there. Her lustful moans and her grunts from across the house were hard to ignore. I couldn't help but masturbate while I imagined the two of them together. Listening to them was better than watching any pornography. Her moans were so genuine, so satisfied. She was such a lucky woman to have a man like Mark fuck her.
I noticed that they seemed to fuck on schedule. Every night, almost like clockwork, at 10:30pm, they would get started. I looked forward to it and would lie in bed listening to them go at it like fucking animals.
I built up the courage to watch them one night. I wanted to see it for myself. I tiptoed across the house in my bare feet to minimize any noise. I hoped they would have the door cracked open, and they did. I peered into their moonlit bedroom and watched them.
Lisa's big, luscious ass swayed in the air as she arched her back, accentuating her curves. Their eyes locked as she maneuvered towards his erect cock. She reached by the bedside for a bottle of lube. She let it slowly pour on his cock. He nodded as she began stroking him.
I focused my attention on Mark's rippling abs. I then looked at his face contorting in hunger as his wife spread the lube on his cock. She began jerking him off slowly, accentuating his pleasure.
As I watched them, my cunt began to drip, and I reached down, pleasuring myself as I watched Lisa edge her husband.
Minutes before, I'd seen Lisa in a conservative dress, cooking dinner. She was so reserved, utterly focused on her career. It was refreshing to know that she was a flesh and blood woman underneath the careerist veneer, and one so deliciously dirty.
Mark gripped the sheets as she stroked him. He gritted his teeth, nearly unable to take the slow and agonizing pace of the way she stroked him.
"I want to get you ready for me, babe. Are you ready for this pussy?" she asked him. She then took the lube and began spreading it on her tits, letting Mark soak in the sight of the luscious, glistening tits of his wife while she pleasured him with her hand.
I began vigorously massaging my clit, to a point where my pussy juice dripped down on the floor. I grew alarmed when it produced a dripping sound and worried that I would get caught, but Mark and Lisa were lost in lust.
She then bent over in front of him and spread the lube all over her ass. Mark watched as she jiggled her lubricated ass in the air, playfully twerking it for him. He began to jerk his cock vigorously. Mark's hands were big, which only make his cock all the more impressive. I could have wrapped two of my hands around his fat dick. He looked at her ass with total desire as she twerked it for him. She smiled mischievously, knowing exactly the effect that she was having on him.
"Please, Lisa, I need you," he begged her.
She turned around and kissed him passionately. Her fingers dug into his muscular back.
"If you need me, fucking take me," she commanded him.
She bent over in front of him, and he plunged into her pussy from behind. Mark gripped Lisa's waist and licked his lips as he slowly allowed her cunt to acclimate to his engorged girth. He then began fucking her more aggressively. Her mouth was agape as the sexy moans started to emerge from her mouth, the cries that I had enjoyed listening to every night.
I could hear her wetness as Mark fucked her hard. He playfully smacked her ass. Mark's rough hands moved down the curves of her waist, savoring the soft curves of her body. She reached down and began rubbing her clit. The moaning intensified, and the sounds of his balls slapping against her tight, dripping pussy consumed the bedroom.
Mark's lustful pounding intensified as the tempo of their fucking increased. He began grunting as he looked down at her bubbly ass rippling in the moonlight.
She looked back at him hungrily and started to fuck him. He put his arms behind his head and flexed while she moved her pussy back and forth on his fat cock.
"I want to look at you when you fuck me," she said.
As I watched the two of them, I put the robe in my mouth to muffle my soft moaning as I pleasured myself. I bit the cloth of my robe as I vigorously pleasured my cunt.
She leaned in towards him and wrapped her lips around his cock. Mark's hands gently stroked the ripples of his abs. She then removed her mouth and looked him the eye. That's when she said it.
"I love you, Mark," she told him in the genuine, gentle way that could only come from legitimate feeling.
"I love you, too," he told her, and he went in for another passionate kiss. I could tell that their tongues were intermingling. They were genuinely enjoying each other, savoring each other, loving each other.
She smiled with satisfaction as she spread her legs for him. He positioned himself on top of her. Their foreheads touched as they passionately kissed each other. She squealed as he entered her, and tightened the grip of her legs around his chiseled body.
He propped himself up, and his muscles rippled as he fucked her. He was fucking taking her and making her his own. Lisa's platinum blonde hair spread across the pillow, and she screamed out in unintelligible grunts, savoring the pleasure of his fat cock stretching out her tight cunt.
"You fuck me so good, baby," she told him as she squealed. He started pounding her hard, clearly working up a fat load to give her.
"Cum inside of me," she told him. His strokes started to intensify. I saw a bead of sweat drip down his nose onto Lisa. I looked at his tight shoulders as they began glistening with sweat. Lisa started to cry out in joyful agony as she begged for his hot cum. She nodded, looking at him in the eye. "Fucking do it, fucking cum in me," she said as her fingers dug into him and the grip of her legs tightened around him.
As he exploded within her, I saw her body contort, and she let out a scream of total satisfaction. They were cumming together, and it was beautiful.
"I love you," Lisa said to her husband. He lay down next to her, and she snuggled into his chest. I lusted after Mark and Lisa. They were a beautiful couple, and their genuine passion and love for each other touched my soul.
I stood there, savoring the image, with my legs dripping with the juices of my pleasure. It was at that moment that I think Mark noticed me looking at them. He smiled. I smiled back.
As I went back to my room, I smiled. I considered how the dynamic might change, now, but I was happy with what I had witnessed.