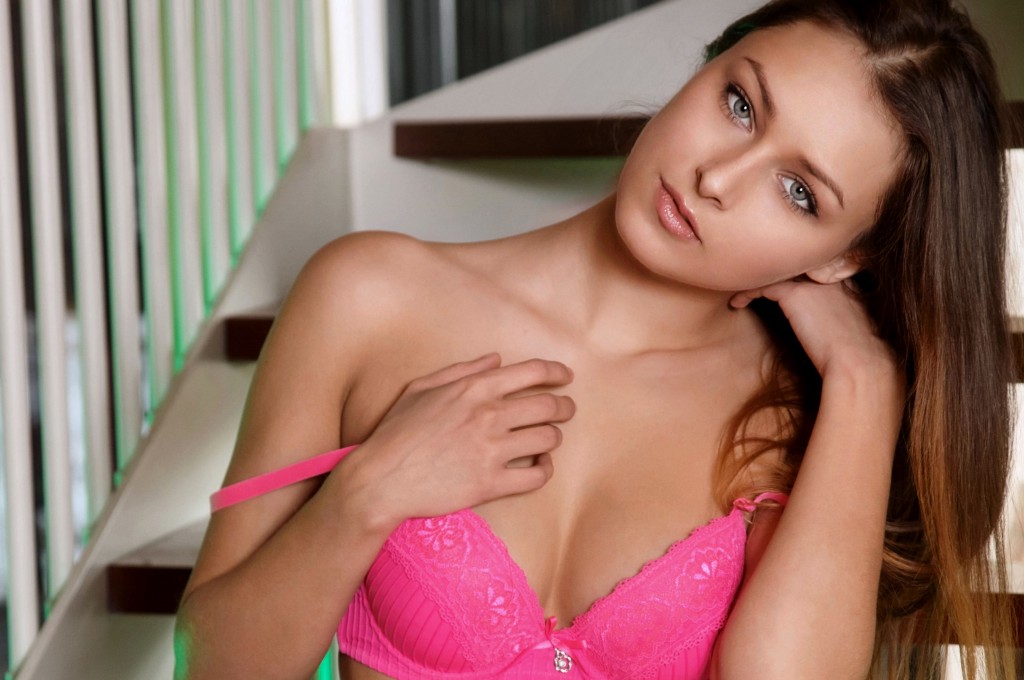 I'm in a hot pink and black silk Agent Provocateur ensemble I purchased. You were beyond miffed I didn't use the Black card all set up with customer service, should I need anything; anything at all.
"Jen," you insisted, "because I have the means and enjoy these accoutrements, I insist you use this."
Your deep kiss after handing me the card didn't give me the time to retort, "H, you pay for the toys. But if you want to buy me lingerie, make a date." And I'd wink at you.
"You can have any woman you want" — I kiss your lower lip — "and every woman, including myself" — sucking your biteable bottom lip — "wants you." Nuzzling against your ear, you hold me so tightly you trap my torso. You love banging my big tits down with your big broad chest. You feel like Tarzan. "I keep questioning why you want me. I love myself —"
"I love you, Jen." I love the way you're caressing my hair and kissing me simultaneously. It's euphoric. I wish I could write a poem about it. I'm staining your pants with my wetness. Biting your ear a little past the exit, I'm forced to turn around anyway. "I'll prove it." How the hell are you going to prove your love for me? Seriously? You have all the money in the world? "Are you going to buy me Park Place and Boardwalk?"
"No. But here are a copy of the keys to the house." You hand me a black C Forget Me Not Cartier key chain with a key to the house. The key does not look like it was cut at a hardware store. In fact the key chain itself is different than the one I saw on line. They both read "18K." You take the key chain and whip my nipples with the key. They stand at your full attention.
"H –"
You bite me gently to shut me up.
When you hand me a red leather box, I start to freak out. My whole body's shaking. I'm anticipating…
It's a beautiful platinum diamond key.
You hand me a larger red leather box, and I open another present.
"Thank you." It's the most sensuous choker. You slide my bedazzled key onto the thick platinum chain, put it on my neck, and clasp it. It's not a collar, it's a little too delicate for that, but it's close. It fits me perfectly.
"Jen," you kiss my nape as I hold my long brown locks up, "I love you." I feel your key drop into my heart even though it flashes my manubrium. "Do you know what that key opens?"
I kiss your chest with all the affection, adoration, and adulation I can possibly muster up. "Your heart?"
You stand, picking me up with you. Wow! You're on fire with passion. We just came home from an evening out. I thought the bathroom sex would have satiated you. "Jen, I'm going to have a fun time proving to you just how much I love you baby." You carry me down the stairs like a laundry basket. I know I'm petite, but I've never had anyone carry me down the stairs before. Upstairs yes. Downstairs no.
Because you're you, I have no idea what you've got in store. Trembling with anticipation I'm dripping down the stairs. You hold me closer, "Jen, I've got you." You stop at the bottom of a flight, take a short layover on the landing and spank me. Ummm…you're taking my wetness and ass with your hands.
"H," I start squirting I'm so excited. "Oh, yes! H, I can't wait. I don't care about the key!"
You lay me down gently on the hard wood stairs. You're so tender. Caring. I'm lost. I'm gone. I've just had multiple red leather box orgasms. I can't believe you had a key molded out of 18K gold for me.
"I can't breathe in this suit, baby." You strip your pinstripes off and throw them up the stairs. You're standing in front of me in black dress socks and no underwear. What a beautiful sight to behold.
Standing, one foot at a time, you take off your socks and shoot them at me. One targets my heart. The other hits my pussy. I never knew footwear could fornicate. Ummm… I may have a new thing for you wearing socks in bed. You unconsciously create new fetishes for me to explore with you.
You're revving up against my belly like a tank. You're not a small guy, honey. You know it. I know it. A Faberge Organic Shampoo commercial of Boston and Vineyard women will back me up. There's an urban legend that the one who catches your heart will own the key to an Empire.
An Empire. Capital 'E' is the type of structure I never imagined entering me. I feel seduced and allured, yet, I want to be in charge!
Your plump hefty wand enters my Magic Kingdom. You stir up a brew of endorphins deep inside me. I feel like I'm flying and falling and flying…
I don't know how you're doing it baby, but please, oh please don't stop. You hear me, "Jen, I have no idea what I'm doing. Sex with you is…" You're losing focus; you almost trip on a step. You stop.
Holding me as hard as you can, my breasts physically implant themselves into your chest. Ever so delicately, you release and my walls embrace you as you stabilize us.
"Go Jen! Go! Run downstairs as I spank your ass. Meet me at the Den on your knees. NOW!" You take the belt from your pants. What the fuck? How'd that get there? I'm rolling with it as you whip it through the air. Yowser! Take it easy there, babe. But you persist.
I'm "running," shaking my bubble butt, and then "jogging," bouncing my breasts. At the finish line of a marathon of bouncing and shaking I moon you.
"Slap!" Your first love strike is a cold drink of water. It signals you mean business.
I'm on my knees in my hot pink and black silk cum stained bra. I don't know where my panties are. Maybe they're on Hef's bedroom's chandelier in Heaven?
You teased me that if you owned Playboy you'd write a column called Rigged. How to safely and pleasurably bind your female lover. You'd tell your audience everything you wanted to do for me. Then do it and write about it. "I'll make sure I tell them exactly how fetching you are when I first release you. How exquisite your light rosy rope marks are," you said as you untied me. Your words affected me so deeply I released again. And then you just held me as I continued to let go.
I'm waiting half naked baring my heart through my butt to you. You told me there was an urban myth about you. They all wanted to be me, and they knew if they stood a chance you'd have chosen them. You were fair. You dated a lot of women, and you slept with many of them. Thank God for condoms.
"But, none of them were you Jen." Your voice massages my head after a long day, I feel myself merge with you. You are now everything I'm experiencing. It's surreal. I've never fully given up control, yet since we've been together I've needed no safe word. Every date you've taken me on has been designed for our mutual pleasure. How could this night be different? You're rigging me through your mind.
Barely speaking, you begin to tell me how much you want me in a horde of horny ways. Bending down to the ground, you kiss the top of my head. You can't help smelling my hair. I feel you smiling as you kneel above me.
Setting me on your lap, we make out like teenagers. You get to second base and unhook my bra. Ta da! I'm now nude for you. I don't know exactly how you do this, because I can't see, but you're pulling my spine up by my choker carefully. Like a string of pearls, you leverage each of my vertebrae. Lifting me up to your lips we kiss. Ahhh…you taste like…you.
Unclasping my choker, you place it in the palm of my hand. Closing my hand you kiss it. I get up to unlock the door of our voyage of platinum diamond pleasure.
Thank you for reading my story. I ❤ applause.
Please clap as much as you can. Thank you. You can CLAP 50 times! Just hold your finger down on the clap button down until it won't clap anymore. If you cum to this story, you've got to hit 50! That's the rule ;).
I appreciate all of you. Please applaud as loudly as you can, highlight, leave comments, share & follow The Voice of Erotica on Twitter . Thank you. This story is part of an ongoing series. Stay tuned for more Mr. Hedgefund stories! ❤ Jen
Into the Electric Closet 2 MJ Burrough's Review of ITEC 1 & 2