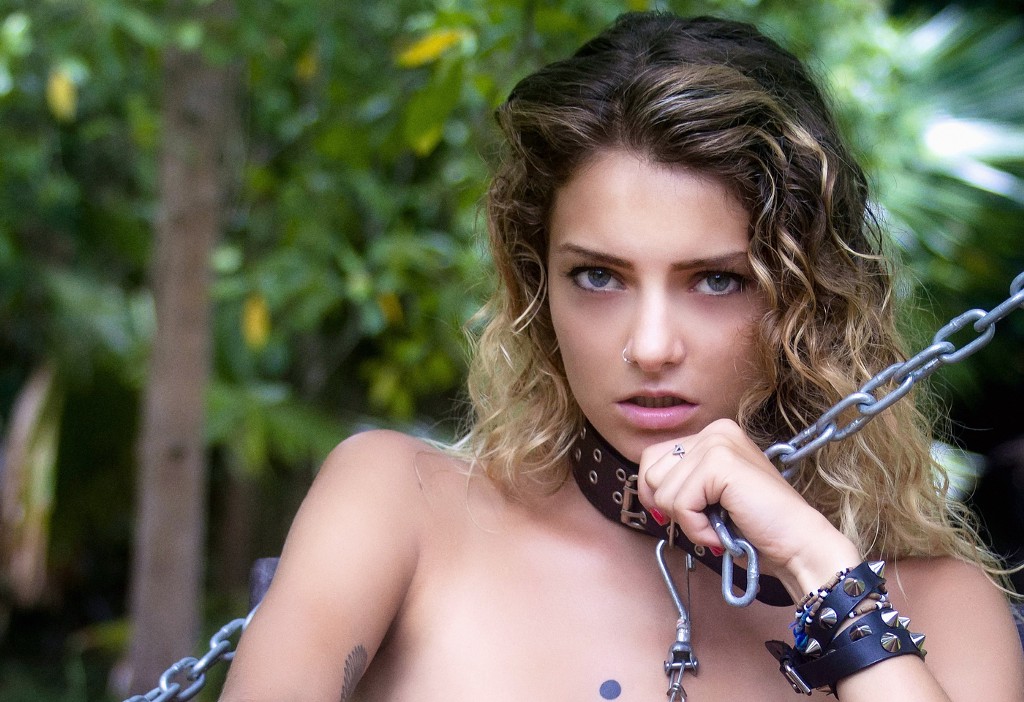 Pamela has been planning this trip for a long time and is excited about finally going. She just tells her boyfriend she needs some time alone to think. He wants to marry her; he wants babies. She needs to find out what she wants and is not exactly sure after only a year that it's him.
When she lands at the airport a limo picks her up and takes her to a charming hotel in the center of this wonderful old European capital. She has drinks and a gorgeous candlelight dinner with her hosts. Finally, the ground rules and waivers.
She reads them over thoroughly. She signs that she has read and understood everything. She signs the contract. They bring out a case of Champagne to celebrate. She gets a little drunk, dancing well into the night before two guys pick her up and walk her to her room — she is in for a long day tomorrow. She has no idea what to expect. She doesn't want to know, but she is excited.
In the morning they give her a breakfast of coffee and a croissant followed by a little cake of crème and dark chocolate. That done, they write in black grease paint across her forehead — slut — strip her down to her panties and high heels, and parade her through the street by a leather leash attached to a dog collar buckled around her neck.
She has a crew of three — her manager Nina, her handler Mac, and her camera operator Julie. It is Nina's job to set up appropriate situations — she has to pee into a cup while passersby watch, she has to suck Mac's cock on the town square — and taunt her while she endures it. They take her inside a men's toilet where Mac fucks her as guys watch and jerk off, jizzing over her face and tits and pissing on her. This is pretty much how her day goes.
Pamela is led around by the leash and forced to keep drinking water until she has to pee again, and is then forced to stand and pee on herself in the middle of a busy sidewalk as people walk around her. As small humiliations mount — she is made to give a blow job to a stranger on a crowded bus and have sex in a local pub with whoever wants to join in — an element of pain is introduced. She has clothespins attached to her nipples and clit. Nina spits in her face and slaps her. She is hung from a suspension harness and spanked with a board.
When Mac rams his cock into her dry asshole she almost loses it and screams the safety word, but she grimaces and takes the pain. She says Please sir, can I have it harder, sir? They draw whips across her ass and cane the bottom of her feet. She screams and begs for the whippings, and when a policeman pushes his dick down her throat she gags and retches cum and spit down her chin. By the time they touch her clitoris with the vibrator she is squirting, writhing uncontrollably, naked on the floor in a puddle of filth and her own juices; bystanders yell, clap, and howl. As she looks around the bar at the drunken voyeurs mocking her humiliation, a little swell of water rises in the corner of her eye and falls almost imperceptibly in a single tiny stream down her cheek.
Near unconscious from exhaustion and abuse, she tries to stand but collapses. They catch her before she hits the floor. After a doctor takes a look at her and determines she is none the worse for wear, she is taken to a spa and bathed in bubbling lavender water and massaged with silky aloe. They offer her blueberry-carrot juice; she asks for a double shot of iced vodka. By the time they get her warm and snug in her bed, they give her the final papers to sign — to the fact that she received the services for which she paid and that she is satisfied with those services. Julie has gotten quality footage for her to take home on DVD as evidence of the lascivious pleasures to be had in this place for those who seek them out.
They pull up her blankets and the three of them kiss her on her cheeks and tell her how much they enjoyed her being here. No. Thanks to you guys. That was awesome, she whispers, already half asleep.