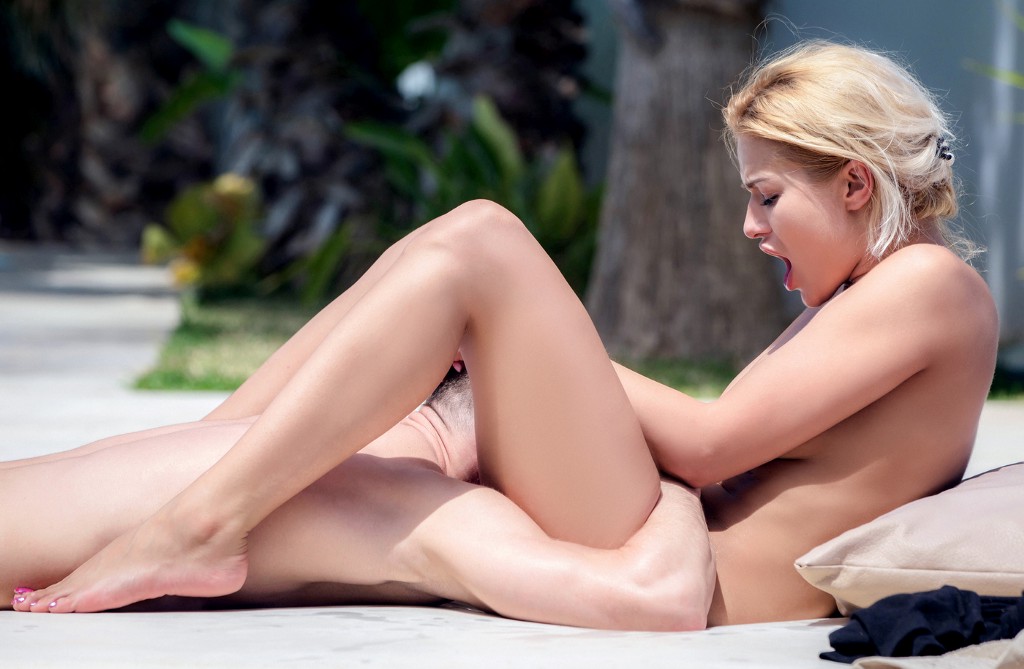 My clit pulses under his tongue, pleasure flaring through me, white-hot, excruciating. I've already cum five times — no, six — and my thighs are shaking, sweat-streaked, chafed by his stubble as he licks me relentlessly.
"Stop… ah, no more… oh oh oh don't stop ohmygod ahhhhhh!" I shriek, incoherent, my whole body convulsing as a fireball of ecstasy engulfs me. Seven.
Everything about this guy is so wrong for me; but the long chain of multiple orgasms is clouding my judgement with a haze of pheremonal intoxication. I wonder if it's possible to die from a surfeit of oxytocin? What a way to go…
Remember the episode of Sex and the City where Charlotte dates "Mr Pussy," a guy famous for his oral skills? Well, I was barely 18 when I met my own real life Mr Pussy.
Jay was more than twice my age, good looking in a louche way, a lothario with a certain dissolute charm. He was nothing like the fit and sporty, uncomplicated type of guy I usually go for; fueled by champagne and cocaine, with terrible taste in seduction music, it was obvious from the start he was a Very Bad Man. But damn, he could eat pussy like a champion.
Our dangerous liaisons would typically start with a nice lunch, drinks, shopping in a fancy boutique, a trip to an art gallery or auction; I knew he was trying to impress me, but it was entertaining to watch him devolve from sheep to wolf as the afternoon wore on. It would always end up the same way, with me flat on my back on his bed, couch, table or floor as he licked me to a state of sheer bliss.
In moments of post-orgasmic euphoria he would sometimes hint that we would 'make a great couple,' but I knew we had no future together… apart from the drinking and debauchery, the main drawback was that Jay had the smallest cock I've ever set eyes on, before or since.
He told me he'd long since reconciled himself to the inevitable look of disappointment on a woman's face when he dropped his pants in front of her for the first time. But none of them could ever resist coming back for a second helping once they'd felt his tongue on their pussy… and you'll be just the same, he told me. He was right about that.
I've always been clear about what gets me off: penetration, preferably by a big dick thrusting into me hard enough to put significant pressure on my G-spot, although fingers will do the trick. What I'm not really into is clitoral orgasms — they're fine as a warm-up, but not as the main event. Truly, I get much more turned on by sucking cock than I do by getting my pussy eaten, unless it's accompanied by some skilled finger-action.
Somehow with Jay it was different, though. We rarely fucked — his dick was just too short and skinny to be really satisfying, and I wouldn't insult him by faking it — but his oral prowess was exceptional. He could turn me into a quivering wreck with just a few perfectly judged strokes of his tongue.
Tuned in to every involuntary twitch and gasp and moan, Jay would play me like a virtuoso. Despite his flaws, it was obvious he genuinely loved pleasing women, worshipped the female body and had an intimate understanding of how it worked. He had unshakeable and justifiable confidence in his ability to eat me to a screaming climax whenever and wherever he chose.
Often that was all we did. He got off on getting me off. When he let me, I'd suck his dick. Deepthroating a tiny cock is a pleasure in itself, not to mention a great opportunity to show off. Jay wasn't the only one with oral skills.
My recall of my encounters with Jay has blurred into one long montage of orgasms, but here are three snapshots of memories that still burn bright:
One. We're in Ibiza, in a villa that he claims belongs to him although I have my doubts. I'm vacationing with friends and he 'just happened' to be in town. It's early morning, and I'm pressed down on my back on the sunlounger, his big hands wrapped around my thighs as he licks and lick and licks me until I feel as if my whole body will melt like an ice cream beneath the sun. It starts as gentle, languid gratification and builds to the most all-consuming explosion of bliss I've ever experienced from oral. Later, he tells me he wanted to see if he could give me ten orgasms in a row. He could. I have to float in the pool for an hour before I'm recovered enough to speak. Much, much later, he tells me he came in his shorts from the taste of my pussy and the thrill of knowing he could do that to me. Pervert, is what I think to myself.
Two. We're in the bar at the opera, and at the end of the interval, when everyone else returns to their seats, he leads me up a quiet corridor, shoves me against the wall, pulls up my dress, and licks me through my silk panties to a quick, intense climax. The music reverberating through the building seems to reach a crescendo just as I do. I kiss my juice from his lips, and he bribes a ticket attendant to let us back in even through the second act has already started. I squirm in my seat for the rest of the performance, feeling an answering vibration between my thighs send another flood through the damp silk every time the soprano hits a high note.
Three. I'm in his apartment, late at night. My taxi is waiting out on the street. I'm just about to leave when he pushes me up against the front door and sinks to the floor, his knees either side of my feet to pin my legs together. He peels my panties down to mid-thigh. One hand on each ass cheek, he grips me tight as he pushes his tongue into the narrow space between my thighs. In this position I can't spread my legs wider to allow him access to the sensitive folds of my pussy; all he can do is press his tongue over my clit, maddening me. I know he's teasing me because I said I had to leave; now he's going to make me beg to stay, at least for one orgasm… I'm dripping wet in seconds.
The insistent nagging focus on one spot, directly on my clit, is at once too much and not enough, and I squirm away from his tongue, snapping, "I have to go," thinking I'll just masturbate when I get home.
"You're going nowhere," he says, standing and pinioning my hands over my head, pulling a silk scarf from his pocket and using it to bind my wrists together and lash them to the coat hook on the back of the door. Now he kneels again, tugging my panties down and off, and lifting one of my thighs onto his shoulder. My juiced up pussy is spread open for him now, and he eats like a gourmet, lapping at my lips and clit steadily with long, smooth strokes, sucking and humming and blowing air on my hot, sticky flesh, pushing his muscular tongue inside me.
His mastery of my body is so finely tuned that he marshals the random starbursts and flashes of arousal into a devastating blast of ecstasy that has me pulling against my restraints and yelling so loud I'm surprised the neighbors aren't hammering on the wall.
He goes outside to pay off the taxi, pants tented out by a small but rock-hard erection, and when he returns I suck his cock for a while, and then he jerks off over my feet while he eats me again in doggy position.
Jay and I are still friends, although he's not often in London. Last time we talked, he was living in Serbia (don't ask!), besides which, my current crop of clean-living, gym-honed, big-dicked boyfriends despise him. Jay is like a bad habit I can't break though; and when he says, I'll give you three orgasms in the next five minutes if you want, I know it's not an idle boast… it's a solid gold promise.
Thanks for reading! Applause, comments and follows get me hot 😉
More confessions from me here — if you think you can handle it! Maybe have a cold shower first…