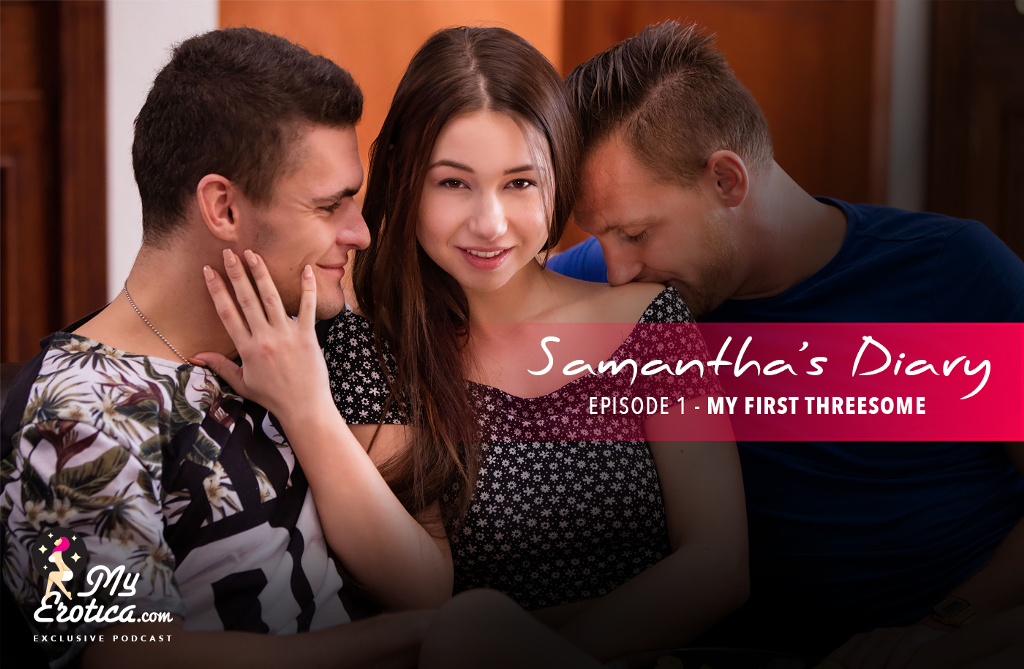 My first threesome…
My first threesome with two guys happened in college. Tom and Evan were in my film classes. We had to do a group project and just hit it off. We started hanging out doing things together. We went to movies, played video games, went snowboarding, and other things friends normally do.
Neither one had a steady girlfriend. I was in a long distance relationship with my boyfriend but things were kinda loose commitment wise. He knew I was hanging out with Tom and Evan and our relationship was platonic. None of us knew that was going to change.
Tom got a gig cutting adult videos for a local company. They liked Tom and continued to give him work. One time he had a lot of videos to cut so he called me and Evan to come over to help.
I showed up first. Tom gave me the files to edit and told me how the video should be paced. I loaded the files into my laptop and got started. It was a blow-bang video with one girl on her knees blowing five guys. I started editing and I got turned on. This was one of my fantasies I was watching. I had seen porn before but this was something new. I wasn't paying attention and started rubbing my clit through my dress.
Tom asked if things were OK. When I didn't respond he came over to me and saw what I was doing. When he touched my shoulder I snapped out of it. I was so close to cumming.
He told me he gets turned on too when he's editing these videos. I looked at his shorts and saw he was hard. I reached up his leg and grabbed his cock. It was big. I could hardly get my hand around it. I pulled his shorts down. His cock was straining against his underwear. A wet spot was forming where he was leaking pre-cum. I pulled his cock out of his underwear and put it in my mouth. His pre-cum tasted so good. I sucked his cock and sucked his balls. He was yummy.
I looked over to my laptop and saw the raw video running. The girl had cum on her face and was blowing another guy. This turned me on even more. I let Tom out of my mouth. He let out his breath and said, That was awesome. I said, We're just getting started.
We both got undressed and I got on all fours. Tom got behind me and put his cock in my pussy. I let out a gasp. He really filled me up. Then he started fucking me with deep strokes. It felt so good. I reached down and rubbed my clit. I felt his cock going in and out of me between my fingers. It was incredible.
Suddenly, we heard a knock on the door but we were too busy to stop. Then we heard the door open. It took a few seconds for Evan to realize what was going on. He said something like, Oh sorry, I'll come back later.
I said, No, bring your cock over here. Evan pulled his pants down and brought his cock to my face. I took his cock into my mouth. His cock got harder and he moaned loudly. He complimented me on my sucking skills. It was an incredible feeling having two cocks in me. It was overwhelming.
I came real hard sucking Evan and fucking Tom. I kept sucking Evan while I recovered but he didn't last long. He came in my mouth. I felt two spurts on my tongue. He pulled out of my mouth and the next two spurts landed on my face. I had a mouthful of cum and cum on my lips and chin. It was warm, a little slimy, and delicious, and so nasty. I came again. All the while Tom kept fucking me.
I swallowed the cum in my mouth but needed to rest. I rolled over on my back and Tom got on top of me and started fucking me again. He looked at me with Evan's cum still on my face. I could tell by his expression he was about to cum. His body tensed and he pushed his cock deep into me and came in my pussy. I could tell he came a lot. He was sweaty and panting when he rolled off me. I reached down between my legs and felt his cum gush out of me.
I had Evan's cum on my face and had Tom's cum leaking out of my pussy. I thought, oh my god, this is the most erotic thing I've ever done. I think this was the nastiest thing the boys ever did too.
I fell asleep with Evan on one side and Tom on the other. When we awoke, we showered and went out to dinner and talked about what happened. We all enjoyed the experience and were anxious to do it again. We did. A lot. But I'll save those stories for you another time…