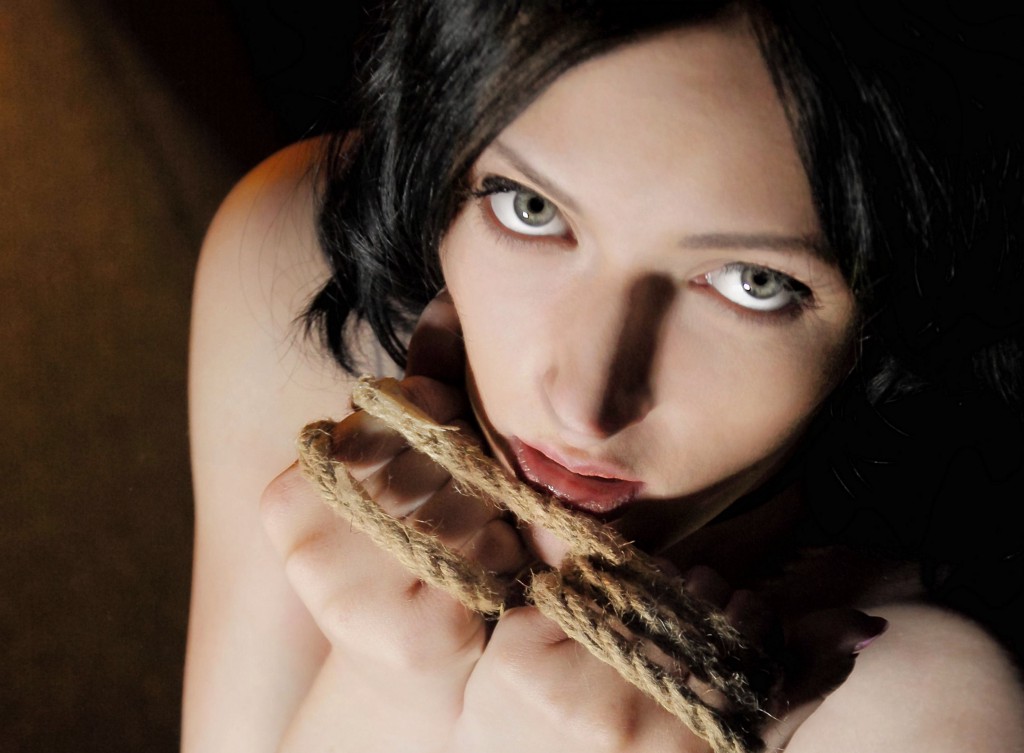 I arrived at the retreat after driving for twice as long as I had expected. My car was old and did not feel like going that far in the middle of the summer. The place was magnificent, a mansion of sorts, with narrow, dark windows, overlooking the wide verdant lawn that preceded the entrance to the house.
I didn't bring a large suitcase as I was only going to be there for one night. The gentleman that greeted me at the door was wearing a long white, semi-translucent robe, that revealed more than I expected to see, although I did not complain. Without a word, yet being cordial and attentive, he showed me to the basement where the bunk beds were.
The room was large, and the row of beds was at the end of the space, one on top of the other as if it were a high rise for which you had to tilt your neck to see the last one. It didn't look cozy, but again, I was only there for one night and not looking for luxury.
The nice gentleman without a name handed me a piece of paper. I didn't quite care that I did not know his name, as the rules indicated this was a place for silent retreats, a temple for exploration of the self, in body and soul. The paper repeated those rules and added a few more: no talking, no laughing, no music or noise, and it had a very basic schedule that needed to be followed. There were other men and women, although not many, walking around the house and either doing chores or silently contemplating. The only sounds you could hear were the creaking of the floors and the birds outside.
There was a robe for me on my assigned bed at the very bottom of the row. The label said it should be worn with nothing underneath, as a way to start connecting with your own body. I wasn't quite sure what that meant in terms of wearing the robe, but I knew it was my goal.
I stripped myself of everything I had on. It took me a few minutes to open the robe and slide it on. I felt a magical pull, as if there were something in the air, when I felt the coldness of the room touch my bare skin. My nipples started to harden, and my pussy began irradiating a heat that could warm up the whole basement. I quickly put the robe on and covered myself as if feeling these sensations was the worst of sins. I was, however, secretly enjoying the awakening.
The upstairs was bright. There was some fresh fruit on the counter and clean water to the side. I helped myself to both. My schedule indicated I was to report upstairs in a half hour, so I had some time to eat, relax, and admire the art hanging from the walls, which illustrated beautiful naked bodies of all sizes and skin colors being happy and free.
When I entered the room at the top of the building, it was dark, although there was a bright light illuminating the wooden frame that was placed in the middle. The gentleman that had been showing me the way all along pointed at it, indicating in silence that I should stand below it. I did as I was told. He gently grabbed my wrists and tied them in a simple but firm knot. The rope felt surprisingly gentle on my skin. I was shocked that being restrained felt so liberating.
Once he was done, he approached me from behind and placed his face in the base of my neck, which instinctively made my head tilt in the opposite direction. In a matter of seconds, my robe was imperceptibly falling to the floor, leaving me bare in body and soul, though still restrained.
His hands started traveling the curves of my body. His caresses were magical. The warmth of his palms ignited fire as he traced my silhouette, leaving a bright aura around and, as they moved to the front, finding my pointing nipples and soft breasts hungry and wanting of his fondling. He let one hand slowly reach down, caressing my belly button, which at that point felt as horny as the rest of me. Who knew belly buttons understood sexiness and orgasms…
As he reached my pussy, he found my wetness already flowing like a river of desire. His fingers managed to stay afloat though, and entered me with sweet, merciless moves. As he pounded me with them as if they were his cock, I found myself hiking the mountain of lust that would peak in my orgasm, with my squirting lasting what felt like hours. I was unable to stop it or control it, but feeling oh so good in the letting go.
I felt his cock erected and pressing my ass cheeks, almost demanding to conquer what was his. And at that point, I was his. My restraint was freeing me from judgement, from the binds of my own mind, and allowing my body to be one with the rest of me. He turned me around and wrapped my legs around his waist, while removing his robe in the same abracadabra move used to remove mine. I was too drunk in lust to understand how that happened.
He rammed his cock into me. My pussy, still shivering from the prior orgasms, welcomed his length hungrily, still wanting more. The pace went from rough to an insanely raging rhythm that claimed possession with every move. He undid the rope, and as soon as that happened, I collapsed over him, embracing his body while he held me tightly and safely, and combusted in a series of orgasms, one shaking me after the other as the tsunami follows the earthquake.
I don't quite remember how I made it to my bed, but I woke up the next day feeling calm and refreshed. My body felt renewed, and just as the flyer for the retreat promised, it had become one with my mind and soul, free of inhibitions and embracing my sexual being just as much as the rest of me.
An experience that defined me. A retreat to remember.
Follow me on Twitter for more thoughts, poetry and my writing journey