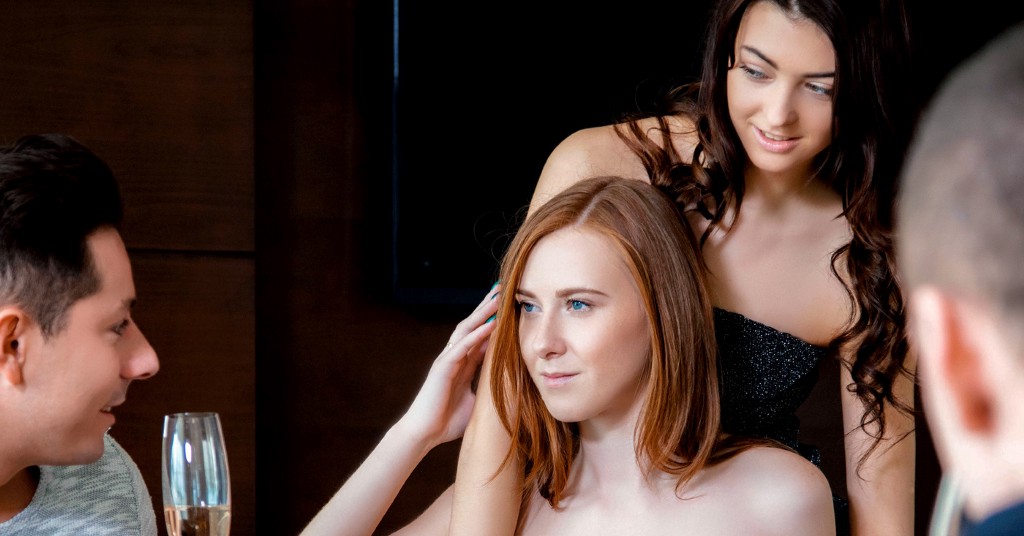 Laura was applying a fresh layer of lipstick in the bathroom mirror when Rachel entered. "Are you ready, babe? The others will be here soon." She pulled Laura towards her and kissed her cheek. "You look lovely."
Laura smiled and tried to quiet the butterflies in her stomach. This was what she wanted. What she had wanted ever since she had found out Rachel and her husband Dylan hosted sex parties. She hadn't wanted to ask for an invitation — her relationship with the married couple was still quite new — so she had been ecstatic when Rachel had suggested she join them a week ago. And tonight it was going to happen. Two couples and a single guy would be joining them shortly. A whole weekend of fucking had been scheduled and Laura was by far the youngest member of the group. It would be fun.
"Come, let's join Dylan in the living room," Rachel suggested. "He'll want to see your new dress."
Laura tried not to pull the hem of her ridiculously short dress down as she followed Rachel downstairs. Her boobs — sans bra — strained against the tight fabric and her ass was barely covered. Still, she looked amazing and she didn't think her dress would stay on for long anyhow.
Dylan whistled when he saw Laura. "You look delicious. None of the men are going to be able to keep their hands off you."
Laura grinned. "That's exactly what I want."
Rachel poured them a glass of wine and they toasted. "To a successful orgy."
As Laura took a sip, she reflected — not for the first time — how incredibly lucky she was to have met Rachel and Dylan.
Laura had wondered how it would all start once everyone had arrived. Would Rachel organise everyone? Would the couples prefer fucking each other first?
She needn't have worried though. The two other couples, Nick and Sophie and John and Liv, arrived together and introductions were made. They sipped more wine as they waited for Richard to arrive.
"So you are the famous Laura," Nick remarked, looking her up and down as if she was a lab specimen.
Laura stretched her legs in front of her, allowing her dress to ride higher up on her thigh. "I guess I am. I didn't know I was famous, though."
Sophie laughed. "Nick has been looking forward to fucking you all week."
Laura's cunt flooded at these words. What had Rachel and Dylan told these people about her?
John sat down next to her on the sofa. "Mind if I get a better look at those tits of yours?" he asked.
"Laura's up for anything," Rachel said. "That's why she's so perfect for an orgy."
Laura nodded. "It's true. I love cocks and I can't wait to be filled with them."
"Let's get you started, then." Dylan knelt in front of her and pushed her dress further up, exposing her lace panties. "I don't think we need those anymore," he remarked. He hooked his fingers underneath the lace and slid them down.
John pulled the hem of her dress over her head, leaving her naked on the couch.
"Spread your legs, baby," Rachel said. "Let them see how wet you are."
John and Nick crowded round her while Dylan pushed her legs further apart. At that moment, the last member of the party entered the room, receiving a full view of Laura's exposed cunt. Laura's heart pounded. She loved how she was on display. The thought of being admired by all these men made her more aroused than she ever remembered being.
"Fuck me," Richard said. "That's a lovely sight to walk in on."
Laura grinned up at him. "Come join in."
Liv and Rachel sat on the sofa opposite Laura, watching the show with interest. They had both discarded their underwear and rubbed their cunts lazily. Sophie stood at the other end of the room, her expression guarded. Laura wondered if she was jealous that she, Laura, was getting all the attention; but she didn't care. She wanted to have all the men. Right now.
As if reading her mind, Dylan dropped his trousers and kicked them away. He knelt between Laura's legs and pulled her closer. Without preamble he rammed his cock deep insider her, making her gasp. She loved fucking Dylan. She was happy he'd started everything off. He could be relied on to show her a good time.
Nick clearly didn't want to be left out either. He knelt on the sofa, pushing his erect cock into her face. Grinning, she opened her mouth and took him all the way. He grunted as his cock hit the back of her throat, making her gag.
Being filled with two cocks was a dream come true. Laura's cunt was soaked with her juices. Her whole body felt on fire, her desire raging through her. She wanted to be fucked hard, to be used by all these men until she couldn't stand from pleasure.
John licked and rubbed her nipples, sending shivers of pleasure through Laura. She didn't know what Richard was doing, but hoped he would get a chance as well. It might have been greedy to want all the men to herself, but she was past caring. No one had said anything about an even distribution of cocks.
Dylan increased his thrusts, hitting her cervix at every turn. Her cunt tightened around him and he swore.
"Fuck, you are so tight. I love how you squeeze around me."
She wanted to tell him how much she loved his cock filling her, but her mouth was full. Nick fucked her mouth with enthusiasm and she took him easily. Her eyes watered at how deep he entered her throat, but she didn't stop him. She wanted to make him come, make him shoot his load all over her face.
Dylan seemed to be nearing his climax, his thrusts becoming more erratic. Laura couldn't resist the urge to rub her clit. She was so close to an orgasm herself.
A hand pulled hers away. "Allow me," Rachel said. She bent her head over Laura's cunt and licked her clit.
Laura gave a strangled moan. The tension that had been building up in her body was close to breaking.
At that moment, Nick pulled his cock out of her mouth and rubbed it hard. Eagerly, Laura opened her mouth, ready to receive his cum.
"Shoot it all over me," she panted. "I want to taste it."
"Didn't I tell you she's a filthy slut?" Dylan grunted. "Give it to her, she loves to be covered in cum."
Nick groaned and a spurt of cum hit Laura's face. She grinned, licking as much off her lips as she could. Rachel replaced her tongue with her fingers, strumming Laura's clit harder. Nick moved away, to be replaced by Richard. As Laura allowed him to slide his cock into her mouth, she could feel herself reach the edge of her climax.
"She's going to come soon, the little slut," Rachel announced.
These words were enough to push Laura over the edge. Her cunt convulsed around Dylan's cock and her legs stretched out.
"Oh fuck, I'm gonna come," Dylan grunted. He pulled out and emptied his load all over her belly.
Laura moaned at the feeling of emptiness, but she didn't have to wait long.
"Turn around," Dylan ordered. "Let John fuck you from behind."
Laura did as he asked. Richard moved so Laura could still suck him off. "She's so enthusiastic," he said, admiration in his voice.
"She's fucking filthy," Dylan said. "Fuck her hard, John, that's how she likes it."
It was degrading how they talked about her as if she wasn't there. Degrading, but incredibly arousing. She was their fuck toy — an object of lust to be used by them. The fact that all the men had started with her made her wet with desire.
John didn't need any more urging. He grabbed her hips and rammed his cock home.
"Oh fuck, she's so fucking tight," he breathed.
"Don't hold back now," Rachel said.
John took her advice and pounded into Laura. Each thrust pushed her harder against Richard's cock, which slammed into her throat. Her already tight cunt was even tighter because of the orgasm she'd just had, and John's cock dragged along the walls of her cunt, making her wild with lust. She pushed her hips back, matching him thrust for thrust, urging him to go harder.
"Fuck, she's filthy," John breathed.
"Let me fill that cunt for a bit," Richard said. "I want to see how tight she is."
Sophie sat down next to Laura. "I'll take care of her clit," she said. "Let's see how many orgasms she can really endure."
"Oh, she can go all night," Rachel said. "She's our good little filthy girl."
Laura felt as if she was floating. Hands pulled her nipples, flicked her clit and rubbed her ass. Dylan, John, Richard and Nick all took turns fucking her alternately in her mouth and her cunt. Her juices coated her thighs, dripping down onto the sofa. Orgasm after orgasm swept over her. Her cunt felt swollen with abuse and still they didn't let up.
"So…fucking…tight…" Nick breathed. "Oh fuck…"
It was too late for him to pull out. With a grunt he shot his load deep inside her, filling her with his cum. Richard cried out shortly after, shooting his load into her mouth. He withdrew hastily, but before she could swallow, Liv knelt in front of her, kissing her, sucking Richard's sperm from her mouth.
Laura thought she couldn't endure another orgasm, but then felt Sophie's mouth on her cunt. Sophie ran her tongue along Laura's slit, not concerned with giving Laura pleasure, but intent on licking all Nick's sperm out of her cunt. Her fingers pulled Laura's pussy lips aside to allow her better access. Laura bucked her hips against Sophie's mouth, waves of pleasure coursing through her each time Sophie's tongue slid over her clit.
She arched her back as Sophie pushed her over the edge. "Fuck!"
And then it was over. Rachel eased her down onto the sofa and pulled her against her ample bosom. "You did so well," she whispered.
"God, she should join us every time," John said behind them.
"I told you she's fucking filthy," Dylan said. "Why didn't you believe me?"
"I thought you were exaggerating," Nick said. "But she's a real slut."
"Do you think she's up for another go?" Richard asked.
Laura struggled to sit up. "Of course I am. Just give me a breather. Attend to the other ladies and I'll be ready to be fucked again in a moment."
The chorus of cheers made her smile. She settled back into the cushions of the sofa ready to watch the men fuck the other women. What an amazing party!