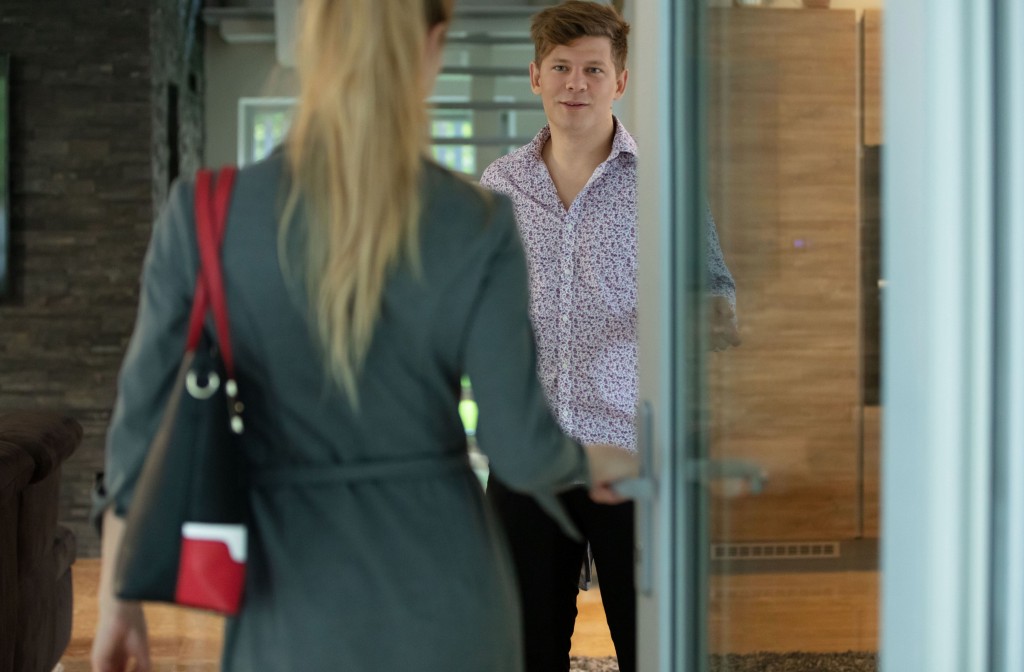 I always dreamed of living in New York City. I grew up in rural Indiana and fantasized about big city life. I could wear the most stylish clothes and go to fancy restaurants. I imagined I'd have a dashing, handsome boyfriend with some kind of impressive career, like a Wall Street trader. I dreamed of it all the time, while most of my friends were content to settle down in our little town.
Shortly after I graduated, I went to New York for the weekend and interviewed for a job at a fashion publication. I walked into the place and was blown away by how fancy everything looked. Everyone on the staff looked like a model. I provided my writing samples and had a great interview, but I doubted I would get the job.
I was demoralized and had to work a double at the pizza place, which paid the bills while I went to class. I hated that job. It was a nighttime hangout for the frat party crowd, whom I despised. Even though I hated them, a girl's got to pay the bills. The worst part of the job was the frat guys. They'd usually remark on my ass or my long, luscious hair. I knew I was attractive, but these clowns would never have a chance in hell with me. It used to kill me to have to be polite with them for tips. I wanted to tell them all to fuck off and leave me alone.
On my break, I saw the email come through on my phone. I'd been offered the magazine job. I walked right up to my asshole of a boss and told him I quit.
"You'll get docked!" is all he yelled as I threw my apron on the ground and stormed out, with a beaming smile on my face. It was time to start a new chapter in my life.
The job was great, but the bills kept piling up. The salary was way more than I'd earned back in Indiana, but once I started living in the city, it didn't take me very far. I tried to live within my means, but I had student loan debt and rent to pay. I barely had enough money for food every month.
One morning, at work, I was looking at my credit report. The debts were adding up on top of my student loan. I started crying. I had reached my dream, but I wasn't able to make it work financially.
My colleague Veronica strutted in. She was gorgeous, with long, tan legs and beautiful blonde hair. I had no idea how she could afford to dress the way she did. She regularly wore legitimate Louboutins. Those red heels taunted me. She had been with the magazine longer than me, but she couldn't make much more than I did.
Veronica saw the tears streaming down my cheeks and touched my hand. "Is everything okay?"
I decided there wasn't any point putting on a front, so I told her the truth.
"I'm having serious money problems. I don't know how you manage to survive in this city. Everything is so fucking expensive."
She smiled and took a hard look at me. "You know, you're gorgeous."
The comment made me smile. "Thanks."
"Do you want to get lunch today? I have a pretty good side hustle going on that I could run by you."
I met with Veronica for lunch. I wanted to make more friends at work, and who knows, she might have a side hustle that could help me get out of my financial problems.
We exchanged pleasantries, and I ordered a small salad. Veronica looked at me, smiling.
"Margot, I'm taking a risk in telling you about this," Veronica said nervously. "But you look like you need help."
"Don't worry about it. Whatever it is, I won't judge you. Look, if I don't want to do it, I don't have to."
Veronica took a deep breath and fixed her skirt. "Okay, here's the deal. There are a lot of rich guys in New York. These rich guys are busy, and they don't have a lot of time for relationships. Some of them work, like, 80 hours a week. But hey, we're all human, and these guys have needs. That's where I come in," she said before taking a sip from her iced tea and letting me soak in the full meaning of what she'd just said.
"You're a . . . hooker?" I said incredulously.
She shook her head. "No, not a hooker. Hookers hang out on street corners in fishnets. I provide a girlfriend experience. I only meet with guys I vet and that I find attractive. We have a date, and, at the end of the night or the following morning, they provide me with an envelope of cash for my services. There are no pimps, no scumbags, and I only sleep with guys I would want to sleep with anyway."
"So, how much money do they pay you?" I asked her.
"They pay me $1,000 for four hours. For a full night, $3,000. On top of that, these guys get me top line gifts. Jewelry, clothes, you name it."
Veronica looked me up and down and licked her lips. "A girl like you could make a lot of money."
I was a bit flabbergasted but intrigued. I needed to make that money.
"I can select the guys? It's fine if I say no?" I asked.
She smiled, sensing that I was warming up to the idea. "Absolutely. You'll get a picture of the guy in advance. The guys that I usually go on dates with are fucking hot! I can hook you up with the agency if you'd like."
I decided that I didn't have anything to lose. I could always say no if I got cold feet, or I didn't see an attractive guy.
The agency brought me in for a photoshoot. It felt awkward at first, but eventually, I started to get into the glamour of it all. They had my makeup and hair professionally done, and let me wear cute outfits and some steamy lingerie. Eventually, they put together my profile on their private website. They made me look like a supermodel!
Shortly after the photoshoot, the requests started to pour in. I have to admit, I found it to be a turn on that so many guys found me so attractive that they would be willing to spend thousands of dollars to be with me.
One guy, in particular, caught my eye. In one picture, he was in a classy suit. He had olive skin and shaved his head. His beach picture showed a body that was in impeccable shape — tight, broad shoulders with a chiseled six-pack and a muscular butt. I could even see his cock bulging through his shorts.
I looked him up online and saw he was a prominent hedge fund manager, responsible for billions of dollars.
I decided to give it a go.
I arrived at his penthouse in a tight, green dress. Underneath, I had a black bra and a black thong. I added some volume to my hair and some smoky eyeshadow along with a lustful, crimson lipstick.
I arrived at the penthouse, and he looked me up and down and smiled.
"You're beautiful, Margot."
"Thank you, Jacob."
"Please, call me Jay."
"Okay, Jay," I said as I nervously inched towards him. He gently stroked the back of my head before he gave me a deep, passionate kiss.
He motioned to the table, and I saw an envelope stuffed with cash next to a distinctive light blue jewelry box. I opened it up, and inside was a diamond tennis bracelet.
He held me from behind as I admired it. I could feel his cock begin to fill out his dress slacks and beg to come out. He touched my shoulders and kissed my neck. As the goosebumps began to cover my body, I realized that this guy was better than any boyfriend I'd ever had.
Wearing the diamond tennis bracelet, I turned around and faced him, once again drinking in his lips and looking him in the eyes.
"Do you want me?" I asked him.
He nodded as my hands felt his taut abs through his dress shirt. I maintained eye contact as I dropped to my knees and unzipped his slacks. I felt his hard cock through his pants and admired the sizeable girth. I looked up at him as he bit his lip in lust.
I took his cock out. My eyes widened at the size of it. I looked at him and smiled as my small hand grappled it and gently jerked him off. I took the tip of it on my tongue and lightly slapped, teasing him at the prospect of his dick being pleasured by my pretty face.
I licked the length of his cock and began sucking on the head, while using my hand to stroke him. With my other hand I began to feel his tight abs. I looked up at him and let him gaze into my eyes while I pleasured his fat cock.
"Jay, you're so fucking big," I said as I jerked off my spit onto his shaft. I grabbed his muscular butt with both hands and began aggressively pumping up and down. He groaned, and his strong hands dug into my shoulders. His cock became increasingly engorged in my mouth, filling it.
He leaned down and lifted me, kissing me aggressively. He didn't care that my drool-covered mouth was pleasuring his cock moments ago, and drank in my lips passionately.
"I need to fuck you," he told me as he pointed towards the couch in the living room.
As I walked towards the couch, I took off my tight dress, unzipping it and letting it drop to the floor, unveiling my silky black underwear.
I looked back at his lustful, smiling gaze as he walked towards me, cock engorged and ready for me.
"Spread your legs for me," he said. I did as he asked, and then felt his tongue on my clit. I fondled my breasts as he pleasured me, feeling my nipples grow hot and stiff. As he sucked on my clit, his fingers entered my pussy, and I covered him with my juices.
He moved up and looked me in the eyes, kissing me as his cock filled my tight pussy. His hands grappled my legs, and he watched me as I tilted my head back in pleasure and let out a moan.
As he grabbed my thighs, his cock dug deeper into me. I felt him get even harder as he fucked me. I met his gaze as he went in for another kiss. He then propped himself up and began fucking me vigorously on the couch, with the juices from my cunt pooling onto the leather surface. I rubbed my clit while he fucked me, admiring his tight and pulsing muscles that rippled.
"Margot, you're so fucking tight," he growled through his clenched teeth while he pounded my cunt, and sweat began to glisten on his hard chest. "I want to see your tight fucking ass," he told me. His cock left my pussy, and he gave me a moment to prop my tight, bubbly ass in the air. He grappled my slender waist and entered me, with my long beautiful hair draped over my back. He began pounding me slowly at first, letting my pussy acclimate again to his impressive girth.
I grabbed onto the couch as he took me vigorously. My hair began swaying gently at first, then wildly. I started screaming like a banshee as his balls slapped against my clit, and my cunt juice dripped down on to the floor beneath us.
"Goddamnit, you fuck me so fucking good!" I screamed out at the top of my lungs as his sweaty, muscular body slapped against my bubble butt.
"I want to look at you," I told him as I glanced back at him. "I want to ride that fat dick."
He lay down on the carpet, and I straddled him. I placed my hands on his bulging pecs and began twerking my ass into his fat cock. I looked at him and saw the desire in his eyes. It was a look of being lost in a fantasy, barely able to acknowledge that he was experiencing the lustful agony of the moment.
As I rode him, my tempo increased, and I controlled the pace. Slow at first, and I made sure that I was slapping into his hard body just right. As his fingers gripped my ass, I felt a wave of warm pleasure surge throughout my body. I screamed at the top of my lungs and made a fist that dug into his chest as I let the pleasure overwhelm me.
At that moment, he grunted in pleasure as he filled the tightly wrapped condom around his cock. I felt his cock pulse and throb as he climaxed with me.
I collapsed onto his sweaty chest and kissed him.
"Margot, you're fucking incredible," he said, in between gasps.
I could get used to this side hustle.