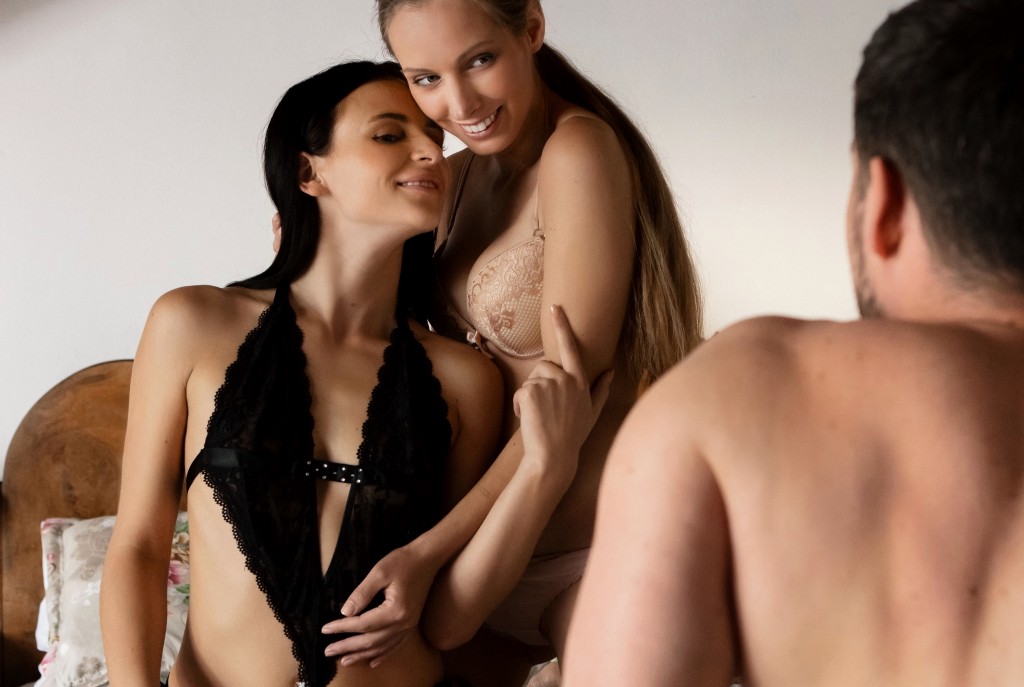 As I looked around at the excited faces of the men who had come to fuck Rachel and me, I felt a shiver of apprehension run down my spine. Despite the three glasses of wine I had drunk, I was still a bit nervous. Not so much anymore about how well I'd do. Alcohol always brought out my most slutty side and I had fantasised about a gangbang forever. No, I was more apprehensive about how we would all start.
Rachel and I were still dressed. The men had stripped down to their boxers, which was ironic since we were the ones who had to take all of them. We were kissing and giggling, but neither of us really knew how to get the ball rolling.
As if sensing our hesitation, Dylan said, "Why don't you two get started?"
Rachel and I looked at each other and grinned. It was perfect. We were comfortable with each other and we could get each other very horny. Rachel pulled my T-shirt over my head and wasted no time getting rid of my bra. I did the same to her and then we both stripped off the rest of our clothes. A whistle told me that the men liked where this was going.
We kissed again, with a bit more intensity this time. I pinched her nipples the way I knew she liked and she yelped. She pushed me back onto the couch.
"You're going to pay for that, you bitch," she said.
I grinned. I knew exactly what that punishment would entail. Sure enough, she knelt between my legs, pushing them apart. My already wet cunt flooded with desire and I thrust my hips at Rachel.
"Look at this horny slut," Rachel said. "Let me get her all nice and hot for you."
The men crowded around us as Rachel fastened her mouth on my greedy cunt. They kissed and groped us. I didn't keep track of who feasted on my nipples, who shoved his cock in my mouth, making me gag and drool. The men jostled for a chance to get me to suck their cocks and I greedily took them all. Rachel fingered me and soon I could feel myself getting close to coming.
Someone knelt behind Rachel and started fucking her with short, urgent thrusts. Each thrust pressed her harder against my cunt and with a final press of her fingers inside my cunt, Rachel made me come. I moaned loudly around the cock in my mouth. Looking up I saw it was Matt. His eyes were closed and he grunted. I could tell he was close and I pulled my head away.
"Come on my face," I panted.
Matt groaned, gave himself a few more strokes and spurted his cum over my face and chest.
Rachel looked up and smiled. "Look at you covered in cum. We'd better get some cum inside you too."
"I'll take care of that," Dylan said and pulled me to my feet. He dragged me to an armchair and sat down. He guided me onto his lap, pushing his fat cock inside me. I sighed from the pleasure of finally being filled. I didn't take me long to feel another orgasm build. Dylan grunted underneath me as he thrust roughly inside me. John stood in front of me and he didn't need to say anything. Like the greedy slut I was, I took him into my mouth without prompting.
Alec pulled Rachel to her feet and set her on the couch. I watched as he put his massive cock inside her gaping cunt. She effortlessly took him all. I had always admired her ability to take any cock of any size.
"She is a real greedy slut." Alec looked over at me while he pounded into Rachel.
"I told you," Rachel said, panting from the effort to accommodate his massive member. "She'll suck and fuck anything."
Alec grunted. "I'd like a taste of that."
"You can have her in a moment," Dylan said. "Just let me shoot my load inside her."
I could feel my cunt contract hard around Dylan's cock and with a cry he shot his cum inside me. I had no control over my body anymore: another orgasm washed over me, leaving me moaning and gasping in Dylan's lap.
Dylan gently lifted me up and handed me over to Alec. He walked over to his wife. She was being fucked by John now, so he merely grabbed her face and pushed his cock in her mouth.
Seeing Rachel being used in the same way I was drove me wild. I turned to Alec. "Take me from behind."
I dropped to all fours on the floor, spreading my legs to give him access. My cunt was tight from my orgasms and I wondered how he would fit, but was past caring. Alec pressed against my entrance, his cock impossibly thick. He rocked gently against me, pushing harder until finally my entrance gave way and his head popped in. He continued to push until he was fully inside me. I felt as if I was going to be split in half. It was delicious. I rocked against his hips, urging him to fuck me. He didn't hesitate but started to thrust with vigour. His cock dragged along my G-spot, rubbing it hard at each thrust. It didn't take long for me to come again. As my cunt convulsed around Alec's cock, he grunted and I could feel him cum inside me.
"Fuck, what a tight slut," he said. "You should all make sure you fuck her."
He pulled out and I could feel his and Dylan's cum dripping down my thigh.
"She wants to be DP-ed," Rachel said, pulling her mouth away from Dylan's cock for a moment.
That got the men's attention. I grinned at the eager faces.
"I'll volunteer for this," Richard said.
"So will I," Nick called out.
It was like friends calling dibs on their favourite treat. I smiled at them. "I've never done this before, so please be gentle."
"You're going to be fine, babe," Rachel said. "Just relax and make sure to use lube."
Richard grabbed the bottle of lube and smeared a generous amount over his cock. Nick lay down on the floor and pulled me on top of him. He held me still as Richard took up position behind me.
Richard slid a lubed up finger inside my ass. It had been a while since I had done anal and the sensation shocked me. My ass was tight, basically a virgin still, but his finger made me feel amazing. I pressed against his hand and he chuckled.
"She's ready for it."
"Of course she is," Dylan said. "She's ready for anything."
Richard pulled my hips back and pressed his cock inside me. I gasped at the sensation of being filled but didn't get much chance to get used to it. Nick pulled me closer and pressed his cock at my entrance. He pushed inside, stretching me wide. I was impossibly full with two cocks stretching my holes beyond belief. The feeling was uncomfortable and for a moment I was worried I wouldn't be able to go through with it.
"Just a sec," I panted as I wriggled against Richard's hips. He slid in further and after a few more movements, the feeling of discomfort disappeared, replaced with an incredible sensation. "Oh fuck, this feels good."
Richard and Nick pulled out at the same time and slid back in. Powerful waves of ecstasy washed over me as my holes were stretched and filled. Richard's cock pressed against the outer side of my G-spot while Nick's pushed from inside my cunt. I groaned and my legs started shaking with pleasure. Richard and Nick grabbed my hips, holding me still as they fucked me for their own pleasure, using my holes roughly. My head rolled back as another orgasm shook me. Richard and Nick didn't stop pounding into me. I felt I was going to burst from too much cock inside me, but then they both cried out and shot their loads inside me.
"Fuck, that was hot," Alec commented. He had moved over us, his cock in his hand. I greedily opened my mouth and he pushed himself deep down my throat. Richard slid out of me, but Nick stayed in me, his half-hard cock still twitching in the wake of his orgasm. Alec groaned and with a cry, he pulled out of my mouth and moved to shoot his load all over my back.
I struggled to my feet. My body was covered in cum — inside and out. I was drunk on cock, and still not satisfied. I looked around for a cock I hadn't had yet. I could see Rachel at the other end of the room, two of her holes filled by Matt, and Richard. I didn't know how Richard had been able to get hard again so quickly, but I didn't care. Dylan was watching his wife being ruined by these two men, stroking his cock lazily, a grin on his face. The sight was so hot I whimpered with need.
I turned around and spotted John. I walked over and grabbed his hand.
"I'd love to feel you inside of me," I said.
Dylan looked over. "Such a little cum slut, isn't she?"
John grinned. "I'd gladly fill her holes with my cum too."
He pushed me to the ground, face down and straddled me. His cock pressed against my asshole and for a moment I was worried he wouldn't fit. He pressed harder and finally, his head slid past the resistance and he was in. My ass was tight from the position I was in, but that didn't seem to bother John. He rammed into me, fucking me rough and hard. I forced my arm underneath me. My fingers found my clit and I started rubbing myself.
"Oh my god, she's such a fucking slut," I could hear Matt say.
"So fucking tight," John grunted in agreement.
Exquisite pleasure filled me as the men continued to talk about me. John's cock stretched my ass, making me feel incredibly hot. My body shook as yet another orgasm tore through me. Tears streaked my face as John continued to pound into me, prolonging my orgasm until it was almost painful. Then he stiffened and his cum filled me, spilling out of me and dripping on the carpet below me.
John moved off me, but I stayed on the floor. I was utterly spent. Rachel came over and crouched next to me. She helped me to my feet and, after putting a blanket around me, she seated me on a chair. I felt disconnected to my body, to whatever was going on in the room. I was utterly sated and cock-drunk. It had been the best night of my life, and it wasn't even over yet.