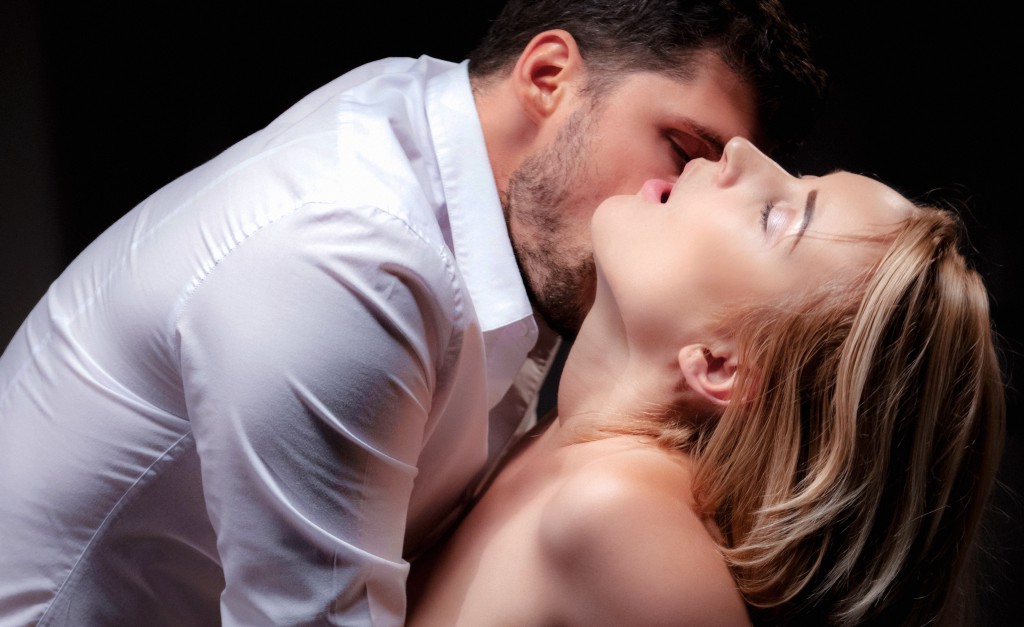 I scored the first job of my dreams, working for David Wallenstein, the hedge fund billionaire. While my friends were struggling out of school, David gave me the opportunity of a lifetime. I was his assistant, at his beck and call.
As his assistant, I had a lot of one-on-one interaction with him. At first, he held back his nature, but eventually, he let it out. It became clear to me why he was a billionaire before he was 40. He was aggressive. His tone was direct and often harsh. He always made it clear that he was in charge. He would pound his fist on the table; he would grit his teeth. He always said what he thought and took no prisoners.
I wasn't supposed to like a man that was this aggressive. Most would say these are negative personality traits, but I have to admit, they aroused me. It turned me on how in command he was. He looked terrific, too. He was over 6 feet tall, tan, and fit. He took care of his body, working out nearly two hours a day. The salt and pepper hair was dashing. His suits were perfectly tailored. I could see the muscle underneath aching to be released. His command, his swagger, lit me up with desire.
Even when he was harsh with me, I secretly liked it. I loved it when he told me what to do and the primal way he ordered me around. I fantasized about what he was like in the bedroom. My ex-boyfriends were always the docile, respectful type. That's what a girl is supposed to like in this day and age. I wasn't supposed to lust after a man like David, but I couldn't help myself.
I couldn't take it. Every night I would rub myself thinking about what it would be like to have him manhandling and commanding me in the bedroom the way he did at work.
I set out to get what I wanted, just like he did in business. The truth was, I wanted him. He was single, virile. I was single, hot, and hungry for him.
I started to wear increasingly provocative outfits to get his attention: more cleavage, tighter skirts, higher heels, sexier, and smokier makeup. I wore a skirt every day and made sure my legs were as smooth, tanned and sexy as they could be.
I started to lean over the desk when I handed David something, letting him lust after my cleavage. He tried hard not to notice, but he was a man with needs and couldn't help himself. I would purposefully drop things on the floor and bend over slowly to pick them up, letting him soak in the full and glorious view of my ass.
After a month of this, I thought all of my efforts were in vain, but I kept at it. I didn't want to be his assistant anymore. I wanted to be his woman, perhaps even his wife.
One day we were alone in his office, with his fantastic view of the Manhattan skyline in the background. He was telling me about a hostile takeover he was putting together and what he needed me to do. I kept waiting for him to make the first move and decided I was going to have to escalate things. That's when I did it. I tugged at his tie and pulled him in for a kiss.
I thought he might push me away, but he wanted it as much as I did. We suckled each other's lips, and he grabbed me by the hips and pulled me in for a deeper kiss. I got goosebumps it was so exciting.
He pulled away and looked me in the eyes. He gently pushed my hair away and smiled. "I'm glad to see the attraction is mutual," he told me.
I felt my heart soar with joy. Kissing him was a significant risk, but it was paying off better than I'd imagined.
"I want you," I told him softly. I wasted no time and began rubbing the thick bulge in his pants.
He smiled slyly. "Do you think you can handle me, Jessica?"
"I can handle you better than any girl you've ever been with," I told him.
I dropped to my knees and unbuckled his pants. I unveiled his erect, long manhood. I placed my tongue at the base of it and licked its length before wrapping my lips around it and letting it slide into my mouth. I started to move my mouth up and down it. I looked up at him as he ground his teeth.
"Suck it harder," he commanded me.
"Yes, sir," I told him.
I started to suck him more aggressively. He put his large hands around the back of my head and guided me.
I decided to get dirtier. I spat on David's cock and started to work the shaft with both hands. I began to get really wet while jerking it. It was so big, and he was already so hard.
"So, this is what a real man is like," I told him, and I worked his cock with both of my hands.
"That's fucking right," he told me. "Now, get up."
I stood up, and he removed my shirt. He then bent me over the desk and spanked me.
"You've been a bad girl, haven't you? You've been bending over and trying to turn me on, haven't you?"
I nodded and sighed, "Yes, yes, I've been a bad girl."
He started spanking me more aggressively. The sting of it was pleasurable. He pulled my skirt up around my waist and spanked my bare ass. He leaned in and spoke into my ear, "You know what happens to bad girls like you?"
"Fuck me," I begged him.
He plunged his big, hard cock into my warm, slippery wetness. He gripped my ass like a lion in heat and made me his. He made it clear that I belonged to him. He grabbed onto my shoulders and started fucking me hard while I dripped onto the floor of his office. I looked out at the skyline of Manhattan while he pumped his pole into me from behind.
"You feel so fucking good, David," I cried out as I moaned and writhed. He didn't respond and spanked me again.
He then pulled out of me and told me to spread my legs. I nodded and immediately lay down on his desk, spreading my legs for him.
"You're such a naughty girl, aren't you?"
I was dripping and said, "Yes, yes, I'm a fucking naughty girl. I'm your naughty girl."
"That's right, you're my naughty girl," he said to me as he plunged his cock into me. I started rubbing my clit while he fucked me.
"Tell me how my pussy feels," I asked him.
"Your pussy is fucking tight," he responded while I creamed all over his cock. I screamed out in pleasure.
"It's your fucking pussy, it belongs to you, David."
He gripped my ass and started fucking me harder. He looked me directly in the eyes while he fucked me hard. I writhed in ecstasy and shook as the orgasm overtook my body.
"Is this what you wanted?" he asked me, looking me directly in the eye while he continued to pump me.
"Yes, it's what I wanted," I meekly told him while he fucked me hard like a ragdoll.
He told me to get on the couch. "Bend over," he told me.
I bent over for him and wagged my tight ass in the air, beckoning his cock. He plunged into me.
"I want every inch of that cock in my pussy," I told him. With those words, he plunged into me and started fucking me aggressively. He spanked my ass as I felt his balls slap against my clit.
Our clothes were strewn all over the office as we fucked like animals who were determined to sink their teeth into each other. David was like a lion, and I was his prey. I rubbed my clit while he fucked me. David spanked me when he felt like it. He just took control, and I felt so animalistic while I was bent over on all fours and letting him do it.
I could feel his cock begin to swell and knew he wanted to cum. "I want to taste your cum," I told him.
I got down on my knees, and he jerked his salty, hot cum into my mouth. I had always let my boyfriends either cum inside me or on my stomach. I never did something so dirty before, and I loved it.
As I wiped the cum from the corners of my mouth with my finger, I looked up at him and smiled.
"I hope we can do this more often, David," I told him.
He smirked.
"You're a nasty girl, aren't you. Who told you that you could call me David? I'm Mr. Wallenstein."
"I'm your nasty girl, Mr. Wallenstein," I told him as I swallowed his salty cum down my throat. It was so wrong, but it felt so right.