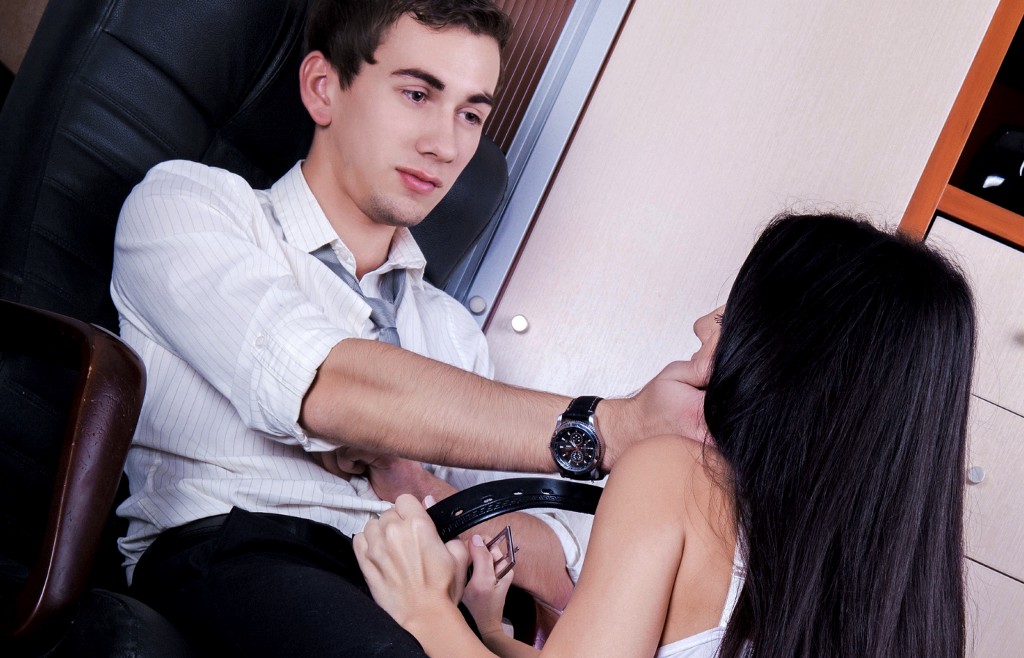 Suck harder — she can't hear you.
Phone sex while my Boss secretly pleasures me.
I sounded out of breath even to myself.
"Hello?"
"Hey, how are you," she said, this time softening the music in the background. I couldn't shrug the idea she might've been crying by herself. What could've of happened. My shoulders tensed as I sat bolt upright in my office chair.
"Th… thank you." I foolishly tried to form a whole sentence. I started over, "Is everything okay?"
"I've just missed you-", she groaned slowly, polishing a leathery snare.
I pressed the phone deep against my cheek, the screen cooled my skin. I was relieved. A silver melody of chatty party-goers interrupted in the room next door. I smiled sympathetically — she was never one for 'junk talk'. I heard the room as best I could… there was definitely a vibrator being used.
"I've been thinking about you too…", I tried to hold back a smile; knowing exactly how her pussy squeezed as she spoke. "But could I call you back in a little while, we can finish what we've started later?"
I looked across my desk. She'd been listening. Not just into my phone call, but at my body language. My Boss straighten the cuff of her blouse as she measured me. She knew she was too smart, too clever, too powerful, to be lied to by a boy like me. She could smell my intention from a mile away, and rolled her eyes at me. Barely hiding a laugh under her breath as she faked her tone. She knew I was human, she knew I'd make mistakes, "I can work on the proposal in the meantime, go ahead"; then my Boss shut a silver pen into the spine of her planner.
Back on my phone, the icon switched over to a live feed from the camera phone. The other woman was small in the corner until she sprawled down to the center of the screen. "I won't hold you for too long," her voice unboxed on loudspeaker. Lust poured. "If only your Boss knew," she overjoyed. My eyes burned at the screen. Truthfully it was not a good time. There was also no proposal, or meeting… only me and my Boss's pussy.
I choked, "How I wish."
The sun ricocheted off a jungle of skyscrapers that was New York City. Light reflected onto diamond earrings as my Boss prowled around my desk to my chair. Knelt obediently before me, she unfastened my trousers, accidentally belting the metal armrest. My blood shot at the sound and warned me to check the other woman on my phone. "Play with your pussy for me now. Don't stop talking," I said pushing the illusion of me masturbating.
The phone focused on two long legs wide open. Fingers trailed down to her inner thigh and circled around between her legs. Suddenly it was hard to know what was happening. My unwavering gaze followed her, as if it were really focused on something only a couple of feet further away. Hiding behind pixels was a quick hand. I turned up the volume so loud the screen was vibrating, and sat entranced, blank staring face, peeking through her fingers, face inches from the flickering screen — my eyes felt almost square.
How insane I must have looked. My head threw back to inhale. Any thoughts of doubt wiped away by a tongue, mopping the root of my cock in a single heavy unwavering motion. My soul was restless. I stared down at my Boss and I nodded slowly, sending a cue to get her started. But ever since I started working under her wing, she hated me. For reminding her of a younger self, and for failing to hold back the flirting. I should have known better, this wasn't going to be something else she was going to let me have. Her breath reddened the skin slightly below my head. In business she rarely stayed between the lines, so why was she going to now? The empty space between us filled with thick static that pounded loudly in my ears. But you know what they say about revenge — I didn't just want mine served alone. I wanted her to eat with me.
I knew if I shared my attention, she wouldn't make me wait. I threatened and turned back to the phone. "There you go," I encouraged the woman on the bed. I could tell she had pictured herself naked, her lower back arched much higher than before. It felt even hotter knowing she still deeply enjoyed this.
"You're a horny little slut, aren't you," I breathed through my nose.
"Yes daddy-" Her moans caught static through the phone. Short, with no care. Now it was known. So when I stared into the lit match and then down to my Boss, it was clear — I was talking to her too.
I spread my legs slightly and granted her easier access. I wanted her to know I needed more direct stimulation. She didn't answer me verbally and slipped my dick into her throat as deep as possible — a sharp exhale from her nose sweat in my lap. At that moment, I was hardly human. She looked up to make sure only I heard her smack her lips, and listened closely for the moans from my phone. How filthy. She actually wanted it. My fingers twitched as my Boss shut eyes tight, and worked me up to the base of her brain.
"Let me see you", I held my phone close to my face. "I want to see you cum."
My phone screen brightened with the colour of her skin as she held the phone up. We locked eyes. The vibrator traced the inside of her mouth before it slowly fucked her. Her pussy sopped out and around; my dick soaked in another's mouth. It felt like I was there. A tight squeeze around my shaft, bopping up and down, hard and fast. I groaned in time with both women… one cried and cursed my name; the other barely mute and muffled from air.
"Oh you feel so good!" "Hmhm."
"Keep going baby!" "MmHm."
"Oh, my god, I'm going to come-" "mmMm!"
Then suddenly, an awkward beep — my phone needed to reconnect. My boss raised for some air and smile with her teeth, threatening the safety of my dick. We were alone. Now she didn't have to hold back. How twisted.
I've never had a woman wrap and unravel her tongue so quickly around me in my life. My pelvis tensed until my inner thighs tingled and shivered. The muscles in my back and chest contracted, nearly bursting the buttons of my shirt. The feeling grew and filled me more. I was so close to coming but convinced myself out of it. I wanted to wait for the phone to reconnect. I wanted her to see…
Then out of nowhere — the phone exploded.
"Aah… aah… sss… Sascha… ahhh!"
The sibilant scream of her orgasm sent through the phone; I was hyponotised. My Boss dribbled around my dick. Careless now that her lipstick was ruined, and revealed lips so full and perfectly pink — the product of hard work. I took every sensation and reduced to ash; my mind went completely blank. The entirety of my tactile senses rushed to a single exit, entering a numbness I wanted to stop and continue forever…
The very moment I was overwhelmed with pleasure, my Boss dropped her hands and stood out of the way; leaving me to ejaculate all over myself. She watched, callous and satisfied by the drops that would ruin my carpet. I drained away… After all, I was already at the point of no return; every nerve in my body and brain was electrified.
I wouldn't have thought she'd casually fix her skirt and walk out of my office. But she did — and barely closed the door behind her. I relaxed in spite of the mess-up and picked up my phone. If I could count on anyone to stick around, it would be her. But in that moment, months of leading her on had stopped. Her icon had switched back to a clean and clothed photo.
She'd left too.