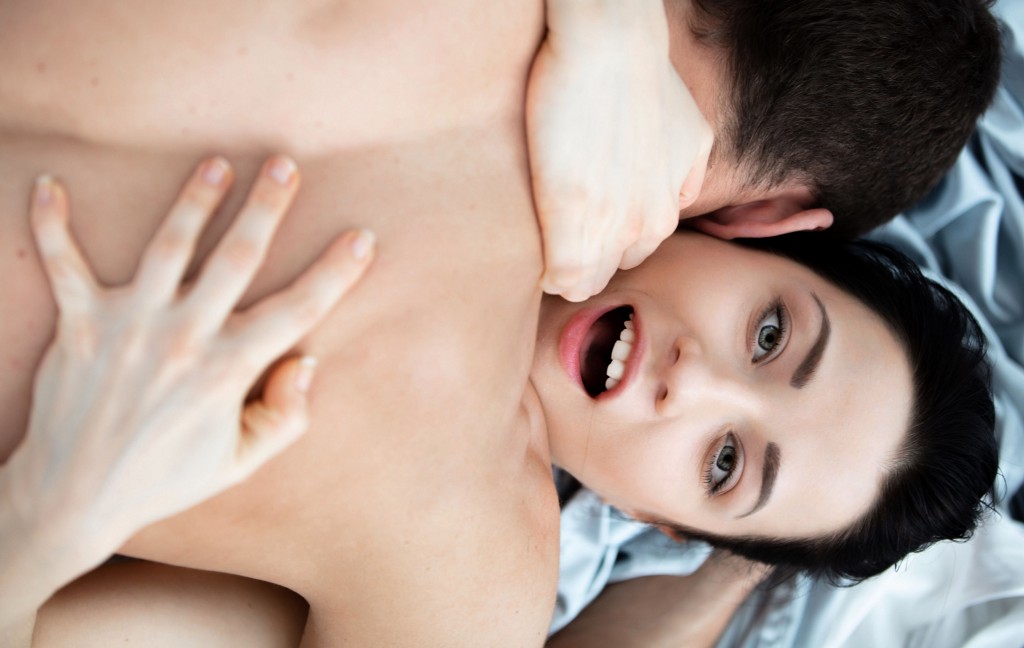 I had recently moved to Los Angeles and I needed a place to live. My best friend, Janice, lived out there with her hot husband, Matt.
Janice was a good friend of mine back when we were in college. She had the same taste in men that I had and we'd often go out together for the sole purpose of picking up guys. Needless to say, we had a lot of fun together.
I remembered their wedding. Matt looked so hot in his tight tuxedo. When I watched them walk down the altar, I imagined their wedding night, and my imagination began running wild with forbidden thoughts.
I thought of Matt stripping out of his tuxedo. I thought about Matt's boxer briefs tightly wrapped around his hard ass and trying in vain to contain his bulging erection. I imagined Janice looking at him lustfully, with her legs spread, wearing lacy stockings, her pussy dripping wet. Matt would get on top of Janice, plunging into her slippery wetness.
It was probably wrong to fantasize about my good friend and her husband, but I couldn't help it.
I absolutely loved California. My job was tough, but the constant sunlight and opportunities for sunbathing were terrific. Janice and Matt had a beautiful pool and backyard that they barely had time to enjoy because they were working all of the time. I loved to sit out there and bake in the sun in my bikini, soaking in the sun as the sweat glistened down my toned, tan body.
I tried to be inconspicuous around the house and mind my own business. They gave me a guest bedroom, and I spent most of my time at work and tried to be quiet and sleep there, staying out of their hair.
While I tried to mind my own business, I couldn't help but hear them fighting all of the time. My mental image of Janice having constant sex with her hot, tall, muscular man was quickly shattered.
One night, the argument got particularly heated. Janice yelled at Matt for leaving his dishes in the sink.
"You fucking slob, all that I need you to do is clean up for yourself around here."
"Fucking slob? Is that what you're going to call me, you fucking bitch? After what you did? You cheated on me with your boss!"
"Grow up, it was only one time, and I'm sick of apologizing for it!"
Holy shit. I couldn't believe it. Janice had cheated on him. What the hell was wrong with her? She had this beautiful, hot guy. Why on Earth would she ever think of cheating on him?
The longer I lived there, the more the fights intensified. It was evident that their marriage was falling apart, and it sounded like Janice's actions were to blame.
After one particularly epic fight in which it sounded like Janice threw something at him, she left the house. I assumed that it was the end of their relationship, but I didn't want to pry.
The next day was a bright and beautiful Saturday morning. I had become accustomed to walking around the house in my underwear as I went for my morning coffee in the kitchen.
I walked by Matt's room, and I was shocked when I saw him masturbating while looking at something on his tablet. I looked at the muscles on his right arm ripple while he stroked his big, hard cock. He was lying down, and the curve of his abs shone in the bright morning light.
I couldn't help but be aroused watching him. I bit my lip, and I plunged my fingers into my glistening, hungry pussy, moving in and out with two fingers as I watched him stroke himself.
Janice was utterly insane to cheat on this man, I thought to myself as I looked at his hard body and big dick.
I then caught a glimpse of what was on his tablet. It was a picture of me in a swimsuit! I couldn't believe it. He must have downloaded it from my social media site.
My heart fluttered as I contemplated the mutual attraction. I shook as I also considered the possibility of getting caught while watching Matt stroke his fat dick.
As my pussy grew wetter and I thought more about the situation, I decided to take the gamble and make a move.
I walked into the room and startled him. His eyes looked panicked, and he quickly tried to put his cock away into his boxer briefs, but it was too big and engorged.
I smiled. "Interesting viewing materials you have there," I said to Matt.
He stumbled over his words. "Oh my God, Tanya. I'm, I'm sorry, I should have made sure the door was closed."
"It's okay," I said. "It turns me on that you think of me like that."
He smirked, and I walked over to him. He looked at my bubbly ass, toned and jutting out, impossible to hide.
"You like my ass, don't you?" I asked him as I looked at his lustful eyes.
He nodded.
"It's tighter than Janice's ass, isn't it?"
"Fuck, yes," he said.
I dropped to my knees on the bed and began crawling towards him, maintaining eye contact. When I made it to his cock, I pulled down his boxer shorts and unveiled his thick cock.
"Janice was an idiot for cheating on you," I told him before I inserted his engorged, throbbing cock into my mouth. I looked at his face, gaping in awe as his cock plunged into my mouth.
I began sucking on the tip and moving my hands along his thick shaft. He must have been a full ten inches, by far the biggest man I had ever encountered. It was big enough that I easily stroked it with two hands.
I began licking his balls and stroking his cock, using the spit from my mouth as lubrication.
"It feels so good in my mouth," I told him before I wrapped my lips around his thick cock again. I took my mouth off it and began furiously jerking him with both hands, marveling at the size of it.
"You are so fucking big," I told him. I stuck my tongue out and slapped his fat cock on my tongue, looking at him and maintaining eye contact. I loved to watch his face contort in pleasure, the pleasure that I was giving him.
I leaned in and kissed him.
"Do I suck your dick better than Janice?" I asked him.
"Fuck, yes, you do," he said as he pulled me for a sensual, slippery kiss.
"Fuck me," I told him as I lay down on my back and spread my legs for him.
His cock stretched out my tight cunt, and he grappled my legs. I moved my hands along his tight abs. My eyes went down from his taut shoulders to his bulging pecs, down to his rippling abs, and then down to his roaring, fat cock stretching out my cunt.
"Is my pussy tighter than Janice's?" I asked him.
"Yes," he growled lustfully through his teeth as the tempo of his pounding increased in intensity. My slick pussy welcomed his fat cock, and I began massaging my clit while he fucked me.
He took my toes into his mouth and began sucking them while he pounded me. I looked down at his biceps and watched them glisten and ripple as the sweat started accumulating on his body.
"Unf, oh my God, fuck me, Matt," I cried out, my voice growing hoarser from the vigorous screaming of our fuck session.
I started rubbing my clit harder and harder, my lust intensifying as I watched his beautiful body slam into mine.
I felt my orgasm begin to build, and my cries of pleasured agony filled the house. "Don't stop, don't stop, fucking don't stop fucking me," I pleaded with Matt.
I felt a wave of joy rise up from my clit to my stomach and begin to reverberate throughout my body. A warm glow pulsed through my body, and I locked eyes with Matt as my moans of desperation for his cock filled the room. I started screaming as I felt myself go over the edge, and waves of warmth pulsed over my body. My fingers dug into his hard biceps as the pleasure released itself.
He smiled, proud that he was able to get me off with his cock as he did. I breathlessly moaned in the afterglow. "Oh my God, Matt," I told him as I regained my composure.
He removed himself from me and leaned into my pussy, his tongue massaging my clit as he prepared me for round two. As he pleasured me, I stroked my hard nipples. My fingers grabbed the back of his head as his tongue plunged into my pussy. He jerked himself off while he pleasured me. I felt the stubble on his cheeks against me.
As I marveled at the fine specimen of a man that was in front of me, I bit my lip. "Fuck me, Matt, I want more of you," I implored him.
I bent over in front of him, presenting my tight, bubbly ass that I knew he lusted after.
"Do you like my ass?" I asked him playfully.
He propped himself behind me, hungrily gripping my ass cheek. He gently slapped it, and I giggled. He then took his thick, pulsing cock and plunged into me, stretching out my tight, wet cunt.
He began slowly moving in and out of me. I reached down between my legs and started rubbing myself as his fat cock stretched me out. His balls began slapping my clit and my fingers. I looked back at him and told him, "You fuck me so good."
He began fucking me harder. He then slapped my ass again, harder this time, enough to leave a red mark.
He became lost in his pleasure, fucking me wildly and without regard to anything else around him.
As his hands tightened around my waist, he managed to grunt, "I'm going to cum."
"Do it inside of me," I implored him.
His engorged cock stiffened within my juicy pussy, and he began erupting within me.
Each furious stroke resulted in more cum oozing from his fat cock into my tight cunt. His body shook with each rope of cum launching into my wet pussy.
As he removed himself from me, he gently smacked my ass and smiled.
"Tanya, I can't get enough of you," he said.
I looked at him naughtily as I reached between my legs and pooled his seed in my hand. I stuck my tongue out and licked the salty cum from my finger.
"We're going to have a lot of fun together," I told him as we smiled at each other.