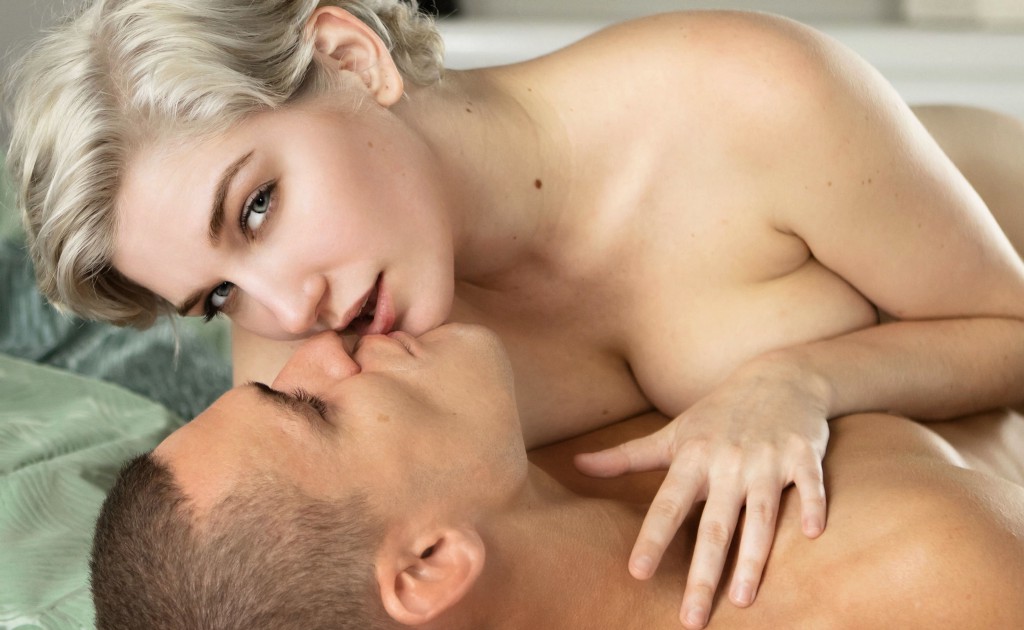 My sister Jacklyn and her boyfriend Phil visited me for the weekend at my new place. I was just out of school and was proud of my accomplishment.
Jacklyn and I had always been competitive. She usually bested me, consistently getting the hottest boyfriends. Jacklyn was also a star athlete. Tennis was her preferred sport, and she even got a scholarship to college. She loved to rub it in my face and insult me.
One time, she even stole my boyfriend. I'll never forget the nights that I cried myself to sleep over it. I loved him, and I couldn't believe that the two of them would do that to me.
Now that we were out of college, though, the game was changing. Jacklyn was still struggling to find a real job, and I was already moving up fast in my career. When she entered my new house, she looked around and tried to contain her jealousy.
I eyed up her new boyfriend and was mesmerized by him. He was fit, with a tight-fitting slim fit shirt to show off the definition of his muscles. I could practically see the abs through his shirt, and it made my mouth water.
I was a little surprised when I saw him checking me out too, and it made me feel a little more confident.
When Jacklyn went off into town for a shopping trip, we stayed behind together at my place. That's when I decided to make a move.
I sauntered through the living room while he was reading, wearing nothing but a tube top demonstrating plenty of cleavage and some lacy panties. I'd applied some sexy makeup and made sure I walked slowly through the living room, letting him soak in my curves.
His mouth was agape as he looked at me walking past him. "I'll be in the den," I said to him and smiled. "Feel free to join me."
I'm sure he was wrestling with the potential consequences of his desires, but I knew I would get my way. Sure enough, within minutes, he walked into the den and looked at me with lust as I lay on the couch, letting his eyes feast on every curve of my body.
Phil just looked at me and didn't say a word. I'd built up a thirst within him over the last few days. He came over to the couch, looking me in the eye, leaned in and drank in my lips. His hands caressed my back. As his fingers moved over my lacy panties, his hands grappled my ass and conveyed his hunger for me.
His hands worked their way onto my tube top, hungering for my ample, heaving breasts. He brushed aside my long hair and caressed my face. We looked each other in the eyes. I felt my heart rate pick up, and my breathing intensify.
"You are so beautiful," he told me.
"I know," I replied curtly. I wasn't interested in conversation.
Phil laid me down on the couch and slowly took off my panties. He spread my legs and plunged his tongue into me, stimulating my clit. My moans were soft and inviting. I wanted more. He looked up at me, satisfied as I moaned and caressed my nipples while he feasted upon me.
My feet began to twitch in arousal, and I held his head while he pleasured me. I bit my lip and closed my eyes, letting out a scream as the desire consumed me. My pussy was a slick, slippery mess, and he enjoyed indulging in my taste.
As I creamed his tongue, I screamed, "Oh my fucking god, Phil!"
He smiled at his own skill in pleasuring me.
I saw the burgeoning bulge in his pants and wanted to return the favor. I seductively unbuttoned his dress shirt, feeling the hard ripple of his taut abs underneath. I could feel him growing harder as he looked down upon my face and inviting warm eyes. I slowly unbuckled his pants.
When his cock sprung from his pants, it utterly shocked me. It was long and thick, just like I had imagined. Shock morphed into satisfaction, and a smile crossed my face when I saw his size. I decided to tease him a little and drew one finger along the shaft. Enough to give him a sense of anticipation, and turn him into the putty that he was in my skilled hands.
I giggled as I watched him convulse in anticipation of his cock entering my mouth. I finally obliged and took his shaft slowly into my mouth. He grunted like a caveman, unable to utter anything coherent.
"Do I suck it better than Jacklyn?" I asked him after I removed him from my mouth and slowly jerked his dick with my hand.
He didn't say anything. I took my hand off of his cock, leaving him there rigid and throbbing with no outlet.
"I asked you a question? Do I suck it better than Jacklyn?"
"Yes, yes, you suck my dick better than her."
I smiled and said mischievously, "That's what I thought, motherfucker."
I moved my fingers across his abs and then worked my way back down to his cock. As I jerked him, I kissed him. He kissed me again with a deep hunger.
I grinned and playfully pushed him away. I lay down on the couch and spread my legs for him, letting him visually feast on my body and my wet, dripping cunt.
"Do you want to fuck this pussy?" I asked him.
"Yes, yes I do," he stammered.
I licked my fingers and inserted them into my pussy. "Come and fucking get it!" I said.
He plunged into me fast and hard. My dripping pussy consumed his cock, and he filled me. There's nothing like being stretched out by a cock this big and I fucking loved it.
"Your cock is mine now, do you understand?" I told him while he fucked me, slapping his tight body against my greedy cunt. I grappled his butt cheeks while he pummeled my pussy.
"I asked you a fucking question!" I told him.
"My cock is yours!" he grunted as he fucked my pussy hard. I grinned while he fucked me, letting the pleasure coarse throughout my body. I could feel the hair stand up and goosebumps consume my body from the pleasure and joy I was experiencing.
"Lie down, I want to ride you," I told him.
He lay down on the couch, his cock at attention. I used two hands to jerk him off, marveling at the size of this man my bitch of a sister landed. I worked it like a corkscrew and looked him in the eyes. He looked back at me with pussy drunk lust.
I climbed on top of him, letting his hard fuckstick stretch out my cunt and plunge deep within me. My tight ass cheeks bounced up and down on his throbbing manhood and the sounds of our sweaty bodies slapping together filled the void.
I grabbed his tight muscular chest and began bouncing up and down. My heaving, double-D breasts bounced as we fucked. Phil grabbed them and licked my nipples. The sensation intensified the fucking. I controlled the tempo, starting slow and savoring every inch, gradually increasing my pace. As my pussy consumed him, I felt it begin to happen. Like an adrenaline rush to my head, I felt the warm pulsing work its way between my legs and throughout my entire body. It felt like I was falling off the top of a rollercoaster as the pulsing consumed my body, and I creamed all over his dick.
I collapsed on top of him and kissed him.
That was when I felt naughty. I looked Phil in the eye and said, "You're a bad boy, Phil. Do you know what I like bad boys to do?"
He looked at me with confused lust.
"I like bad boys to fuck me from behind and cum in my pussy."
He smiled. I bent over for him, letting him soak in my tight, bubble ass. He hands grabbed my ass cheeks, and he plunged into me fast and hard. My hands gripped the fabric of the couch while he fucked me at fever pitch. He smacked my ass, and I loved the way it made me feel.
That's when I felt him grow harder, more engorged. His thrusts became more urgent as he filled me with his hot cum. I love that feeling of a man bursting his load inside me.
The cum dripped out of my pussy, and I looked back at his sexy, sweating body.
"You're mine now, Phil."
I heard the door open. It was Jacklyn. This time, I was the one who took her man, and she was about to find out. Karma might be a bitch, but it's fun sometimes.