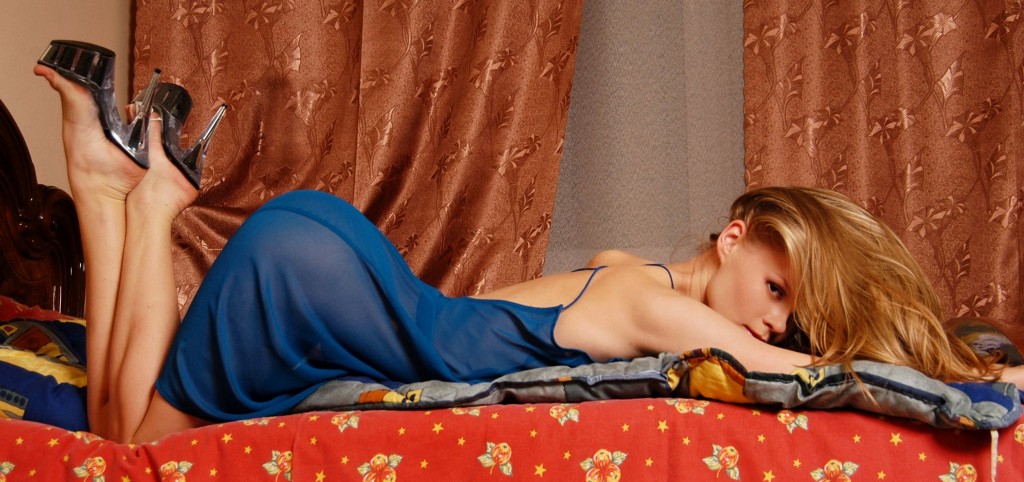 Ann's lust for a co-worker gets publicly exposed
High heels are a little impractical in bed. Ann is half-naked and struggling to get comfortable. Of course, she may be fidgety because she is waiting for a co-worker.
There was no doubt she had a hidden agenda in dragging Nick to the trade show. He didn't fit the profile, but Ann trusted his advice, all the way down to her toes.
"You bringing your power shoes, right boss?" he asked before they left.
It was purely coincidental that he was cute: tall, handsome, well-groomed.
No one questioned her decision. No one would.
Ann and Nick had arrived at the motel the evening before. If it seemed like things were moving fast, Ann reminded herself that they had worked together for years. But this was the first time they had been alone — or at least amongst strangers. They eased the tensions with alcohol. They drank enough at dinner to convince themselves it would be fun to go swimming together. And when the bar service ended, Nick wondered if it was time to call it a night.
"I have some red wine in my room," Ann said.
She gave him one of her key cards and asked him to track down a corkscrew. That was about 20 minutes ago. "Where the fuck is he?"
Home is far away, but still a distraction. "About to go down for the night," she texts.
"Sweet dreams," home texts back.
Ann gets up and opens the curtains. Her room is two floors up from a busy highway. The cars come straight toward the motel before veering off at the last second. Her eyes get lost in the blur of headlights until she hears the door unlocking.
Her eyes turned away, she takes off her blue negligee to reveal her naked body to her peeping Tom. How many times has he wished he could see those legs naked in the office with her ass free from professional attire?
Ann looks back. "Do you like my shoes?" she asks.
Nick puts the corkscrew down near the wine. They walk towards each other and kiss.
"Fuck, you're gorgeous," he says. His hands grip her shoulders and his emboldened eyes glance down her body.
She grabs his hand and guides him to the bed. Ann gets on first and lets him come on top of her. She wants to feel smothered by his strong frame.
He is wearing blue jeans and a tan belt with a white T-shirt. As their tongues get acquainted, she pushes her hands down towards his waist and grabs at his belt until she can unbuckle it. She pushes his jeans down his legs. She feels the hardness of his dick and she opens her legs to welcome him. He pushes deeper against her and she leaves her stickiness on his gray boxer briefs.
Nick rips off his t-shirt in between their wet kisses. She has a thought as he starts to go down on her.
Curtains.
It fades as soon as he's savoring her fat nipples in his mouth, and it escapes her when his tongue traces past her belly button and into her open slit.
The motel looks like a dark rectangle on its side against a darker sky. There's one source of light that seems circular at first. The light develops angles as the car approaches. It's a room with its curtains drawn. Something stirs inside.
Nick licks her pussy frantically. She moans as his tongue goes deeper inside her, guiding him like a good boss as he tongue fucks her. The steel grip on her breasts is the only thing keeping her from gyrating her ass off the bed as she covers his face with her juicy pussy.
"How did this take so…so…Faafafuuuck," she screams.
Her body tenses up, holding Nick back a little as he continues to lick her. She pushes him away as her orgasm's intensity starts to fade. Nick's not ready to give her space. His dick sways as he rips off his briefs. He scoots his ass on her stomach, and his dick drops like lead between her 34Bs. Her squeezed breasts stretch tight over his dick. She looks at him in a daze — her mouth hanging open — as he titty fucks her.
As she looks down at his dick poking through her cleavage, she rubs her clit. She feels ready again. His dick stretches to her neck and she feels the wet of his head slapping against her ticklish chin.
"I need you in me," she says.
Nick grabs for his jeans and pulls a condom out of his pocket. Ann takes his hand.
"You're good, right?" she says.
"Yeah," he says.
She pushes the condom out of his hand and guides his dick to her soft opening. He is more than she is accustomed to, so it takes some time for Nick to find his way in. He drips with impatience, and once he is slathered in her juices he begins to fuck her so hard that the headboard bumps against the wall. He eases up a little when the wall bumps back.
Ann is sounding like a porn star. She grips Nick by the back of the head. Their eyes lock. For the first time, he sees vulnerability in her blue eyes as she succumbs to her desire and his big cock.
Pick a random 10 people. How many would turn away to keep a moment private? How many would want to invade it? Three or four, at least. Now, let's say those 10 people are driving down the highway. Their eyes start to see patterns in a rectangle of light a couple of stories up. There's a lamp on the nightstand, a colorful comforter, and skin against skin.
The passenger sees it first. "Oh my god, are they…"
"Fucking," says the driver, applying her foot on the brakes.
Ann and Nick are alone in a bubble. He's fucking her from behind. He's kind of figured out what makes her tick — or come, at least. It's that wetness against his thrusting dick. It tells him to pull out.
And when he does, her juices are like a running sink with a broken handle. Her juices splashed hard against the soaked sheets.
A car slows too quickly. The truck behind swerves in front of a car passing on the right. The first collateral damage is a bumper. By the time this pileup is done, 37 bumpers will be resting in pieces.
Ann's orgasms have blended all together. He's put up with her for so long. She figured he would have stamina. Now he's just showing off. It's like getting fucked by steel.
Her pussy is pink and raw.
Nick bangs her until she's ready again. All that's left is a little bit of dribble that trickles down her legs and drips onto Nick's eager tongue.
Ann throws herself on the bed. Nick turns off the light and cuddles up next to her.
"Why is it so bright in here?" she says.
"Oh, shit," says Nick, looking up. He jumps out of bed and before he can pull the curtains shut she sees that the highway has become a parking lot.
"Did we do that?" says Nick.
"I think we did," says Ann.
They laugh nervously in the dark. Nick's cock bulges in the silhouette.
"How do you want to cum?" she asks.
He's silent. "I think I know what that means," she says.
She walks up to him and takes his hard dick in her soft hand. They kiss.
"You have to ask nicely," she whispers into his ear.
"Will you suck my dick, boss," he says.
Ann kisses him on the lips and gets on her knees. She tickles his balls as she takes his shaft in her mouth. When Nick's head goes up — his eyes roll back in his head — Ann reaches over and takes the curtain in hand. She rips it open.
They are drenched in fluorescent light.
"Shit," says Nick.
Her laugh is gagged by his big cock. Her heartbeat picks up and so does the pace of her bobbing head. He's paralyzed with pleasure.
Several cars start to beep. They flash their lights. It's quite a show.
"Ugghhhh," says Nick. "Ugggnnnhhh."
She feels a little taste of him, and pulls back to make room for what's coming. He shoots deep inside her throat and she tries to keep it all in as she swallows with each spurt. His forearms rip as he pulls her head down his cock, forcing some of his cum out of her mouth.
The cars beep in a frenzy. It's an orchestra gone rogue.
Nick's body goes soft except for his still throbbing dick, which Ann is cleaning up with her long tongue. She tickles his balls as she squeezes every last drop out against her salty tongue.
He closes the curtains, which are now lit up with the blinking blues and reds of emergency vehicles. Ann gets under the covers.
"Will you open the wine and pour me a glass," she says.
He complies and she takes a big swig on her first sip from a paper coffee cup. "You can take the rest," she says.
His look is not one of disappointment. But he doesn't want this day to end.
"See you tomorrow, Nick," she says.
He kisses her on the forehead. "Night, boss," he says.
Read more of Ann's cheating adventures:
About the Author
I earned my pen name from my wife for my tireless efforts to find her the best sex toys, porn, and erotica, including my own hand-crafted smut. I eventually started to write about our dirty project on slipperyjunk.com. Follow me on Twitter to get all my latest updates.
Follow me on Twitter