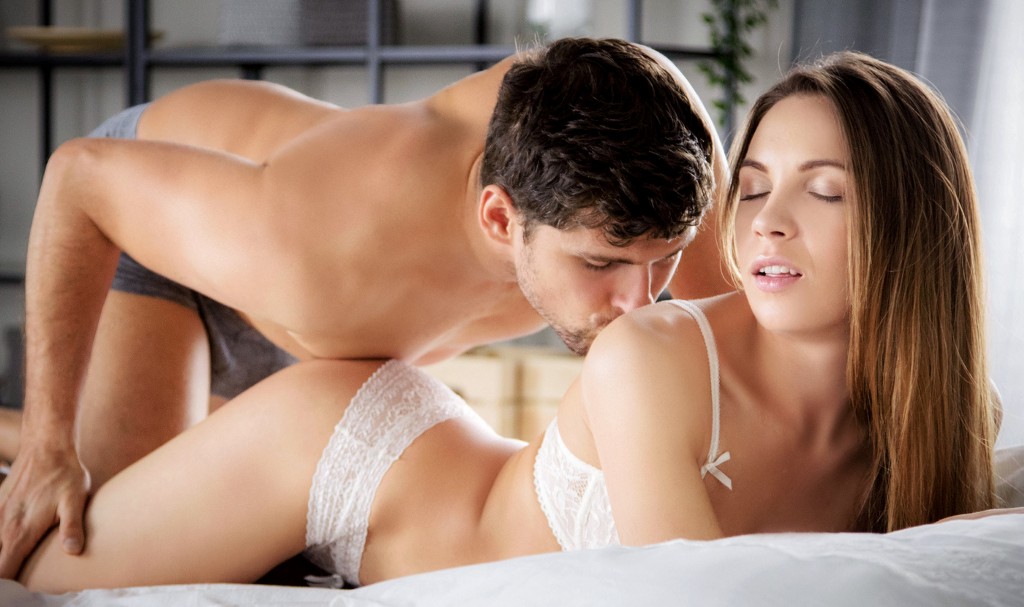 'Baby,' I said, looking up from the article I was reading. 'I want you to kiss my pussy.'
My boyfriend was working on something on his laptop — topless, wearing white cotton pajama bottoms. He raised his eyebrows and looked at me, with the hint of a smirk on his face. 'What did you just say?'
'I said, I want you to cover my pussy in light kisses. No sucking, no licking, no tongue at all. Just your lips on my pussy, and soft, fluttering, fleeting kisses.'
His right hand instinctively went to his cock — the way it always did when something naughty I'd said or done had turned him on instantly. 'I'm torn between making you beg for it and worshipping you like a goddess.'
Two options.
So I picked the third.
I pulled up my silk nightie to reveal the lower part of my ass and pussy, and pushed his laptop away. I sat myself down in front of his face and opened my legs.
Goddesses don't wait for worship, they demand it.
My hands reached for his luxuriant hair. Grabbing a handful, I pulled his head close and pressed his face between my legs.
Ah, that sensation of his soft lips pressed against the most sensitive spot on my body. I was already squirming when he dutifully obliged and planted the first of his soft kisses on my pussy.
It was so tender that the fleshiest part of his lower lip just brushed against my labia. I could feel the blood flow into them in a giddy rush, and they swelled up against his waiting lips. 'Fuck, this feels so good,' I said as I felt that familiar rush of happiness overwhelm my senses.
He leaned in close once again and kissed me, ever so lightly.
I arched my back and grabbed the pillow beneath my head. His laptop was pushed further away, now forgotten.
His kisses were soft and tender, and they made me moan out loud. His lips were so soft, so fleshy, they felt like heaven down there, pressed so lightly against my pool of moisture.
I let go of his hair and breathed, 'Baby, turn over, I want to give you a taste of the same heaven.'
His expression said that this made him feel as if Christmas had come early. He turned over and placed his ass over my face, while his face was between my legs again, his wet kisses deeper and longer now.
I ran my hands over his rounded ass, pressing and grabbing all over. His hardness was throbbing against his sheer pajama bottoms, the soft wet spot forming near the tip making me salivate at the thought of finding so much of his sweet precum to lick. I pulled his cock loose from the elastic binding it.
His dick looked glorious, every vein taut with all the blood flow, every ridge on it visible, inviting my tongue to trace its curves. I wrapped my palm around it and brought it close to my face. I took a whiff of his familiar musk and closed my eyes in anticipation of all the pleasure I was going to give to him and myself as well.
I pressed his dick to my face, rubbing his smooth skin against mine slowly and deliberately. His pace quickened, and I felt his tongue in a sudden unexpected lick on my clit.
I gasped, and put the tip of his dick inside my mouth. I pulled his balls free from his pajamas, and fondled them gently, my fingers making light circular motions over his sensitive skin. My tongue was swirling around the tip of his dick, my lips sucking on it like it was the tastiest popsicle I'd ever had. His precum tasted as sweet as it had smelled, and I was reveling in the rush of happiness it brought to my senses.
I could sense how much he liked what I was doing by the tremors of his body. He quickened his pace down there — doing crazy things with his tongue, playing my body like a fucking toy. My legs were shaking with the sheer pleasure of everything good happening to me at that moment.
I could feel the pressure inside me building up, my senses working their way towards a huge orgasm. I put his cock all the way inside my mouth until his tip touched the back of my throat. I sucked deep. My tongue was rolling all the way from the tip of his dick to its root, moving with some effort in that wet, warm, cramped space the inside of my cheeks made around his shaft.
I sucked on his dick hard, making deep milking motions with my cheeks and the roof of my mouth. My belly quivered, my legs shook, and with a gush of sweet warm liquid bursting out from my pussy, I hit a massive orgasm. When I was done, I let his dick out and breathed, gasping for air like I had been underwater for a lifetime.
He turned his ass and came upwards to look into my eyes. His face was so drenched in my cum that even his eyelashes clung to each other with that liquid I had so copiously ejaculated.
I wanted to lick it all off his face and his tiny little soft nose. I held his hair and tried to bring his face close to my lips to do just that. But he resisted, a look of mischief in his eyes.
'No baby, we are going to do it my way this time. I think your pussy has had enough for the time being. I am going to fuck your face now, bitch.'
I loved it when he did that — called me baby and bitch in the same breath.
I obliged, our roles reversed, and I was ready to be his sex slave for him to use as he pleased — yet another time.