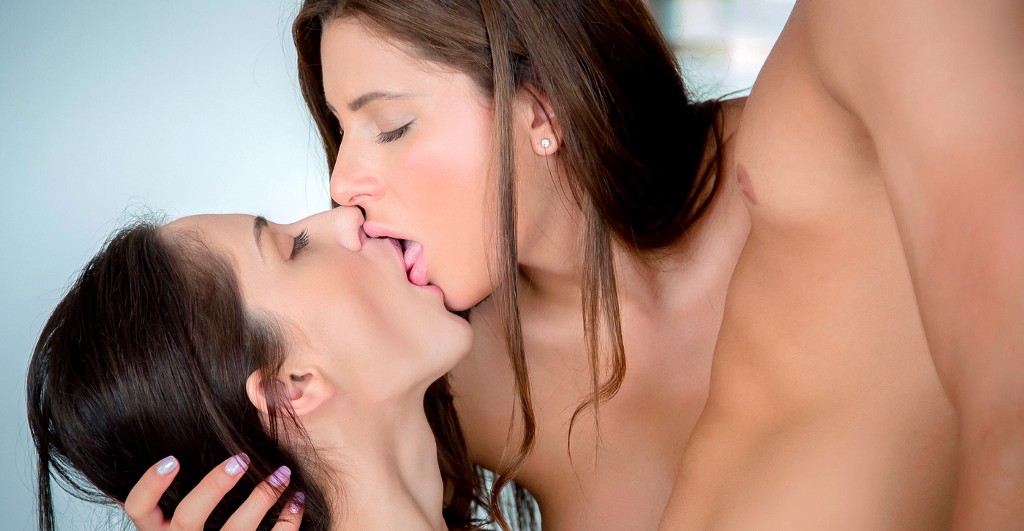 We'd been planning and masturbating at home thinking about this day for months now.
I have made it my life's work to study the lines and curves of men and women the world over, and the three in front of me right then were stunning. One on her knees being eaten out by her SUB-BFF, with a slick, iron hard cock in her mouth. My own was hard as a rock witnessing this scene before my very eyes. They were all perfectly alluring and mouth watering in their presence. She, on her knees receiving the fucking of her life, was the focus of my attention. Honey, I had been staring intently, studying them for about an hour by this point. Holy hot!
There she was, milking his wonderful length in her hot little mouth. He was grimacing in pleasure and obviously doing his very best not to cum in her tender, wet, lusciousness. Her pussy was mashed into the face of her hot honey who was eating and salivating like a hungry beast-woman on her lover's flesh. FUCK! What a scene baby, phew!
He was a fine thang of a man. Strong of intent and power. Muscled, clean smelling, tender in all the right places and strong in all the rest. He had a hood on his head, covering his face, only a hole to breathe, zipper over the mouth. A studded collar around his neck and held fast by her on her knees with a short leash in her hand. Rivulets of sweat eased over his muscles as he worked to and fro with these two goddesses of perfection and deep, sensual, long lasting blissful sex.
The women were hot AF! The one on her knees being tended to was obviously a DOM and the other a perfect SUB on her knees servicing her Mistress well. She wore baby blue lingerie, that one; delicate, frilly and deliciously feminine. The Mistress wore a black latex body suit with access in all the right places. Her other toy, the woman, also wore a collar around her neck with a short leash, so they were both held in their places of submission and service. They both appeared to be quite content being owned and controlled in this way. And I most certainly would not have minded being owned by her, or any of them for that matter… FUCK!
This whole SUB/DOM thing was a curiosity for me; my cock sure enjoyed the view to a skill. The loving and power, the raw exchange of lust here in front of me. They were wonderful to me, all of them. And the beat went on and the dancing lovers kept the groove alive at this private sex party.
Deep House bumped all around us as the DJ kept spinning and blending her tasty magic, adding the final touch to an already hot scene. She was sexy AF too, wearing hip tight jeans and a low cut top barely covering stunningly gorgeous rounded plump handful breasts. She, in her self control and serious concentration on her art and synchronicity. The three in front of me wove their spell on me through the pleasuring of one another. Occasionally one would look up at me with either a deceptively shy look of please help me, or bet you wish you were on your knees like me, huh? The dance of seduction and the primal beats spun by our DJ was as delicious as the sex before me now. Oh gawd the ache in my balls was killing me, honey. FUCK!
This private show was something we all laughed about wanting as part of that naughty FB group we belonged to. Exchanging flirtations and hot pics made us horny and playful all those nights alone in our separate homes, apartments and condos. We all come from some very unique backgrounds but hey, I am not telling too much here. Some of those involved are pretty classy peeps and have an image and status to maintain. All involved promised anonymity if anyone was ever to get to experience what I am telling you about. Suffice to say, all are interesting combinations of sluts, whores and cock hungry pussy slaves who believed in making fantasy reality as well as being safe and respectful along the way, baby.
I would have told you about this sooner sweetie, but I was sworn to secrecy, kinda made it hotter actually. I didn't know if you were the kind of girl who would be into this kinky stuff. But hey, we agreed to an open relationship already right? Maybe next time we will get you hooked in. I can see by the disappointed look in your eyes that you wish you would have been a part of that scene too.
Anyway there was me, the voyeur, getting to witness this hotness and to keep my end of the deal and not get to touch anyone or pull my cock out and beat it off right there and then, NO! Not part of the deal. But fuck me, honey, I sure wanted to. I was told I had to wait. And I did.
I am sure being watched turned those three on big time, the DJ sure picked up on the vibe. She smiled at me once in a while, recognizing the difficulty I was in not getting to play too. They three and she on the decks were pulling a sensual energy out of me, I cold feel them and I gave it freely because the movement of chi is my gift and my offering. She licked her lips at me once through the set and that got my mind racing that maybe later I would get to tap that. Mmmmmm, but holy honey, those three changed places and my mind was distracted yet again.
Our DOM ordered him to lie flat so her woman toy could ride his meat and then she sauntered over to him sultry like, her breasts bouncing gently with her catwalk strut, then pulled his mask off and sat on his face. He was muffled and gagged with pussy in his face. PHEW. Damn I wish that had been me, oh gawd honey would you please do that to me later when I finish telling you this story… P-L-E-A-S-E.
Our delicate flower of a SUB was so sweet and gentle riding him. Her hands caressed his man flesh, gliding gently over his chest and nipples. Quite the contrast to the crazy bitch face fucking him and ordering her riding him to kiss her plump, ripe, red lips. Those curvy woman's hips and bouncing breasts oh so fucking delicious and edible damn it, fucking the man into submission. His grunts and moans subdued by pussy flesh in his face. Then suddenly as his rock hard phallus was being ground down upon he grunted deeply, raised his hips with her on him and it was obvious, he was cumming, and cumming hard at that. What a star baby, I would have shot my load a long time ago with these two and their hot selves. FUCK!
She being cum into drank his cream up into her sweet pussy and delighted in the feel of his spasms and tautness of every muscle in his body. Her hands drank up his wet body with touch and passion. She was so lovely to watch, baby. The look on her face as she was being cum inside of was the absolute perfect visual salute to lust and satisfaction. She kept riding him as if to make sure not a single drop of cum would be left behind in his balls. Then she looked over at me and smiled in the most gentle, sultry way I have ever seen, EVER! Fuck, I swear my cock would never ever get soft again after that look. GAWD she was hot.
"Get up off that dick and come over here and let Mama drink him!" our DOM insisted and our happy little SUB obliged apologetically. "Its okay baby, it is not you who is going to get punished baby doll. You were a good little girl to milk this bitch whore. He will be punished shortly after I suck his cum out of you. You know how I like to drink my lover's cum."
Our baby blue lingerie clad sweet vixen eased her cum dripping pussy down on our latex clad DOM's mouth and she licked and drank his man seed and spent several moments eating and cleaning that fine cunt. Her petals were a sight to behold. That girl had phat pussy lips. Gawd I so wanted to eat her, FUCKING DELICIOUS baby.
I could now see by the look on his face, he who just madly ejaculated knew he was gonna get it and get it hard. And our DJ could feel the vibe too and a hard thumping, pounding beat replaced the silky vibes of music to cum to. Damn that girl knew her shit baby, her choice of trax was perfection in the making as she strung one to another seamlessly.
"You have been a bad boy, you came before I said you could, put your mask on and assume the position."
He did as he was told and she cracked his ass until both cheeks were candy apple red with her paddle handed to her by our SUB. Wow honey, my cock twitched as he was being smacked. I would never have imagined in a million years that shit would have turned me on but it did. Watching it, watching him take it without flinching. Actually she did not stop cracking him until he did flinch. What a star, phew!
With tears running down his cheeks, our DOM came to him face to face and looked at him with a sour look on her face and kissed him deeply, fucking his mouth with her tongue, and kissed the tears from his face. He had gotten it but good, holy… phew!
"Don't you make Mama do that to you again okay, you know how I hate to have to make it right again after you fall out of line, do you hear me," she scolded him as she was kissing him.
The feeling of attraction and repulsion and serious turn on was making my cock wanna scream out for attention and release. FUCK ME GENTLY, okay no ROUGH-like NOW PLEASE FUCK! But no, I had to behave else I'd get cracked too, I could see her laser like piercing eyes warning my ass, don't you even think of it bitch.
"Now you be a good boy and drink Mama's pussy like our sweetie here did earlier, make her cum good and hard and all will be forgiven and we will need not have to speak of this again," our DOM instructed our helpless man-slave.
And so he was flat out again and being face straddled. Our sweet SUB set to making his cock all clean and shiny and hard all over again. What artists these three were, honey. Serious sexual artists in not only their attire and movements but grace and form.
He opened his Mistress' pussy like a book with his fingers and proceeded to study it with his tongue and lips. His deep licking and activation of her pleasure was most enjoyable to watch. He was quite a good pussy eater as witnessed by her moans and squeals of delight. The attention he was receiving on his manhood was no less of an attractive scene. The up and down and the way she was looking at me with cock in her mouth was in-fucking-credible baby. I do hope you get to sit with me and watch next time. Or maybe you would like to participate.
He came again but this time splattered her lovely little cute face with his seed and he drank up his Mistress' juice as she squirted almost violently all over his face.
Oh yeah, she did baby. That DJ later sucked the screaming cream right out of my cock baby and damn it I was a one minute man baby. FUCK! You know me I am usually not like that, but after that OMFG. Yes, I shot it right down her throat like you know I like to do.
She was great, she swallowed every drop and yes of course, I did. I serviced her well, honey, and ate her fine pussy for over an hour and made her cum numerous times before night's end.
Abso-fucking-lutley, I drank her, fuck ya, delicious.
Thank you angel for understanding, now would you please do as I asked earlier and fuck my face and let me drink your sweet cum.
Mmmmm, Daddy thanks you. Gawd you taste good, honey!