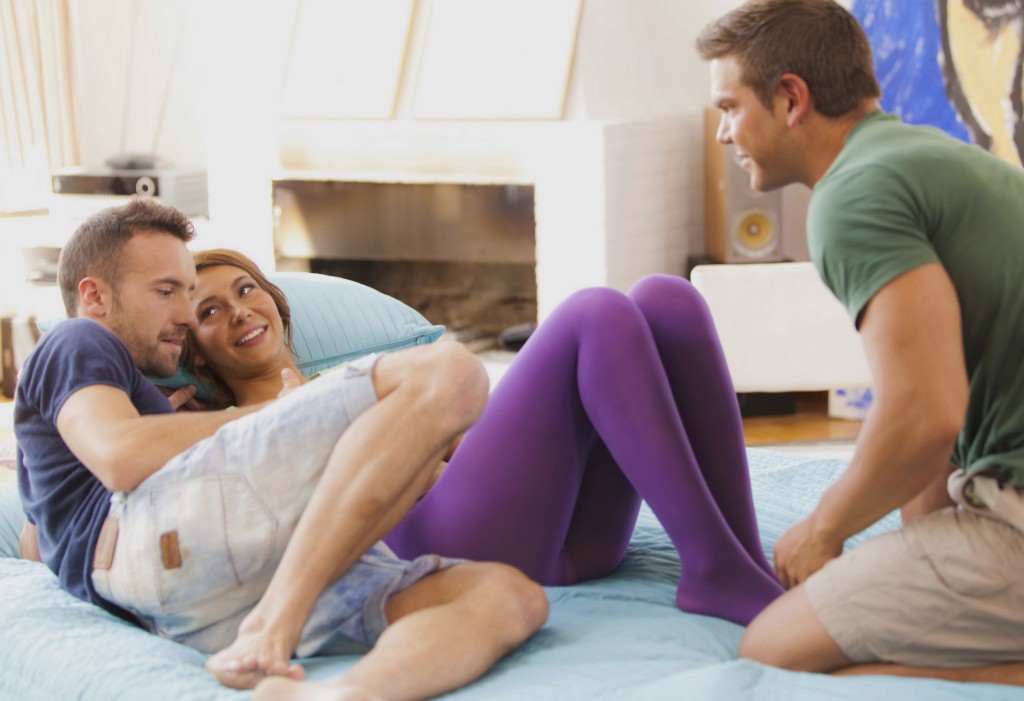 It was the hottest night of my life
His name was Alex. He was very strong, had some tattoos on his arms, and he had a kind of mean looking goatee.
The first night we hooked up with Alex, it was a real surprise. He took control like no other bull we had met.
"Take off your clothes," he said to me, when we arrived at the hotel room we had booked for our night of debauchery.
"Me?" I said.
"Yes, you, Cuck," he said. "I want you to stand there naked as I have a glass of wine with your super hot wife."
I looked at my wife Debbie. She nodded. So I obeyed him. I took off all my clothes and stood there as they sat on the end of the bed sipping white wine and making chit chat.
It was a new experience for me, being the only naked one in the room. Of course I was very hard almost right away. I reached down.
"Hey!" he scolded. "Don't be disgusting. You don't get to masturbate. I'm trying to have a sophisticated conversation here with your super sexy wife."
Soon, of course, their "sophisticated" conversation turned to the subject of my small manhood.
"Well, honey," he said, in a consoling tone, "It's not the smallest I've ever seen."
"No," my wife agreed. "Me neither."
"But even with that erection he's got, what is it, like three and a half inches?"
"We've never measured."
"Can you even feel it?" he asked her. "I mean, when he's in you."
My wife kind of shrugged. She was so sweet, she didn't want to hurt my feelings.
He was about right, btw. I have measured. A bunch of times. I don't know, am I wishing that somehow it grew since last time I measured? I might be able to really stick the tape measure back against my pelvic bone during an erection and just about get to four inches.
"I can certainly understand why you got into the hotwife thing," he told her. "And trust me, you're not going to be disappointed. I've been measured at nine inches."
"Nine inches," my wife said. "Oh my."
"Yeah, you deserve all nine of them," he said. "You are a beautiful woman."
He planted a big kiss on her and they started making out. Oh how desperately I wanted to put my hand on my cock then, because seeing my wife kissing other guys is one of my favorite things. I love how her face gets all flushed and she puts her arms around the guy's big strong back.
My back is very small and weak. I went to the gym once. The guy told me to bench press the 70 pounds. I got it like halfway up and my arms started shaking. Yeah, I'm weak.
"You enjoying this, Cuck?" Alex asked me when they took a break from swapping spit.
"Oh my gosh yes," I said.
"Yeah, you want her to be happy, I can see that," he said.
"Very much."
"I don't know how the hell a guy like you landed a babe like this in the first place, Cuck."
"Money," I said.
"Oh right," said Alex. "That'll do it. What did your company go public or something like that?"
"Something like that," I said.
"Well," said Alex, getting up. "You might have the dough. But I've got the sausage. So together I guess that makes us a nice sausage roll for the sexy lady here. So why don't we get started?
"Great," I said.
"You go ahead and turn around and bend over and I'll put this butt plug in you and we'll begin the proceedings."
"Butt plug?"
I looked over at Debbie, surprised.
"Oh, don't be a pussy," she said. "Turn around and let him put the butt plug in your ass. It makes a statement."
It certainly did feel like a statement. I obediently turned around and bent over as he approached me with this red plastic thing.
"Lube or no lube?" he asked Debbie.
"Oh, let him have a little lube. He's being such a pussy about it."
"Alright, I'll lube it with your pussy juice," he said. "Take your clothes off and come over here."
I guess my wife undressed then, because I had my back to them and I couldn't see. Then she started moaning, which I imagine meant he was sticking his fingers in her cunt.
"Oh, that's a lot of moisture," he said. "That will lube this butt plug up real nice."
I knew what he meant. My wife got so wet during our cuckold nights. She practically gushed out of her pussy.
"Alright, I think we're ready. Bend down, Cuck."
I bent down, and I felt it go in very quickly. It was a quick hit of pain. I'd never had anything up there before. And then it felt quite nice.
I turned around and watched then, with the butt plug up my butt. I guess it really did make a statement. He had stated loud and clear that he was the man here, and I was the "boy." And he was going to show me how a real man takes care of a woman in bed.
She was naked, my lovely wife, sitting on the edge of the bed. He stood over her and told her, "Now you suck my dick, baby, while your husband watches."
He dropped his trousers. He wasn't wearing any underwear. His dick was huge, and hard. She eagerly thrust it in her mouth and started corkscrewing her two hands on the shaft.
"Oh yeah, that feels nice. She sucks it good," he said. "How are you feeling, Cuck? Is that plug feeling good for you?"
"Very good!" I said.
"Go ahead, you can jerk off now, if you want. But you can't cum, understand?"
"Yes, sir," I said. I don't know why I became so formal suddenly. It just seemed like the proper way to address him, my superior.
But to my surprise and shock, as soon as I put my hand on my cock a big arc of cum shot out. I felt my ass cheeks squeezing together.
"Oh gosh!" I said. "I'm sorry! I'm sorry! Honestly, I — "
He started laughing.
"Relax Cuck," he laughed. "It's the butt plug. It's milking your prostate. That's why you came. I was only messing with you telling you not to cum. With that thing in your butt you'll be able to cum over and over."
"Really?"
"Oh yes." He returned his attention to my wife. "Alright baby, time for your pleasure."
She took her mouth off his cock and lay back. He went down on her and made her moan and moan.
I felt so good, watching him bring my wife to orgasm. This was my heroin. It was hers, too, I knew. Somehow we had found each other, with this perfect complementary addiction — me addicted to watching her, and her addicted to being watched. She has told me that sex when I'm not watching isn't half as fun as sex while I am.
Me watching her makes her feel so powerful, she has told me. And she did look powerful then, with that tough guy's face at her lovely pussy, eating away like he was in heaven.
He was in heaven, I knew that. I had been down there, where he was. My wife tastes so good. She's like no other. So delicious and musky and sweet.
"Oh my God," he cried out.
"Yeah, she does taste good," I said.
"I've never tasted anything like it!" he cried.
And that made my wife really go off. She loves to be praised in this way. To be homaged and honored and sung about. She loves to be the center of everyone's attention.
I came again as she orgasmed, and it was another huge arc of cum as my prostate gland squeezed on the butt plug.
Then, as Alex went up to her, covered her with kisses, and got on top of her and inserted that nine inches of manhood into her pussy very slowly…I came again. I could feel it in my ass. It was like he was putting it in my ass as he put it in her.
"Oh my God!" I cried.
"You want me to put this in you after I'm done with your wife, Cuck?"
"Um…I don't know. It's pretty big. I don't know if I could…handle it."
"After I orgasm, you can eat my cum out of your wife's pussy. And then you can suck my cock and make it hard again. And then you can get on all fours and I'll fuck your ass, Cuck. How about that?"
"Sounds like a plan," I said, nervously. To tell the truth, I didn't know if I was ready to do any of that. But I wanted to sound brave.
It went just as he said it would. He came in her. I ate his cum. It was salty and strong, mixed with the sweet and lovely taste of her pussy. Then I sucked his cock while my wife made out with him. It was amazing to feel his cock harden under the sway of my lips. I felt like I'd really done well.
"Good boy," he said.
Then he pulled the butt plug out of me. That was quite a surprise. It was another hit of pain going out.
I got down on all fours then, on the bed, and my wife held my hand.
"Are you ready for this?" she asked me gently. "Is this what you want?"
"Yes," I admitted. "This is what I've wanted all along. All the times I've seen you being fucked by other men. I've wanted to be you, being fucked."
"Well, you can be now," she said, happily. "You can have exactly what you want."
I braced myself. And then he entered me. I felt like I was being split in two. I felt like I'd entered another world. I felt at home — at last. This was where I belonged…on my knees before a mighty, wonderful beast of a man. On my knees being fucked!
Read Colt Stevens on Amazon here.