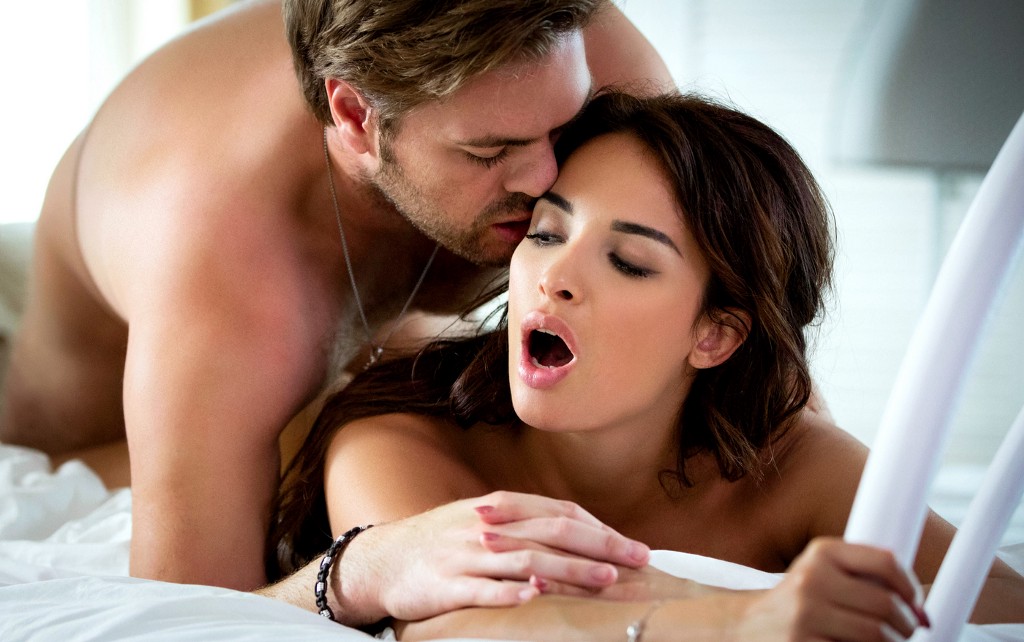 A generous man shares his lovely wife
Go ahead, kiss her. Look at the way she's smiling at you, fixing her eyes on yours. She wants you to kiss her.
Kiss her nice and long. Put your arms around her and plant your mouth on hers. Feel how she's kissing you back, with her arms around your strong back, pulling you towards her. Her mouth open. Find her tongue. Explore it with your tongue. Feel her passion.
My wife is incredibly passionate and lusty. You can feel that now, can't you? Have you ever been with a ten before? I'm sure you've had nines — you work out, you are handsome. But my wife worked as a model for five years. She used to date rock stars, rappers, and football players. How she ended up with me? Well, that's a weird story. She fell in love with my sense of humor.
Also, I'm rich.
I sold my company five years ago. I own a vineyard and a helicopter and a jet. Yeah.
That's probably a factor, but I like to believe it was mostly my sense of humor. (That's a joke, sir. I know, you hot guys rarely understand my jokes; never mind.)
Also, there is this. I allow her complete sexual freedom. I know the last thing she really wants to do is have sex with me, a middle-aged bald man with a pot belly.
She rarely does any more. I prefer this. Watching. Pleasuring myself and watching.
She is one of the most beautiful women on the planet, don't you agree? And she's all yours. Go ahead, slide that dress off her shoulders. Do you know that dress is very expensive — I didn't buy it for her, it was a gift from one of the designers she used to model for. I think it sells for like five thousand dollars.
But now it's off her shoulders and she's not wearing a bra, so there they are. Her breasts. I know…they are fucking amazing. They hang there like two bells, ringing good news for you — you get to touch them! Go on, put your hands on them. Feel the weight. They are on the bigger size for models, you can see that. And those nipples, eh? Go on…put your mouth on one of them. She wants you too, can't you see. She's waiting.
That's it. Suck on the tit, you lucky bastard. And while you're doing that, look, she's taking your hand and moving it somewhere.
Up the skirt of her dress, and to her pussy. She is not wearing underwear. Feel how wet she is. She tells me how much it turns her on to perform for me this way — she's always been an exhibitionist. She gets tingles all the way up her back when she is exposed like this. See how she's lying back on the bed. She wants you to expose her.
Pull the dress off her. See how she lifts her butt to help you take it off. She's naked now. She loves lying naked in front of a new man. She loves how you appreciate her. I mean, you're practically drooling, if I'm honest. Your heart must be racing. Your breath quickening. Can you believe the beauty that is lying naked before you? All yours, sir. All for you.
You're lucky.
Now…I want you to taste heaven.
There is nothing on the whole of planet earth like the taste of my wife's pussy, I promise you. I mean, I live the billionaire lifestyle. A five hundred dollar bottle of wine is nothing to me. A week at Lake Como, meh. It's not nearly as nice as this. Go on, put your mouth on it and enjoy.
I told you! Didn't I? I don't know what magic happened to this woman, or what God was thinking when he made this, but holy crap, you have to admit that is the most delicious taste on earth, is it not. And the intoxicating aroma of musk and ocean, don't you feel like you're on drugs right now, as you begin sucking on her clit and licking her?
And hear how she moans.
She's a very sexual person, sir. She will cum in seconds. Just wait, and when she cums, she lifts her bottom up and presses her mouth harder into you and moans louder and oh, I love to watch another man make my wife cum.
I am strange, I know. There are so many pleasures available to me. I could have the finest escorts in the world service my needs.
But this is my need.
I need this. Every week I must have this. I would have it every day if I could, but it's not that easy, to find the right guy, the right bull. He has to be nicely hung like you. He has to sign the non-disclosure agreement, which puts some guys off. He has to travel here to my island on the helicopter — believe it or not some guys are afraid of helicopters. I guess they hear about helicopter accidents on the news.
And then, you have to charm her.
So many guys I've flown here and we three have shared a meal together and then she gives me the signal — a quick shake of the head. It's a no. I have my guy escort them back to the helipad and bye bye.
But tonight, she gave the nod. She likes you, sir. I like you. You are very sexy and cool.
So now that she's cum, why don't you take your clothes off and stand before her.
She likes that, to see a bronzed buff specimen of a man naked in her chamber, standing next to her bed. Waiting.
Oh yes, you know what you are waiting for, don't you sir? You can just tell. She is the kind of woman who wants to devour a specimen like you.
Mmm, you've pulled off your briefs and you are nice and hard, standing next to the bed. Even I'm getting turned on. Yes, I realize fully that this fetish of mine must have some homoerotic component to it. Don't worry, I'm not going to touch you. I'm content to sit here touching myself. Watching you, and your beautiful physique, as my wife sits up on the bed and comes to the edge. There she sits, and puts her arms around your butt and pulls your cock close to her mouth.
It's a nice mouth, eh? That cherry red lipstick she's wearing can only be bought in France, it's not cheap, you can bet. Look how it frames your cock as she puts it in her mouth. It's a beautiful sight. Oh gosh I have to stop masturbating or I'll cum. And I don't want to do that. I don't want to miss the main event.
Yeah, she can take that full seven inches no problem, she's had practice sir. She's had some eight-inch ones, some nine inches, and even one guy with a full eleven inches. She liked him.
Now you're all the way to the back of her throat.
No! Don't you dare cum, sir! Don't! I can see you gripping the back of her head, throwing your own head back and sighing with pleasure, that's great, but control yourself, please.
She's no fool. She senses you were close to the edge so she pulls you out. She looks up at you mischievously. It's time for the main event.
She hands you the condom. We can't take any chances sir, sorry. She has a lot of partners. If she didn't do this, well, you know.
As you put it on, she gets on all fours on the bed and waits for you. Take a look. That's the thing about models, I've been with a lot of them. It's the ass that makes the clothes look good. Models have to have that certain ass.
You like it, don't you? All men like that certain ass. But only a few men get to take a woman from behind who has that ass.
It's quite a ride, sir. Quite a ride.
She really loves to feel a man enter her from behind, she's told me. It's her favorite position. It brings out the animal in her, she says. She especially likes you to slide it in slow, like you're doing. Perfect. You're checking all the boxes, sir. That's it. Put that big thing in her pussy slowly, just a few inches, then pull back, then push in further, that's it.
Alright, now you're in, sir, go for it. Ride her. Yes, thrust that big cock in her, hear how she cries out with every thrust.
Yes, she's using her hand now to bring herself to another orgasm. "Oh god, oh god, oh god," she cries. "I'm cumming! I'm fucking cumming! Oh god that feels so good. Fuck me!"
I love to hear her talk like that. You can imagine, she never talks like that when I fuck her. When I fuck her, it's quite quiet. It's nice, but quiet.
It's quite loud in here right now, sir, since you are joining in on this chorus with your own moans of pleasure.
Oh, she pulled you out, she must have felt you losing control again sir. She knows. She's very expert. You need a break.
Lie down on the bed now. She wants to sit on top of you and make you squirm.
Mmm, she really likes you, sir. I've not seen this before. As she fucks you from on top, she pulls you close to her and makes out with you so deeply. She's really into you. She's grinding that beautiful ass onto your straight as a flagpole cock. It must be making her feel so good. Oh sir! Look. Without using her hand she is reaching another orgasm — that's rare.
"Oh you're so good, baby, you fuck me so good, I'm gonna cum, I'm gonna cum…"
I admire your stamina sir, I would have cum right then. But you said you had staying power and you really weren't lying. You're still hard, and ready for some more fun.
Now she lies down and puts a pillow under her ass, and holds her legs high up in the air by the ankles.
"I want you to fuck my ass," she says. And there it is, her ass, her tight little hole. Do you think you can get that big thing in there, sir?
Then go ahead, do it. By all means, fuck my beautiful wife in the ass!