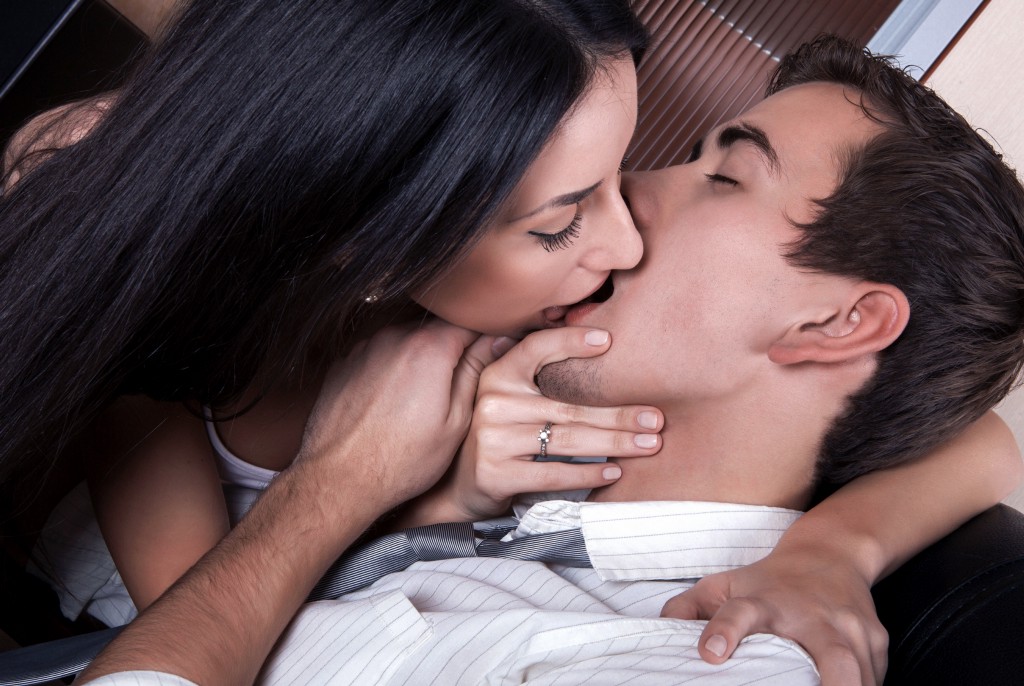 He comes each day just before lunch. Each day we exchange glances and pleasantries, and the exchange is always the same.
"Hey Wolfy. How are you today?"
"You know you're the only one I let call me that," he'll say as he sorts through the mail. "Day's not bad. Could be better, but can't complain. How's your day, Anna?"
"It's good. Busy, but good. Too much work and too little day. You know?"
His athletic frame fills the doorway easily as he sorts the mail he's brought, and the envelopes he's just picked up.
"Yep."
Reaching out he hands me a stack of mail.
"I've only good news for you today."
"Where've you been all my life? It's about time someone brought me good news."
I take the mail and let my fingertips caress him, sliding across the back of his hand.
"Hey, what's that? New ink?"
I grab onto his hand and turn his wrist to expose a tattooed forearm. I trace the lines that run across his arm; his hand instinctively contracts.
"Not really new. Had it about four years now."
"Oh? What's it mean?"
My fingertips slide across his arm, following the lines that run over it.
"It's Japanese," he says. "Man of no faith or man of little faith."
"Why?" I ask, squeezing his hand.
"I have little to no faith in God, or a higher power, or anything like that." Wolfgang pulls his arm from my hands and turns to leave. "I'll see you tomorrow, Anna."
I was waiting for him the next day, but he wasn't delivering my mail.
"Hey Alex, where's Wolfy?"
"It's Wolfgang, and he took a day off."
Alex hands me my mail but doesn't let go.
"He'll be back tomorrow, I suppose. Is there anything I can help you with, Anna? I've been delivering for more years than he has."
Alex caresses the top of my hand with his thumb. I pull my hand back, too quickly to deny the reaction.
"Uh, no, thank you. I was just wondering. He's usually here on Thursdays. That's all."
"Alright," Alex says, as he nonchalantly sifts through my outgoing. "I'm sure I'll be by again… if you remember something you need."
The next day was a shit day. One of those days where the work just gets to you. The death, the injury, the sadness, the anger… but mostly the death and damage people have endured and then try to give to you. I can't blame them, I'd try to get rid of it too.
Boss-man was gone, so I locked the door. There were no afternoon appointments scheduled, and we had a mail slot next to the door if anyone had anything they needed to drop off. I hid in my office around the corner. Main office lights were off and no one could see me. I was safe in my space.
Knock, knock, knock…
Someone was at the door wanting in. Probably someone wanting to tell me their story, again, to ask how long the process was going to take, and that they had no money and if the attorney could just hurry up they really needed the money. I just didn't have the strength to deal with it.
Knock, knock… "Anna?"
"Wolfy?" I scurry around my desk, approaching the front door from the side so I can see the reflection of the person in front of it before they can see me. It's Wolfgang, standing at the door and looking through the glass trying to see in.
"Wolfy."
I open the door and look out into the hallway to see if there is anyone else out there.
"You know there's a mail slot next to the door, right?" I point down at the slot beside the door.
"I do. Christ, do you think I don't know that? I come by here practically every day!" He rolls his eyes at me and steps forward.
"Ok," I lean against the door, blocking his entry. "Why'd you knock then?"
"I.. uh… wanted to talk to you, about the other day." Wolfgang fidgets with the mail bag slung across his shoulders.
"Alright. Come in. Fair warning, I've had a shit day. If you want to talk, that's fine by me, but I'm leaving the door locked."
I step aside and he steps through the doorway. Closing the door I check the lock and, taking a deep breath in, brace myself for another conversation about something sad, or some bad thing that's happened to someone. I turn around and run into Wolfgang. He's not moved from when he came through the door and is standing right behind me.
"Shit!" I flinch and put my hands on his chest, grabbing his shirt. "Fuck. Sorry, I wasn't expecting… you… startled me is all."
I laugh and smooth the wrinkles from his shirt and look up. His piercingly blue eyes aren't smiling.
"Wolfy?"
"I said I wanted to talk, but I'd rather do this."
Wolfgang puts his hands on either side of my face and leans in. His mouth is soft and hot on mine. His tongue gently probes my lips, asking for entry. His hips press into me, pushing me backward against the closed door.
My fists grab at his shirt, first trying to stop him, then pulling him in deeper as I open my mouth and take his tongue fully. His cock is hard against my belly as he leans into me, pulling his tongue back and kissing my lips tenderly, then down my neck to my collarbone before standing up and just looking, searching my eyes.
"Um… not that that wasn't incredible… but… uh… what's going on?
I try again to smooth his shirt where my hands have bunched it into fists.
"I was thinking about the other day, what you asked. I am a man of little or no faith, but you must have extra. Working here, doing this thing. I want to feel that, to feel you, to completely possess you — if only for a little while."
He takes my hand and walks over to the sofa, sits down and pulls me to him. He slides his hands up my thighs, smoothly sliding my skirt to my hips so I can more easily straddle him.
"Oh God. Fucking stockings?"
"Pantyhose are impractical. I can get three pairs of stockings out of two, and pantyhose are one run and done."
"Jesus. Stop with the logic. Let it be fucking hot."
Wolfgang wraps one arm around my waist and pulls me down against his erection while one hand slides up the back of my head, grabbing a fistful of hair and pulling my mouth to his. I slide my hips back and unzip his trousers; his throbbing cock immediately springs free of his boxers.
"Oh…" My breath catches as I feel the length of his hardness. Sliding my hand up his cock to the tip, feeling the moisture that's begun to well up.
"Please. If it's ok," he breathes into me, our foreheads touching, both of us looking at his erect cock. Wolfgang grabs my hips with both hands in a vice-like grip. "I want to feel you from the inside."
I slide my hips forward, my pussy splitting on his cock. Rocking back and forth my slickness soaks his shorts and slides down my thighs.
"Oh God, Wolfy."
I reach down between my legs and stroke him. My wetness allowing my hand to slide up and down the length of his cock just under my pussy. I pull his head to me for a kiss.
"I won't last. I'll come the second you're in me."
Still rocking, still stroking. I move above his cock, pulling the tip to my pussy I circle it there — driving me closer to the edge.
Wolfgang kisses me deeply, pulling my mouth hard onto him before letting go. "Jesus. I told you what I want. Let me in. I want you to fucking come all over me."
I hold the tip of his cock at my pussy for a moment, this time circling my hips around the tip.
"Why are you — "
"I don't believe in God, but maybe I can bring you to him," Wolfgang says as he pulls my hips to him.
I thrust my hips forward and slide down his cock, taking all of him in me.
"Oh, God!" I cry as I shatter into a million white lights.