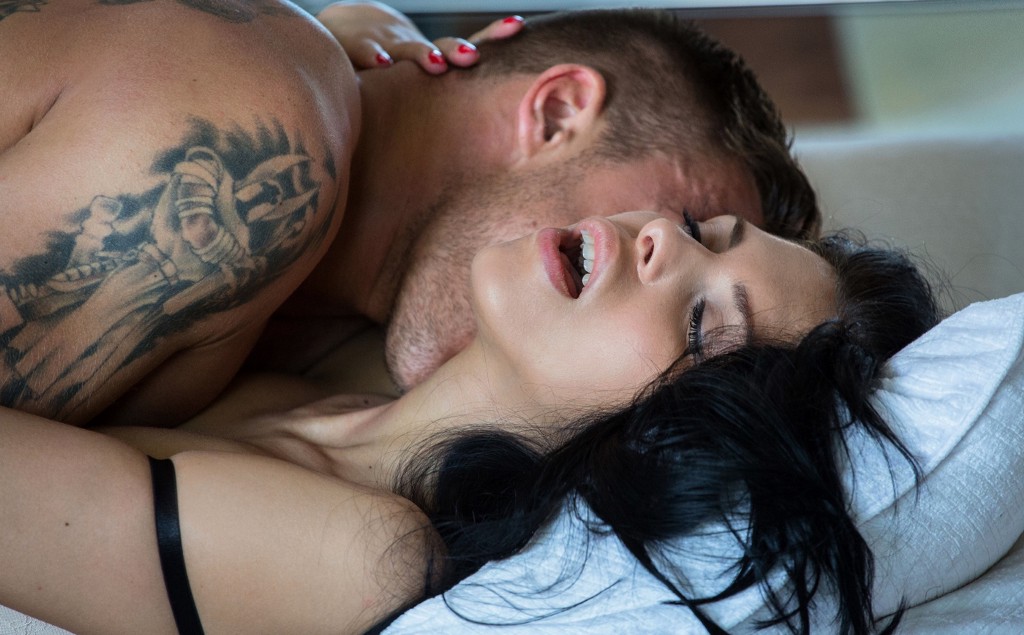 I Convinced My Wife to Cheat — At Last!
I had to tell someone…
Dear Lucas,
I am writing you because you are the only one who knows about this fantasy I have had. I have been far too embarrassed to tell anyone else, not even my closest buds out here in LA, and I trust you not to say anything to our other college buddies back in NY. You were always the least judgmental of us, though, and I think that's why I feel comfortable talking to you about it. You have advised me to keep it a fantasy and cautioned me that bad things might happen if we actually acted on it.
Well, we finally did. Spoiler alert. Nothing bad happened. In fact, it was the most amazing night of our lives.
I want to tell you about it. Of course, you will keep this entirely between us. Emily is adamant about keeping this a secret. She would die if anybody found out what a slut she really is. Kidding.
It has always been my idea, and my fantasy. And you know how long it has taken me to convince her. When did I first tell you about my crazy desire? About five years ago. At that point I had never even heard about it and had no idea that it was a "thing." I just thought it was a quirk of my own that seeing my wife with other men, in my mind, really turned me on.
So after years of role playing with her in bed, and talking about it, trying hard not to annoy her, but just bringing it up now and then, I finally hit on a way to push her over the edge. She needed to get some editing of some promotional materials done for her business, and the person who normally did it for her was not available, and she couldn't find anybody that she could afford. I offered to do it for her. But I insisted she pay me. But not in money. I told her that what I wanted in return was simply for her to cuckold me.
She thought about it for a day or two. I guess she kept looking around for a cheap editor, and couldn't find one. Her deadline for submitting the material was fast approaching.
"Alright," she said. "But you've got to have the editing done by the weekend."
"Perfect," I said. "And you can cuckold me on Saturday night after I finish."
"Fine," she said. "With who?"
"I'll send you a few pics. You choose which one you like best. They're all good-looking with cocks about twice the size of mine. How does that sound?"
"Scary," she said. "We're not having some guy we've never met back here."
"No, but remember, Derrick has that unused apartment on Wiltshire Place? We can use that."
I sent her the pics and she chose a guy named Franco. He was hung and handsome like a model. I knew she would pick him. I know what kind of guys she used to date before me. They were all uber handsome. Then I came along. Alright, I had money. That's probably why she married a guy with a small dick. Or I was funny, maybe that was it. Handsome guys like this Franco are never funny. Anyhow, that's who she picked. I invited him over to Derrick's unused apartment. You probably remember Derrick from college. He's been working as an editor in New York for six months and he left me the keys to his apartment in case he got a subletter, but he never did.
I got the editing done fast. And I sent Emily the files.
That's how I got her to agree to the whole thing. But I think she was actually pretty excited. I just hoped nothing went wrong, as you advised me things could go south. But I crossed my fingers. I told her to put on something sexy. She came downstairs in the hottest skintight jumpsuit I had ever seen.
"Where'd that come from?" I asked.
"I bought it yesterday on Hollywood Boulevard, just for this occasion."
She was getting into the idea. I could see that!
I went over to her and kissed her and told her how thankful I was that she was going to fulfil my wildest sexual fantasy, what a gift that was, and how grateful I was. As I kissed her I put my hand inside the jumpsuit and felt her pussy. Oh my God!
"Holy crap!" I gasped. "I guess I'm not the only one turned on by this idea!"
"What? I'm not supposed to be turned on? Do you know how long it's been since I've been touched by another man?"
"Well, I guess twelve years," I said, since that's how long we'd been married.
"Well, not that long," she said, surprisingly. "But it has been a while."
I frowned at her.
"Kidding," she said. "It's been exactly 14 years. Since Martin."
Oh God. Martin was literally a male model. The last guy she dated before me. What a fucking hunk he was. Made me feel like shit to compare myself with him.
On the way over there, she was getting nervous, I could tell. She was starting to chew her fingers.
"Are you sure?" she asked me. "You're not gonna get mad at me afterwards."
"No, I promise," I said. "I'm giving you this night of complete sexual freedom, to do whatever you like with this guy. You don't even need to fuck him if you don't feel it. Only if you feel it."
"Oh, I feel it," she said. "I'm not going to go to all this trouble and not fuck him. Don't worry about that. I'm in the mood to fuck tonight."
"Oh my God!" I said gleefully. "This is awesome!"
I guess she really loved me, I thought, as we drove over. There was no other explanation for it. And here we were going to Derrick's apartment to meet Franco. And I was going to see firsthand what my wife was like when she was with a real man. Not a small dicked beta like me. This Franco was a fucking stud. He had a hard look in his eye. He was going to satisfy her like nobody's business.
As we pulled into the driveway of Derrick's apartment, we saw a guy standing by the door. He had gotten there before us.
"Hello, I'm Franco," he said, as we walked up. "You must be Emily?"
"Pleased to meet you," said Emily.
"You are so beautiful," he said. "Even better than your photo!"
"Aw shucks," she said. "You're not so bad yourself."
Then she shook hands with this dark handsome stranger. That was awkward.
"Come on in, guys," I said, opening the door, and we walked up the steps into Derrick's apartment.
"You guys go ahead into the living room," I said. "I'll get us some drinks."
I had gone over earlier in the day and put some wine in the fridge, and some little snacks. I brought out the wine and some chips and guacamole and we all sat together making small talk.
"So this is your first time doing this?" Franco asked. "I mean, cuckoldry?"
"Yes," I said. "This is our first time. We're a little nervous."
"Extremely nervous," said my wife. "But excited."
"You've been thinking about this for a long time, eh?" he said.
"A very long time," I said. "It took a lot of convincing."
"What is it that you thought you might enjoy seeing your wife doing?" he asked me.
"Well, everything," I said.
"For instance?" he said, taking Emily by the hand. "Would you like to watch another man take your wife by the hand, while you sit there watching?"
"Hell yes," I said.
As soon as they made the first physical contact, I had the feeling that there was no turning back. Emily looked at me nervously. It was as though she was questioning me, whether we should stop this game before it was too late. I smiled at her. She smiled back.
"And would you like to watch another man stroking your wife's long beautiful hair, and telling her how beautiful she is?"
He didn't even wait for me to answer. He just started stroking her hair, moving it away from her face so he could admire it better.
"Your wife is a real piece of art," he said. "If she belonged to me, I'd keep her roped off like the Mona Lisa at the Louvre. Have you ever seen that?"
"Yeah, we went there a couple years ago," my wife volunteered. Her voice sounded a little scratchy, like she was feeling it in the throat, this arousal. This strange power that was rising up in us as we stepped over the threshold, and began breaking the taboo. Doing the thing one must never do. One must never let a man touch one's hair that way in front of one's husband. Oh, but it feels so good to do so. It makes your throat tighten up like you're being positively strangled with pleasure. Damn.
"Are you not man enough for her, Roger?" he asked me, as he continued stroking her hair, and began working his way down, stroking her shoulders. The jumpsuit had a sleeveless top, so he was stroking her bare flesh now, on her white, soft shoulders, as she stared into his eyes with a smoldering intensity.
"No, I guess I'm not, Franco," I said. "That's why we called you. It was kind of an emergency, really. I mean, this is a woman in urgent need of a man who can please her."
"You called the right guy," said Franco, confidently. "I can please her. And she can please me. And if we pleased each other, Roger, would that please you to watch?"
"Yes," I murmured.
"I can't hear you," he said, like some kind of football coach. This guy was really alpha. More alpha than I had bargained for? I wasn't sure.
"What is it that you want, Roger?" he said. "I want to hear you say it."
"I want you to have sex with my wife," I blurted out.
"Good," said the coach. "And you, Emily, what is it you want?"
"I want whatever Roger wants," my wife murmured.
"I can't hear you," said Franco. "What is it you want me to do, Emily?"
"Whatever you want to do," she said, rising to his alpha level in her voice. "I'm all yours, Franco."
That sent Franco spiraling into a frenzy, I could tell. He planted his mouth on Emily's and began kissing her passionately. I could hear Emily moaning. I could see their tongues darting out of their mouths and intertwining like snakes. Their hands wrapped around each other and began squeezing, probing, searching.
Then Emily stopped and looked over at me, to check on me. How was this? Was this too much?
I smiled at her.
"Are you OK, honey?" she said.
"Better than ever," I said. And I unzipped my pants and showed her my erection. My four and a half inch erection. It was so hard that I have to say, it might have grown to a full five inches. I had never in my life been so turned on, now that I had seen in reality what had only been a fantasy — my wife making out with a stud, a real man. A bully. A football coach. A bull.
"Oh my," said Franco. "That really isn't much to speak of, is it? Emily, I'm going to show you what a real man looks like. Are you ready?"
"Sure," she said. "Ready as I'll ever be. Are you ready, Roger?"
"I'm ready," I said, bravely.
Franco stood up and pulled off his jeans. He wasn't wearing underwear. His cock and balls stood there magnificently. A full eight or ten inches, and he was only half hard. His balls were each about half the size of my head, like a couple of swollen croquet balls. And his body was cut to perfection, not an ounce of fat on him. He pulled off his t-shirt and showed us his pecs, and his rippling abs. He made a muscle man pose and showed us his biceps.
"Oh my God," cooed Emily. "Amazing."
"And now, I'd like to see you, Emily," he said. "Are you ready to strip for us?"
"I guess so," she said.
Roger sat next to me then, on the ottoman of my chair, while Emily got up from the couch and faced us. She slowly unbuttoned her jumpsuit. You remember how lovely my wife's breasts are, don't you? Well, she wasn't wearing a bra. As she got three buttons down, she spread the top of the jumpsuit and revealed her lovely boobs to us.
"You're a lucky man, Roger," Franco grinned at me. "Wooo!"
"You're the lucky one," I said. "In a minute, you'll probably be sucking on those tits."
"I certainly hope so," he said.
Then she seductively pushed the bottom of the jumpsuit down around her hips, and revealed the top of her pubic hair. She wasn't wearing any underwear either. These two great minds were thinking alike tonight.
"I can see your wife's pussy," he said to me.
"It's the nicest pussy in the world," I said. "Wait till you taste it. It's unbelievable."
"I'm looking forward to that."
Then she pushed her jumpsuit all the way down and stood there naked before us. She started caressing her nipples, like some kind of stripper. Then she put a hand between her legs and started rubbing her clit.
"Does that feel good?" Franco asked her. "Standing there naked before a real man? Rubbing your clit?"
"Yes," she moaned.
She looked at me then, as though wondering one final time — should we turn back now? Or had we come too far? Was it too late? Was this a mistake?
I nodded at her. She took the signal. She came over and she knelt down before the ottoman, and she began sucking the bull's big hard cock.
"Oh look at that," Franco said. "What is your wife doing, Roger?"
"She's sucking your cock."
"And she's quite good at it, too," he said. "Oh my gosh, there's no way she is going to be able to take all of it in her throat, is there? Won't it make her gag?"
Emily obviously took that as a challenge, and she opened her throat and put the cock all the way inside her. I was proud of her. She didn't gag. But Franco almost did. He gasped in pleasure.
"Oh Jesus," he cried. "Your wife is a real slut, Roger. She must have had a lot of practice sucking big cocks."
"No, just my tiny one," I said.
"How do you like it, Roger?" he gasped. "Is it everything you hoped for, watching your wife kneel down and suck another guy's dick?"
"Everything and more," I said, pounding my little cock while she sucked on his big one.
"I'll bet you'd like to see me cum in her face," he said.
"Not necessarily," I said.
"Oh, you dog. You dirty dog," he said, guessing my truest desire. "You're telling me you want the creampie?"
I smiled sheepishly and nodded.
"And you want to clean it up out of her cunt, don't you?" he said. "After I cum in her."
I nodded again.
"What about you, sweetheart, are you ready to have your pussy eaten?"
"Sure," she said, coming up for air. By the looks of it her blowjob had made his cock grow another two inches. It looked like a real footlong now. And his balls looked like two basketballs.
She took his hand and led him into Derrick's bedroom. I followed dutifully. There they lay on the bed and started making out again. I sat on the end of the bed and masturbated, while Franco kissed his way down. He stopped a while at the boobs, while working her clit with his hand.
"How's it going, honey?" I asked, as she moaned with pleasure.
"Good," she moaned. "So good…"
And then he found her pussy with his mouth. He sucked on her clit, while fucking her pussy, first with one, then two, and then three fingers. He really rammed the fingers up there. I would never have dared to be so rough with my wife. But she seemed to be really digging it. Ah, so that's what women want, I mused. Damn, why don't they tell us these things? As he rammed the fingers faster and faster, it was almost like fast motion, they were just a blur near the end, as he continued to suck her clit and then suddenly he whipped his fingers out of her pussy because he knew what was coming.
"Spurt!"
A gush of liquid arced up from my wife's pussy. He knew how to make a girl squirt! Damn, I always wondered about that.
"Ahhhhh!"
My wife's ass went way up in the air and she screamed so loudly as she squirted. I'd never seen anything like it.
"Ahhhhh!" she screamed again, and another smaller arc squirted from somewhere in her pussy.
My wife was so satisfied. I guess she'd never felt anything like that before. When he lay down next to her again, the tenderness with which she kissed him! She was almost worshipful of this god-like stud. And appreciative. Nurturing and loving. I'd never received anything like that after making her cum. It was such a beautiful sight. I felt tears in my eyes.
"And now, Roger," said Franco. "I'd like to offer you something a lot of first-timers really appreciate. I want you to come up here and kiss your wife while I fuck her."
"OK," I said.
I climbed on the bed and I lay on the other side of Emily. She began kissing me, with the same tenderness and love that she had just been giving Franco. Meanwhile, he was slipping that huge dick in her from the side.
"I love you," I said. "I love you so much. Thank you for giving me this."
"I love you too," she murmured back at me. "I'm glad you're enjoying it."
"Are you enjoying it too," I asked.
"Very much," she said, and I heard the crack in her voice again. This was really against all the rules, wasn't it? To be there, inches away from her husband, looking him so deeply in the eye, kissing his mouth, as another man's dick entered her and began filling up her cunt like it had never been filled before.
"Oh. My. God." She said.
And then. Wow.
I felt it down at my mid section. A whole flood of liquid came out of her as she had her second orgasm. But with a big cock in it, the pussy couldn't squirt, so it just flooded on the sheets around us.
"Oh. My. Fucking. God!" she said, and I think she came again. Or maybe it was one long orgasm, that lasted about ten minutes, as he put that huge salami deeper in her. But it wasn't the length, she told me later. It was the girth. It was like giving birth, she imagined. It was way too big for that space. It was stretching her like crazy and making her feel like she was being split open in two. And she just let herself go to it and came like she had never cum before.
"Oh. My. Fucking. Fucking. God!"
A third flood.
Then he turned her on her belly and fucked her from behind on top, rather than the side. And this allowed her to feel him even more.
"Oh! Oh!"
She came again. And again.
After about twenty minutes I think he had made her cum like ten times. What a power! Oh if only I had the ability to make a woman swoon like that with my dick. To really fill up a female. What a lucky son of a bitch that Franco was.
And me. I was lucky too. I was still masturbating, holding myself on the edge of orgasm, as he lay on the bed and my wife started fucking him on top.
"Your wife is having a pretty good time, Roger," he said. "And I'm getting ready to make you your cream pie. I just want to take a little rest here while your wife does a little work. Why don't you come up here and kiss her and feel her ass while it slams down on my cock? Feel how sweet her ass feels right now. Mmm."
He was clenching both of her butt cheeks as she fucked him. I did as I was instructed by the coach. And I came up and started making out with her again.
"You've really made quite a mess of Derrick's bed," I joked.
"I never…before…I…"
She couldn't talk. I saw what was happening. Now that she was on top, and her clit was ramming up against his pelvic bone, while that big cock filled up her pussy, and he rammed it up in her, she was about to cum again.
"Ahhhhhh!"
This is one of the great things that came from our session. Now I know that my wife is capable of more than one orgasm. I don't stop after I eat her pussy now. I keep going. I can make her cum ten times like this, with my hand, my mouth, the dildo, the vibrator. It's been a real revelation thanks to Franco.
And finally, exhausted, my wife lay down and Franco got ready for the big finish.
"Come down here," he instructed me. "I want you to see it in close up."
I put my head right down there next to my wife's pussy, as he slammed that cock into her faster and faster, thrusting thrusting thrusting and then — holding it in her and screaming, shooting a hose full of semen up inside her. He pulled out of her and collapsed next to her. I stayed down there next to my wife's pussy. In about ten seconds, it came out. The creampie.
"Mmmmmm," I said, gulping it up. "Oh yeah!"
"Lick it up, Roger," Franco said. "Lick it all up. That sperm has the power to make you less of a pussy and more of a real man. But only if you get every drop. If you don't swallow the whole load down, it won't work."
I swallowed like a half cup full of cum, by the feel of it. It just kept gushing out of my wife's pussy like some kind of reverse injection.
"Give me a little taste," said Emily.
"Go ahead, Roger, it's OK," said Franco.
So the last salty gulp I kept in my mouth and I came up and cum swapped into my wife's mouth as I kissed her. It was a real bonding over this elixir, let me tell you.
"Mmm, nice," said Emily, swallowing his cum. "Saltier than you, Rog."
"The more manly a guy is," announced Franco, dubiously, "the saltier his cum tastes."
"I did not know that," I said. "And as this is the first cum I've ever tasted, as I've never even tasted my own, I guess I'll have to take your word for that Franco."
And then we all had a laugh.
After all, what the hell did we just do? We just did something really, really bad. And remarkably, we had not been struck down by lightning. We were all three of us, totally OK. We had broken the taboo. Tasted the elixir. And lived to tell the story.
So, buddy, that's pretty much it. We got dressed, had a little more wine, and then Franco gave my wife a long, ten minute passionate embrace goodbye, where they were whispering shit and staring each other deep in the eyes and Christ knows what was being exchanged. I was cleaning up Derrick's kitchen, and putting the soaking sheets in a bag to take back to our house where I laundered them. We had made a fucking mess.
But we had just enjoyed a hell of a night.
Franco left and in a short while Emily and I drove home.
"So," she said to me, when we got back to our bed and we were about to go to sleep. "Are you happy now?"
"Yes," I said. "You've made me a very happy cuckold. Thank you my darling."
"Any time," she said. "I'll do that for you any time you want. I had no idea it was going to be… that heavenly delicious."
Then we both drifted off to a sweet sleep.
So now you know. And thanks for listening. I just wanted to tell someone. I've been alone with this feeling, this amazing feeling that something really amazing has happened, and I can't contain it. I mean, we've crossed the threshold. And if I want, she is willing to do it again. It has made me so in love with my wife, buddy. It's like I'm living with a goddess now. Every day. It's a miracle. My wife has given me what I want. Exactly what I want.
What other husband can say that?
Yours,
Roger
Clap if you like. This story is collected in the full length Wives Allowed to Cheat, Lucky Cuckolds Get to Watch, available on Kindle here.