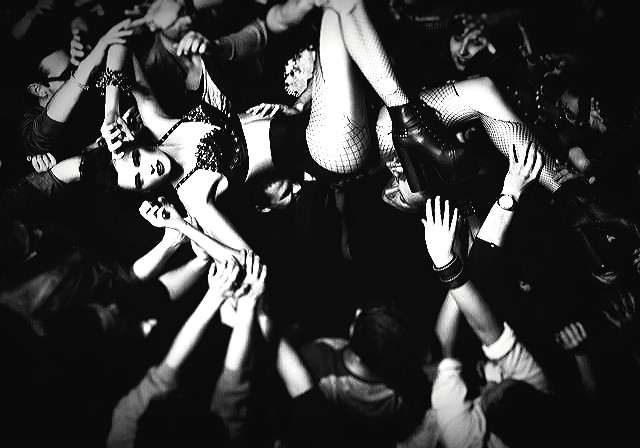 Warm-Up Act #2
I come to the end of my walk of shamelessness and stop quietly in front of the pair Scott had pointed out to me. Surrounded by writhing bodies, they soak up the sounds of pleasure and kiss passionately. The breathtaking man massages the breasts of the breathtaking woman in rhythm with her stroking of his thighs. In a lustful voice I beg their pardon for intruding and inquire if they're interested in fucking me.
Apparently they have had their eyes on me for quite a while, but were uncertain how to approach as they considered me "the popular girl" at these gatherings. I appreciate the compliment and humbly tell them so, adding that I am but an accomplished whore.
Laughingly they introduce themselves as William and Sylvie, who fly in occasionally from San Juan specifically to attend these parties, rounding out their trips with shopping, shows and dining. It's very rare for people to give their real names, but they are out-of-towners and don't feel the need for anonymity.
We discuss preferences, taboos, limits, safe words and types of play. "I'm in the mood for oral and a bit of layering," I tell them after learning what they like, "but nice, slow and easy. There is only one first time, let's savor the moment."
They ask would I mind if the roaming videographer recorded our session. Not at all I respond, and wave Tanner the chronicler over. Tonight will turn out to be memorable, I'll not leave without a memento to replay and relive our encounter when I need a cum release at home.
Intrigued by my suggestions, William and Sylvie begin exploring my body with gentle hands that do not travel past my waist. They understand my interpretation of nice and easy and respect my request. Slow tonguing of my nipples sends sensations directly to my cunt through invisible nylon clad copper like an electrical shock. Involuntarily I twitch and buck, pressing my tremors against my new companions' cock and pussy.
Sylvie takes my right hand and curls my fingers around William's concrete hard pillar and softly places my left under her peignoir and between her steamy parted thighs. Oh yes, this was a very good choice of playmates. I'll have to give Scott a big kiss and a blowjob for his advice.
At their request I lie on my back. The carpeting is plush and freshly installed as is the custom between get-togethers, as well as the replacement of couches and winged back chairs, indeed many pieces of upholstered furniture. Cum stains are so difficult to remove it's not worth the effort.
William lies down between my legs with his face in my pussy, his tongue teasing apart my lips to expose my pink. "Please spread your legs wider, knees up, feet on the floor," he says. One finger roams without penetration. "Oh God" he marvels, "Sylvie, look how wet she is." The woman agrees appreciatively while she watches from above and Tanner records.
"Zoom in," Sylvie instructs our cinematographer. "William, tongue her asshole, enter that beautiful gape."
"Ummm, she's sweet."
"Lick her with long strokes."
"Ummm, she's so soft."
"Nibble her clit." William does as he's told, his low moans vibrating my flushed flesh. "Now finger fuck."
Sylvie slips out of her lingerie and down to her knees to pinch and pull my nipples furiously. The sparks to my snatch flame higher, fanned by the gratification his assaulting fingers bring. My orgasm is quick and quakes me to tears. It's been years since I've cried from such intense pleasure and a smile comes to my face.
William stands up and begins stroking himself as Sylvie takes his place. Oh my God, I'm so sensitive I can't take any more! With a giggle she tells me, "That's just too bad." But her tongue is velvety and smooth like the tip of a cock, the level of pressure, pace and probing is light — she understands my need to recover and is saving fury for later. My smile of satisfaction broadens.
When my bubbling sounds of enjoyment become louder, and my ass shifts and rises to meet her mouth, Sylvie retreats. She walks behind William and again drops to her knees to rim his asshole as her arms encircle his waist to fondle his cock. With heavy breath and hard-on, our videographer records her ministrations.
With a practiced twist Sylvie masturbates her lover from balls to tip, firmly repeating her technique. I raise myself on my elbows to learn what he likes and see that this stroke is effective and appreciated. I have seen more than my fair share of pricks, but in all honesty William's is one of the most delightful I've ever laid eyes on. I am eager to replicate her handiwork, eager to take him down my throat and choke.
Sylvie motions me to join them, handing his rod off like a baton in a relay race. Her idled hands spread William's ass cheeks wide, her practiced mouth diving between his muscular legs to suck his swollen balls.
With my arms behind my back I kneel before his hardness and take the visibly throbbing knob between my lips with some trepidation, as he is giant. William tastes delicious and I am stunned at how easily his shaft slides down my throat. But I cannot take it all. My hands reach out and clutch his thighs, pulling him closer I coax his prick deeper. William places his hands on my head and gently assists me as I millimeter my way down slowly.
"Oh, fuck!" he pants as he looks into my raised eyes, "fuck yeah." With unbridled excitement William's hands now grip my skull firmly and he pumps his dick roughly in and out of my mouth. Fuck yeah is right, my lips are firmly at the base. I'm choking, gagging, saliva begins falling from the corners of my mouth.
Tanner puts aside his camera and begins jacking off, watching me suffocate and slap William's thighs. When I'm released I fall back on my haunches, spit into my hand and spread the wetness on William's cock, stroking furiously using Sylvie's technique. The videographer presents himself to me and I stroke him in a blur as well.
Sylvie grabs the camera and zooms in on my face and hands. The two men unload on my breasts, my lips and cheeks. Their ejaculate is hot, salty, thick and thin. I scoop their fluids from my skin and suck my fingers clean, their cum gliding down my battered throat like vanilla pudding.
Sylvie continues to film as William lies on his back and pulls me on top of him face to face, my twat impaled on his still stiff penis.
"Tanner, join them," Sylvie commands. Although he's softened, a few jerks on his dick and he is ready for more.
Sylvie prepares me with lube and two fingers. My God, I love anal. The thought of Tanner in my backside makes me drip. Sylvie resumes filming as the second cock enters me in and out gently, in and out slowly until my ass is drilled with ease.
The men thrust in teeter-totter unison, gifting me lovely fullness. Bliss and tears return as I repeatedly climax into one endless cum. With my back arched and hair skimming his nipples, William's face is the perfect perch for Sylvie's glorious ass. Handing the camera to a servant, Sylvie lowers herself on William's waiting mouth. My expressions and sounds excite her and her tongue finds mine.
What a sight we must be, a pulsating pyramid of bronze, gold and silver poised on an ebony base. Sylvie's moans echo my own as she rides her lover's lips with fury. I picture William's long, thick, stiff tongue deep in her pussy, probing and swirling. Oh, fuck! Ohmygod, ohmygod, ohmygod, ohmygod! Fuck me! Sylvie squeezes my breasts roughly as my body flails about violently, all muscles contracting, toes curling and eyes rolling. William sucks the juice from her cunt loudly and I hear her cumming.
Tanner pulls out and semen rains on my back. William lifts me off his prick and rolls me to his side, my cheek coming to rest on his chest. Sylvie bends forward, replaces my cunt with her mouth and delightedly swallows his release.
I'm exhausted. All I can do is lie on the plush, springy carpeting next to my new friends, catching my breath in sighs, my eyes closed. Servants bring us fresh fluffy robes and fresh fluffy towels, both steamed and dry. I adore being here, my home away from home. Tanner informs us he'll have our DVDs burned by the time we're ready to leave.
After a short respite we three stroll to the Lounges. William will take a soak, and tells Sylvie to meet him later at the restaurant for dinner. Before entering the Men's Lounge, he asks me for a hug before we part in the event we do not see each other again tonight. Of course, I tell him. He gives me an affectionate, brotherly hug and a peck on the cheek. I'm not accustomed to "sweet" and I appreciate this unexpected tenderness.
Sylvie sees my reaction and puts her arm around my waist, giving me a quick sisterly squeeze. She says, "Come on my love, we need to relax," and leads me to our retreat from chaos.

Read part one here: