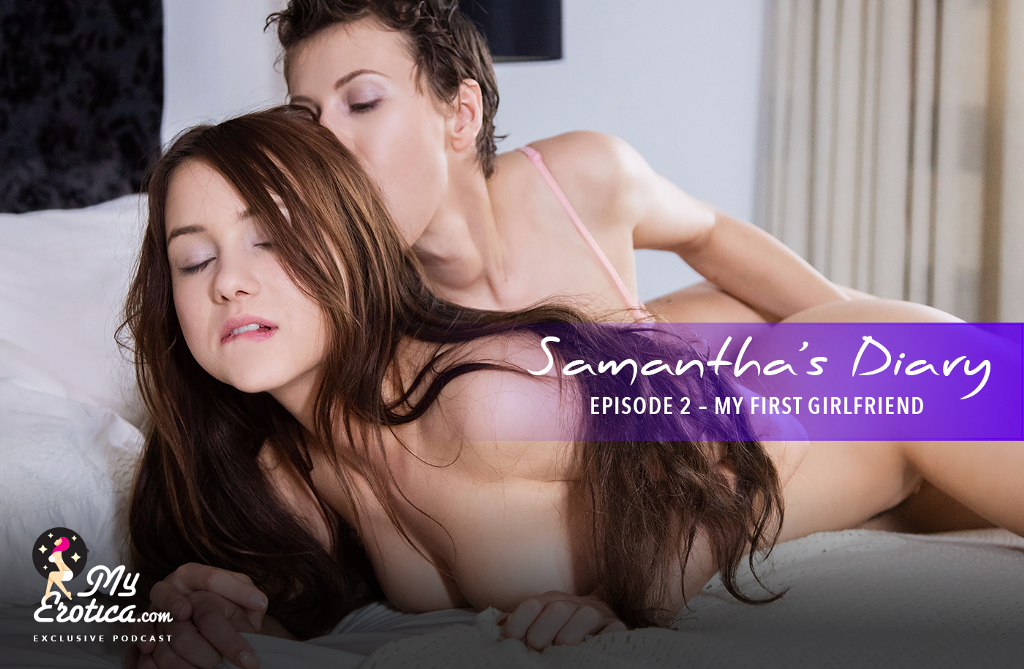 My first girlfriend…
Yes, I have been with another girl before. Her name is Monica. We met through a mutual friend at a party and immediately connected. She was very easy to talk to. I think I spent most of the night with her. We had a lot of the same interests and had a similar background. We exchanged contact information and made plans to hang out.
She called me a few day later and we went out for coffee. I wasn't thinking about anything romantic with her. I thought of her as a new friend. I was straight after all, although I didn't have a boyfriend at the time. We had a great time again just hanging out. We made plans again to go see a local band at a small club. Guys were hitting on us left and right that night. Monica just teased and flirted with them mercilessly. I enjoyed seeing her in action.
We spent a lot of time just doing things together. We went for a hike. We went biking and visited museums. Just normal "friend" stuff. I decided to invite her over for dinner on Friday. She arrived on time and brought a bottle of wine and dessert. We talked about things the way we always do. I cooked and she set the table. We had a great dinner then she served dessert. It was a rich chocolate cake she had baked. The wine and the cake relaxed me, actually that's not completely right, it made me a little horny.
We moved to the couch and brought our wine. We talked about relationships. She told me about her last boyfriend. They were together for about two years and drifted apart. She said she missed the sex the most. Apparently he was really good. I told her about my last boyfriend and how he had left me for another girl. Talking about this made me tear up. Monica reached out to touch my shoulder. I said I was OK. Then she held my face in her hands and kissed me. This surprised me but aroused me. Her first kiss was very gentle. I didn't respond because I wasn't sure how to respond.
She broke away momentarily and looked into my eyes and kissed me again. This time I kissed her back. My mouth opened and our tongues touched. Monica did something that really turned me on. She licked my teeth. The sensation of her tongue between my teeth and lips was too much. I started breathing hard and I felt my pussy gush. I knew I was going to make love to her. I knew I was going to have sex with another girl for the first time.
I pulled her on top of me. Her body was warm and I liked feeling her weight on me. She ran her hands through my hair and got a thigh between my legs. That felt good on my clit but I wanted more. She must have read my mind because as she continued to kiss me, she moved a hand to my pussy and started rubbing my clit through my jeans.
I put a hand on her breast and started rubbing her nipple through her blouse. She started breathing hard. I broke our kiss and whispered in her ear, "Let's go to the bedroom." We went in and I dimmed the lights. We started undressing each other then climbed in bed. It felt so good to feel a woman's body against mine. She was warm, soft, and curvy. I got on my back and she continued to kiss me, and rub my pussy. It didn't take long for me to cum. My body shook and I moaned loudly. I saw Monica bring her fingers to her mouth and lick them. She said I tasted great. The next thing I knew her head was between my legs. She really knew how to eat my pussy. It felt so good. She put a finger in me, then another and another until she had four fingers in me. All this while she licked my clit and my lips. I came again, hard.
I needed a break but I wanted to taste her pussy too. I rolled over on her and returned the favor. I went down on her and ate out her pussy. This was the first time I'd eaten pussy. I guess I did a good job because Monica started moaning and running her fingers through my hair. I followed my instincts and licked her pussy the way I liked to be licked. It must've worked because she came hard. She tasted so good. I loved the musky flavor of her pussy.
I let her recover and started to put my fingers in her when she asked me to swing around and put my pussy on her face. We started 69-ing. I fingered her and she licked my pussy again. This was all too much for me and I came again. Then Monica did something I was not expecting. In the middle of my orgasm, she licked my asshole. That was an incredible sensation. I had to stop what I was doing and just cum. We cuddled and fell asleep in each other's arms.
We woke up the next morning and made love again. This time I got her off with my fingers. We spent the weekend naked at my place enjoying each other's company and body. We were together for about a year when we both decided to start dating guys again. We didn't consider ourselves to be lesbians or gay. We were just girlfriends. We're dating two guys now and actually talked about having a foursome. I don't think the guys would mind seeing us in action. We'd allow them to join in.