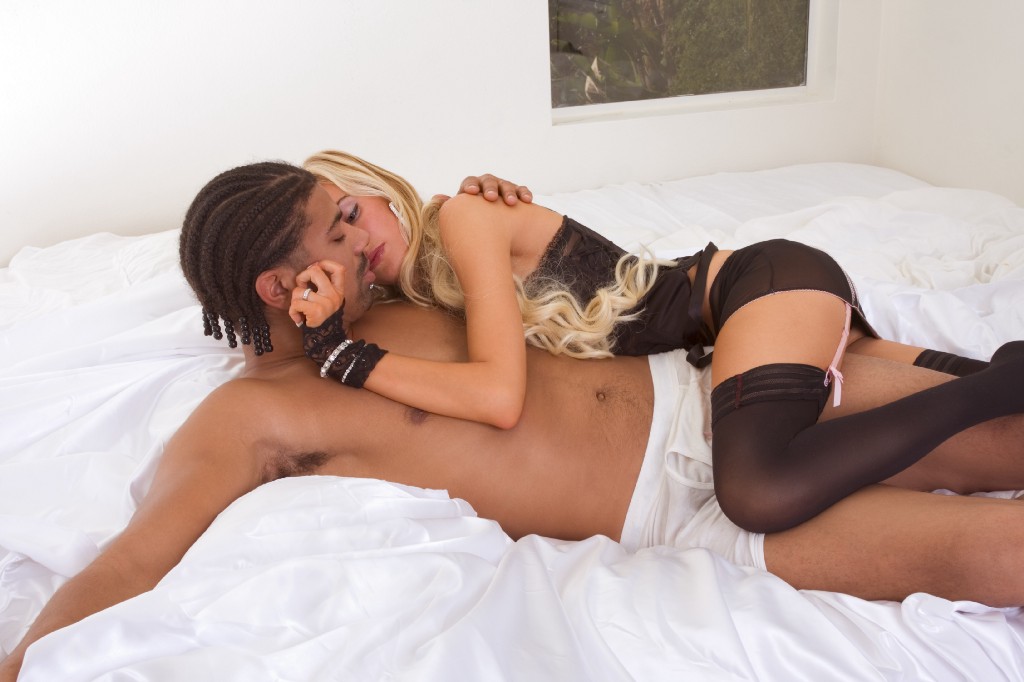 I'm a 34-year-old hotwife. My husband and I have been together for 16 years and married for almost three years. I never used to be so open with my sexuality. I have figured out over the past few years that girls are often taught, while growing up, to be prudes about sex. No sex before marriage, monogamy, and you don't ever talk about sex outside the bedroom. Those are the top rules.
I first started fucking other guys because my husband felt bad about leaving me home alone much of the time. He was a long-haul trucker and was gone sometimes two weeks at a time and only stayed home for a couple of days before hitting the road again. It took me a long time to get comfortable with the idea because that wasn't how I was raised. You didn't do things like that when you were already with someone. I also had to be convinced that my husband wasn't the only one who thought I was sexy and had a great body. I am a curvy woman, but I had it drilled into my head that men only thought petite girls were sexy.
My life changed when my hubby and I started going to a sex club. Three floors of different rooms to rent, TVs playing porn, and open areas to sit and talk or just fuck. You can wear anything you like. Our first time was two years ago, and I was so scared but at the same time excited. There were all kinds of people: old, young, fat, skinny. And people in all manner of outfits, some wore only towels, others wandered about naked.
Fast forward to the present, I have now fucked about 10 cocks, one of which belonged to a black man. It had been a fantasy of my hubby's for a while and about a month ago it became mine too. And a couple weeks ago, we actually lived it!
We were at the sex club and got ourselves a room. I asked hubby to go find me someone suitable to fuck. I sat on the bed naked and waited for him to come back. He left the door open so I could talk to people walking by. When hubby came back he had a black man with him.
When the guy dropped his towel, I couldn't believe what I was seeing!
Right in front of me!
IN PERSON!
I had never in my life touched a cock that big! He was even bigger than both my dildos. I'm good at blowjobs but it was a challenge to get his big cock into my mouth. I sucked his cock the best I could. When his cock was hard I was in shock all over again.
I was so very wet plus he put some lube on his cock but when he started sliding his big hard cock into my pussy, I jumped and squirmed. He was just so thick and I had never felt that before. He told me he would move slowly and to let him know if it hurt or I needed him to slow down. I used to laugh when I'd see some bimbo do that in a porn flick. But now I understood. I told him he could go deeper and slowly I got him all inside me. When I was loosened up and he really started to fuck me, my head wouldn't stop spinning.
I was getting the best fucking of my life!!!
The real surprise came when I got on all fours and gave myself to him. He got behind me, all lubed up and pressed up against my wet pussy. As soon as the head entered, I jumped forward as I had never felt anything so big. I almost squirmed out of his way. It took a minute or so of him being still for me to get used to the sheer girth, but when he proceeded to push in, I got more wet if that was even possible. I couldn't believe how stretched out I was and afterwards I would come to find out for sure. But, at that moment when he started to really fuck me, I came… HARD!
He wasn't stopping and I screamed so loud that people in the entire building could hear me. People were already watching outside of our room and a crowd began to gather. At one point I commented that I thought I could feel his cock up to my eyebrows, I had never been so full. People heard and laughed.
While I was being fucked, my hubby could hear all my comments such as, "I absolutely LOVE your cock inside me!" and my bull said, "You have the best pussy ever!"
Outside the room, one woman was watching with her husband and said, "He must really be stretching her out."
People were playing with themselves watching and as he continued, I was continuously cumming, over and over again.
My hubby sat on a chair next to the bed and told the bull, "Go ahead, fuck her harder. I won't stop you."
That was when things got wild and crazy.
The bull fucked me harder and harder. He read my body very well, too. Whenever I felt like cumming, that's when he'd pick up the pace and fuck me harder and faster. I was riding one orgasm for so long and so hard I was screaming at the top of my lungs. People came up from the basement because they could hear me. After having sex like that, feeling each orgasm rip through my body, and then waking up the next morning so fulfilled, how couldn't I be ADDICTED TO BBC!!!!
This is my Cuckold Confession to you, Master SHANGO. I know you're itching to travel back to the States. My husband and I are actually raising funds to compliment your trip so you can maybe come over to Canada and make us your sex slaves. My hubby and I enjoy your blogs, your articles and your books. We look forward to becoming BLACK-OWNED by YOU!!!
— hotwifelexxxy.