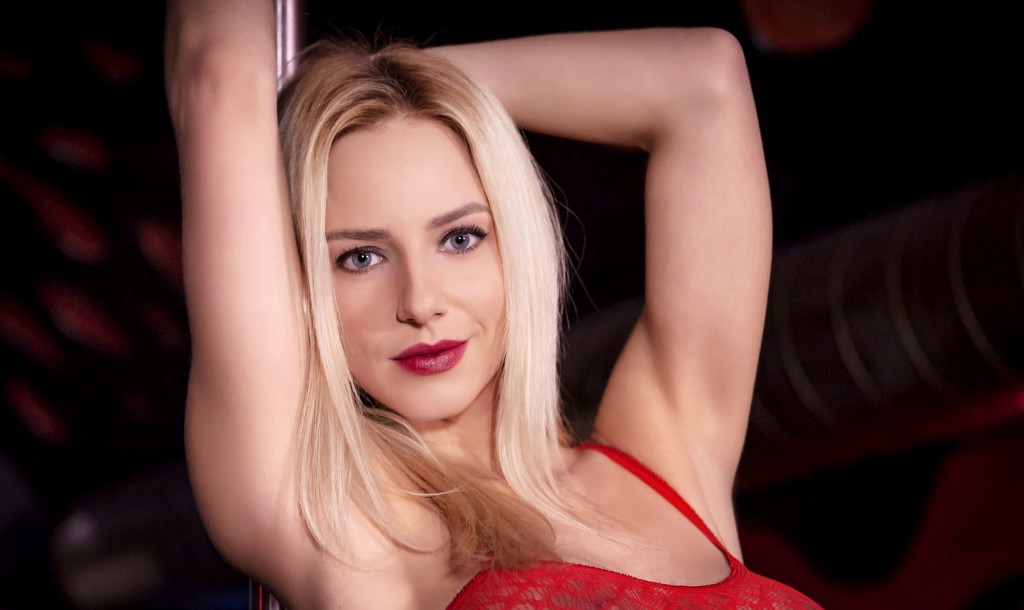 Getting naked for a crowd felt like an awesome gangbang.
by Christina
I know it's not the accepted narrative. Strippers are supposed to be bored to death, and venomously disdainful of their patrons.
Not me.
I loved it.
I was a stripper from summer of 2003 to the spring of the next year, when I graduated from a dance program and got a job as a dancer for a Broadway show, and after that I was able to find consistent work in shows and videos and movies.
If they had known that I worked the pole, I don't suppose they would have hired me.
I worked at a family friendly place here in LA. It was the kind of place you could bring your girlfriend to. We kept our panties on, as it served ten-dollar bottles of Budweiser.
But everybody who worked there was cool. And like I say, I loved it. Why?
Well, you're either an exhibitionist or you're not. I've always gotten really turned on by the idea of exposing myself in public. My first boyfriend and I used to have sex in his car at a park where we knew there were people watching. It made it more exciting for me.
The first time I stripped on stage was such a turn on. I'll never forget when I finally, after five minutes of teasing, took off my bra and showed the crowd. There was applause. And there was a tingle between my legs. There was a shudder in my heart.
"I was born for this," I thought.
Then there was the lapdancing. That was not for me. It wasn't exhibitionism. It was private, in this stinky little booth. The first time I lapdanced a guy, I got on his lap and started dry humping him and — oooh.
He came in his pants. I could feel the moisture.
"He came in his pants," I complained to Dora, my stripper friend, in the back room.
"Duh," she said. "That's why they want a lapdance."
"You're kidding!"
I had no idea. Nobody had bothered to explain that to me.
"I'm not doing that any more," I told Charlie, the bouncer and manager.
"Fine," he said. "But it will cut into your earnings."
"No amount of money…" I said.
"I get it," Charlie said.
He was a big guy, maybe three hundred pounds. A total teddy bear, but I had seen him pound the shit out of drunks there in the club.
If I was short on rent some months, I'd do a few lapdances. Charlie was cool about it. The main thing for me was being on that stage.
Getting down to just my panties, then pulling them down on one side, then the other. Turning around and pulling them down to reveal just the crack of my ass. I got so wet doing that, watching the awed faces of the guys as they stared and stared. I loved the male gaze upon me.
Then one night I got a call from Dora asking me if I could sub for her at another club, down by the airport.
"Isn't that total nude?" I asked.
"Yeah," she said. "You wanna do it?"
"Sure," I said.
I was pretty damn aroused, truth be told. I was going to finally take my panties off in front of people. I had fantasized about it many times, especially since I'd been stripping. In my fantasies, I pulled my panties off and lay on the stage masturbating while everybody watched. I would cum like crazy.
I drove down to this club. It was called Jet Elegance. I didn't know anybody there. The crowd was huge, maybe a thousand people in there. And when I took the stage they made a lot of noise — I was the new girl.
I did my regular routine, some pole dancing, and then got my tits out. I was just in my panties now. I turned my back to the crowd. I pulled my panties down and showed them my whole ass. It was the first time it had been completely bared for a crowd of humans. I felt something strange. Holy shit. I was cumming, just by squeezing my thighs together as they applauded my ass. I let out a little moan. They probably thought I was faking, but it was real. I had never felt anything like it.
I pulled my panties back up and turned to them. Everybody knew what the game was now. I would pull them down, and show them a little bit of my bush, and then my pussy. Then I'd pull them up quickly.
Finally I lay on the stage and ever so slowly, slowly, slowly, peeled my panties down and kicked them off.
Then I spread my legs wide and let the whole crowd see my open pussy.
There was thunderous applause, as I gyrated my hips as though they were all fucking me.
And that's how it felt.
It felt like an awesome gangbang. And there it was again…that strange orgasm.
Of course, I wasn't allowed to touch my pussy, but I was allowed to touch my thighs and the place just above my pussy. My fingers started rhythmically moving as though I was masturbating. And sure enough, it worked. I came.
The stage was littered with dollar bills. I stood up, woozy, grabbed my underwear, grabbed the money, and stumbled off the stage. It was like a drug experience, I swear. I was so high.
I didn't go back there, even though they offered me a spot. It was too far to drive. I stuck with the place where I worked and made enough money. Then, after I graduated and got my job on Broadway, it was my last night. They threw me a party. There was some vodka going around, and to be honest, there was some other stuff going on, if you know what I mean. It was late. Finally it was time for my very last dance.
Charlie came up to me and whispered, "Go ahead, Christina. It's your last dance. The owner's not here. You go ahead and do whatever you want to out there. I don't care. There's no cops, I can tell."
"Whatever I want?"
"Yeah."
We looked at each other. I wondered if he knew what I was thinking. It seemed like he did. I liked Charlie. He had been so awesome and understanding to all of us, not just me. I made up my mind.
I did my regular show. Charlie was standing right in front, watching me intensely. Finally I got down to my panties, turned my back to the crowd, and pulled them off and turned around, totally nude.
The place went nuts. I don't think any of them had ever seen a totally nude person on that stage.
I took the panties, and I tossed them to Charlie.
"Here you go," I said.
Then I lay down on the stage and I spread my legs for the crowd. I started doing the fake masturbating thing I had done down at Jet Elegance. Then I remembered that Charlie had said I could do anything.
I let my hand go lower, and I touched my clit.
The crowd went even nuttier.
They started this rhythmic, "Go, go, go," in time to the gyrations of my butt, as I lifted my butt up and down off the stage and rubbed my clit faster and fast. Then, to give them an extra thrill, I took a finger and started fucking myself. The chanting went in rhythm with the fingering. Then, to give them even more of a thrill, I moved my other hand down and put a finger from that hand in my butthole. I lifted my butt high so they all could see.
I was in exhibitionist heaven. Only if you're like me can you understand what that was like, to finally get what I always wanted. I always wanted to masturbate in front of an adoring crowd. There were men, women, oldsters, couples. It was the world. And all their eyes were on my private ritual of self pleasure.
I came three times. The stage was soaking. I think that was the beginning of my squirting career. It didn't squirt, but it came flowing out, that liquid.
I caught Charlie's eye near the end. I saw his pants. There was a big bulge. I decided to really thank him.
"Come on up here, Charlie," I said. "Bring me my panties."
The big guy stepped onto the stage and came over to me. I stood up and took the panties. Then I put my hand on the bulge in his pants.
"Yes, yes, yes!" the crowd started cheering.
Charlie gave me permission with his eyes. They kinda twinkled.
I unzipped his pants.
"Yes, yes, yes," they yelled.
I pulled out his dick. It was big.
"Yes, yes, yes," they screamed.
I got down on my knees.
"Yes, yes, yes!"
I opened my mouth.
"Yes!"
I put Charlie's cock in my mouth and began sucking him right there on the stage, in front of all his friends.
The roof practically blew off the place, there was so much noise, but I couldn't really hear it. I was focusing on Charlie's cock, and thinking to myself, "I'm really gonna miss this place."