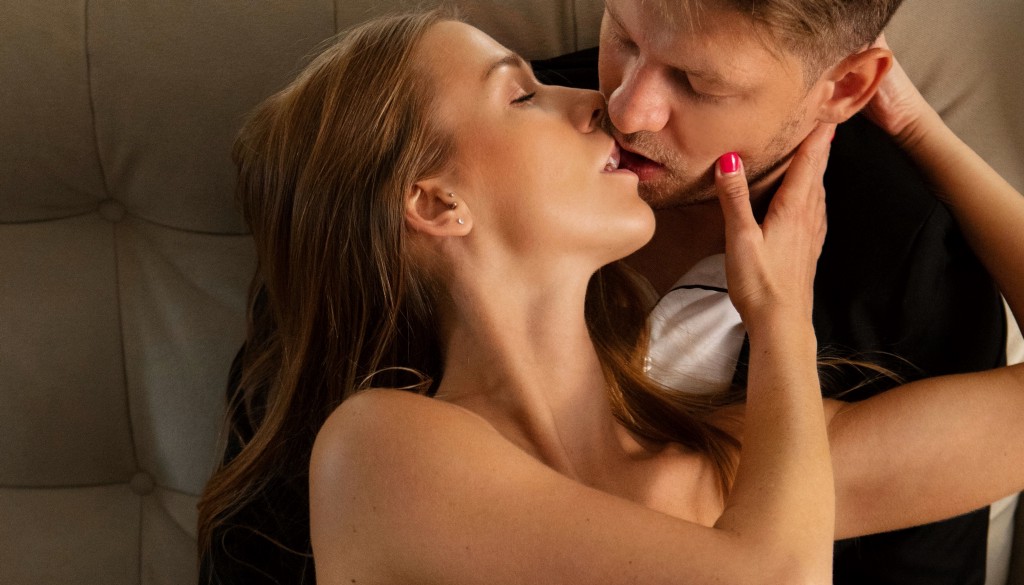 Away on Business — And Cheating on My Husband
By Christina Stevens
I had to go to Tampa for a week to finalize business with a new client. They were kind enough to put me up in a little beach house on the water. It was a funky little shack really, with a few too many "beachy" decorations, cushions with mermaids on them, framed shell designs on the wall, and posters of the famous gulf sunset. But it was nicer than a hotel, because it had a homey feel, and a nice little sitting area in front where I could watch the waves wash in and the sun go down. I started thinking of it as my "love shack" because something told me I wasn't going to be alone there all week. It was the kind of sexy little house on the beach that just made a girl want to get fucked.
Around the third day I hooked up with a young lawyer on the team that was working on my contracts with this corporation. They were one of the biggest fitness organizations on the west coast, and it was going to be a nice feather in the cap of my consulting business. I was feeling pretty good about myself. And Gordon, the lawyer, was feeling pretty good about me, apparently. He asked me if I'd like to go out for a drink after the meeting. I was pleasantly surprised. I had noticed that he was pretty hot. I mean, this was a fitness group, so all of the parties involved looked like they'd spent a lot of time in the gym, but especially Gordon. I am a sucker for nice biceps. And I could tell he was sporting a six pack under that button down Brooks Brothers shirt. I was looking forward to running my tongue along it, in a downward direction, toward the destination of his cock, which I had also noticed bulging in the crotch of his business slacks. I was psyched.
I didn't mention any of this to my husband, Phil, of course. Sometimes I like to have a complete time out from my cuckold husband. Phil is great, and never oppresses me with questions about my time with other men, but every once in a while, I feel like it's really none of his business.
"Have you…met anyone you like?" he asked me on the phone that afternoon.
"No, just a bunch of married business types," I said.
It kind of turned me on to lie to him, I have to admit.
Gordon took me to a seafood place on the pier and we ate oysters and did some tequila shots. He told me he had a girlfriend. Good. I didn't want him getting attached. I just wanted a nice vacation treat. After a couple hours, I invited him back to my love shack.
That first night was naturally a bit awkward, as we didn't really know each other. But it was good, too. I really couldn't believe my luck, in several ways. One, I had just landed this awesome contract. And two, this hot guy, about ten years younger than me, was sitting on my couch in my love shack making out with me. In a minute he would be taking off my clothes. I love the first time getting naked with a guy. If you know anything about me, you know I'm an exhibitionist. And the eyes of a man on my body for the first time really make me tingle.
As he lifted my tight top up off my shoulders and exposed my bra, I was getting very hot between my legs. I reached back and unsnapped it, and the bra fell down to the couch, revealing my breasts. I loved that look in his eyes. A man's eyes usually pop out a for a second when they set sight on my nipples, which happen to be particularly awesome, I guess, in that my areolae are wider than normal, and my nipples themselves much plumper and taller than most. They look like two luscious pieces of fruit that are going to be delicious and juicy. Soon he was sucking them and muttering "Oh my God!" as guys often do when they put their mouth on those plump delights. Then I lay back and let him slide down my business skirt and check out my thighs and my hips, in a sexy red thong.
"Holy shit," he said.
I guess this is what I live for. He thought I was a babe. He thought I was hot. He thought he was lucky. And it made me feel lucky, to be able to give him the glamor porn experience. Here was this guy, cheating on his probably pretty normal girlfriend, with an extremely desirable babe from Los Angeles, a woman who really knew how to fuck. This guy was in for the ride of his life. I just adore initiating a man into the higher places of sexual ecstasy. I guess I'm a shaman that way.
Before he got my panties off I was able to rip his shirt off and start the licking of his abs that I had been thinking about all afternoon since we set our drinks date. Yes, his abs were rippling, and I could already feel the erection in his jeans as I put my hand down under there. He pulled off his jeans and briefs. And there he was, my piece of meat, naked and prone on the couch, mine to do with what I pleased. This was such a buzz. I mean, the tequila had made me buzzed enough, but being there in my love shack, on the water on the gulf, with all these rippling abs and muscles, and this extremely hard penis standing up at attention… This was living.
Buzz.
I heard my phone signaling a text.
"Just a minute," I said.
I grabbed my phone and saw a message from Phil.
"How's it going babe?" he had written.
"Exhausted. Came back after meetings all day, took a bath, about to go to sleep. Talk to you in the morning love."
He sent me an emoji kiss.
I wonder if he knew something was up. I was actually glad he had interrupted us with that text. It had reminded me that I was cheating. And that cheating was really exciting.
"Everything OK?" asked Gordon when I put the phone down.
"Yes," I said. "Just my office checking in. Now let's get down to business."
I stood before him, turned my back to him, and did something that I really like to do, because I have the soul of a stripper, I guess. In my next life I might actually take the stage. But here, in this mini strip club, in my love shack, it made me so hot to slowly pull my thong down and reveal all of my bare ass to him. He put his hands on it and praised my body some more. He must have picked up on this need of mine, to be praised. And it really did the trick. As he told me how hot my ass was, I was getting wetter and wetter.
"If you like my ass," I said, turning around and showing him my front, "Just wait till I put this in your face."
I pushed him down on the couch and I sat on his face.
This wasn't something I'd done a lot of, but something about this love shack brought out the aggressor in me. I wanted to fuck this lawyer in the face and I wanted to fuck it hard.
"Oh baby, that tastes good," he mumbled, underneath my snatch.
"That's it, Gordon, " I said. "I want the smell of that pussy to be all over your face when you go home to your girlfriend tonight."
"Maybe I won't go home," he said. "Maybe I'll stay here and fuck you all night."
"Won't she be worried?"
"Let her worry," he said. "I'm completely under your spell, baby. Your wish is my command."
"Just keep licking it like that," I said, as he licked my clit, and I continued rocking back and forth on his face until I came, really loudly, and luckily I didn't squirt as I sometimes do, I think I might have drowned him.
I collapsed on my stomach and commanded him to put his dick in me from behind. I couldn't believe my luck, again, after such a nice orgasm, to know that macho stud was about to nail me from behind. I was almost coming again already as he put his dick between my thighs. I helped guide it in, and soon he was hammering me like a jackhammer, pulling me by the hips back into him with each thud. My haunches were being pounded and my pussy was filled completely with each thrust. I clambered up onto my knees and got into a position where it felt like he was entering me even more deeply. He had this technique of adding a little upward thrust at the end, after he got all the way in. It didn't put his cock in any deeper, but it forced an unbelievable pressure up onto my clit. And soon I was feeling an orgasm rising up in my pussy. I screamed out — I had never cum in the doggie position before, because it usually leaves the clit out of the equation. Gordon seemed to have solved that equation.
"Oh yeah, yeah, yeah," I yelled.
Then I lay back and let him fuck me even harder from the missionary position. His dick, amazingly, seemed to be getting even bigger as he approached orgasm himself. I pulled my thighs all the way back to my chest and opened myself completely to this muscular creature as he had his way with me. Oh God, he was going to cum, I could feel it, and I felt pretty good about it too. I could tell I was about to give this guy the ejaculation of his life. His eyes were completely crazed, he was shouting incomprehensibly, at a rapidly increasing cadence. Yep, he had all the signs of a guy whose sexual world was being rocked, because I was doing a trick with my hips as he fucked me. I was rotating them subtly, in a circle with each forward thrust, so that each time he felt it in a different part of the cock. Phil has described to me how it feels to be given this circular hip treatment. He says it feels like my hips are launching him into sexual outer space, and at the moment of climax, he feels weightless.
"Jesus fucking Christ!" Gordon cried out, and he pulled out of me and shot three enormous loads of cum all over my tits and the couch. The fourth load was even more powerful and shot up onto my forehead and my hair.
"Fuck!" he cried. "Holy fuck!"
I met his eyes then, and smiled at him. He smiled sweetly down at me. Oh no, I didn't want that. No sweetness, please! But I couldn't help myself, my heart melted a bit and I drew him close to me and kissed him deeply on the mouth. That had been a damn good fuck, and he was a hell of a lot of fun.
It was going to be a great week at the love shack.
More Christina Stevens and Colt Stevens erotica here