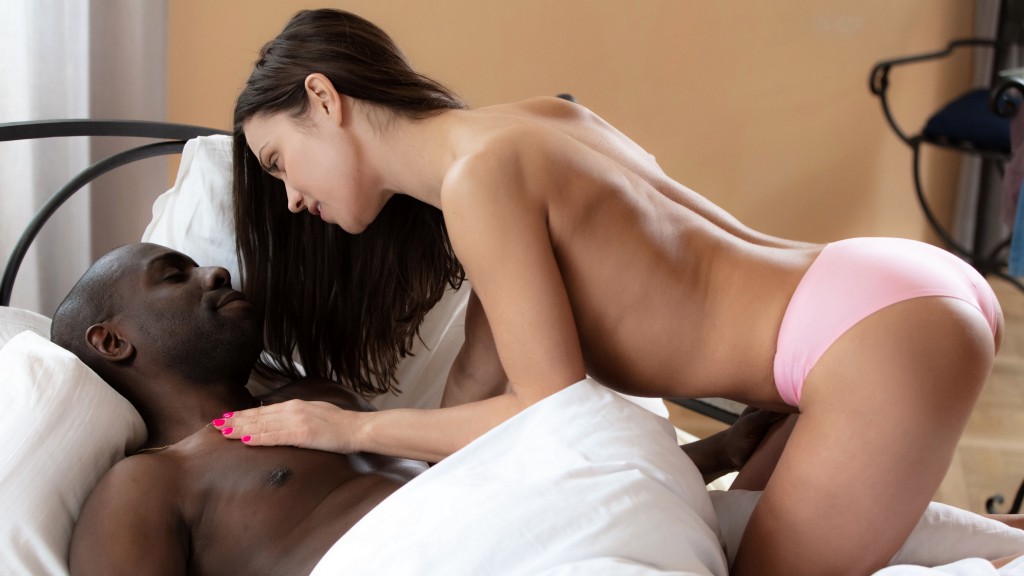 Another White Girl Gone Black
A horny snowbunny cannot hide her erotic desires for a black refugee.
My dad warned me to avoid the black men when they opened a new refugee camp a couple of blocks down from where we lived. Always he stressed that the men were shiftless reprobates, one step away from being considered criminals, always up to no good. For months I listened to my dad's warning until I got to corresponding with one in an online chat room. For the first time, I beheld the sight of a black man stroking his long cock. All assumptions told it was fake — no fucking way anyone could sport something of that immense size! — but I couldn't take my eyes off of it. An eerie shiver ran down my spine, making goosebumps pop all over my arms. My eyes stayed glued to the screen as I watched him spurt thick cum from his cock.
I introduced myself and we corresponded with ease. I found out that he was from a West African country, and he had been a refugee going six years and lived a few streets from me. It was wrong, I know, but I couldn't help it. I told him exactly where I lived and mentioned that my parents weren't going to be home all weekend. He stayed on my mind that entire day; he and that big cock of his.
I knew what he wanted and I found it so much hotter as I laid in bed naked, waiting for him to come to me.
The doorbell rang and my heart skipped a beat, knowing it was him. I got to the door and stopped to stare at an imposing black man; he was like a giant compared to my small frame. I knew he didn't know much English — it wasn't necessary as he feasted his eyes on my nude figure. I invited him inside, and he wasted no time gripping me in his arms, his large hand pawed my butt as he kissed me passionately. We broke off for a moment, and I led him upstairs to my parents' bedroom.
He picked me up and tossed me on the bed. I wanted to roll over to the side, but he grabbed my ankle and pinned my legs wide open. I was immediately afraid; my heart was caterwauling in my chest when he dropped to his knees and thrust his face down on my crotch, catching me off guard. He was an expert with his tongue. He sucked and probed my pussy so good; I was soon whimpering and thrusting my pelvis at his chin. He kept pinning my legs, forcing me to stay still while he ate me inside out.
I was on the verge of reaching orgasm when suddenly he stopped and stood up. He unbuttoned his shirt and discarded it over his head, then next came his pants. I felt my pussy get further wet as I appraised his broad torso and watched entranced as he began to undress. First, his shirt came off where he exposed his terrific muscles and then came the moment of truth as he pulled his pants down, revealing his large uncircumcised black cock. I felt my pussy get further wet as I appraised his torso and arm muscles. But the most exciting sight was his huge uncircumcised black cock standing rock hard, wanting attention.
My eyes widened with anxiety and near fright as he climbed onto the bed and stroked his erection. I felt like wanting to scream — nothing could have prepared me for what I saw as I lay there in a mixture of fear and anticipation as he drew closer to my hairless slit. He grabbed my thigh as if preventing me from wanting to run away. I was dumb and stupid. I should have stopped him, knowing he wasn't wearing any protection, but I was so mesmerized by his size. I tensed as I watched him edge the tip of his penis against my glistening pussy lips, then firmly push forward.
The impact hit me like a brick and I hissed the instant he pushed inside me. I thought he would stop, but he kept on at it, stretching me apart with his bulbous black cock, going deeper and deeper. By this time I was grabbing at the sheets and moaning like crazy. My entire body shook like it wanted to break apart. Then he stopped and pulled back, then rammed me again, harder this time. My mouth let off a scream; his cock hit me like thunder, and my body spasmed with a mixture of pain and pleasure. My pussy milked his cock and before I could get adjusted to his girth, he grabbed me by my hips and began pulling back and forth toward him.
"Ugh! No-no-no-NOOOO!" I groaned in protest, feeling my pussy dragged out while he gripped me so hard I could barely move my lower body. His face curled into a grimace as he was then slamming into me harder and harder, each thrust knocking the wind out of me, causing me to scream louder. Each thrust he gave me was ten times more powerful than the previous. It felt like he wanted to rip me in half with his thick rod. My arms grew taut as I continued gripping the sheets as though for dear life.
There was no escaping him. He propped both my legs over his shoulders with my knees nearly touching my face while I locked my wrists above my head. I was at his mercy as he pressed his full weight upon me, fucking me into the mattress. "P-please stop!" I howled and pleaded, feeling my pussy burn in agony, trying to accept his girth. He responded in his native tongue, but he didn't appear to stop or even slow his pace. He was determined to make me take every inch of his cock as he rotated his pelvis thrusts, and all I could do was take his punishment.
He grunted as he then gave me one final thrust. I must have felt his cock hit the walls of my chest. It was so powerful that I nearly fainted in a white haze as our hips connected with a loud smack.
He thrusts reduced to slow, steady strokes after that. I couldn't help observing my pain start to dissipate, replaced by an enveloping cocoon of pleasure each time he pressed into me. He held me in his gaze and saw the warmth that highlighted my face and knew I was starting to feel okay now that the pain had faded. But it wasn't long before he got back into malicious character once more, and my eyes flew open, panting with fervor as his thrusts grew harder. I grabbed and raked his arm with my nails, yelping aloud as he bottomed out against my womb. Already I knew from that day forward that I was never going to go back to dating white boys in my school, not after letting him stretch me out and take me to new limits. I eagerly swung my hips to counter his power. I could feel his cock expanding in my pussy and knew he was bound to climax any moment. I made up my mind then, knowing my body wanted his seed as much as I did.
"PLEASE!" I wailed, "CUM INSIDE ME!"
It didn't matter that I wasn't on birth control, nor that my period was two weeks away, and I was at peak ovulation. What mattered was that I wanted to feel him nut inside me.
He got the message and broke into a grim smile and proceeded to fuck me harder like before. There was nothing I could do besides cry out in pleasure. Then it happened. He tensed against me — likewise, I did — and pumped spurt after spurt of potent African semen into my fertile womb. My pussy convulsed on his black cock, feeling him splash my insides with his seed. He continued fucking me until his cock slipped out, letting cum drip onto my parents' bed. We laid beside each other for what seemed like a long time. The rest of the weekend was going to get real interesting.
I soon found myself ditching school regularly to visit him at the refugee camp. We had plenty of fun so that I inevitably forgot myself.
MONTHS LATER . . .
My parents filled out a police report saying I had gone missing. It wasn't long before the police found me. I had relocated into the refugee camp and had become the camp's breeding slut, and already I was four months pregnant. My parents inquired who the culprit was, but I never told them. All that mattered was I was going to have myself a baby — a beautiful black baby — and nothing they say or do was going to make me get rid of it.
Thanks for enjoying this wonderful tale. Hope to catch you next time around.