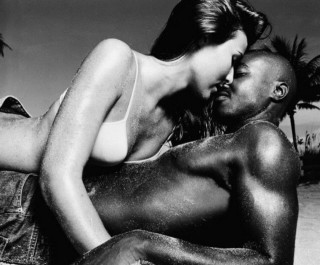 I love my wife and always strive to give her the best things in life.
My wife's name is Monica. She's a gorgeous 28-year-old with a figure to die for. Lately she had been feeling down. And me being a dour type of husband in my fifties, I could only think of doing whatever I could to make her happy. Money wasn't a problem; matter of fact, better company for her was.
I booked her on a two-week solo holiday trip to the Bahamas. I had a company merger I was working on and just couldn't make the time to be with her. But Monica is always great when it comes to making friends on her own. I trusted her not to get too lonely by herself. The last thing she needed was me dogging her while she tried to have a good time.
I saw her off at the airport and shared one last kiss, then waved goodbye to her as she went through security. I returned to my limousine parked outside and my driver drove me to my office.
Monica called me often. She did make new friends, as I knew she would. One especially was a black man named Simon.
She wrote me an email, telling me about how they first met. She was lounging at the beach two days after arriving at the hotel, when she made eye contact with him. He walked over and introduced himself. He, too, was married and on vacation. But his wife wouldn't be joining him for another week. This was a familiar getaway for him, and he knew people around.
"I've never felt like this before, darling," she said to me on the phone, discussing the weird feelings she was having. "I think I want him. I know it sounds crazy. But if you say no, then I won't."
To her surprise, I said yes and told her to go ahead and do whatever she wanted but to keep me posted.
Monica had never cheated on me before, even though there had been times I'd pleaded with her to do so. At my age, I knew I could not satisfy her as much as I'd want. Plus, I'd heard crazy stories regarding black men's sexual prowess; my only regret was that I wouldn't be there to watch.
They did get to fuck, her and Simon. Not once and definitely not just twice either. She sent me short video clips of them fucking in her suite as well as his. It was hot, goddamn fucking hot.
We corresponded through Skype as well. She introduced me to Simon and she left us alone for a while to talk. I thanked him for looking after Monica for me, especially for keeping her company… and I asked if he would let me watch.
They waited till I returned home in the evening. I was gasping and my face was all red from racing out of the car and upstairs, to get out of my clothes. I sat on the bed naked and called Monica to let her know I was ready. I logged into Skype and she was on, ready with Simon lying beside her.
"Are you watching, honey?" She waved at me through the screen. She wasn't wearing anything. "I want you to enjoy this."
"Yes, darling," I whispered.
My hand was stroking my cock as I watched them start to kiss. His hands were all over her. He kissed his way down her neckline to her breasts. His hands groped and squeezed her ass cheeks. The whole time Monica moaned with pleasure.
Her turn came and Simon rose to his feet and stuck his cock into her mouth. Monica stroked his manhood, wielding it like she held the mouth of a champagne bottle while pushing his huge cock down her throat.
I distinctly heard her moans.
I watched Simon force himself down her throat.
I gasped aloud as I watched her suck him harder.
My grip tightened on my dick as I sat there watching them via my phone. I must have looked like a bloated old goat sitting there in nothing but my socks enjoying the live show of my young wife getting fucked while masturbating… But I liked it!
Simon lay on the bed and guided Monica to get on top of him. Her backside was to me. I didn't have a wide view of the bed, but it was good enough for me to watch her insert his cock between her buttocks.
Monica got to riding her lover.
I absorbed the sight of her ass bouncing up and down.
I couldn't help it—I came right there and then.
My penis sagged like a deflated balloon. Only way to get it back to being hard was if I popped Viagra. Except I didn't want to miss the show.
Monica was on fire — whipping her hair like a dervish while she went on riding Simon.
I fell backward on the bed, holding my phone above my face as if staring at a mirror. Simon turned Monica over on the bed. He glanced over his shoulder for a moment and aligned himself better for me to get a perfect view of his butt slamming down hard between her spread legs. I played with my limp penis with my free hand, slime-coated with my spunk, trying to will it back to being hard.
Simon went on fucking Monica. The sound of their gasps and moans blended like sweet music in my ears. He pulled out of her at the last moment and I watched him spray Monica's face with his load of semen.
I slept fitfully that night.
The next day I got on Skype to watch them again. This time Simon brought along a friend. I'd popped a Viagra pill earlier so at that moment I was turgid as a mountain. Monica sucked both of them, then Simon and his buddy took turns fucking the shit out of her.
Both men were aggressive and relentless. They switched places as they fucked her:
Pounding her ass from behind . . .
letting her ride each of them hard . . .
holding her leg high and fucking her sideways.
I ejaculated twice this time. My penis felt sore afterwards from my frantic handjob. They came all over her face and she drained their cocks into her mouth. I followed her example and tasted my cum but it made me gag.
Monica returned a week later a totally different wife. Gone was the sour mood. She told me ecstatically about the friend Simon had introduced her to, and after Simon left to go be with his wife, his friend had kept her company and introduced her to some more friends!
It had been a terrific vacation for her and she couldn't wait to repeat it. I promised her she will be there from late December all the way into New Year. And this time, I'll be there with her.
Fuck Skype! Nothing beats watching your wife getting fucked live.
I hope you enjoy the story. Do clap for it to show that you do.