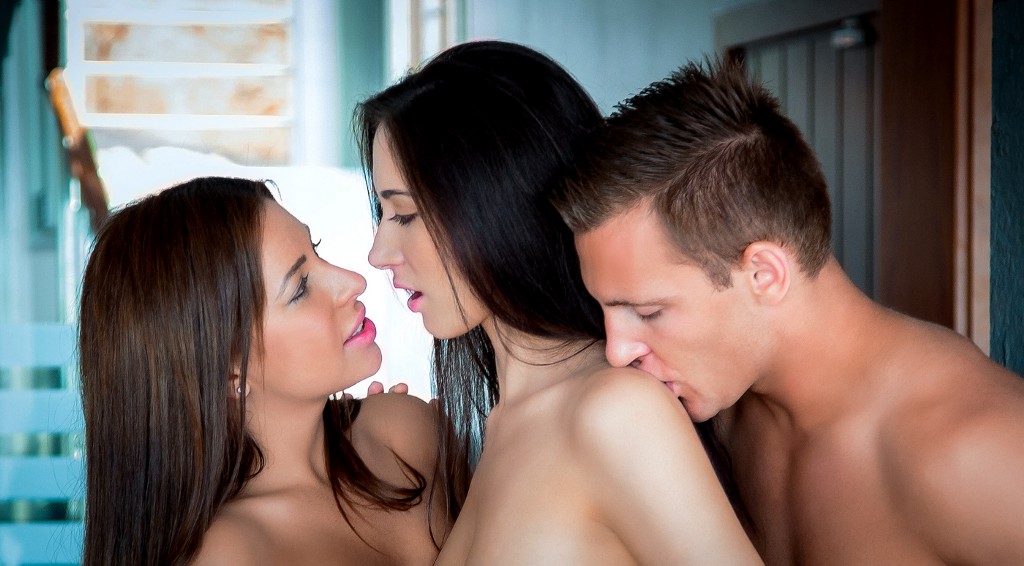 It started with my best friend, Anjali and I sharing memes.
I had sent her one with a picture of a large wet stain on the bed, and a dog sitting beside it with a guilty look on its face. The words written on it were: When he hits that tongue and finger combo on you a little too fast.
She responded that an orgasm so good that she squirted had never happened to her. I expressed my surprise and told her that it was the best feeling ever.
'Take a regular orgasm,' I said. 'And multiply it by ten.'
'Wow, that good?'
'Barely. Multiply that by ten again.'
'Woah, you lucky bitch.'
'You bet! I have to admit though, I'd never felt anything like this before I met Anand. Damn, I need to introduce him to you. It would be fun.'
'Oh, I'm too shy.'
'Don't lie, bitch. Tell me you don't want Anand. Tell me you never masturbated to the video of him fucking me and imagined those motions, that moment?'
Anjali and I had exchanged sex tapes — just because simply by words, we couldn't convey exactly how awesome our sex life was. Anand and I had been dating for over eight months, but she'd had a string of flings, each guy hotter than the last — the videos she sent were testimony to that.
We had swapped nudes too, but had never dared to discuss them in such crude words before.
I had only been joking. Her reply took me by surprise.
'Fuck you. Stop reading my mind.'
'Yeah, and I have cum so many times imagining you grinding those curvy hips on Anand.'
'I am embarrassed to admit it, but I have thought of you naked many times too. I mean, you and Anand together — with me in the room.'
I blushed as I replied,
'You know Anjali, we should try this out. This could be the beginning of something really sexy.'
'Oh yes, fuck me harder,' Anjali was screaming. Her face was flushed and her hair was in disarray over the white silk pillow. She clutched my boyfriend's arms with both her hands, her beautiful eyes rolled up, staring at the ceiling. Her shapely legs were up in the air, her bare ass rippling in perfect sync with the thrusts of Anand's hips.
I looked at them from behind, my fingers massaging my wet pussy. His beautiful cock had been inside me just few minutes ago, and I could still feel the pleasure of his wild fucking between my legs. Anjali had initially only wanted to watch, but I had orgasmed so many times from Anand's fucking that she couldn't hold it back any longer. Soon enough, she was on her knees, begging for him to toss her on the bed and use her as he pleased.
And use her he did — my, it looked so sexy — my six-foot tall, handsome boyfriend being so violent with my petite little best friend.
I bit my lips and massaged my nipple with my free hand. My boyfriend fucking my best friend so wildly made for a beautiful sight.
I brought myself closer to them, my hands tracing the ripples of the muscles on Anand's arms. He brought his lips in for a kiss. I bit his lip and heard his sharp intake of breath. I straddled Anjali backwards, my thighs locking her slender waist. I faced Anand and pressed my boobs to his face. He sucked on the tender skin, biting my nipples hard. I gasped as he held Anjali's legs up high and pounded her harder.
I moved backwards, the soft skin on my inner thighs gently rubbing Anjali's tits. She gasped for breath, then grabbed my ass and buried her face in it.
The suddenness of her move took me by surprise. And the way my body responded to her touch was a shocker. Her hands were smaller than any man's I had been with, and her cheeks felt so smooth down there — pressed between my thighs.
She flicked her tongue wildly over my asshole, greedily lapping up all the sweet juices that had dripped from my pussy. Her wet tongue was making me go crazy with pleasure. I grabbed Anand's hair, drew him close and pushed my tongue deep in his mouth, exploring the sweet, familiar crevices inside.
I felt his thrusts growing more aggressive, the impact it had on Anjali and that crazed movement of her lips as she sucked and licked. I found Anand's tongue and locked my lips around it, sucking deep. I felt every tiny tremor in his body as he fucked her harder.
Anand's grunts, Anjali's gasps and my moans of pleasure made an exciting crescendo. And then, with one final violent thrust, he exploded inside Anjali's pussy.
We broke apart. Anand wiped the sweat off his forehead, looked at me and mouthed, 'That was fucking amazing.'
Anjali was breathing hard, but not yet willing to let go of my ass.
I gave Anand a slutty smile, bent down and ran a finger over Anjali's dripping pussy. I put the finger in my mouth and licked off of Anand's cum. Ah, that familiar taste. It was too much for me to take — I bent down and started licking Anjali's cunt till she was dry.
But oh, I wouldn't let her be dry for long, would I?
Anand was panting, too tired for the moment to join in.
He had no choice but to watch what 'fucking amazing' evil things the two of us best friends would do to each other next.