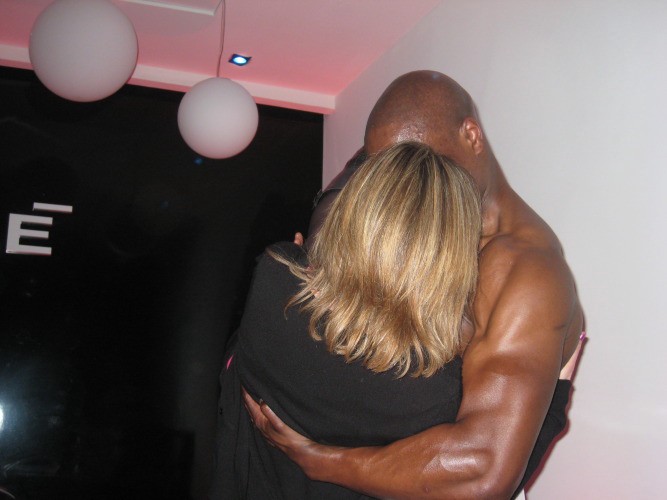 Steven stuck his head out the doorway to watch his wife lead me up the stairs. I half turned and saw the wimp standing there looking morose, like a dog left out in the rain. I indicated at him to come on up. His features lit up at that and he followed our tail.
I smacked Claire's butt and grasped her ass cheeks, loving the feel of her soft flesh in my hand. That excited her plenty. She stopped to grab my shirt and pulled me closer and we kissed each other hard and passionate. I pushed her against the wall and ripped the top of her lingerie to feast upon her tits. Out the corner of my eye I caught Steven standing halfway up the stairs, staring at us. He had stopped as I pressed against Claire, unsure what to do.
We ignored him and went about our fun.
Her hands tugged frantically at my belt buckle as we continued swapping saliva. She pressed her knee against my crotch. That was my cue to grab hold of her thigh, and I slid my hand up her rump while squeezing her tits with my other hand. My erection was throbbing inside my jeans. I lifted her off her feet and she moaned and locked her calves against my leg.
I supported her butt with both hands and we covered the distance to the bedroom.
She fell on the bed and went ahead playing with herself while I hurried to get out of my clothes. Sissy-boy hid behind the door, peeping into the bedroom, afraid to rear his face beyond the doorway. Not that I was concerned about the wimp. My eyes and desire were on his wife as I clumsily extracted one foot out of my jeans and struggled with the second. The whole time she lay there, moaning sensuously whilst rubbing her clit.
"Uhhh baby," she pouted. "Look at what you've done. You've got me all wet already."
"Gimme one second, love, and I'll be there," I replied with such eagerness. I stumbled out of my briefs, then dove at her.
Her sissy-boy husband ventured into the room as I lay on my torso and elbows perusing his wife's cunt. The wimp was busy stroking his pecker at the sight of us. Claire jerked and spasmed on the bed, sliding her stockinged feet against my arms and shoulders. She tasted so fucking good. I finger-fucked her dripping twat while I nibbled on her clit.
She groaned and smacked her head against the bed.
She screeched, her fingers scratched my head.
She whimpered, begged me to stop, which I didn't.
I came up for air afterwards and Claire was onto me before even I had time to recover. She locked arms around my shoulders and sucked my lips harder than previously. I rested on top of her. My prick smeared pre-cum against her thigh. Claire opened her legs for me to slip inside her. She groaned. Her pussy felt tight. I broke through seconds later — fucking passport to heaven.
"Aaaiiieeee!" Claire cried sharply into my ear.
Tight, exquisite pussy.
I slid deep into her.
"Oh my God!" she gasped breathlessly. "Ohh fuck me . . . Oh, you're so big!"
Yeah, and I felt big, too, I smiled inwardly.
Her face clenched as I broke deeper into the depths of her cunt. It was like sliding through butter. Claire tightened her grip around my shoulders. I rummaged underneath to cup her butt and lifted her inches off the bed. She cried out once more as my cock struck a home-run; I could feel her creaming all over my shaft as I jerked my hips back and forth.
Claire clawed at my arms. She screeched, tensed, once more pleaded for me to stop, then don't stop, her voice rising in pitch… Hell no, I wasn't going to fucking stop! I'd been aiming to ream this bitch's pussy ever since her pathetic, sissy, loser of a rich husband showed me a photo of her and griped about how he had attempted numerous times to inform her of his fetish for submission. I had waited for just the right moment to approach her, to start winding her mind like a clock regarding her husband… and now, all that hard work had evidently paid off. Now was my time to earn my keep.
I lifted Claire off the bed and she jerked her hips and thighs against me, rocking my dick back and forth, up and down like she suddenly couldn't get enough of it. We locked arms around each other as well as lips.
I glanced over at sissy-boy and he was still in the doorway, masturbating hard. He was breathing hard, like an out of shape athlete. He gasped when he sprayed cum in his hand.
"Better lick that clean, boy!" I barked at him.
"Yes sir," he responded and proceeded to run his tongue over his hand.
Claire focused her attention on me. I locked my hands on her butt and grunted into her face as I pulled her harder and harder toward me like I was lifting weights. Her tits slammed against my chest.
We inhaled each other's breath.
We kissed and tasted sweat off each other's lips.
Our fucking was fervent and frantic. I fell on top of her and got to working my hips and thigh muscles. Claire's gasps and cries grew more guttural and loud. I knew I was hitting the bitch the right way, the only way a horny milf needs to be fucked.
"Cum inside me," she gasped. Her feet gripped me tight. "Gimme all your cum… Ohh, Ohh God, fuck meeeeee!"
I clenched my face and gritted my teeth. I was groaning in sync with her, except my body was working like an automated machine, tearing up that pussy like I wanted so bad. A fire ignited in the deep recess of my nuts and soared all the way to the tip of my penis and before I knew it, I emptied my sac inside her.
Damn, it felt so fucking good . . . like Christmas!
You might assume that was where this story ended, but you're wrong.
Claire and I fucked a second round that night. We showered and went down to the kitchen for her to get us some grub, but not before instructing sissy-boy to change the bed sheets. He found us making out in the living room and told us he was done. We returned upstairs and fucked some more. This time she begged me not to stop.
Early dawn approached and I put my clothes on and slipped out of the room while Claire lay in bed asleep. Steven was downstairs waiting for me, looking rheumy-eyed and somewhat dazed. Apparently, being the wimp that he was, he had slept on the sofa in the living room. The house had numerous bedrooms, but he had opted to sleep there instead.
"How are you, sissy-boy?" I said to him. "You waiting all this time to catch me before I leave?"
"Yes, Master," his voice sounded croaky and he took a moment to clear his throat before speaking again. "Master, I wanted to say thank you for what you did to Claire last night. For everything you have done for us. I never would have pulled out the action you did."
"I know you wouldn't, boy. That's why I never told you. Things are going to be different for you from now on, boy. This is what you've always wanted; I hope you're up for it?"
"I am, Master."
"Good to hear, boy. Did you call me an Uber?"
He looked baffled. "Well, no, Master. I thought maybe you would stay over."
"Next time I will. But I've got other business this morning. I'll give you a call later."
He opened the door for me and I stepped out into the crisp morning wind. The streets were quiet as I walked. My phone began to buzz in my pocket. I brought the phone to my ear.
"Pimp Zee here," I said.
Thank you for enjoying the story, and do clap for it to show how much you love it. And if you have time, catch up on the previous episodes below.