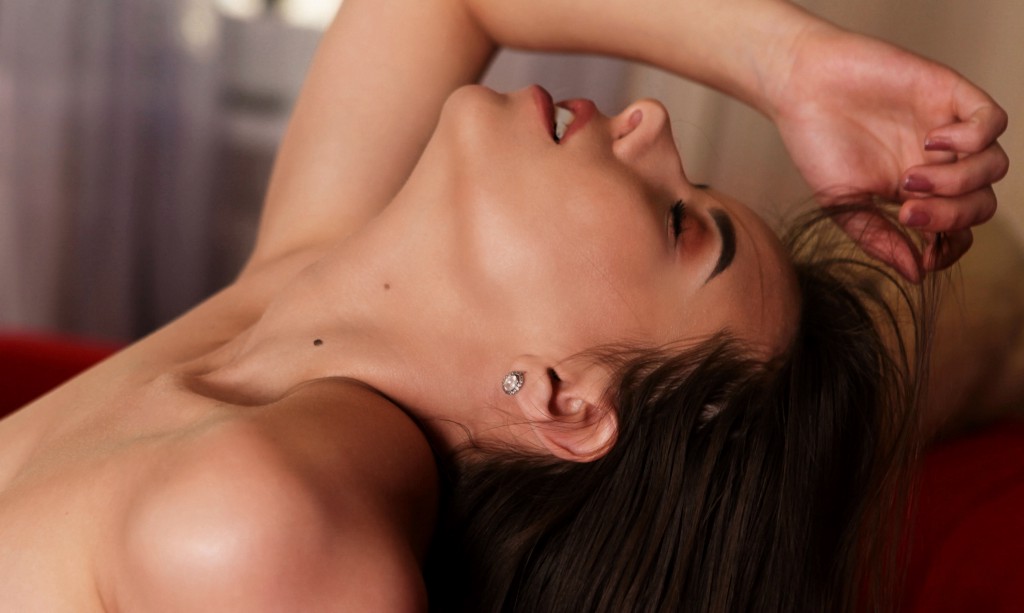 When past sexual moments are buzzing, I slowly awaken and know the sun is about to rise.
When it's completely quiet, and I'm settled, I never know what will dance through my imagination as the curtain is pulled back:
She's on her back, kicking off her panties while my lover kneels nearby and strokes her hair. I'm wearing a pet collar, kissing the feet of my Mistress knowing that my only desire is to be completely owned. She reaches to stroke between her legs while nuzzling Mistress in her pussy and I'm told to sit in the corner and watch.
I'm half asleep, groggy and yet aroused. Some scenes play again and again for months at a time. Like the time when I was nineteen years old and I had a roommate who was gay. I could sense his interest in me but we never talked about it. There was a moment back then in real life that my desires today will fill in.
As the early morning light mingles with what's left of the darkness, I'm sitting with Stephen on a couch in his older friend's condo. She's in her thirties and had been talking sexually since we arrived on a Friday afternoon. She had asked where we wanted to sleep and suggested her bed was large enough for all three of us.
Stephen shrugged. The idea piqued my interest and I sidled up against him, briefly touching his ass. Later that evening, he and I were on the couch and his friend had a stack of Playgirl magazines. He showed me one of a guy with flat abs and a nicely done erection; another image caught my eye of a man standing behind the classic porn model with an orgasmic expression on her face.
Bedtime came and Stephen's friend retreated to her bed and reminded me — us — of the invite, even though she gave us blankets that we could use for sleeping on either side of the two sofa sections that were pushed together in an L-shape.
The image rolled into my thoughts morning after morning.
I pulled off my jeans and wearing only my underwear sat next to Stephen who was also semi-naked. I hooked my thumbs in the waistband and wanted so badly to pull off the briefs. My cock was hard.
In reality, I never did. But what happens in my mind is often reality plus what never happened.
I slide off my underwear while I lean against Stephen, my mouth making contact with his. My cock is throbbing and I trail my mouth over his naked chest and find myself kneeling between his legs, pulling off his underwear and taking his cock in my mouth for my first bisexual experience. He sighs with fingers playing in my hair. I love his taste and enjoy savoring his shaft, licking his balls and hearing his moans.
The reality of what I experienced that weekend was his friend giving one last call from her bedroom saying we could get comfortable in her bed. Though I didn't move, my imagination will see it differently at 5 a.m.
Her voice is inviting. She's attractive and seductively older. After sucking Stephen and enjoying his orgasm I make my way to her bed, about to lose my virginity. I slide under the sheets and she pulls me close, kissing me fully, spreading her legs and letting me go inside her pussy. I'm on top, thrusting in for the first time of completely fucking a woman, sucking on her tits, loving my mouth sweeping through hers.
Month after month, the scene played out, making me wonder how I kept myself from him or her. I squeeze the pillow and by the time 6 a.m. rolls around, my emotions are played out and I feel as though I've had a workout.
What I've realized about these scenarios is that they're rarely about any porn clips I may have watched. They're related to the real life people and places I've interacted with, or online encounters. Adult bookstores and lingerie boutiques used to beckon me in the past and this scene has come alive.
A woman dressed in a red frilly top, panties and garter belt welcomes me as I descend the stairs. Men and women are already fondling each other and writhing with some ladies tied seductively while being whipped. I'm stroking my cock, eager to join in. One man teases a woman with a vibrating dildo, running it around her thighs and on her mons before slipping it inside. She lies on her back, taking it, opening her mouth and inviting my cock. I slide in and she wraps her lips around my shaft.
But I'm at home, in my own bed, and the morning is now lighter. The coffee must brew and the dogs need walking, but the thoughts still permeate my inner world. I lie on top of my pillow, hugging it tightly and feeling the pulsating erection and my orgasm breaks through — quietly but intensely.
And now, it's time to start the day.