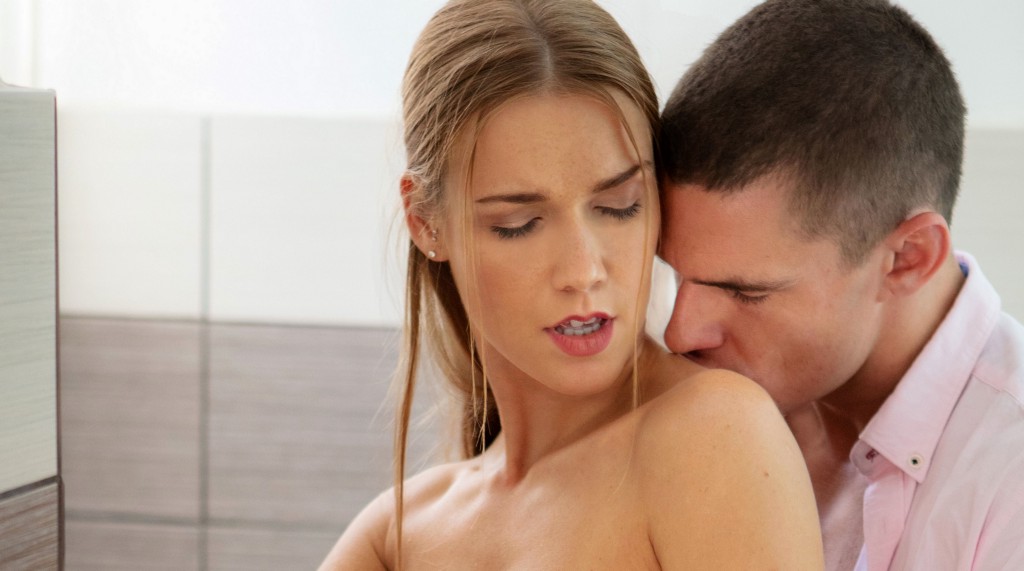 There is a certain feel to a night when it is about to be memorable. The air felt light, by which I mean that any effort made to ask for anything, do anything, wouldn't be hindered by obstacles. As the sun set on the work day, I walked out to my car feeling like anything was possible.
I went out to the financial district where there were bars and pubs that professional men and women would visit to unwind after work. I walked into one bar and saw that it was teeming with activity. I heard the music playing in the background and it felt great. A smile crept across my face — my best, sexiest smile, like Tom Cruise's smile at the end of Days of Thunder when he won the Daytona 500.
As I walked in, I passed groups of men and women and I found a spot at the bar. The bartender took little time in taking my order — I didn't have to stare at him until he noticed me or accept the enormous number of people asking for a drink and wait for mine patiently. After a few pints and several good songs, I saw a group of people in an open space start to dance. I walked out and leaned against a column, bobbing my head to the music.
A girl walked into the bar with her friends and we locked eyes. She was a shorty with big brown eyes and a curvy body. She went to the bar and I looked away. But I soon looked back again and caught her looking at me. She turned away and whispered to her friends.
A grin crawled across my face as the alcohol and the music started to vibrate through my body, my vivid imagination thinking of having her dance with me. After a few minutes, I saw her walk out to the dance floor with her friends and we met eyes again. We smiled at one another, two big smiles. I managed to put to the side the lust rolling through my mind, and walked up to her.
"Hi!" I yelled — the music was super loud now.
"Hi!" she answered, looking deep in my eyes.
"Do you wanna?" I motioned. She nodded.
We walked out to the center of the dance floor and started to move. I hated trying to talk over the music so I decided to talk through my dancing. I got into the music and started to move my hips. She was getting into it herself and there was no awkwardness. She kept looking back to her friends to see where they were and they were still at the edge of the floor, drinking and watching her. After the first song, I asked if she wanted to keep dancing and she nodded in agreement.
"You dance really good," she yelled.
"Thanks!" I replied. My hands were brushing lightly against her blouse. I struggled not to look down at her big breasts, which were pushing snug against her clothing. As we got more comfortable with one another, we started to really get into the music. I slipped my arm around her waist and pulled her closer. She was wearing a tight pencil skirt and I let my knee and thigh push up between her legs. She wrapped her arms around my neck as we moved to the beat of the music. I started to dip and move her around on the dance floor and we were laughing together. She looked back and her friends were talking with other guys.
As we were laughing, she started to kiss me on the cheek over and over. She would pull away and look at me and as she slowed down, our eyes narrowed and we kissed. I sucked on her bottom lip as we kissed slowly. We backed away and kept moving to the music. I rubbed thigh against her pussy and she looked up at me and pressed against me more. I took my hand down to her ass and grabbed. She smiled and kissed me again. She was grinding against me and I could see she was enjoying it.
I could sense that her pussy was wet as the space in between her legs felt warm. She grabbed onto the back of my neck with one arm as she slipped her hand down between my legs. She cupped my erection and began to rub it. She looked up at me with narrowed eyes and we pressed our lips together, letting the sensations below the waist overtake us. She would look in my eyes and then look down as she kept grinding. She clutched the back of my neck and then looked down again. She pressed her face into my chest as she orgasmed. We stood there as the music and people pulsated around us. I wondered what would happen next.
She breathed heavily into my chest and looked up at me sleepily. She smiled and then we kissed again. We kissed deeply and she hugged me as we moved from side to side on the dance floor. Although the feeling was heavenly, I hadn't cum yet. I didn't care so much as I was holding a fucking hot woman who came on top of me while dancing. The night and a great memory was made but yes, I felt the tightness in my balls take hold.
She looked up after a bit and whispered, "Did you cum?" I shook my head no.
She looked sad and mouthed, "I'm sorry." I told her not to worry and I kissed her on the lips.
We started to dance again and she grabbed the back of my neck yelling, "Come with me." She took my hand and we walked to the bathrooms. As we got into the dimly lit hallway, she backed against the wall and looked in my eyes. She kissed me lightly. Then looked at me, then kissed me lightly again. She said, "Wait." I didn't know what she meant but she kept smiling at me and caressing my face, kissing me. As a group of girls left the bathroom, she said, "Let's go!" and she grabbed my hand, darting into the women's bathroom.
I was so surprised, but I loved the feeling. We ran into a stall and locked the door. She started to unbutton her blouse and her cleavage began to show. She grabbed my hands and put them on her breasts. I leaned down and started to kiss them. She kept unbuttoning and whispered, "Help me with my bra." I slipped my hands around under her blouse and got the hooks on one try. She pulled up her bra and I took one breast in my mouth. I flicked my tongue over it and felt her hand on the back of my head. She sat back on the toilet and pulled up her skirt, showing her panties. She looked at me with lustful, slutty eyes and, like a porn star, teased me, touching her pussy.
My cock stiffened. "Pull it out," she whispered. "Pull it out, I wanna see it."
I unzipped my pants and pulled out my stiff, swollen dick, with a perfect mushroom head. She showed me white panties that were stained wet. She pulled them to the side to show a hairy, cropped bush with shaved pussy lips.
"Come here," she said. A vibration entered my body and shook me. My brain was electrified at the thought of sex. She motioned me to sit on the toilet seat.
She got up and slipped down onto me. I couldn't breathe.
She slurped up and down and I was shocked. All of a sudden, another group of women walked into the bathroom. We clutched and looked at one another, freezing. The women were yelling and laughing at first, but then they went quiet. We didn't move a muscle but both of us were throbbing. The girls kept talking and she started to slide down on me. The exhilaration of getting caught heightened the sexual energy.
She kept looking at me as she slide up and down. I started to feel a boil deep inside of me and as she kept riding the boiling sensation kept rising. She was smiling. The girls in the bathroom were whisper to one another, probably smelling the sex emanating from our stall, and then laughing again.
The boiling feeling got higher and higher when she started to gyrate in circles. The girls opened the door to leave, the music growing louder.
I pushed my lover up in one motion, pulling out as I screamed a loud, body convulsing orgasm. I hoped that it would be drowned out by the music, but the women heard it and laughed louder.
The door closed and everything grew quiet again. I was in her arms, dead. I was breathing heavily and both of us were sweating. I looked up at her and we kissed.
After a few minutes she said to me, "I think my friends will be looking for me." We got up and began to straighten up. Eventually we snuck back out to the dim hallway. We kissed a while, then she looked at me and said, "Thank you." She turned around and walked into the crowd.
I stood there and soaked in the events that had just happened. A beautiful, brunette walked up to me. I didn't realize until she right in front of me. I looked up and we almost met lips.
"I heard you and saw her," she said. She had peeked in on us also, she admitted to me. We exchanged numbers and she walked away — unreal night.