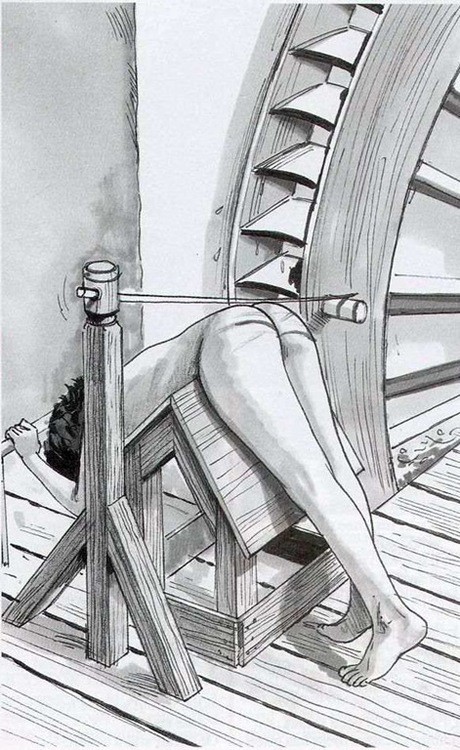 Water trickling
water gurgling
surging splashing
sploshy burbling
Wooden wheel
tirelessly turning
spun by cascading
torrents churning
O I'm such a naughty girl!
On sunny days I love to take
A whippy whacking rod
One to make my bottom ache
Naughty me, I'm quite undressed
Soft lush grass, bare feet caressed
A sunlit stroll, by gleaming brook
Down to my secret spanking nook
Passers-by would not believe
What devious imagination first conceived
Of harnessing pure water's flow
To whack naughty bottoms so
I bend across the wooden bench
And slot the cane into the post
I feel it press upon my cheeks
Then the bit I love the most
On the wheel there is a peg
It lifts the cane and makes it creak
Up and up it bends until it slips
Whacking back to make me squeak
A short pause to catch my breath
Cane upon my stinging cheeks
The peg will soon be round again
Do any ever hear my shrieks?
My merciless water-powered imagination machine
Whisks my mind away to waking dreams
I imagine wrist and ankle stocks
They place a rod across my bum
Leaving me struggling against my locks
My shouts receding as they walk away
Leaving me at the mercy of the wheel
Perhaps they'll not return today
Or I'm a naughty miller's daughter
Sent to the wheel, discovered wanking
I'm disciplined by gushing water
Returning home to show my spanking
Afterwards I love to lie
On the dewy riverbank under sky
Damp grass soothing poor pink bum
Slow filthy rubbing 'til I come
Mesmerised by the turning wheel
I rub to the rhythm of the lifting cane
Massaging deep within my crack
Pleasure overwhelming pain
O how it bends, and then whips back
Where my bottom used to be
My ears fill with an imagined thwack
Until I'm swept away excitedly
At night I listen to the rain
A trillion raindrops fill my dreams
Uniting… merging… surging…
Into torrential bottom smacking streams
.
.
.