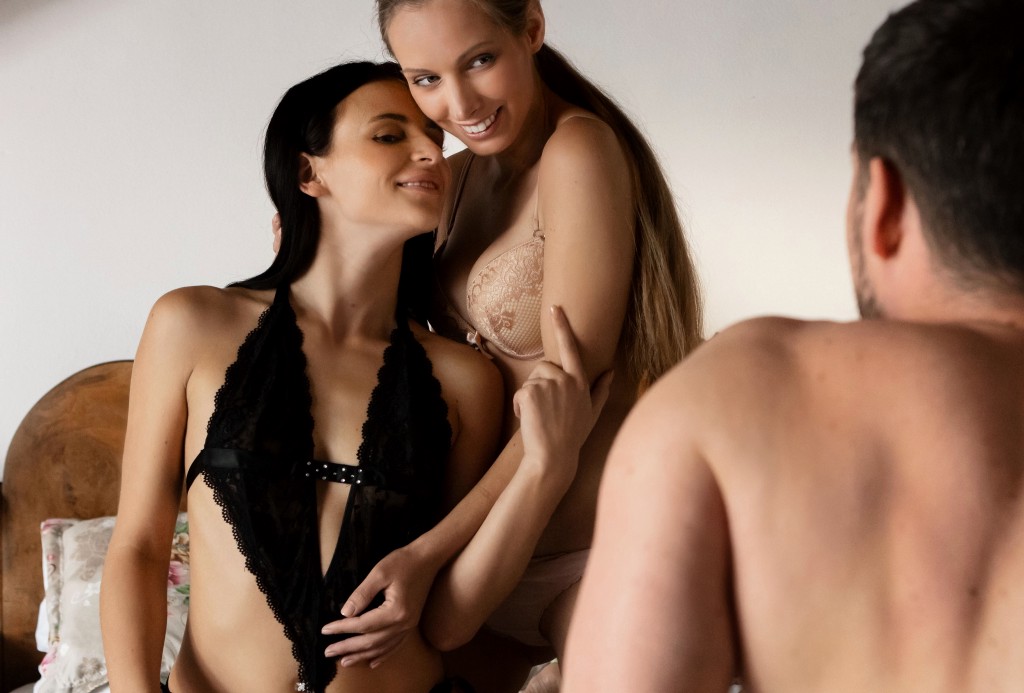 Back in college, I imagined that by the age of 26, I'd have a big house in the suburbs, a couple of kids, and a gorgeous husband. As I chomped down on a salad I bought from Wendy's on the way home and sat in my apartment alone, I contemplated what had become of my life.
The husband never happened. I dated plenty of duds and didn't have a problem finding prospects, but none of them were marriage material. I loved my job as a teacher, but I also never imagined I'd have to deal with the endless bureaucracy and budget cuts. It was a good salary, but it never went as far as I imagined it would when I was 22 and fresh out of college. I was in a rut and I longed for something different.
I started scrolling through Facebook, and I saw my gorgeous friend Lyanna's latest pictures from her vacation to the Caribbean. I loved to hate her, but she was living the life I always wanted. In the photos, I took notice of her handsome husband, who had rock hard abs. I could even make out the outline of his cock through his swim trunks. It was fucking impressive. The fact that he was a successful plastic surgeon was just icing on the cake. Leave it to Lyanna to land a husband that was hot and rich.
Seeing her in a bikini and him in nothing but a bathing suit, with his tanned abs in the sun, brought lustful thoughts to my mind. I couldn't help it. I had a nightly routine with my Hitachi, and tonight I fantasized about the gorgeous sight of the two of them fucking. I bet he fucked her hard. I didn't need to watch porn that night as a visual aid. The picture in my mind was enough.
Summer was coming up, and I was thinking about what I wanted to do for some extra money. That's why I was drawn to Lyanna's latest Facebook post: "Looking for a babysitter for the kids this summer, looking for someone responsible."
I adored her kids and jumped at the opportunity. It was also an opportunity to be a voyeur into the life that I'd always fantasized about.
At the end of a long day, Lyanna came home from work. She worked at a bank, I had no idea what exactly she did. She looked hot in her tight black dress, shimmering legs, glossy hair, and perfect make-up. Her husband, Harrison, came home from his practice looking tired. He smiled when he saw me and gave me a big greeting.
"Jessie, why don't you stay for dinner and drink some wine with us tonight?" Lyanna said.
"Absolutely!" Harrison exclaimed.
I laughed nervously. I figured Lyanna was just being nice. "Oh, no, I can't. I don't want to risk drinking and driving."
"You can spend the night. You've been like a part of the family for the last few weeks."
I smiled. What the hell, why not have a fun night? What was I going to do at home, binge-watch a show on Netflix?
"OK, why not."
The dinner was delightful, and it culminated in us hanging out on the couch and drinking far too much wine. As the laughs and jokes intensified, the conversation became less superficial.
"You know, Jessie and I used to hook up," Lyanna said.
My face reddened. We would sometimes go to bars and make out. We'd draw in quite the crowd back in college.
"Oh, stop it, we were drunk," I told her.
Lyanna just looked me up and down. "We're drunk now," she said as she leaned in towards me.
My heart rate quickened as she moved closer. I didn't want her to stop but wasn't sure if this was a joke. I sat there, not knowing what to say or do. Then, her lips touched mine, and her hand caressed my neck.
"I've missed those lips," Lyanna told me.
Harrison beamed as he watched us. I saw his cock begin to fill out his pants.
"Do you like what you see?" Lyanna asked her hubby. He just nodded and started rubbing his cock through his pants.
Lyanna went in for another kiss, this one deeper, as her tongue plunged into my mouth. I felt her tight, firm ass. I honestly loved kissing her, but I thought it was just a funny drunk thing we did. I knew now that she liked it as much as I did.
"I knew you liked making out as much as I did," Lyanna said while she massaged my nipples protruding through my shirt. "We had a good excuse, didn't we?"
She dropped to her knees and hiked up my skirt. I bit my lip as she began to lick my clit. I looked across the room, and Harrison had now taken his cock out of his pants and was stroking himself while he watched us. I made eye contact with him. He didn't say anything and simply nodded at me. I was amazed at the size of his cock. It would take two of my hands to grapple it. He ground his teeth together and watched us while he stroked himself.
Lyanna removed her head from between my legs and looked back at Harrison, smiling.
"I think Jessie wants to suck your cock," Lyanna told him and motioned at him to come over and join us.
Harrison unbuttoned his pants and took off his shirt, unveiling his chiseled physique. He walked over to me, and I inserted his cock into his mouth. He grunted, bit his lip, and looked up at the ceiling. At that moment, I felt Lyanna's tongue penetrate me.
"You're so fucking wet," Lyanna exclaimed as she removed her tongue from my pussy and moved her hands along Harrison's abs while I sucked his cock.
She looked at me and said, "Do you like his cock in your mouth, Jessie?"
As I withdrew my mouth from his shiny saliva-engulfed cock, I said, "Yes, I love having your husband's cock in my mouth."
Lyanna leaned in and kissed me, once again allowing our tongues to intermingle. Harrison slowly massaged the back of my neck while we kissed each other.
"Do you want to fuck that cock, Jessie? Do you?" Lyanna asked me as she jerked off his fat cock in her hands.
I looked at his smoldering body and nodded. "Yes, I want him to fuck me."
His fingers entered my moist vagina, and his big hands stretched me out. I instinctively started humping his fingers. He looked me in the eyes.
"Do you want this cock inside of you?"
"Yes, I want it, I want it, Harrison," I told him while he finger fucked me, and we jerked him off.
Lyanna leaned in and kissed him. She whispered in his ear, "I want you to fuck her, baby."
"Bend over," Lyanna told me as she presented her pussy for me to lick. I felt Harrison enter me and stretch me out. Lyanna spread her legs, and I began to lick her dripping cunt.
Harrison started slowly and gradually increased his tempo, fucking me hard from behind. With my face buried in Lyanna's pussy, I heard her say, "Do you like fucking my friend's pussy?"
"Yes, I fucking love it," he grunted out, and his hands tightened on my ass cheeks as he fucked me mercilessly from behind.
"It's my turn," Lyanna said, demanding that he fuck her next. She bent over, and I spread my legs for her to feast upon me. Harrison entered her. I watched his tight body move, his muscles ripple, as he took her. Harrison fucked her like I imagined a caveman probably fucked 50,000 years ago. He fucked her like it was the last pussy he'd ever get.
Watching him fuck was like watching the best porn I'd ever seen while being orally pleasured. I quivered as Lyanna's slick tongue plunged in and out of me. I watched the sweat drip down Harrison's tight body and down onto his wife's tan, sexy body.
Her grunting and moaning were muffled with her face buried between my legs. She then removed herself for breath and to cry out: "Oh, my God!"
She kissed me while Harrison continued to fuck her. Her eyes made contact with mine as she was fucked. I saw the painful lust in her eyes, in the throes of absolute pleasure.
Harrison intensified the tempo of his fucking. His hands gripped Lyanna's ass tightly, and the pace of his fucking increased. I could see it in his eyes, he was about to cum.
"Don't cum, baby, save it for our guest," Lyanna told him.
"Do you want my husband to cum inside of you?" she asked me slyly.
"Yes, yes, I want him to fucking cum inside of me," I told her breathlessly.
She leaned in and kissed me. She whispered into my ear, with the warmth of her breath giving me goosebumps. "Spread your legs for Harrison, fucking do it," she told me.
I lay my back on the couch and spread my legs for him. Our eyes interlocked as he slowly entered my dripping cunt. Lyanna held me from behind, looking at her husband fuck me.
"I love the way you stretch out her pussy, baby," she told him while he fucked me and gripped my thighs. He leaned in and grabbed my neck, fucking me more aggressively.
"Tell him what you want," Lyanna whispered into my ear.
"I want you to fucking cum in my pussy," I told him as his tempo increased and his cock grew even more rigid. His cum erupted inside of me as he kissed me. Lyanna nibbled on my ear.
"That was so hot," Lyanna told me as the cum dribbled from my pussy.
I was really looking forward to the rest of the summer.