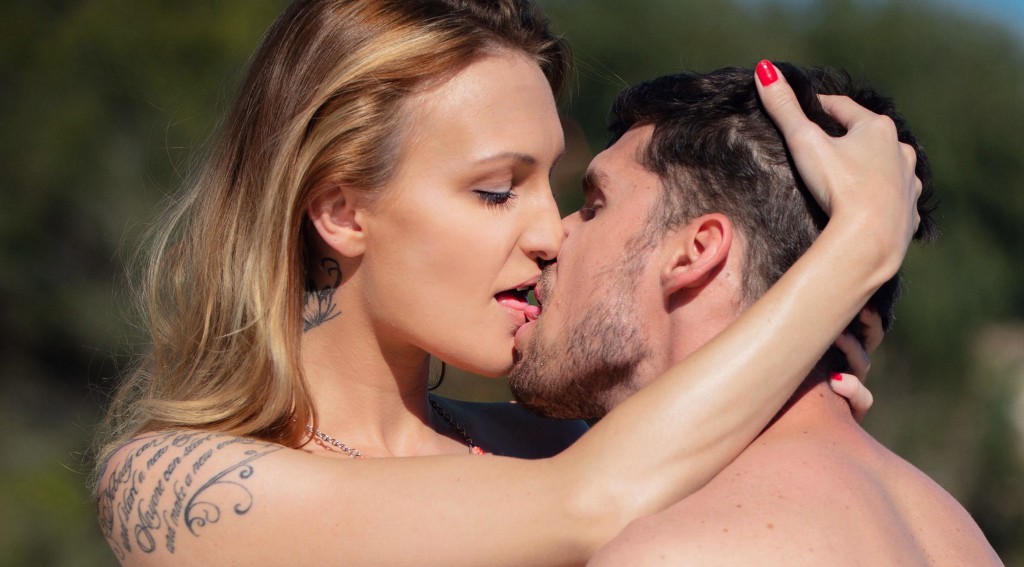 The neighbors have gone quiet. The drone hits the stones on the ground in an attempt to land itself and gives out a futile buzz before finally going silent. We are too busy making love to pay attention. The footage will be worth the rough landing.
It was her idea to bring her new toy along on our vacation. We spend the early morning taking shots of the house, catching the Mediterranean sunrise over the hilly countryside. I am attempting to navigate the drone into a successful landing, standing focused and oblivious opposite the deep valley framing our back garden. Bunny seizes the opportunity and before I know it she pulls my swimsuit down in front of the drone's perfectly positioned camera.
I get an idea and willing to retaliate I leave the drone hanging and soon her bikini is off too. She tackles me, I don't let go on my descent and we both land in the grass. In a streak of playful aggression she pins my hands down and presses her knees into my hamstrings, leaving me helplessly pinned down. This whole time we're observed by the drone hovering around us like a giant insect, capturing the scene.
She rubs her pussy on my manhood as she lowers down and licks my lips. I try to go in for a full fat kiss but she escapes, trailing a path along my chest, eventually arriving at my rod. A string of thick saliva lands on its top and she rolls her fingers gently on my sensitive spot to distribute it, sending shocks down my spine with each stroke.
She told me a few days ago that she loves going down on me and I must admit her ways make me appreciate it as never before. Right now, she's hiding behind a curtain of hair, creating a light veil that leaves me guessing but allows me to peak in now and then. Soon she emerges and looks up at me as she slowly circles the tip of her tongue around my tip, using my awoken sensitivity to drive me mad with desire.
I need to taste her too, so I reach down to her hardworking mouth and pull her up, passing my lips with a brief wet kiss; it tastes of me. I make her sit on my face, making sure the camera takes in all of her curves. I dive into the dark soft world and for a moment I forget everything I know except the textures and tastes rolling over my senses, accompanied by the muffled moans coming from above me. Suddenly she pauses and tells me she just needs to feel me inside already. I say nothing but grab her hips and direct her just to where she needs to be.
She slides down in that blissful moment of finally satisfying an urgent need. Our toy is patiently observing, recording all of Bunny's movements. She does not do small talk this time, instead bounces up and down, sliding me all the way out to the tip and taking me in hard on descent.
I raise my hips and start meeting her halfway in heavy thrusts. We know each other inside out and know exactly which buttons to press… except when we don't. She surprises me by rolling her hips on me in circles, as if trying to scrape every last cell from me. I feel the motion with my hands on her hips and it drives me mad.
As she hunches over me, grabbing me by my chest, I get a first class view of her swollen lips in full bloom. I know it's going to happen soon so I reach with my hands to her beautiful breasts hanging just inches from my face and I start rubbing her nipples.
It was the last number in the equation as I witness the mind shattering blow that follows. The contractions of her pussy consume me, letting me feel each individual clench of muscles. If it isn't the spasms of her legs, it is that which always gives her orgasm away and makes me the happiest man alive. It gives me immense pleasure seeing her in this helplessly blissful state.
She collapses onto the grass next to me, panting. It's only when she finally opens her eyes that she notices the silence.
"Where did the drone go?" are her words.
"It's at your feet, Bunny, and I can't wait to watch…"