An EROTICA Story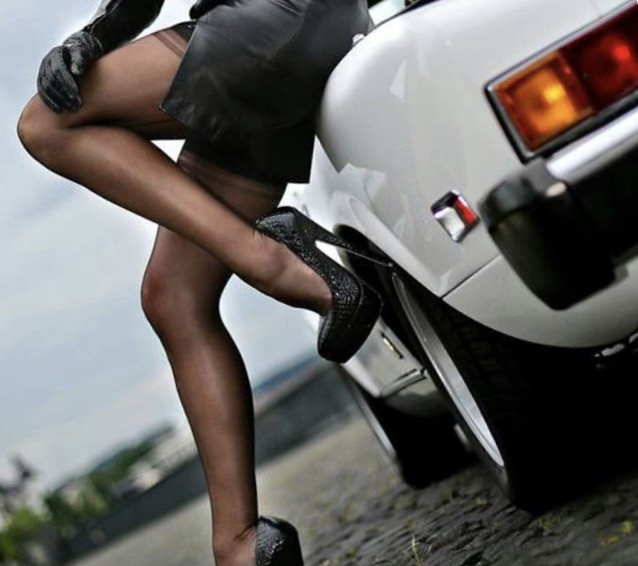 I am jamming today, I got up early, I worked out, I got dressed to kill and cut through red tape. I blew out my hair, put my red lip gloss on and was delivered on time to the all-day conference by the hot Latino driver my company assigned for me that day. I've got my trench coat on and my high heels rocking and I've taken action.
At the end of the day the driver picks me up after dusk has come. I'm finished up and ready for a drink in a pretty glass in a dark place with a hip vibe. I've got no clients to entertain tonight, but I've got a driver.
I ask to be driven somewhere good and to please order for me as I am famished. I am told promptly yes ma'am, that it will take a little ways to get to the perfect spot.
The music is loud and the hot sports car is fast. My trench coat is off and my skirt is hiked up. It's not intended, but it is, and the driver notices the black thigh highs I have on, as the flesh of my leg peeks out. The driver says I must be a little stressed after all the corporate chit chat all day and is there anything that can be done to help me out?
The driver is hot! Like hello, Latino man – a man's man.
Both handsome and cute… a sweet energy around him, a deep spiritual outlook on life in his eyes. His arms are buff and it looks like he can control more then just the sweet sports car. He is taking charge of the wheel. I wonder what else he can take charge of… I admit to him that even though I called the day my bitch, I could certainly use a little relief, that's for sure; and meantime my inside has butterflies and my pussy starts to contract just at the thought and the excitement in the air.
As he looks forward, he reaches over and slowly caresses from my calf up to my thigh and squeezes my leg, pulling ever so slightly on the thigh high stocking to wedge a couple of fingers under it… he keeps going up and right away I'm aroused and feel a warm sensation all over.
The driver easily unhooks the garter belt he discovers I'm wearing — and I lean the seat back all the way because I want this guy to have full access. I put my stiletto heel up on the dash and lean back just like he instructs me to do. Then he asks me to take my suit jacket off. Under is a thin silky shell which he can see my lacy bra through. I pull that off too because my nipples are standing on end and begging to be caressed. He immediately licks his fingers and pulls down my lacy bra and gently, slowly, rolls the left nipple under and between his fingers. He takes his whole hand and cups my entire breast, massaging it, and it is pretty much driving me mad.
He tells me to keep on playing with myself, that it turns him on to watch me out of the corner of his eye while he drives. I pop open my bra and I scoop up both my breasts pushing them together and out and arching back and playing with my nipples and rolling them in my fingers and even taking them in my mouth and showing him how I can lick them myself. Wow.
I glance over and can see that the driver's pants are getting tight and bulging and that drives me even more crazy.
I am wet. My legs have been together but the driver slides his hand up my leg again. When he realizes I have no panties on he puts his fingers right on up there. He parts the lips of my cunt and the floodgates open. He realizes how hot and wet I've become. I spread my legs far apart, my knees are bent and my thighs are spread. My pussy and glistening and my clit is swollen….. he maneuvers his fingers up and down, inside and out.
I tell him how I have always had this fantasy of being fucked on the front of a vehicle… does he think it would be safe to pull over for a minute?
The driver obliges, and hops out quickly, grabbing a thick blanket from the back. Cars are whizzing by at crazy speed, the sounds roar. The moon is rising on this cold night and the sun is gone early. The driver opens my side and swiftly gets me laid out and on the black top over the blanket. My nipples are so stiff from the chill, but my pussy is like a hot box, that the driver immediately dives into. His beautiful brown face is stuffed between my legs, tongue action in full effect, going up and down my clit making me moan in ways that compete with the sounds of the highway. He reaches his hands up and caresses my nipples at the same time. I go back and forth between leaning on my elbows and watching the action and lying back and staring at the sky while my body rises and rises and rises to new levels of all over stimulation.
I let the craziness of the day leave me behind and hit a new high as he sucks and licks and blows and eats me outright! He is way into it. My pussy is soaking and swollen as he makes me cum, so hard that inside I'm contracting. And outside I'm panting….
His face is all wet, I tell him I am pleased, and I ask if he could unbuckle himself. He quickly takes off his belt and pulls down his pants to reveal his thick cock standing at attention; this thing has girth, and I tell him my cunt is so ready for his extremely hard dick to be in it. He pulls me forward and plunges himself in me. The driver is good! He moves well, he wants it, bad. He kisses me with his wet sticky face, with all that he has. He reveals to me how he had to go jerk off in the morning because he was so aroused after dropping me at my first meeting. I tell him that right before my lunch meeting I had to stick my finger up my pussy because I had been thinking about him and I wasn't going to make it through the day if I didn't do that. This gets us even more excited and we move together, making out on the side of the highway.
It's a really bright night and I tell him I want to see him explode. He drills me some more and tells me how good he feels. He asks if I want it and I beg him, yes! The driver pulls out and holds his cock as he cums right over my tits and and face, sticking some down my throat. It's so fucking hot to watch, while the air is cold. Then he collapses on top of me on the warm hood of the car. I see the stars come out and all is well with the world.
We get cleaned up as best we can and he whisks me away to the back corner of a dark hip restaurant, whispering in my ear and giving me red wine while rubbing my leg under the table and holding my hand. I see all those other corporate diners and their clients and smile knowingly, thinking I closed the best deal of the day.
Click the ❤️ if you made it this far, then go create your own fantasy!