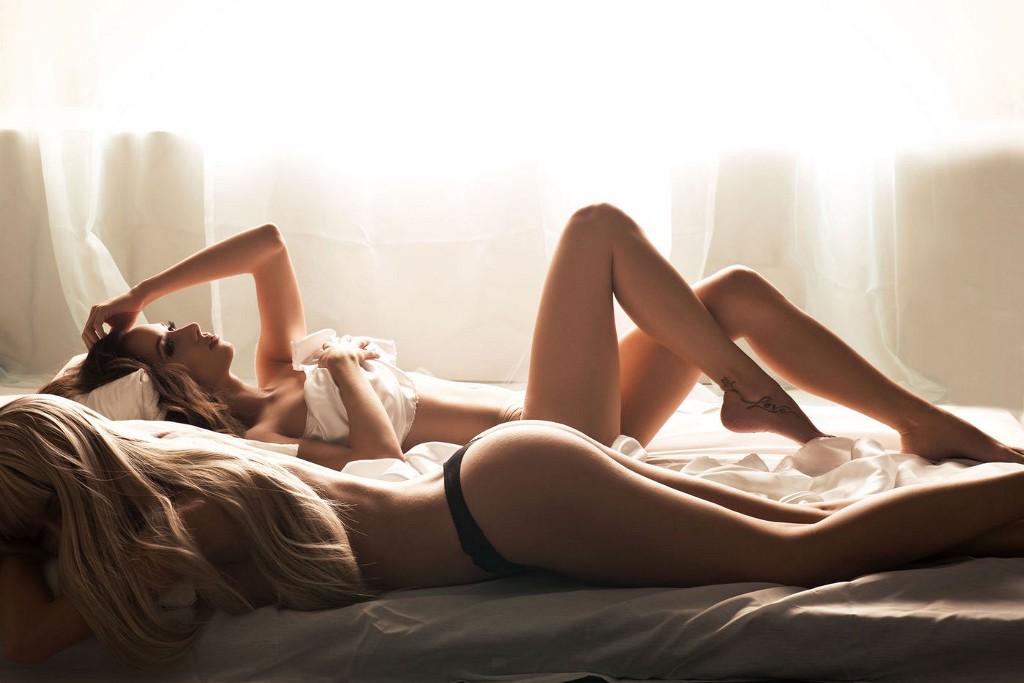 This girl looks exactly like me. The same long, wavy blonde hair. The same blue-grey eyes, the sprinkling of freckles over the bridge of her nose. The same slender fingers, moving to my nipple, as mine move to hers. We could be twins.
Only the tattoo on my back and the one on her foot mark us apart. She laughs when she undresses me and sees mine.
"Maybe I need to get one like it," she says, getting down on her knees to kiss it, lick it; her tongue moving lower, down the cleft of my ass.
We met earlier that night, in a bar.
Coming face to face, I think for a moment that I'm walking into a mirror. We stare at each other for a long while, fascinated.
Before long we've both ditched our dates and are huddled in a corner, insulated from the noise of the bar by our absorption in each other. We're drunk on the sight of each other, cataloguing the myriad points on which we are the same and the few tiny differences, obsessively.
"You're just like me," we keep telling each other.
When she asks my name and I say, 'Narcisse,' she laughs delightedly, getting the reference at once: Narcissus, who fell in love with his own reflection and died for love of himself.
She tells me hers is 'Belle,' which I know means beautiful; I'm not sure whether or not she's lying but I like the inference, so I call her Belle anyway.
A little later and we're sitting so close she's practically on my lap, kissing avidly.
"Bet you'd fuck yourself if you could, wouldn't you?" she says.
"Of course I would. Wouldn't you?" She nods, unabashed. "Want to find out what it feels like?"
She nods again, runs a fingertip up my thigh as she leans in to whisper, "Your place or mine?"
My place then, the bedroom lights blazing so we can see every minute detail of each other as we undress, touch, explore. Every inch of her body looks strangely familiar. I lick each smooth expanse of skin as I uncover it, mapping the territory as I go, noting each hair and freckle. She shivers with arousal as I kiss her neck and then on downward, cupping a breast and sucking the nipple; she moans and I feel it harden against my tongue. Her responsiveness pleases me and my own nipples stiffen in sympathy, as if what I'm doing to her is physically mirrored in my own trembling flesh. I suck harder, my hands encircling her waist and running down over her hips.
I kiss and lick my way down her taut stomach, feeling it ripple at my light touch, then slide her panties down to her thighs and gaze at her pussy, enthralled. A neat tuft of blonde curls crowns her smooth, plump-lipped cunt. It's like looking at myself from an angle I've never experienced before. I stare and stare until the intensity makes her fidget and she breaks the spell by pulling me onto the bed, breathless and flushed.
"What do you like?" she asks; meaning: how shall I get you off?
"You know what I like," I reply, meaning: we're the same. I like what you like.
Turns out I'm both right and wrong. She starts out gentle and teasing, kissing and licking around the edge of my skimpy panties, sucking my inner thigh, then licking me through the thin fabric until I'm dripping. By the time she peels my panties off and skims a fingertip along the slippery groove between my lips, I'm fighting the urge to tell her faster, harder, fuck me now! But it seems the teasing is what I wanted after all. Her touch is insistent, hypnotic, a slow build to a long drawn-out orgasm that has me screaming when she finally lets me come with three fingers plunging into my drenched hole and her lips suctioned around my clit.
I roll her onto her back and straddle her, kissing her insatiably, licking my cream from her lips. Pulling back to look into her eyes, I'm giddy with lust. For one vertiginous moment I feel as if I'm falling into a mirror, fucking myself into insanity.
Now all I can think about is tasting her. I spin around into a sixty-nine so I can hover my pussy over her face, too sensitive from my orgasm for much contact but shivering with arousal as she flicks her tongue delicately over my folds. My approach is more direct, more brutal; she's shown me how she likes to be touched and now I'm teaching her my way. Spreading her open with my fingers, I swipe my tongue across her clit, over and over, relentless. My elbows pin her knees apart, my weight pinioning her so however much she squirms, she can't escape the overpowering sensations. When she's moaning and babbling deliriously, her hips juddering as she tries to hump up against my tongue, I thrust two fingers from each hand inside her, stretching her open and curling them to seek out her G-spot. Her hips buck so hard she nearly throws me off her as she comes, soaking my hands. She tastes just like me and that thought, coupled with the way she sucks fiercely at my cunt as she loses it, makes me come again.
We lie facing each other, and gaze into each other's eyes, absorbing this information, the new things we've learned about ourselves from each other.
"I never knew I could come like that," she says, wonderingly.
"I never knew I liked to be teased so much," I laugh. She reaches for me again, kissing me hard as she slides one leg between my thighs, hooking the other over my hip. A little shuffling and we're grinding together, pussy to pussy, both so hot and wet. There's just enough friction to drive me out of my mind, my clit throbbing as I rub against her, hips moving in tight circles. This time, coming feels like hurtling down a long, dark tunnel into an explosion of light. I don't know if the hammering against my chest is her heart or mine. The sense of consummation is profound.
We've been kissing and fingering, licking and sucking and fucking each other for so many hours it's daylight when we finally disengage, blissed out and exhausted.
"Can I see you again," she asks.
"You'll see me every time you look in the mirror," I reply.
"It is my self I love, my self I see; / The gay delusion is a part of me." — Ovid
Thanks for reading! Applause, comments and follows get me hot 😉
More confessions from me here — if you think you can handle it! Maybe have a cold shower first…