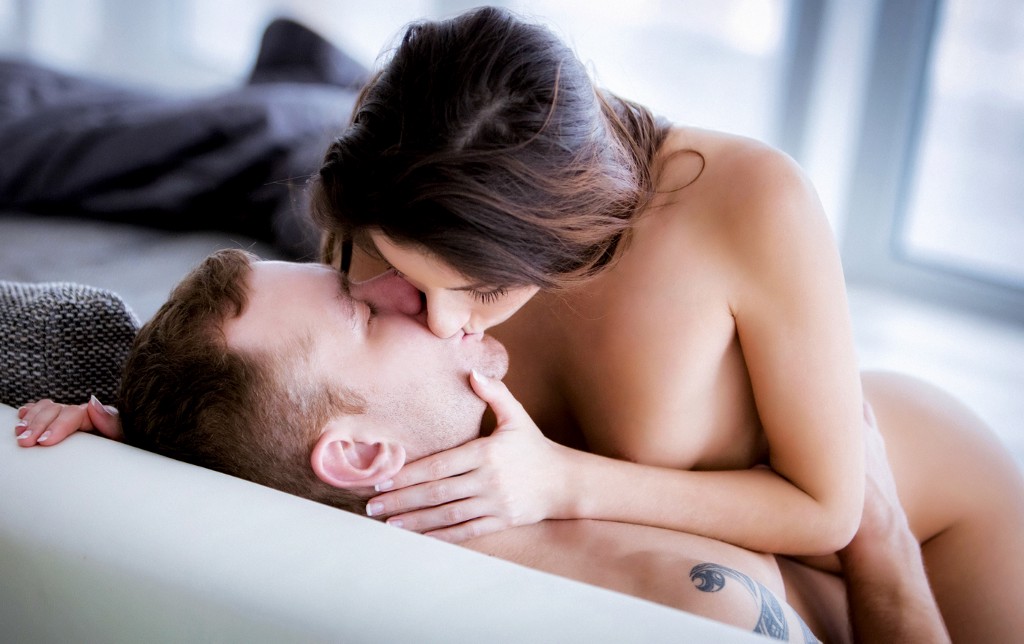 One
I'm watching Tabios take off my pants.
She kneels down in front of me and grabs the top of my zipper. She undoes the top button, and slides the zipper and the pants down in one smooth movement.
My eyes follow the tattoo she has on the inside of her left wrist as it takes down my pants. "Fortitude," it says. It was about to prove pretty prophetic.
I'm not wearing any underwear.
"Yum," she says, with a devilish smile and gleam in her brown eyes.
Yum?
And right then I'm thinking two things:
Oh Hell Yes… and… something different is in the wind with us.
And then I'm not able to think anymore because she moves her left hand around and grabs my bare ass. Her right hand slides to my left thigh. She begins licking the top of my penis, her tongue darting and flicking the tip; she is stimulating me just with her mouth and I begin to grow harder and harder.
She quickens the pace in rhythm with my growing erection until I'm hard as a rock.
Divine moves her right hand around so both hands are now holding my ass as she takes me fully into her mouth. My hands move to the sides of her face and I hold on as she begins to suck harder on me.
My legs begin to wobble. I try to speak. "Babe… I… oh…" is all I manage to say.
I linger like that for a moment as the pleasure I'm feeling becomes surreal, unbearable.
Then my legs start to shake.
I slowly move her head away, pull her up and grab her in my arms. Because whatever is in the air between us, I want it to last; and I want her to feel what I'm feeling.
My mouth seeks her neck, her mouth, her lips, her tongue — anything I can find. I bite her earlobe. She sighs.
I pick her up off the ground and throw her onto the bed.
I grab at the top button of her jeans. As the button opens I yank the zipper down, grab her by the ass and lift her halfway off the bed, legs straight in the air, and I pull her jeans and panties straight up and off.
She's still half on/half off the bed as I spread her legs, so I use my hands to support her ass as I start kissing her stomach, belly button, inner thighs. She rolls her head back as my tongue flicks out and enters her.
Slowly I move my tongue around her clitoris, teasing and building. She arches her back as my tongue moves faster, stimulating her. She begins to pant and moves her hands down to stop me.
I ignore this and go deeper inside her. I feel her building. She begins to shake and spasm.
Tabios screams and jerks up in the air as she cums. I can taste her orgasm.
Two
I ease my grip as her body continues to spasm. I flip Lauron over, still half on top of the bed. Her knees are now on the floor.
"I want to fuck you from behind," I whisper in her ear, in between kisses of the butterfly tattoo on her left shoulder.
"I love when you fuck me from behind,"' Divine pants huskily, full on porn-star voice.
This drives me crazy. My penis rockets inside her, filling her completely and perfectly.
I'm having a hard time staying on my feet.
I begin to thrust. First slowly, because I'm pretty sure I might faint, but then as I gain my legs, my lust takes over and I thrust faster and stronger.
Her ass is beautiful. I want to marry her ass. No, I want to build a shrine to her ass and worship at it.
She reaches out with her right hand. It tracks below and around and finds my penis as it's thrusting. She tries to grab my balls, my shaft, anything she can touch.
We both cry out as I try and lunge my whole body inside of hers.
She grips the bed covers and twists them in knots.
"God!!!" she screams as she cums again.
Between gasps for air, I rest my head on her back, my lips softly kissing her back, my arms wrap around her breasts, fingering her tiny nipples… and I drink her in — her smell, her taste, her hair, her neck.
Three
I pull out from inside her. She gasps as I come all the way out, breaking our seal.
The smell of sex fills the room as we crawl fully onto the bed. She throws me onto my back and straddles me. I can feel her warmth, her wetness; her heat. She bends forward and begins kissing my neck, my lips, my shoulders. She reaches out between her legs and grabs my erect penis and begins to stroke the shaft while still kissing me, her tongue probing hungrily into my mouth.
She leans back and takes my quivering penis and slowly moves it back and forth over the opening to her vagina. Her eyes roll back into her head and she moves harder and faster, teasing both of us. She alternates between holding the tip of my penis and the bottom of the shaft.
I need to be inside her. She wants me inside her.
Still she waits.
She's lost in her own world, using the tip of my penis as her personal plaything. Her mouth opens and her tongue moves slowly around the edge of her lips.
"Ooohhhh," she says, eyes still closed. I'm not even sure she knows where she is or what's in her hand. I don't think she cares. All she can feel is pleasure and desire.
I'm very cool with that.
She hisses in concentration and joy as her orgasm — unbelievably — begins to build. I watch her expressions change as it grows inside her, the tip of my penis feeling her wetness as she moves it back and forth and around herself.
She begins to pant, as if trying to catch her breath. She slows her hands down to a crawl, her thumb and forefinger wrapped around my tip, her face a mask of concentration.
"Jesus, baby!" she suddenly shouts, almost angrily, somehow surprised, stretching out the words as she cums.
Four, Five
We're now in new territory, way past where our usual love-making takes us. We're in full porn mode, only this is real; her moans are real and her orgasms are real, and her whole body is shaking.
…and she's not done.
As I watch her shake, my brain explodes in lustful urgency.
She is holding my dick just outside herself, and I can't take it. I beg.
I reach out with both hands and grab her hips. I arch my back up, as if to physically say: "Now!"
She adjusts ever so slightly and guides me inside. I moan deeply and thrust my ass off the bed into the air and go as deep in her as I've ever been.
She begins to grind and ride me. I reach out and grab her breasts and her nipples. Once pierced years ago, they are extremely sensitive. I squeeze hard. Her body a sheen of slickness now. She closes her eyes again. My hands grab her ass; my muscles tighten as I force her harder, faster. I hold tighter, my body straining.
She cries out, louder and louder until it's a full-throated, primal scream. Anybody even remotely near our place can hear us.
"I'm gonna cum," I say in a voice I don't recognize.
She shakes her head. "Yes, baby, yes… yes, yes… I want you to cum."
And I'm very OK with that.
My eyes roll back into my head as my explosion nears. She can feel the subtle change in my penis as it does and I can see her feel it. This drives her crazy.
Jesus, this is fucking unreal, I think.
My toes curl forward involuntarily as my orgasm explodes inside her.
She cries as I fill her with my warmth and we're engulfed in our own sticky, combined wetness.
She keeps riding me as I spasm inside her. Exquisite pain floods my brain.
"Gooooodddddd!" she screams at me, somehow making the three letter word a complete sentence that says everything as she cums again — almost violently — her head and shoulders arching back.
Six, Seven
Still straddling me, she throws herself onto my chest, her brown hair flooding my face, her head on my shoulders.
I slowly draw figure eights with my fingertips around her back and her sweet, perfectly formed ass. The ass that doesn't yet know I'm gonna build a shrine to it.
We stay like that for what seems like forever, neither of us wanting to lose this moment of utter bliss and neither of us wanting to break the physical seal of our bodies.
"Never. Never, ever, before," she says to me. Meaning never in her life has she had sex like this. Someone she fits utterly and completely with.
I nod my head up and down yes, because I feel the same way. This is fucking unreal. Like if I told anyone about it, they wouldn't believe it.
We stay like that for a while, delaying the inevitable. Finally she stirs and slowly, ever so slowly, I slide out of her, my penis arriving back into the world with a small pop.
"I'll get a towel," I say.
We don robes and move to the couch. I fix us drinks and we sit down and turn on the TV, not saying much of anything.
She curls into a ball and puts her head on my lap. "You know," she says playfully, "I could do some damage down here."
I laugh because I know we're both completely spent… and there's no way on God's green earth that I'd be ready so soon. At this point, I'm not sure I'll ever be ready again, so completely sated is my body.
But as she settles in, her robe begins to part, and my hand moves instinctively to her exposed thigh. As the tips of my fingers draw imaginary lines on her brown skin, I begin to move the robe higher and higher up, exposing more of her naked self.
Her soft sighs trigger my brain, and I find myself improbably, impossibly, I-can't-believe-it… thickening. She can feel this, of course, and she begins to loosen the sash on my robe.
As I do the same with her robe, she turns her body so that it's facing me. My left hand slides down and between her legs. She gasps, as if being stung by electricity.
She nuzzles next to my now growing erection. "I always wanted to do this," she says.
I find this new revelation hot as all fuck.
My finger enters her as she takes me into her mouth again. As I find her clitoris, she shifts so her legs can open wider.
She loves me fingering her to orgasm as much as I like making her cum. I move from her clitoris to her other spot, a spot inside her that only I've ever found.
This spurs her lust higher. She takes me into her mouth as my finger continues to slide in, out and around her vagina… teasing and stimulating her again.
She sucks harder on my penis, taking all that I have into her. I moan loudly in a voice only she has ever heard. I moan in a voice I don't recognize, from a place she has taken me that I have never been before.
This spurs her building orgasm and her legs begin to shake and spasm. I'm building quickly, the freight train that is my imminent explosion now hurtling full speed down an imaginary track.
I'm going to cum soon, and I'm going to cum in her mouth because that's what she wants me to do, because she knows how much I love that… and because we just fit.
We cum almost simultaneously. My lower torso arches up as I explode fully into her mouth. She sucks hungrily; taking every drop she can, driving my orgasm to insane heights. She quivers as she cums — gurgling, slurpy, moaning sounds coming from her mouth. The mouth that still has all of me inside it.
She looks up and smiles as my hand moves away and I slide out of her mouth.
"Yum," she says.