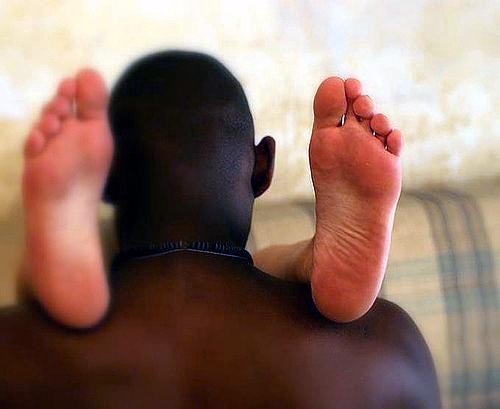 I lay on the floor staring at the ceiling, my face coated with cum spray, thinking to myself how I could never be any happier.
This was bliss… this was happiness… this was –
Queen Bee's face loomed over me. "Get your dirty white boy ass up!"
I got back on my knees as fast as I could. Juliet sat on the bed cleaning her face with a towel; she was all flushed like I'd never seen her before. She gave me a sheepish smile as if to say she too couldn't believe the experience we'd enjoyed here. Neither of us had expected any of this. It topped every fantasy I'd ever had.
"Go see if the gang are ready?" Queen Bee said to Sis.
I watched Sis strut through the door, shutting it behind her.
"The fucking ain't over, y'hear," Queen Bee leered. "Not for you two."
Sis soon returned with Charles and his friends. I saw Keon and Ray… and then I saw four other buddies of theirs. Charles must have called up the whole neighbourhood to let them know Juliet and I were around. I turned to Juliet and saw she looked apprehensive, like she couldn't comprehend what was going to happen next. Watching Charles and his gang exchange greetings with Queen Bee as they started taking off their clothes, I soon realised what was about to go down.
Sis pulled me by my collar to kneel beside the bed while Queen Bee laid out what was going to happen for Charles and his buddies.
"I want you guys to feed the white boy with as much cum as you can give while you take care of his bitch," she said. "No cumming inside her, understand?"
They all nodded in agreement, stroking their dicks and leering at Juliet like hyenas drawn towards meat. They got onto the bed with Juliet in their midst. She stroked their cocks and sucked each one that got into her mouth. Sis put on her strap-on dildo and went back to fucking my mouth once more.
Charles and his gang laid Juliet on the bed and one by one they took turns mounting her. Sis allowed me to watch.
"You see what they're doing to your bitch, white boy?" She held my head to look, my eyes focused on Charles slamming down hard on Juliet with two of his buddies holding her legs apart.
"She's never going to want you fucking her anymore after this. All she's gonna think about is black dick. Don't that make you happy, white boy?"
I was more than happy; I was ecstatic.
I listened to my Juliet groan from each repeated pounding Charles gave her. Eventually he pulled out of her, holding his penis in his hand. His features were grimy with sweat as he came towards me. Sis positioned herself behind me and indicated for me to open my mouth, which I did.
"Ahhhh yeah, take that dick!"
Charles thrust his penis into my mouth and I took it hands-free. He went on fucking my mouth until he shot his load down my throat. I gulped his cum while still rolling my tongue around his dick in my mouth. I continued sucking his cock even as he grew flaccid. Eventually he pulled away from me; I wiped cum off my cheek and licked it up. Sis seemed impressed.
"That's a good white boy," she said. "Don't worry, there's more coming."
Another of Charles's friends was on top of Juliet, fucking her hard. Her cries rose and fell and still none of the men took any mercy on her. They talked nasty around her, sometimes glancing at me, sniggering as I watched, incapable of stopping them.
"– bitch knows how to suck chrome off a tire plate."
"Fuck yeah! Who's the bitch's hubby anyway?"
"That's him over there with Sis."
"No shit! He ain't gonna want his bitch no more once we get done with her!"
"Or she won't want him…"
Laughter all around.
One by one, they came and pumped their load of cum down my throat. Sis made sure I didn't spill a drop. Any drop I spilled earned me a knock on the head, then she'd make me lick it off the floor. I had so much cum pumped down my throat it was making my head spin, at one point I thought to myself, What if I get pregnant!
The men switched places with Juliet. One of them lay on the bed and Juliet got on top of him. Queen Bee passed a lube bottle to Ray who came and lathered it over Juliet's butt. I watched as Juliet was busy rocking her hips back and forth while stroking a cock in each hand. That changed when Ray loomed behind her and forced himself into her rectum. Juliet screamed loud enough I thought someone was apt to hear her from down the street. Even then, Ray kept thrusting into her until she could take him easily.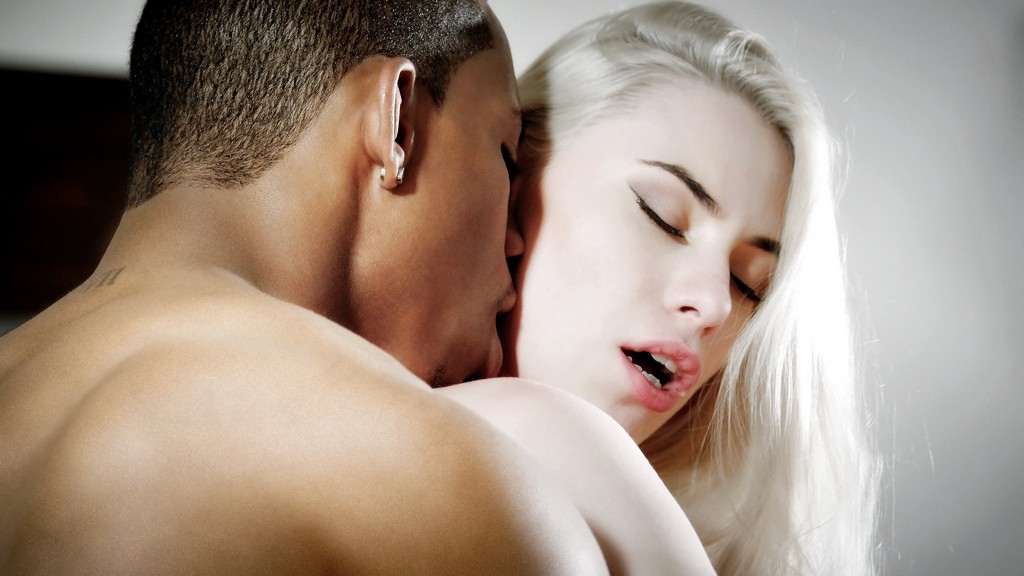 Queen Bee grabbed my leash and made me get on the bed on my knees beside Juliet. I felt her pour the lube between my buttocks and thrust her finger into my rectum. I winced from the contact, but didn't dare move or complain.
"He's all yours, Sean," I heard Queen Bee say to one of the men.
I felt his hand on my back. "Hold still, white boy. This is gonna hurt."
I shut my eyes and tightened my grasp on the sheets. Yes, it did hurt when he penetrated me. But it felt so good. He was grunting in rhythm with his thrusts into my anus. I lowered my face to the bed and bit my hand, trying hard not to yell too loud. Another of Charles's friends came and knelt in front of me. He grabbed the back of my head and fed my mouth with his cock. It was hard getting fucked while sucking a big black cock. Tears fell from my eyes as I took their punishment.
Evening was fast approaching when the event drew to an end. Charles and his friends had by then fucked my Juliet innumerable times and I had tasted, drank and swallowed their semen, and I'd gotten fucked by several of them as well.
Juliet and I cleaned ourselves up in Charles's bathroom. We were too numbed by everything that had happened to talk to each other. Charles's friends including Queen Bee and Sis had already left; nothing in the room was left of them besides the pervading smell of sex. It was a struggle for me to put on my clothes, but somehow I managed. My ass felt like someone had torn a hole into it.
Charles walked us out to my car.
"Where are Queen Bee and Sis?" I asked, putting our bag in the trunk.
"They've got other clients to work on today," he said. "How did you enjoy your training?"
"Only thing I hated about it is that it ended," said Juliet.
She shared one last kiss with Charles and I came and shook his hand before getting into the car. Dusk was fast approaching when we waved goodbye and drove off. Hottest day of my life.
Thank you for having stuck with me from the beginning to the end of this tale. Let's do it again: same time, another day.
Read the rest of the story here: