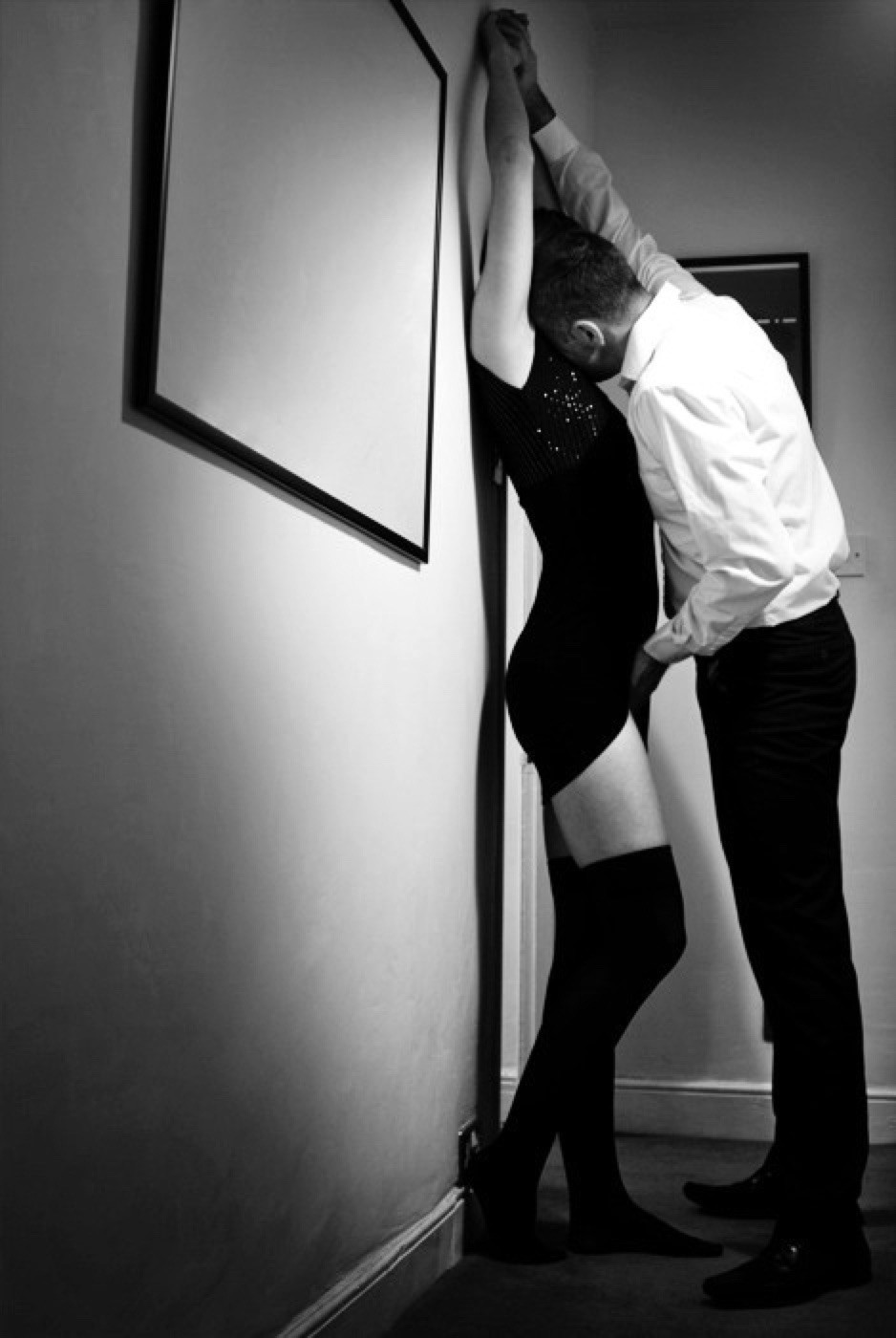 Erotic fiction in Spanish and English. Scroll down for English translation — Ficción erótica en inglés y en español. Desplaza el botón hacia abajo para la traducción a inglés.
Después de un largo día nos quedamos solos y tras verla coquetear, moverse, sonreír, hablando con todos, lo único en lo que podía pensar era en su cuello, en su boca cuando sonreía, en sus labios, en esas caderas que me hacían desconcentrar e imaginarme que mis manos las recorrían por debajo de la ropa para sentir su piel en mis dedos.
Estaba recogiendo cosas en la mesa y me acerque por detrás y cogiéndola por esa cintura le bese el cuello. Ella no rechazo mi lengua, sino que se giró despacio y me miró juguetona, retándome, apoyándose en la mesa y con un brazo apoyado en la mesa y mientras se desabrochaba la camisa me dijo ¿eso es lo que tienes? Si me quedaba un poco de cordura, en ese momento desapareció y me quité la corbata y le cogí la mano que estaba apoyada en la mesa y empecé a besarla despacio, dedo a dedo, chupándolo hasta el fondo, metiéndomelo en la boca y mojándolo. Cuando ella extendió la otra mano para que continuara, aproveche para atarle las manos lo más fuerte que podía.
Ella, con la camisa desabrochada que dejaban entrever las curvas de sus senos, no se sorprendió y dejó que estirara de ella y obediente me siguió hasta donde estaba colgado un trofeo, que lo quité de la pared y aproveché el gancho para dejarla a ella colgada. Ella llegaba justa y no podía librarse, y ahora la tenía delante mío, atada de las muñecas, con los brazos hacia arriba, la camisa abierta y esa falda de tubo que realzaba esas caderas que tenían que ser míos.
Sin poder resistirse ni usar sus manos, cogí la fusta que se había dejado un cliente que tenía pasión por los caballos y empecé a acariciarle el cuello, bajando por la camisa abierta hasta su cintura, todo despacio y sin prisas. Luego mi boca seguía el camino que había recorrido y volvía a empezar por el otro lado. Acercaba mi boca para besarla, y ella se acercaba a mi, abriéndola para que la devorara, pero yo solo le pasaba la lengua por sus labios dejándola con ganas de más.
Luego, sin tocarla con las manos, abrí la camisa y pude ver esos pechos, pequeños y redondos, con unos pezones sonrosados y tiernos listos para morder. Su vientre se movía con su respiración y cuando le quité la falda, quedo al descubierto unas braguitas rojas con transparencias que dejaban adivinar su sexo. Guié la fusta por sus pezones, acariciándolos y cada vez que tropezaba con ellos, les daba un pequeño golpe y rápidamente mi boca acudía a lamerlos y morderlos un poco, notando lo duros que estaban, lo delicioso que era tenerlos entre mis dientes.
Eran tan deliciosos sus pechos que me quedé lamiéndolos y mordiéndolos, estirándolos que mi fusta buscó entre sus piernas su siguiente objetivo. El cuero subía por sus muslos hacia su sexo, despacio hasta que el encuentro era inevitable, momento en que la fusta ejercía de arco y su sexo de violín y se deslizaba de fuera a dentro, para volver a empezar.
Cogí una silla y me senté delante de su sexo; estaba excitado y mojado, deseando que alguien se lo comiera. Ella me miraba desde arriba retándome a que la hiciera suya, pero opté por no correr. Deslice mis dedos por el exterior de su sexo, acariciándolo y apretando, notando como se abría despacio. En ese momento me levanté y la deje atada, me fui a la nevera a por un cubito de hielo.
Pase el hielo primero por sus pezones, que estaba ya duros como diamantes, y lo deslice hacia su sexo, despacio. Antes de que el hielo tocara su sexo, abrí sus labios y mi lengua seco toda la excitación limpiándola y dejando el camino preparado para el hielo que seguí abajando, se acercó al clítoris pero opté por no tocarlo todavía. Me desvié hacia su vagina, pasaba el hielo y luego la lamía calentándola de nuevo.
Atrapé el clítoris con mis labios y lo chupe con fuerza, estaba duro y cuando lo calenté lo más posible con mi lengua y mi saliva, aparté la boca y pasee el hielo por encima, para volver a poner mi boca y lamerlo con mi lengua. Noté como su respiración era más fuerte y cada vez más intensa, yo lamía con fuerza y ella empezó a gemir. Me levanté y le besé la boca al mismo tiempo que empecé a follarla con mis dedos, empujando hacia el fondo mientras le frotaba el clítoris con la otra mano. Cada vez más rápido hasta que un orgasmo le recorrió el cuerpo y sus piernas temblaron.
Pero yo quería más. Le hice dar la vuelta y separa las piernas, con la fusta le golpee las nalgas, y con cada golpe le cubría de besos y caricias, primero una y luego otra hasta que quedaron rojas. Su sexo empapado estaba delante mío y veía su culo delante mío y eso fue demasiada tentación. Empecé a lamerlo, a mojarlo con la lengua. Mi saliva cubría su culo y con un dedo empecé a apretar, estaba duro, pero al final mi pulgar empezó a entrar. Ella dio un pequeño grito, pero seguía abriéndose para que entrara del todo.
Mi dedo gordo estaba dentro de su culo y seguía moviéndome dentro y fuera. Me chupé el otro dedo, y fue a hacerle compañía, empujando con las dos manos entraron poco a poco hasta el fondo, notaba su calor, que estaba duro y que era para mí, que su culo era solo mío. Saqué los dedos y lamí ese orificio, los bordes, empapándolo hasta el fondo. Aproveche que tenía algo que quería regalarle hace tiempo, unas bolas chinas pero nunca me atreví. Chupe la primera bola y empujé hasta que entró desapareciendo dentro, la siguiente estaba unida y le costó mas, tuve que hacer más fuerza pero al final entró hasta el fondo.
Le azoté el culo y ella notaba las bolas dentro de ella, tintineando, y aproveché para volverla a follar con mis dos dedos, con fuerza mientras le pellizcaba los pezones. Empezó a sentir la fuerza de mis embestidas, cada vez más fuerte. Su coño estaba abierto de dos dedos y le metí un tercer dedo y ella sintió que iba a explotar, cada vez más fuerte, más adentro, las bolas sonando dentro de ella. Cuando el orgasmo estaba apunto de sorprenderla, empecé a quitar las bolas, era un placer nuevo, distinto, y le encantaba, no podía más y al extraer la última bola cayó en un ultimo gemido de placer sonriendo.
La solté de sus ataduras, la abracé y la cubrí de besos y caricias, y le dije, tu sacas lo mejor de mi. Ella me contestó, todavía no te lo he sacado todo. Y lo dijo con esa mirada que me había vuelto loco durante todo el día.
After a long day we were alone now, and having watched her flirting, moving, smiling and talking to everyone, all I could think about was her neck, her mouth when she smiled, her lips, those hips that would make me lose concentration and imagine my hands sliding across them under her clothing, to feel her skin beneath my fingers.
She was clearing the desk and I moved closer to her from behind, grasped that waist and kissed her neck. She did not reject me, but spun around slowly and looked at me playfully, challenging me, leaning against the table, and undoing her shirt buttons she said, is this what you want? The little sanity I had left vanished at that point, and I took off my tie and took the hand she had on the table and started kissing it slowly, finger by finger, sucking them all the way to the base, taking them in my mouth and soaking them. When she held out her other hand for me to keep going I took the opportunity to tie her hands together as tight as I could.
She, with her shirt unbuttoned to reveal the curves of her breasts, was not surprised, and allowed me to lead her, following me compliantly to where an award was hanging; I removed it from the wall and used the hook to fix her there. She was unable to free herself. Now I had her in front of me, wrists bound together, arms raised, shirt undone and wearing that pencil skirt that enhanced those hips that had to be mine.
As she was unable to resist or use her hands I took the riding crop that had been left by a client with a passion for horses and began to stroke her neck, and down under her open shirt to her waist, slowly, without rushing. Then my mouth followed the same trail down and back up. I moved my mouth closer to kiss her and she reached out to me, opening her mouth for me to devour, but I only licked her lips, leaving her wanting more.
Then, without letting my hands touch her, I opened her shirt to see those little round breasts with tender rosy nipples ready to be bitten. I could see her belly rising and falling with each breath and when I took off her skirt I discovered her little see-through red panties that allowed me to make out her sex. I guided the riding crop over her nipples, caressing them, and each time I caught them, I gave them a little slap and then quickly licked and nibbled them, noting how hard they were, how delicious it was to take them between my teeth.
Her breasts were so delicious that I just stayed there, licking, biting and pulling them while my riding crop found the next target between her legs. The leather moved up her thighs towards her pussy, moving slowly towards the inevitable encounter, the moment when the riding crop became the bow that brought the voice of the violin that was her pussy to life, moving in and out, over and over.
I got a chair and sat in front of her pussy; it was excited and wet, longing for someone to eat it. She looked down at me, challenging me to make her mine, but I chose not to rush. I slid my fingers along the outside of her pussy, caressing and pressing it, noticing how it opened slowly. At that point I got up leaving her tied up, and went to the fridge to get an ice cube.
First I rolled the ice cube over the tip of her nipples, which were already hard as diamonds, then slid it slowly towards her pussy. Before the ice touched her sex I opened her lips and my tongue lapped up all her excitement, leaving the area clean and making way for the ice that I continued to lower, getting it close to her clitoris without touching it yet. I turned my attention to her vagina, touching it with the ice first and then licking it in order to warm it up again.
I grasped her clitoris with my lips and licked it hard, it was swollen and once I warmed it up as much as possible with my tongue and my saliva I passed the ice over it, then moved my mouth back to the spot and licked her clitoris with my tongue once more. I noticed her breathing becoming heavier and more intense, I licked her hard and she started to groan. I moved back up and kissed her mouth while I started fucking her with my fingers, pushing them deep, rubbing her clitoris with my other hand. I increased the pace until she had a full-body orgasm and her legs trembled.
But I wanted more. I made her turn around and spread her legs, and I whipped her buttocks, and after each lash she would get covered in kisses and caresses, alternating until her buttocks were rosy. Seeing her ass and her wet pussy in front of me was too much temptation. I started licking it and tongue-kissing it. Her ass was covered in saliva and I started sticking my finger in. It was tight at first but in the end my thumb managed to get in. She gave out a little cry but it continued to open until I could stick my whole thumb in.
My thumb was inside her ass and I kept moving it in and out. I sucked my other thumb and stuck it in alongside, pushing with both hands and entering little by little until both were in deep, feeling her warmth, just for me, her ass was mine alone. I took my thumbs out and licked that hole and its edges, soaking it thoroughly. I seized the opportunity to consider something I had long meant to give her as a gift, Chinese balls, but had never dared. I sucked the first ball and pushed it inside until it disappeared, I needed to push harder to insert the second one but eventually I got it in deep.
I spanked her buttocks and she felt the balls inside her tinkling, I grabbed the opportunity to thrust two fingers back in while pinching her nipples. She started to feel the force of my thrusts, each one harder. Her pussy was open from the two fingers and I inserted a third finger and she felt like she was going to explode as the balls tinkled harder and deeper inside her. When her orgasm was at the point of overwhelming her I started to take the balls out, this was a new, distinctive pleasure and she loved it, she couldn't handle any more and as I took out the last ball she collapsed, groaning and smiling with pleasure.
I released her restraints, embraced her, covered her in kisses and caresses and told her, You bring out the best in me. She replied, You ain't seen nothing yet. And she said it with that look that had been driving me crazy all day.