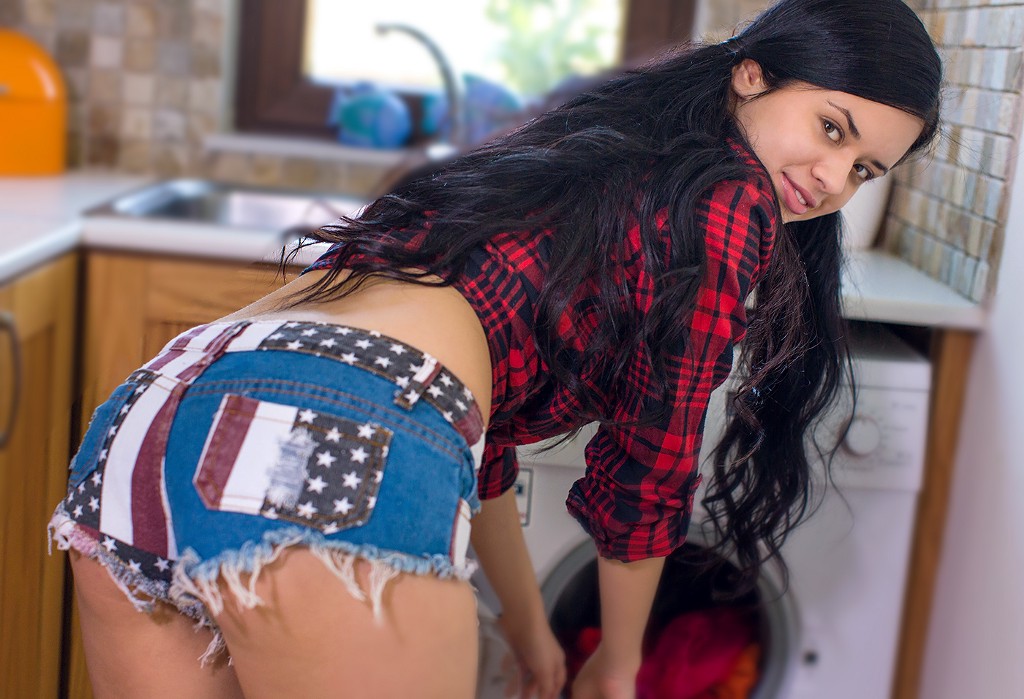 Emma and I had been fighting since yesterday. We had decided to live together after a few months of dating, so obviously we didn't know every single thing about each other yet; but we felt comfortable enough with each other to give it a try. She had asked me to help her with a class she was taking online for continuing education credits in her job, and she is not very tech savvy . I am. As I showed her what to do, she made a few mistakes and I laughed at them, thinking we were good like that — we weren't. She started to get upset and then I got upset. All the fears of us deciding to live together came to the surface and the insults started to fly. After ten minutes of tense arguing, everything went silent until late morning the next day.
I watched her get up from the couch and walk to the kitchen. She bustled by with her dirty laundry. She was wearing tight shorts with no panties and a loose shirt, no bra. Her body was gorgeous — her neck was graceful and I loved to kiss it. She had big, expressive brown eyes, full pink lips and a beautiful smile. As she huffed past me, she looked curtly at me and her expression cut into me like acid. At first, I was very proud and brushed off the look, keeping up the silent treatment. But eventually I started to realize that I had hurt her and had also hurt myself.
As she started to sort her clothes in the laundry room, I figured I'd make my apology there. The laundry room in the townhouse was smaller than an office. A washer and dryer fit inside with little room for anything else. As I walked through the door frame, she sensed my presence and I could see her get tense. She started the washing cycle.
I lowered my head and very softly and calmly walked up to her shoulder. I said to her, "I'm an asshole."
She turned her head a little and whispered, "Yes, you are." She relented and took my hand, interlocking her fingers with mine. She tapped my hand a few times and began to push on me gently to move so she could leave.
I still was under a surge of emotion and as she was leaving, I cut her off, looking for more affection. She looked up at me with her deep brown eyes questioning me, and pushed on me again to move — I didn't. She started to push harder, digging her hands in my chest, and our arms became entangled in a standoff. I pulled her closer to me and I kissed her very softly on the lips. She slapped me on the chest. I grabbed at her arm and pulled her close, pinning her against the washer.
I was looking deep into her eyes and she was looking into mine, angry, but with a strange intensity. I could feel my dick was erect. I pushed hard up against her and she kept trying to fight me off. I jerked her around. The flimsy shirt she was wearing had dropped off her arm and her tits were bare. I pushed my dick against her ass cheeks. I started to stroke my hand over her tits and she pulled them away. I kept on groping at them. I was grinding her up against the washer so her pussy could feel the vibrations from the machine. I felt rather than heard her moan. Her ass was rubbing back against my dick.
She tried to prop her leg onto the dryer to push back and she almost succeeded because she was very strong. I slapped her ass cheek and groped my hand over her thigh. She wriggled so my hand moved closer to my pussy. The scent of her arousal started to fill the room. I kissed her neck and she moaned again, but when she turned her face to me, I went to kiss her and she bit my lip. It hurt.
I grabbed her body with both arms and pulled her bottom lip into my mouth. I flicked my tongue in her mouth and hers danced with it, but then she pulled back and spit in my face. I started to suck on her tits and she gasped, her nipples stiff. Her mixed messages were confusing me. I pulled back and looked in her eyes, questioning. She nodded, and pushed my head back down to her tits.
I knelt down and hugged her thighs and ass cheeks. "I'm sorry for being such a jerk," I said, and her expression seemed to soften. That animal hunger I'd awoken was still raging through her, though.
I tugged down her shorts, grabbing her ass cheeks to pull her into my face. I started to suck and bite and lick her pussy forcefully. She leaned back and cupped the back of my head with her fingers. She grunted and moaned as I looked up at her, flicking my tongue, then eating her lips, then finger fucking her. She orgasmed hard and clutched the back of my neck. We were breathing heavily, leaning on one another.
I stood and went to place my hand on the back of her neck, wanting to hug her, but she knelt down suddenly and pulled down my shorts. My dick sprang into her mouth and I felt her lips envelop me.
She moved me so that my back was against the washer and she sucked forcefully on me. Her deep brown eyes were no longer tender but full of lust. She narrowed her eyes and sucked fast. She deepthroated me and I could feel every inch of her throat hug my dick. I watched her as her eyes watered. She pulled out my dick and looked up at me again, eyes narrowed and wanting — a long thread of spit trailed from the corner of her juicy bottom lip to her nipple.
I practically tackled her as I pushed her to the floor, equally lustful. I was breathing heavily on top of her, practically hyperventilating, desperate to be inside of her.
"YEA! YEA, YEA! COME ON, COME ON," she chanted.
I thrust inside her and it was a moment of elation. I felt every sensation of my mushroom head penetrating her pussy lips and I pushed all of my shaft up to my balls inside her. Her pussy hugged me and she clutched my back with her arms and pulled me down on top of her — the next day I would feel how sore my abs were from pushing my hips so hard. She dug her fingers into my ass cheeks and slapped them as I kept thrusting into her. After a while, we got up and she turned onto her knees. Her ass spread beautifully and I slapped it, making a loud snap. She gasped and I did it again.
I thrust back inside her, slamming in hard enough against her ass cheeks to create a slapping sound, over and over… and then it happened. I dug my fingers in her hips and pounded her through another orgasm, then pulled out and came hard all over her ass. I let out a loud roar, so loud the neighbors heard me and asked the next day if everything was alright.
The room was steam filled. We were naked, sweaty, red and exhausted. We looked at each other as we drank water, breathing heavily still. She pushed her fingers out to me and traced down my chest. Her expressive eyes showed me her affection and I tangled my fingers around hers as we drank and heaved. As our breathing slowed, she turned her back to me and curled into my chest. She turned her face and kissed me with full lips, pressing and keeping her lips on mine. We looked at one another and kissed again, pulling away with a thread of spit in between us. Our eyes narrowed and we began again…