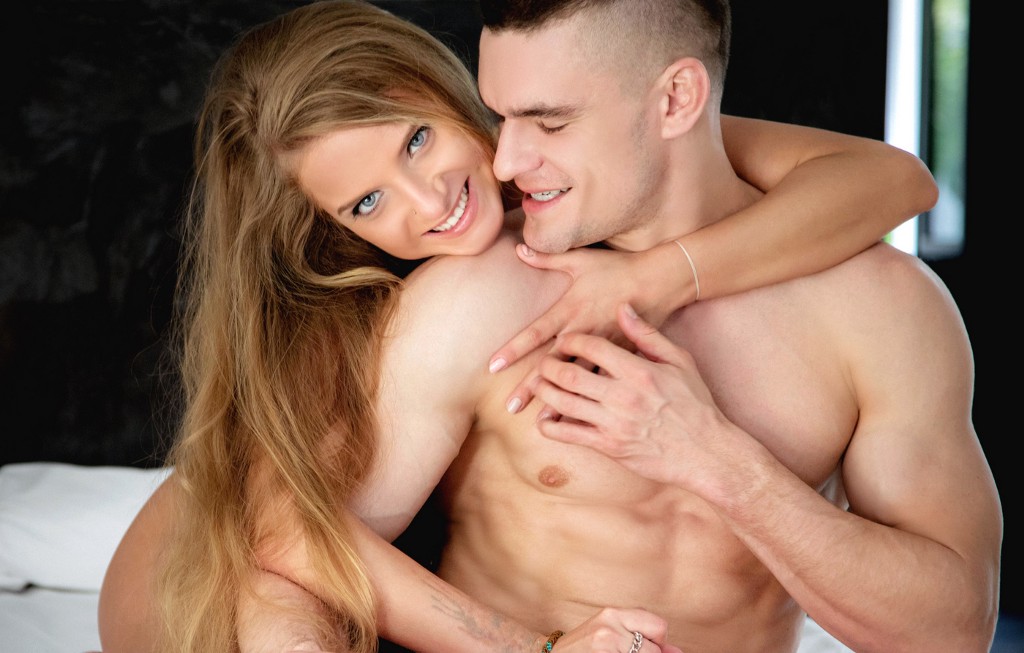 My fist glides up the full length of his cock, twisting and squeezing around the head on the upstroke, relaxing the pressure as it slides back down. He groans happily. I'm kneeling behind him on the bed, naked, breasts pressed against his back as I jerk him off.
He might think I'm doing him a favor, but truly, I can't keep my hands to myself around him. I'm not so shallow that I don't appreciate brains, kindness, humor… but I am definitely shallow enough that running my hand over a set of hard, defined abs will get my pussy wet. And who can blame me if my hand keeps sliding downward, into his shorts, wrapping around the stiff dick I find there?
The thing about working out with someone you find attractive is that you're exquisitely aware of their physicality, the way their muscles flex, the taut sinew under the skin. I've been fucking my personal trainer Victor for the best part of a year now — read about how we first hooked up in "Squats and Thrusts" — and the sight of him shirtless still turns my head.
We've been for a run in the sunshine and we're stretching in his back yard, but the impact of his hard body poised just above me as he uses his weight to stretch out my hamstrings has me thinking about burning off my excess energy by riding him ragged; and I'm not about to give his neighbors any more of a free show than they've already enjoyed. So I lead him inside, peeling off my running kit, fully intending to get him naked and in the shower with me right away.
But something about the sight of him perched on the edge of the bed in nothing but his shorts, absentmindedly stretching his shoulders as he watches me undress, stops me in my tracks. Those shoulders! So burly and broad, glistening with a light sheen of sweat; temptation embodied.
I move behind him on the bed and start to massage out the muscles of his neck and shoulders, just as an excuse to touch him there. I squeeze and knead and stroke, and he relaxes into it and lets me do as I please, humming with contentment. I lean over him, my long hair brushing his face as my hand creeps down over his chest. His pecs are solid slabs of muscle; his skin is hot against mine. His abs quiver at my light touch as my hand slides lower still, tracing the counters of his body, finding the line of dark hair that leads into his shorts and following it down…
I'm gratified to find him already rock hard as my fingers encircle the root of his cock. Our bodies have this immediate, instinctive response to each other. I squeeze a little harder, loving the thickness and heat and pulsing life, tuning in to the way his breath hitches as my hand moves up and down the shaft. My thumb swipes over the head, smearing the bead of moisture I find there. He tugs his shorts down and kicks them away, thighs spread, cock standing proud.
I spit on my hand to lube it up; he gasps at the sudden wetness on his hot flesh. I kiss the back of his neck as I settle into a steady rhythm that I know will keep him perfectly hard and aroused without tipping him over the edge. I want to draw this out, make a memory for him to jerk off over for years to come.
He reaches behind himself to slide his hand up my thigh, but I bat it away.
"Let me do this," I purr in his ear. "You can take care of me later."
There's this idea that handjobs are just for horny teenagers, something to do before you graduate to real sex. I can't remember the last time I stroked a guy's cock without sucking or fucking him too. I'd forgotten how incredible it feels to handle something so potent, not just as foreplay, but with full intent.
I have him where I want him, utterly immersed in the pleasurable sensations, thinking about nothing but my hand on his dick. And now I increase the pace and pressure slightly, corkscrewing my wrist, stroking my palm over the head, squeezing the shaft in a pulsing rhythm. Perspiration trickles down his belly and into the coarse dark hair at his crotch. I lean over his shoulder and spit down onto his cock, getting it slippery enough for quicker, harder strokes. I can feel his hips straining upward now, and I loosen my grip just enough to let him thrust. At first he chases my hand; then he counters the pumping motion, thrusting deeper into my fist with each stroke.
I'm not in a position to do any of the things I'd usually do while sucking him — I can't fondle his balls or lick his abs or look into his eyes to let him know how much I'm loving it — but the way it forces me to keep my whole attention focused on nothing but stroking his cock is exciting. Pressed against his back, I feel every gasp and shiver and moan as if it were my own. My nipples are stiff, digging into his back.
"I love this beautiful hard cock," I murmur in his ear. "Stroking it makes my pussy so wet. Cum for me… cum all over my hand…"
He groans, rocks his hips up more vigorously. And now I don't hold back, moving slightly to the side so I can jerk him full force, my arm pumping until it burns, his dick pistoning in and out of my fist furiously. His body tenses and trembles as his orgasm approaches; and then it hits him like a tidal wave and he yells. Spurt after spurt of hot jizz sprays out, splattering all over my hand and arm, his stomach and thighs and even up his chest, like a geyser erupting.
I stroke him more gently through the aftershocks, milking out every last drop. He's gasping for breath, chest heaving, as I suck the slippery goo from my fingers. As his hazy eyes clear, he gives me a smile of pure happiness, which turns devilish as he grabs me and pulls me onto his lap, smearing cum all over me.
He holds me close for a hot kiss, hands running over my body, making sure to get me nice and sticky. His teases my stiff nipples, painting them with cum, making me squirm. Then his hand slides south, delving between my thighs to find my soaked pussy.
"Let's see if I have the magic touch too," he says, fingers plunging…
Thanks for reading! Applause, comments and follows get me hot 😉
More confessions from me here — if you think you can handle it! Maybe have a cold shower first…