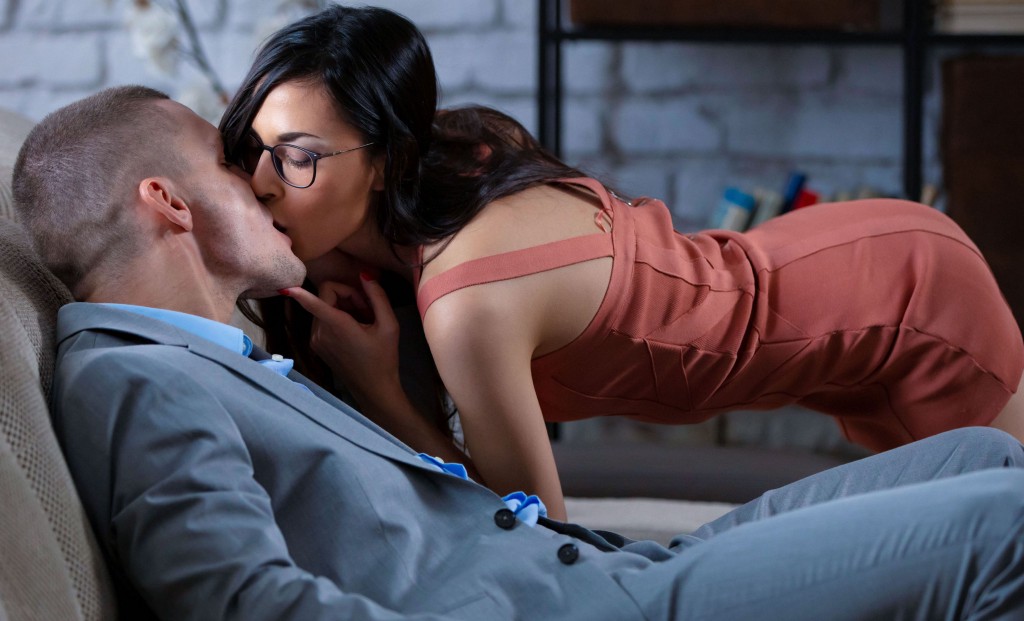 "My name is Gabby. I'm a teacher, and I'm looking for a place to rent," she replied to my apartment ad a few months ago.
I was awestruck when I first met her. Gabby had a broad smile and beautiful eyes. I had to bite my tongue when I looked at her in her skintight jeans, with the denim hugging every curve of her big, bubbly ass. Her top was tight and low cut, sure to drive any man wild.
I thought it was probably a bad idea to become roommates with a girl this beautiful. After all, if she stopped paying the rent, how would I be able to keep it businesslike? I just couldn't say no to her, though.
I was able to separate business from pleasure for a couple of months, but I quickly realized that I was torturing myself. Gabby would emerge from her room in Victoria's Secret booty shorts, with slogans written on her ass.
"You're such a nice guy, Josh," she told me one day.
I knew that was the kiss of death. I was forever in the "friend zone." I should have been elated, as the business arrangement wouldn't get impeded by the primal desire that I had for her body. But I guess my lust for her wasn't going away.
It grew worse when she found a new boyfriend on a hookup app. I could hear the two of them fucking at night, and it was excruciating to listen to. Although, the sound of her gentle moans excited me so much. I'd often find myself lying in bed, jerking off to their sweaty fuck sessions and the sound of her screams and cries of pleasure.
A few weeks ago, she was told that school would be canceled for the rest of the semester due to COVID-19. Shortly after, I was also working from home. We were now in constant contact, a development that I had never anticipated.
We both chipped in for groceries and stocked up for our extended quarantine. I couldn't help but imagine where this would lead. Would I be able to handle being cooped up with Gabby for weeks without making a move?
One night, after a day of taking conference calls in the living room, we sat on the couch and watched a movie.
"Would you like some wine?" she inquired.
I smiled, appreciating her hospitality. She'd bought the wine for herself but was willing to share it with me. "Sure, I'll have glass," I told her.
Gabby beamed with that sweet smile that melted me. Goddamn, that smile was a killer. I wanted her so badly.
"I can't believe this is happening," she told me. "It's like we're in a movie… Do you mind if I ask you a personal question?"
I squirmed in my seat, uncertain of where this would lead.
"Sure, what's your question?" I asked her.
"Have you found yourself getting… aroused? I mean, I haven't seen my boyfriend in weeks."
I laughed uncomfortably. "Sure, I suppose I could use some female companionship."
"Well, I've been getting horny." She pulled down her shirt and bared her gorgeous tits for me to survey. "I see the way you look at me," she told me. "Maybe we could help each other."
"I don't know about this," I said as she crawled on the floor towards me, not breaking eye contact. She moved between my legs and touched my hard cock through my pants.
"It feels like you want this," she said as she rubbed my stiffening cock with a look of mischief in her eyes.
She removed my cock from my pants, and her eyes widened.
"Why was I wasting time with my boyfriend?" she said as she stroked my cock, marveling at its size.
She wrapped her lips around my stiff cock. As I grew more aroused, my cock grew thicker in her mouth. She looked up at me as she stroked me.
"You've wanted to fuck me since I answered that ad, haven't you?" she said.
I nodded, and she inserted my cock back into her mouth. She reached down and began massing her clit while she sucked. I caressed her head, stroking her silky hair and enjoying her as she pleasured me.
"Don't cum," she said as she stroked my cock with her hand, using her saliva as lube. "I prefer cum in my pussy instead of my mouth."
The thought of stretching out her tight pussy and cumming inside of it excited me.
"You… you don't want to use protection?"
"No. I want to feel the skin of your cock. I want to feel your pulse," she said as her finger crossed my bicep. "I want to feel you cum in me," she said sweetly into my ear before she licked my neck.
I then returned the oral favor as she spread out her legs. I loved to grip them, rub them up and down, and feel how glorious, tight, and smooth those tan legs were. I enjoyed tasting her cunt, reveling in her juices, and feasting upon it. Her hands dug into my head while I licked her clit and inserted my fingers into her tight pussy. She began quivering in pleasure.
"Fuck, Josh, fucking work it!" she screamed out. "Are you ready to fuck me?" She spread her legs wider. "How bad do you want to fuck me," she asked.
I just nodded, speechless.
"Fucking put your cock inside of me," she demanded. Her hands touched my abs, and she licked her lips. I plunged into her slippery wetness and eased in as her pussy adjusted to the girth of my fat cock.
"You're so fucking big," she told me breathlessly as I slowly moved in and out of her. "Fuck me harder," she demanded, looking me in the eye with ferocity.
I began thrusting hard into her while she rubbed her clit and maintained eye contact with me. With one of her hands, her fingers dug into my pecs, while the other hand rapidly rubbed her cunt while I fucked her.
"You like quarantine with me?" she asked, smiling into my face. I nodded while I fucked her, and the sweat beaded down my body onto her.
"You want to be holed up with me, fucking me hard, getting this pussy?" she asked.
"Yes, fucking yes," I said through gritted teeth as I stretched out her tight cunt. "Bend over," I told her.
"That's the fucking spirit," she said, chuckling.
I bent over her thick ass that I had long admired through her skimpy clothing. It was finally naked in front of me, bubbly and tight. I held onto her hips and thrust into her. She gripped the side of the couch.
"Fuck me, Josh!" she screamed out as I pounded her hard from behind. Her pussy juice dripped down onto the couch. She flicked her hair back and reveled in being fucked hard.
As she started to orgasm, I felt myself about to cum too, my cock growing engorged within her.
She nodded and screamed. "That's it, fucking cum in me!" she yelled out, gripping tightly onto the couch. My pace began to quicken, and my cock grew harder as I erupted within her, thrusting quickly as the cum from my cock further lubricated her already slick cunt.
"Yes! Fuck yes! Cum in my pussy!" she cried out as I coated her.
I leaned in and kissed her neck. "You feel so fucking good," I told her.
I sat on the couch, marveling at her perfect sweaty body, and she smiled, looking back at me.
She inched over and began sucking the cum off my cock, trying to get me hard for another round.
"I think I'm going to enjoy this quarantine with you," she said, between licks.