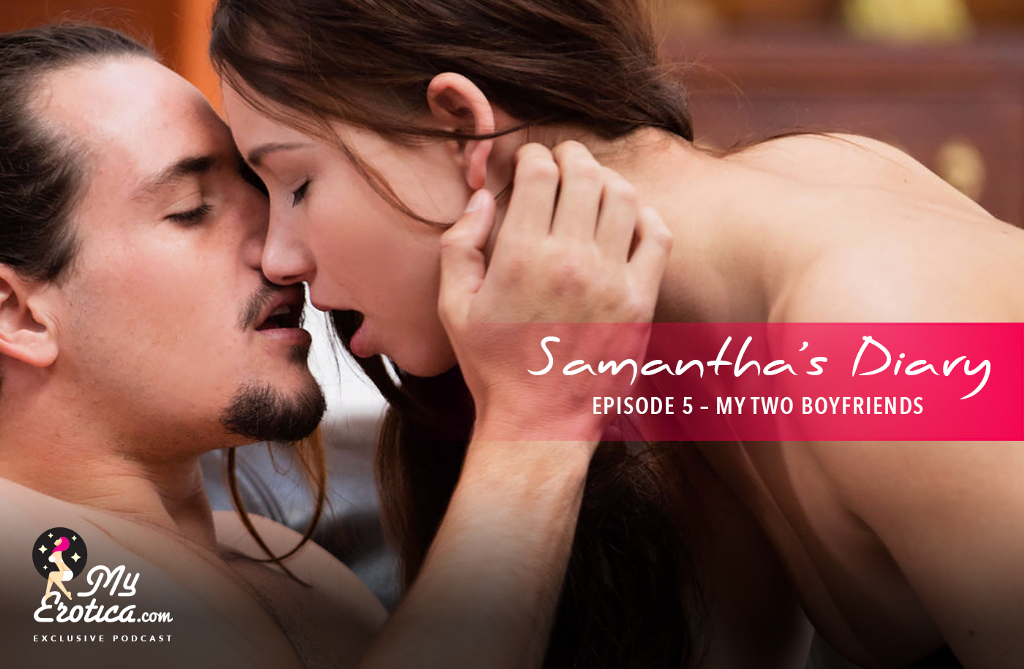 My two boyfriends…
Eric and Chris. I was dating the two of them at the same time. And yes, I was sleeping with both of them. OK, fucking them too. This went on for about a year. I was getting laid five days a week and a few weekends too. I averaged around 25 orgasms a week between the two of them.
I was seeing Eric for about a year before I met Chris. He was a lot of fun and we got along great but he had a girlfriend he didn't want to leave. I was OK with that, but that meant monogamy was off the table and I was free to date and sleep with — OK, fuck — anyone else if I wanted to. We never talked about that directly but we both understood our relationship.
I met Chris at the library on campus. He was single, charming and intelligent and we hit it off immediately. After a number of coffee dates of getting to know one another, we stayed late one night after the library closed. We went in the back stacks and started making out. I was getting so hot. I felt his cock through his jeans. He was big and hard. I wanted to feel him in my mouth.
I dropped to my knees and opened his pants and sucked his cock. He was delicious. I sucked and licked his penis and did the same to his balls. He started moaning and breathing hard. I knew if I kept this up he would cum in my mouth. I wanted to taste his cum but I wanted him to fuck me first.
I got up, bent over, and pulled up my skirt. Chris got behind me and was about to put his cock in my pussy when I thought about Eric. I said wait, and told Chris about my relationship with Eric. I said, I'm seeing another guy and I'm sleeping with him and will continue to do so. I told Chris that I just thought he should know and that I still wanted to fuck him. He thanked me for telling him and said that was a real turn-on for him.
He grabbed my hips and turned me around. I felt his cock against my pussy. I was so wet he slid all the way in one stroke. I loved it. I rubbed my clit to several orgasms while he pounded me. Chris started to slow down, then he pulled out of me. I was going to suck him off when he picked me up and sat me on a table. Then he went down on me. I wasn't expecting that. Chris really ate me out. He licked my swollen lips and ran his tongue over every bit of my pussy. I could tell he liked the way I tasted. Then he focused on my clit. I didn't last long.
Then he did something I didn't expect. Eric didn't even do this when he'd eat me out. When I started to come, Chris licked my asshole. This sent me over the top. I almost passed out from that orgasm. I laid back on the table to recover and he started to fuck me again. I told him to cum in my pussy. Chris pounded me again like he did before and ejaculated inside me. He laid on top of me and we kissed while we recovered. When he pulled out, I felt his cum gush out of me. It was a lot. We made a mess of his cum and my pussy juice on the table.
I didn't realize it then, but this was the start of a lot mind-blowing sex with my two boyfriends. Eric, the first boyfriend, would come over on the way home after work on Tuesdays and Thursdays. We would make dinner and recount the day's events. He was a great cook. Afterward, we'd relax on the sofa and fuck. Eric liked to dominate me. I liked it too but I didn't realize this until I started sleeping with Chris.
Eric would bend me over his knee and finger my pussy until I was about to cum. Then he would order me to beg for his cock. I'd say, "I want your cock. I'm begging for your cock. Please fuck me." This turned us both on and I'd cum on his fingers. He often bent me over the sofa to fuck me. Eric liked me to suck his cock with me kneeling in front of him while he stood over me. He would grab his cock and pull it out of my mouth and make me beg for it. I'd say, "please let me suck your cock. Please let me taste your cum." Then he'd order me to "lick his balls" or "take him in deep." Sometimes he'd hold my head and fuck my mouth until he ejaculated. Other times Eric would get on top of me and pin my arms above my head while he fucked me. Yeah, I liked it.
Chris would see me Mondays and Wednesdays. I'd make dinner for him, then we'd snuggle on the sofa and fuck. Chris liked "porn sex." Sex like you see in porn films. He liked to alternate between fucking me and eating me out. He liked all the porn positions like cowgirl, reverse cowgirl, and pile driver. I need to be really horny for that last one. Chris likes to see how many fingers he can get into my pussy. And he likes to cum on me. He's the first guy to cum on my face. I didn't know what to expect the first time we did it.
He was fucking me on top when he announced he was going to cum. He pulled out his cock and brought it to my mouth. I sucked it a little then he came all over my face and in my open mouth. His cum was so hot. I had cum on my chin, on my nose, and on my lips. He missed my eyes and forehead… this time. I could tell he really got off on this. I'd see this in porn movies but had never done it until now. I thought it was very erotic. He asked me to rub it into my skin, which I did. One time, Chris asked me to leave it on my face until it dried. He loves to see cum on me. He would cum on my tits, on my ass, on my neck, on my back, on my pussy, and in my pussy.
He asked me to shave, which I did. My pussy was so smooth. Chris said it gave him better access when he's down there. I had to agree. I felt so naked when he would eat me out. I loved it. I liked my bald pussy. That surprised Eric when it was his day to fuck me. He liked it too.
Chris likes to eat out my ass. I'd never had that done to me before. He'll lick me between my cheeks and tongue my asshole while rubbing my clit. This makes me cum hard. He wants to fuck my ass but I'm not quite ready for that… yet.
This was my schedule. Eric on Tuesdays and Thursdays. Chris on Mondays and Wednesdays, and some weekends. Chris and I would go hiking and find an isolated place to fuck. I'd always wind up with my pussy or mouth full of cum. It was such a turn-on to fuck outside where we might get caught.
One night I'd look in the mirror in my bedroom and see Eric's face while he fucked me from behind. The next night I'd see Chris' face while he was doing the same thing to me. I had to change my sheets every week from all the wet spots that would form from all the sexual activity. I kept a towel near the bed to wipe up messes, OK, cum. I had to replace that every other day.
One time, Eric stopped by for a quickie on the way to a meeting. We had just enough time for a quick fuck. He pinned me against a wall and pulled my panties aside. Then he fingered me to a big orgasm and fucked me until he came in my pussy. We kissed and he left. About five minutes later, Chris came by to pick up a book he left last night. He called me earlier in the day and I said he could come by since I wasn't expecting Eric that night. I had forgotten I told Chris to stop by.
I was still recovering from my orgasm with Eric when the doorbell rang. I was wearing a short silk robe and hadn't cleaned up yet when I opened the door and saw Chris. Then I remembered. Chris said I looked hot and took me in his arms and kissed me deeply. This was such a turn-on for me because I had just kissed Eric the same way just a few minutes ago. Chris reached into my robe and felt my body. He could tell I was getting turned on.
I knew what would happen next. He reached in my panties and said I was so wet. I told him Eric just stopped by a few minutes ago. Chris pulled my panties open and saw Eric's cum in the crotch. It had leaked out of my pussy. Chris laid me on the floor and pulled my panties off. He pulled out his cock and got on top of me and entered my pussy. I'd never seen him so turned on. He asked me what happened and I told him… in detail. He started to fuck me faster. Then he asked me to lick the cum from my panties while he was fucking me. I did, and instantly came. Here I was getting fucked by my second boyfriend while licking the cum of my first boyfriend out of my panties just minutes after he came in me.
This was too much for Chris too. He announced he was going to cum. I told him to cum in my mouth. He started fucking me faster and at the last minute, he pulled out his cock and stuck it in my mouth. I sucked his cock and rubbed my pussy. Now I was sucking Chris's cock and tasting Eric's cum on it. This made me cum again.
Chris's body spasmed and filled my mouth with his sperm. It was a huge load. I opened my mouth to show him his cum, then I let some of it dribble down my chin and onto my neck. I knew he would like that. It's the porn-sex thing. Then I wiped up the rest with my soiled panties and licked the mixed cum. I knew he would like that too. This was the nastiest sex I ever had.
When Chris recovered, we did it again and fell asleep. I let the cum dry on my face so he would have a visual treat when he awoke. He fucked me again and came in my pussy.
That was an incredible time with two boyfriends. It was tiring too. I had never had so much sex in my life. Wow. Oh yeah, I eventually let Chris fuck me up the ass. And I liked it.
You can hear more episodes here