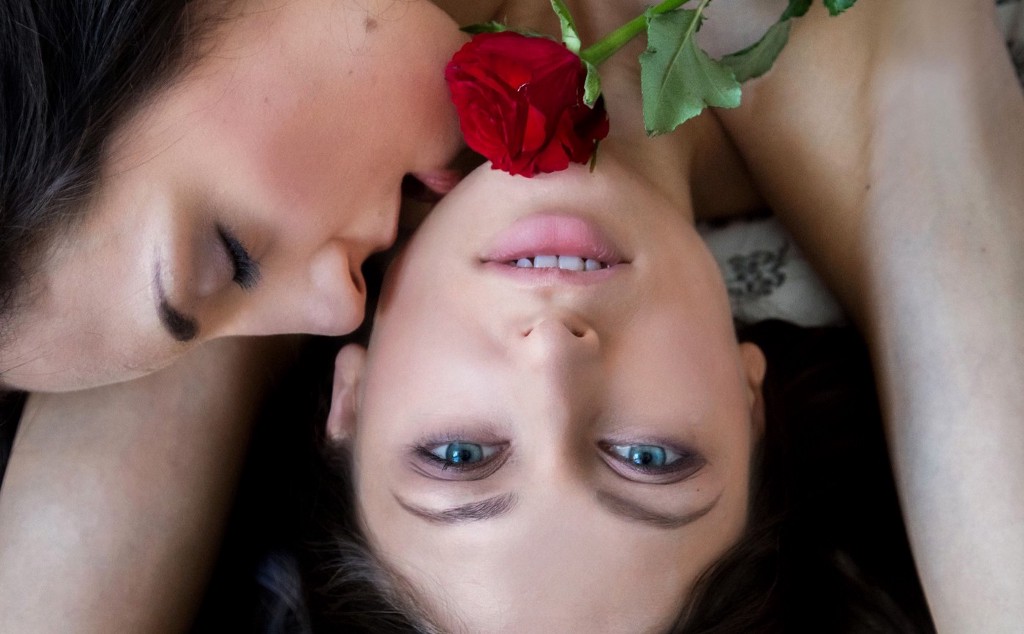 New Year's resolution: Finding a girl for my girlfriend
If you are familiar with our writing, you will know that my girl likes female companionship from time to time. And while we've had some nice encounters already, we are still looking for that special girl to join us in our love story on a more permanent basis.
My girlfriend suggested first to try Tinder. But since she is a sapiosexual I suggested to try to get help from our readership. Reading about our adventures is a better way to present ourselves than with just a lame pic IMHO. And I'm sure that it will be quite interesting to analyze the answers we will get.
In an open relationship, there are three possible ways for such a triad to be constructed:
The girl likes my girlfriend and wants to do things together with her, with my presence only being occasional. This would be a polyamory relationship with my girlfriend in the center. This girl would like girls more than guys.*
The girl we find is primarily a girlfriend of mine, and might be interested in joining in together with my girlfriend (more the exception than the rule). This would represent a polyamory relationship with myself in the center. In this case she would like guys more than girls.*
A full triad, where the girl likes (and is willing to love) both my girlfriend and myself. A true bi, she would like both girls and guys.
Needless to say, I would prefer a full triad, since it allows for exciting experiences that we can all share together, as well as for traveling. My girlfriend could probably be happy with being the center of the V as well.
Your girlfriend doesn't mind either of the versions, because she trusts you!
From all I know about my girl, I know that these characteristics would definitely help:
An intellectual mind. My girl is a sapiosexual and she would want to do things like going to museums and galleries, and discussing Homer's Odyssey together.
Living in the London area, or somewhere in Europe where traveling to London or other European cities is easy.
Enjoying good food, preferably on the plant based side. More on the nice to have side since she still loves me despite my occasional medium rare steak adventure.
I went ahead and asked my girlfriend the other day what she would like in a girl. Her answers were interesting. She has three conditions as far as physical preferences:
She wants the girl to be equally or less pretty than her. Which luckily leaves 90% of the female population in.
Fun fact: women prefer their partner to be slightly less attractive than themselves, simply to put their mind at ease. While I am no different, the key word here should be "attractive" and that differs from person to person.
2. She would prefer if she is not obese. Don't misunderstand us here. I do prefer girls with natural curves and love handles. She is just stating a preference.
I said specifically: not unhealthily overweight. Which, again, is relatively subjective.
3. A Millennial age bracket.
An added bonus would be if she spoke French, either native or as a second language.
You might be wondering where do I fit in the picture? Well, I think I can be of help for two important reasons:
Being a guy and an extrovert I have experience contacting girls. As most guys would understand, it takes a special resilience to take the constant rejections and just keep trying. Just as my girlfriend knows her way around guys, I could get the conversation started.
I can teach them both about pleasing a woman. I have seen my share of clits and vulvas, and the few dozen interactions have taught me a thing or two about female oral pleasure.
In other words, while she knows what works for her and how she likes to be pleasured, our new girlfriend might have different needs or kinks which I might be able to explain better. And I am willing to be the one teaching both of them my secret moves so that they can build their loving repertoire.
How do you go about getting this new year resolution going? Well, maybe asking among our readership would not be such a bad idea. After all, if our future girlfriend is interested, she could read our erotica and other articles we've written, to get an idea of what to expect with us. Being an engineer, I created an online form with a set of questions and an option to add contact info. Feel free to do the survey: it has an option to mark that you were just interested in seeing the questions and not in meeting us.
Here is the link to the survey: Take Survey
And if you know of a nice girl in search of an intense and unorthodox relationship please forward this to her!
Happy New Year everyone, we wish for all your New Year's resolutions to come true!