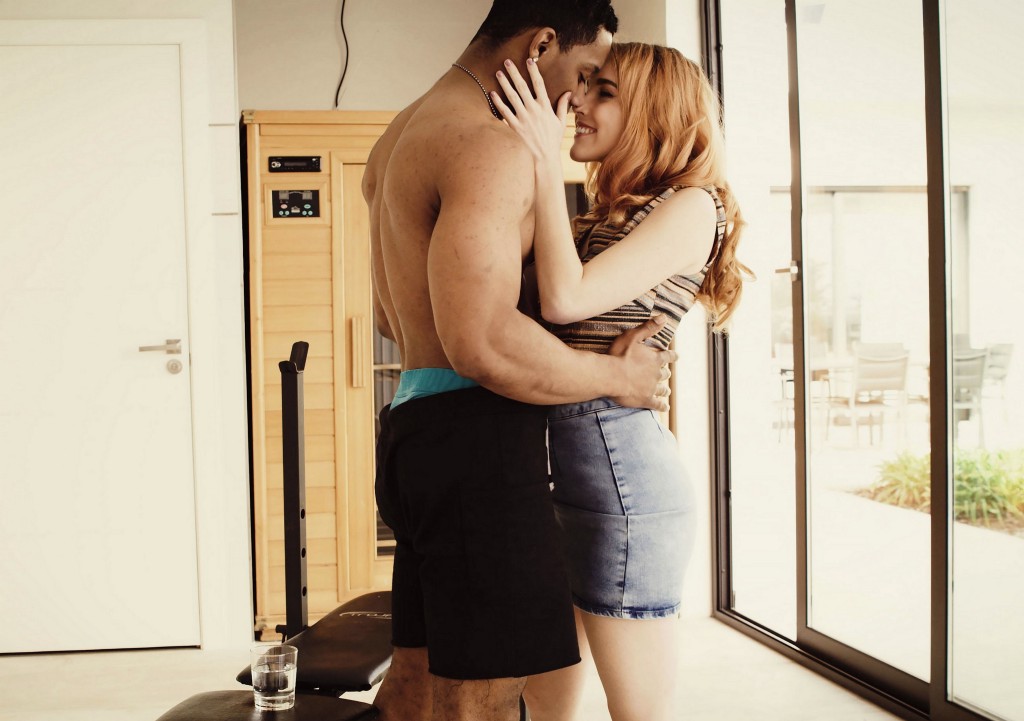 I looked in the full-length mirror and smiled with satisfaction as I gazed at my new, knockout body.
I had a bubble butt, thanks to all of the squats! My fat was down to a minimum, thanks to running and healthy eating. My abs were hard and rippling. Legs lean and muscular.
I was about to go out for a run, and the yoga pants and a tight top with cleavage made all of my best features pop.
After a year of solid effort, it was satisfying to see the result. Meanwhile, I looked at my husband, still in bed, and snoring. You would think that my complete lifestyle change would have inspired him, but it didn't.
He woke up from his slumber and said, "Honey, what's for dinner tonight?"
I was going to grill some fish and asparagus. "Ugh, can't we have some mac and cheese or something?"
I looked at him curtly. "Maybe you can make dinner on your own," I said sarcastically. I put my hair into a ponytail and headed off to meet with my trainer, Jerome.
Jerome was the driving force behind my transformation. He was insanely fit. I was pretty sure he never ate any food for fun. I admired his work ethic, but what really kept me going to him was his hot body and confidence. He was African American and rippling with muscles. Washboard abs, massive biceps, big shoulders, and unrelenting stamina.
I found myself fantasizing about him whenever I masturbated. I could often see the outline of his fat cock through his gym shorts, and it made my pussy slick with desire whenever I saw it.
Jerome had a private gym complete with equipment. The visits were expensive, but he delivered results. He gave me a big, beautiful smile as soon as I walked into the gym.
"Goddamn, look at you, Jennifer. I can't believe how you've turned your life around."
I smiled. "Thank you. I wish my husband would get off of his fat ass and join me."
He laughed and gazed at me up and down.
"Are you checking me out?" I asked flirtatiously.
"I'm just admiring your hard work."
"Mmmm-hmmm," I replied, with a big smile on my face.
Trying to regain his composure, he attempted to get back to business. "Why don't you bend over and do some tricep kickbacks?" he said.
I suspected he wanted me to do this to see me bent over. There weren't many men who didn't enjoy the sight of a tight, bubbly ass bent over in front of them. It ignited the animal instinct of every man. I smirked and complied, bending over and holding the dumbbell in my hand. I bent over slowly, exaggerating the curves of my ass, trying to drive him crazy.
I looked back at him and caught him licking his lips. He positioned himself behind my ass to guide me as I lifted the dumbbell up with my arm.
As I lifted the dumbbell, I deliberately pushed my ass back against his cock. He was rock hard.
"Jerome, am I getting you hard?" I said playfully.
I stood up and decided to make a move. I grabbed Jerome's shirt and pulled him in for a hot and sensual kiss. Jerome drank my lips like the thirsty man he was. It was as if he had been fantasizing about it for a long time.
"I know you've wanted that as much as I have," I told him.
"Jen, you're married. I don't think we should do this."
I reached down and gripped his fat cock through his gym shorts. "I think your cock feels differently," I told him.
He smirked and gripped my arms, examining my body up and down.
"Maybe I should make this easier for you," I said to him as I dropped to my knees and took his throbbing cock out of his shorts.
The size was genuinely extraordinary. My husband was maybe five inches, this was a solid ten and thick. My eyes widened as I gazed upon it, barely able to fit it into my hand.
"I hope I can handle this," I said, looking up at him and feeling it grow harder in my hands.
"You've never been the kind of girl to back down from a challenge," he said to me as he watched my sweet mouth wrap around his hard, dark, fat fucking cock.
I fit Jerome's dick as deep as I could into my mouth, making eye contact with him the entire time. I enjoyed watching his facial expressions. His eyes communicated that he was impressed at how deeply I could take his cock into my mouth.
I exaggerated the sounds of my sucking and slurping in an almost cartoonish way. I knew it would turn him on. As I suckled his cock, I felt him grow ever harder, twitching with desire.
As I sucked the tip of his cock, I gripped my hand around the rest of it, twisting my hands and jerking it to amplify his pleasure. I looked up, watching his face contort in agonized pleasure. I licked the length of his shaft before retaking his juicy cock down my throat.
I took my mouth off of his cock and said to him, "How long have you wanted these lips wrapped around your cock?"
"Since the first day I saw you," he said.
I stood up and looked into his eyes while I grappled his hard black dick in my hands. "I've wanted you inside of me since the first time I saw you."
We kissed sloppily, our tongues intermingling as my pussy grew slicker with desire for him.
"I need to fuck you," I told him breathlessly.
I pushed up on his chest, motioning him to lie down on the floor. His cock was upright, commanding attention, practically demanding my tight, wet pussy.
I maneuvered my tan, fit body on top of his hard frame, and descended my pussy down on his cock. As my pussy lips spread for him, my juices dripped down on him. The smell of pussy permeated the room as his large hands gripped my tight ass.
I held his hard chest and began bobbing up and down on him, slowly allowing my pussy to adjust to his girth.
"You're so much bigger than my husband," I told him. "My pussy isn't used to it."
He licked his lips. "You'd better get used to it because I'm going to be inside you every chance I get from now on."
I allowed my pussy to descend upon his shaft, and my fingers dug into his chest as I unleashed a throaty moan of pleasure.
"You can fuck me whenever you want. This pussy is yours now!" I screamed out as I began ferociously pumping his hard cock.
"That pussy is mine," he said as he gripped my waist tightly while my body bounced on his hard cock.
His large hands consumed my ass cheeks. I began to bob at my own pace, allowing myself to control the tempo. As my moans began to permeate the room, I let my fingers dig deeper into his shoulders.
I leaned in and licked his neck. I felt goosebumps on his arms, as my fingers dug into his bulging muscles.
I moved from his neck to his ear and whispered to him, "I want you to take me from behind."
I bent over in front of him, presenting my ass to him. He gripped my skinny waist and thrust his hard dick into my tight pussy, gazing at the sight of my bubbly ass. I reached behind and began massaging my clit while my pussy dripped down onto the floor.
"Fuck me hard, baby," I told him. "Let me know that this pussy is yours."
He began thrusting hard into me. I looked back at him and watched the sweat glisten on his hard muscles. Our fit bodies slammed against each other.
As he lost control and fucked my body with reckless abandon, I massaged my clit. I felt the pleasure crescendo throughout my body. I felt the warmth begin to consume me, and I started shaking recklessly.
I felt his sweat drip down upon me as he took me. I screamed out, creaming all over his fat cock and screaming wildly, with the echoes of my pleasure bouncing throughout the gym.
"Oh my God!" I grunted through gritted teeth. As I creamed, my pussy gripped his fat cock tighter. I felt his cock grow harder with urgency as he was about to cum.
"I'm fucking cumming," he said as his fingers dug into my ass, and his cock erupted within me.
"Fucking cum in me!" I screamed out as he coated my tight pussy with his seed.
He playfully smacked my ass as he looked down at the cum dripping out of my cunt.
"Mind if I take up your personal training schedule this afternoon?" I asked him as I jerked his cock and readied him for our next fuck session.