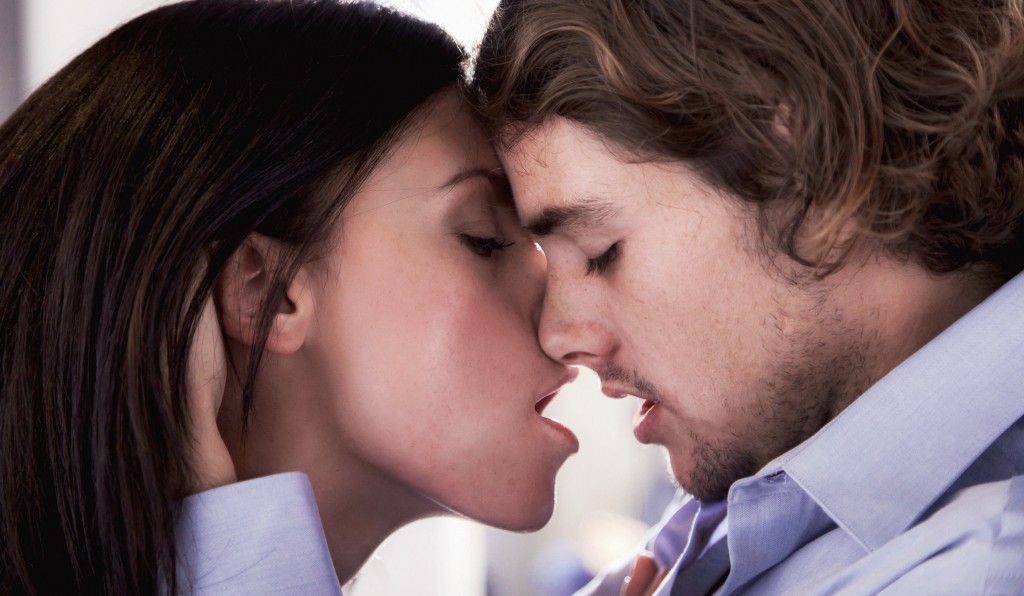 I woke up in the morning and felt Joe's warm hands caress my bare shoulder. I thought last night was a dream, but when I felt his hands, I knew it was real.
"How did you sleep, Val?" he asked me.
"I slept wonderfully," I told him.
"I can't believe we finally did this," he said to me.
For years we had flirted at work. Joe was my boss and was always forbidden fruit. I think we both had the same opinion. We wanted each other but couldn't give in to our impulses. It didn't stop us from flirting with each other.
Joe was too hard to resist. He was the classic definition of tall, dark, and handsome. He had a sculpted V-shaped body with big shoulders and deep, brown eyes. I'd lust for him in his custom tailored suits. When I wrote up a report, I liked to deliver it personally. I would always wear a short, tight skirt that hugged my ass perfectly. I knew he wanted it. I'd catch him looking at me like that all the time.
Last night I was masturbating with my Hitachi Wand. I had a few glasses of wine and built up the nerve to text him, telling him that I wanted him. At first, he thought I was joking. I then texted him an emoji of a peach and a splash and a cucumber. I didn't know how much more explicit I could make it.
He greeted me at the door, and I could glimpse his hard cock desperate to emerge from his pants. His shirt was unbuttoned, and I could see his hard chest. His tie was still on but loosened.
I pulled him in closer to me by the tie and kissed his lips.
"Oh my God," he muttered as he cradled my neck and kissed me passionately. He pulled away and looked me up and down. "I've wanted you for years," he told me.
I smiled and made eye contact. "Tonight, I'm all yours, Joe."
He lifted me in his big, strong arms and took me to the bedroom. He placed me on the bed on my back. He kissed my neck as his hands gripped my breasts. He gently moved his fingers around my nipples, which were taut with anticipation.
My breathing grew deeper. My heart raced. For years, I had masturbated to the thought of Joe fucking me. And now, finally, it was about to happen.
He slid down my pants and grabbed my legs, spreading them wide. His tongue entered me. He tasted how slick I was, how powerfully I lusted for him. He stroked my clit with the tip of his tongue. I let out a mighty moan. Joe's hands reached out and massaged my breasts. I dug my fingers into his hair while he pleasured me. He looked up at me and delighted in my screams of pleasure.
I decided to return the favor and told him, "Lie down, I want to suck your cock."
I scrambled to unbuckle his pants and pull out his cock. I had imagined it for years, wondering how big it was. It certainly did not disappoint. It was long, with a little bend in it, and he was already iron hard.
"Oh my God, Joe, this is the biggest dick I ever saw," I said as I contrasted it with my forearm. I could feel him getting even harder, looking down at the contrast.
I lustily took the tip of his cock into my mouth and worked it with my tongue. I widened my jaw to fit in his thick dick. I worked his rod with my hands, using my drool for lubrication. I felt so fucking dirty. I looked up at his face, ecstatic with joy and contorted from the pleasure.
I took my mouth off of his cock. I moved my body on top of his and kissed him, feeling his strong jawline with my fingers while we kissed. I reached behind my ass and jerked his cock; then I maneuvered it to meet my pussy. I slid him within me, expanding my folds and stretching me out.
I started moving up and down on him. I felt so naughty.
"How many times have you dreamed about fucking me?" I asked him as I rode his cock.
"Every fucking day," he told me through gritted teeth. I started moving faster, rapidly increasing the tempo of my hips. I dripped onto his thick cock. He grabbed my hips and took over the pace with vigor and determination. He wasn't fucking me hard enough for his liking, and he began pushing within me at a rapid pace. My cunt dripped down on him.
I felt his balls while he fucked me, and he began licking my tits, making my nipples even harder.
"I wish I'd known you were so fucking dirty," I told him as he licked my tits.
"You don't know the half of it," he said as he smiled at me. "Now bend that ass over."
I bent over for him. He gripped my ass and plunged his cock into me.
"Fucking take me!" I screamed at him.
He pulled my hair and began fucking me vigorously. He smacked my ass hard, and I felt the sting ripple throughout my body. My pussy dripped with desire for him.
I buried my face down and gripped the sheets. I screamed into the bed while Joe controlled my body and took me as I wanted. He was such a fucking man, a beast taking what belonged to him. I looked back at him, at the hard muscles on his arms bulging as he grappled my ass.
"Do you like that ass, baby?" I asked him. "I bet you've wanted that ass under you for a long time."
He started grunting and fucked me harder.
"I asked you a fucking question," I told him.
"I've always wanted that tight ass since I first saw it!"
I smiled and flung my head back, sexily throwing my hair along my back. I knew the long hair draping over my arched back would drive him crazy. I felt his cock become even harder, and I felt so dirty. Joe brought out the little slut in me. An orgasm flared through me at that thought.
"I want to taste your cum," I said.
I pulled out and leaned in front of him. I took his throbbing cock in my mouth and started pumping the base with my hands. I felt the salty cum spray into my mouth. I loved it; it made me feel like such a dirty fuck slut. I swallowed his load with delight.
"You are so fucking hot," he said as he watched me guzzle his hot cum. "God dammit, Val, that was incredible."
He gripped me tightly, and we kissed each other.
The fuck session would go on all night. We were like two starving people that encountered an all-you-can-eat buffet of lust.
It was one of the most exciting things I had ever done in my life. We'd both given in to our most forbidden temptation. I was glad we did.