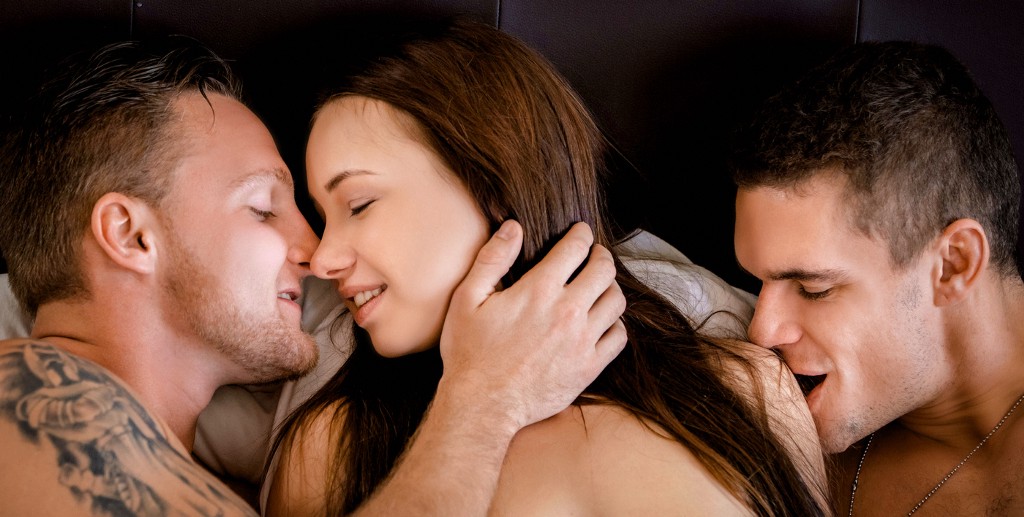 I see him entering our bedroom after making me wait an eternity: my boyfriend's best friend, Yash. He is wearing blue jeans and a crisp white shirt unbuttoned down to the first two, the sexiest part of his delicious chest showing. His hair is tousled, falling messily over his gorgeous eyes. His tall, lean frame is accentuated by the folds of the shirt, ending just above his shapely ass.
Ah, that ass — I have spent so many sleepless nights with my fingers inside my panties, fantasizing about having my teeth sunk deep in that junk.
He walks up to me with a knowing smirk on his face. I am sitting on our bed, my hands tied behind me. I strain against the velvet-lined handcuffs on my wrists, but my efforts yield nothing save making his grin wider. I am wearing a red lace bra and matching panties, and nothing else except the deep vermilion blush of having my wildest fantasy played out.
My boyfriend Anand and I had discussed it for months — how attracted I was to Yash and how much I wanted to fuck him. Not make love; just hot, wild, animal fucking. Anand had been mortified at first, but when I let him fuck my friend Anjali, he had given in and decided I needed to have my fun too.
There is hunger in Yash's eyes when he grabs my hair and holds it tight. I let out a moan of pain and pleasure. Without warning, he presses my face against his crotch. I can feel his rock hard dick through the denim. My pussy twitches in response, surprising me with the intense craving I feel.
He is rubbing my face up and down over his hardness now. I strain at my handcuffs, longing to be let loose so I can pull his dick out of his jeans and devour it whole. He seems to read my mind as he slowly unzips himself, revealing his glorious cock, the tip wet with precum. My mouth waters staring at it, but he doesn't grant me the pleasure yet.
He pushes me back instead, throwing me over the soft pillows. I arch my back, asking him to let me go. He laughs and starts fondling my breasts. I quiver and wiggle on the bed as he plays with my nipples until they are rock hard. His other hand reaches down to rub my very, very wet crotch as he starts flicking his warm tongue over my areola. He moves his head down slowly, his tongue tracing patterns over my quivering chest and belly. I close my eyes in anticipation, longing for him to run his tongue over my waiting pussy. He plays with my body for so long that by the time he actually goes down to licking my gaping cunt, I am so aroused that I clench my sugar walls tight and hit an orgasm with his first touch.
He looks up at me, as if to say, 'Already?'
I take loud breaths, my chest heaving. He doesn't relinquish his hold over me though, and presses his face to that sweet spot between my legs.
I gasp in pleasure, savouring the touch of his delicious tongue. As I am twitching on the bed, reveling in the moment, I feel a lustful gaze over my almost-naked body. With an effort, I tear my eyes off Yash's beautiful face and look around to find Anand staring at me with hunger in his eyes.
I blush deeper, ashamed at having my boyfriend see me enjoying the attention of his best friend so much.
But all he does is give me a knowing look as he draws close and touches my cheeks lightly with his fingers. The look on his face changes suddenly to savage as he grabs my breasts roughly with his hands.
The pleasure is too much for me to take, and I cum once again — my sweet juices drenching Yash's face.
What happened next remains a crazy blur in my memory.
Though I do remember the two of them used my body to their hearts' content. There was a point when Anand made me bend over and fucked my ass violently. Yash had forced his dick in my mouth and was fucking my face with vigour. I thought he was about to cum when he took his dick out, lay down below me and started rubbing his hard dick on my drenched pussy. I screamed with pleasure, and hit what could have well been my twentieth orgasm of the day. My body shook so violently that Anand was triggered — he started fucking my ass harder.
"Oh God, this is so good," I screamed in between gasps as the two naked men played their part in pleasuring me — one pounding my ass, and the other rubbing his gorgeous dick on my clit. I don't remember cumming harder than that ever in my life.
When I was done, the two of them stood over me, panting, covered in sweat. Their dicks were close to my face, hovering tantalizingly over my lips. Unable to hold back, I started sucking the tips of both of them as they jerked off vigorously. When they were panting loudly, close to an orgasm, I swirled my tongue in tight little circles over the tips of those two gorgeous dicks. My efforts were rewarded as Yash exploded in spurts of sweet cum all over my lips. I opened my mouth to take in his delicious cum. My mouth was almost full when, with a loud grunt, Anand came too.
My entire face was covered in the pearly white love juices of these two men. I smacked my lips to lick off as much as I could and let the rest remain as a trophy — the reward for all the hard work I'd done that day.
"This was the sluttiest I have ever felt in my life."
When I told this to Anand later, he laughed and said, "Wait for next time, babe."
"There's going to be a next time? You liked it?"
"It was beyond amazing. And you bet there are going to be many more next times."
"Fuck, I am already aroused."
"I know you are, my greedy little bitch. Next time, I promise you an experience you will never forget."
"And that would be…?" I asked nervously.
He smirked. "A dick up your ass, another in your pussy. How would you like that?"
I think the anticipation in my smile told him all that he needed to know.