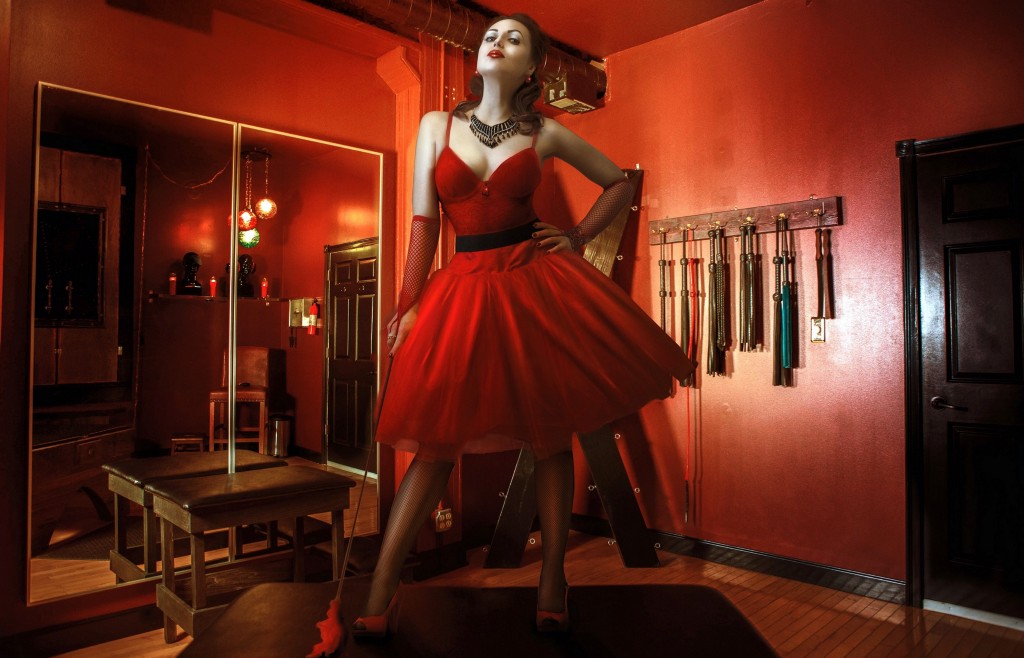 I'm getting ready for our date. You told me to dress in cocktail attire. Instead of going with my Marc Jacobs LBD, I chose a racy red dress instead. The boutique's owner couldn't stop gushing over how this dress was made for me: "Wow! Jen, this shows off your hourglass figure. You have to buy this. I insist. This was left over from our sample sale. I'll give it to you for cost." I'm a huge bargain hunter, and I know I'll look great whether you're wearing Armani or Zegna.
I've just painted my lips the exact same color as the dress, when I hear an engine roar to a stop. I'm walking through a mist of Eau d'Hadrien when the doorbell rings. Sliding my feet into my red Prada pumps, I tip tap down the hardwood floor to greet you. As I open the door, you are holding a crystal vase with the most beautiful red roses I've ever seen. I'm so awestruck that I forget to invite you inside.
"Jen, are you just going to model that spectacular dress in the doorway all night? Or may I come in?" You wink at me. I can't help but blush.
"Certainly." I gesture for you to come inside the cottage I'm sharing. It's small and cozy, the perfect place to get away and write. Walking distance to the beach. You hand me the vase. It's Baccarat!
I must be staring, because you say, "Jen, I handpicked these from my garden. I just put these into this vase I had at home. I hope that's okay?"
"I think Emily Post would appreciate your thoughtfulness. I know I do." I wink at you. I set the heavy vase down on the glass coffee table. "Would you like a drink?" You tell me you'll take a rain check, as we have reservations. You won't tell me where we're going. While I'm intrigued, I'm not worried; if anything, I want something to happen… finally!
I grab my clutch as we walk out the door I realize I forgot to put on panties. Not that you'd see them, but they're really pretty. I feel sexy in them. Now I feel half naked, especially with the salty ocean air oxygenating my pussy. Ummm, that feels good. I'm so focused on my attire, or lack of it, that I'm temporarily blind and don't see the vintage candy apple red Corvette convertible in front of me. Fortunately for me, your large hand is guiding my low back towards the car. You open the door for me and I get in as you tip your invisible hat. You've got a sense of humor. I like that!
Getting in, you kiss my cheek. "I had to do that Jen. You are absolutely breathtaking!" You turn on the ignition and the engine purrs. I'm starting to get wet.
You turn on the radio. Yes, the radio. Somehow you managed to receive a signal. Little Red Corvette is playing. "Serendipity." we both say simultaneously. You start to serenade me. I'm taken aback by how incredible your voice is. I sing back up.
You drive to a secluded section of the beach. Huh? I thought we had reservations. I'm staring at the sunset as you come in for a deep long kiss. "I've been waiting weeks to do that," you confide. "I've wanted you ever since my sister sent me your photo." I kiss your square jaw where it meets your ear. You sigh deeply. "Jen, while I'd love to make out with you all night, I want to show you off in that glorious dress." You're diving into my baby blues, but can't help taking a quick dip in my cleavage. I feel your eyes caress my breasts. You're definitely not boring.
I can't help looking at you. The air is thick between us even with the top down. I breathe in the beauty of the evening; air, sea and you. I didn't realize I let out a small moan.
"Jen, we're almost there. I'm going to feed you." Of course I can't help but look down at your groin.
"Nice." Did I say that out loud?
We pull into L'Etoile. I am so excited. The maitre d' greets us, "Monsieur H et Madame X, bienvenue à L'Etolie. Suivez-moi, s'il vous plait." He leads us out beyond the dining room, through a back door. There is a path of shells and red rose petals. My heart swoons.
I take off my peep toes, you take them with one hand, and with the other you hold my hand. I feel the electricity between us building. You walk with me to a fully set table with Wedgwood china and sterling silver utensils. A small Waterford crystal vase filled with flowers from your garden is the cherry on top of the beautiful table. You pull out my chair for me; I sit down as daintily as possible so I don't flash the maitre d' my pussy as he hands us menus. You tell me the chef made a special dinner for us with all my tedious diet restrictions. "Sans beurre, gluten et non fruits de mer pour ma petite amie, vrai?" you double check.
We both order artisan cocktails. Mine is made with gin, lime, elderflower and apricot liqueurs. Yours is a blood orange silver margarita. They both have fancy names. Of course I taste yours and like it better, so you switch cocktails with me. This is not the last time we'll be swapping fluids tonight. This is just the beginning; I feel it. Ummm…
You kiss me deeply as we watch the sunset together. The wind blows my skirt up a bit. I want you, and it's exciting to know that you almost got a peek of my freshly waxed pussy. I'm getting wetter than the cocktail you gave me. I know I have to behave, but every cell of my body wants you to spank my naughty ass.
You would think I would be impressed when the head chef comes out to personally serve us our perfect pairings, but I can't focus. All I can do is feel you. You are paired with everything I'm experiencing. It's akin to making love. It's decadent and the food is delicious but it's obvious to both of us that we're not having dessert here. Not only are we playing footsie under the table, we're feeding each other. You make everything yummier. "Pour vous, Madame X." The chef insists that we take home a special dessert he made for me.
You hold my shoes and carry the dessert. I grab my clutch and hold my skirt down the best I can. You're doing your best not to laugh. I put my shoes on as I'm about to walk through the restaurant again with you protectively guiding me towards the exit. Finally, at your Corvette, you open my door. I get in carefully. I want to just lift up my skirt and demand you eat me for dessert; I don't. I know your family's summered on the Vineyard for years. Everyone knows you, and it would not behoove you to have me in the center of Edgartown.
In the car, you ask me if I want to see your home. You tell me you just had your den redesigned. I would look at a notebook of your doodling if it got me an invitation. As you drive, your right hand is on my knee on top of the edge of my skirt. Ever the gentleman, you attempt to pin my hem down. You take your hand off my knee to swerve around an animal crossing the road. Whoops! Up goes my dress. I give you credit for keeping your eyes on the road.
We make it to your house. I'm flabbergasted. It's a mansion. On the Vineyard!
"Jen," you say, as you cup my heart shaped face in your hands, "honey, it's just a house." You kiss me so delicately I feel I might faint. Getting out of the car you have to help me because my legs are limp. You're enjoying this. You unlock your front door and jokingly carry me over the threshold. My ass is brighter than the moon as it stares up at the stars.
Plopping me on a comfy sofa, you pull me onto your lap. My hemline is now an open circle on top of you. I can feel your cock rising to the occasion. I start grinding on top of you, but you tell me to wait. My face must look like a question mark.
"Jen, I promise you it'll be worth it. I wanted you to see my redecorated den." I'm doing my best not to swear in front of you even in my head, but holy shit! WTF? "Sweetheart, please come see my new den. It's just been redone." I reluctantly nod my head.
You take my hand and lead me downstairs. Your house is a labyrinth. I don't understand why you're getting so excited. I'm sure it's just a man cave on steroids. I'm picturing a mini sports bar with signed photos of athletes and baseballs.
You pull out your keys and unlock the door to your den. My jaw drops to the floor.
It's a den of iniquity. There are a variety of colors, sizes and types of leather whips. They must all be custom made. The smell of the leather is an aphrodisiac. My cunnie juice is leaking down my legs. You smell my scent. It ignites a fire in your moody eyes. They turn colors as you look into my mine with pure desire.
"Jen, come here." I'm insanely turned on now, but I'm anxious; I've never been in an actual dungeon before. You pull my hair at the nape of my neck and nibble my ear. I shiver. I know I'm in for it. You tell me that this is what you wanted from the moment we met.
"Jen, I know what you were doing in the bathroom during the dinner party." Busted. So you weren't just checking up on me. You were listening to me cum under the faucet. Fuck!
"Baby, you've done this before right?" you ask.
"Yes," I say, "but not like this." You ask me my safe word and I whisper it into your ear as I nibble it. My clit is so hard it could cut glass. Your adamantine cock pushes me forward, as you blindfold me with your tie. It smells like cedar and vetiver; like you. You lick my neck as you pick me up and place me on the big black leather table. I can hear you open the door of the big wooden cabinets behind me. You grab something and come back.
You turn me over. You're so ferocious that you break the zipper. "Jen, my tailor will fix your dress. It looks like it was made for you. Maybe I'll have him make you several dresses in this silhouette. And of course I'll take you shopping."
Are you for real? Apparently you are, because you're using some soft, strong, pliable rope to tie me up in some sort of spider web. I can't move, but the rope gives. I have no idea how you learned to tie knots like this. It's not like tying up a jib.
"Is this Shibari?"
Your voice smiles, "Yes Jen. I went to Japan on business and I studied with a Shibari master. I should fly him over to do a session with us." You're cocky. I like it. You unzip your pants and start to stroke yourself.
"I thought you were supposed to wait until I was all tied up."
You take your cock and spank my face. "I can't control myself Jen. I want you in ways I can't put into words." You allow me the pleasure of licking your pre-cum. Then you go back to elegantly rigging me. I feel the pattern of your rope work inside my soul; I don't need a safe word.
You pick me up and carry me to the bondage post where you finish rigging me. I never knew I was such a rope bunny! Once I'm secured to the post you start exploring my body. I can't move. I'm forced to submit and cum continually. You take off my blindfold and tell me you'll be back momentarily with provisions.
"Provisions?"
You answer me with a wink and a smirk.
Back in your den, you blindfold me again so I don't see your bag of tricks. I'm shaking so hard in anticipation. While I feel safe with you, you know how to push my buttons.
I hear foil being unwrapped. The scent of chocolate makes me salivate. You pop a piece of whatever it is in my mouth and kiss me. Ummm…the chef managed to make a magical dairy free treat for you to devour me with.
Thank you for coming on my date with me. Please clap jenorously, highlight, comment, share here and on your socials. I'll support you right back! Jen X rule: if you cum you must clap 50 Times! Take your sticky finger and push that button! Push it until it won't stop cumming….❤ Jen X
If you want to read more about Mr. Hedgefund, please check out In the Electric Closet Part 1 and In the Electric Closet Part 2 where he is my boring date. I'm super horny and masturbate thinking about an old ex.
Both stories will be reviewed by MJ Burroughs in MATT'S SMUT VAULT on tehben.com on July 15th. "Having this outlet to be creative allows me to be a bit of an artist for a change. I actually feel that I'm really doing something and contributing to the artistic world in my very small way," says Burroughs in his latest interview by Y.Ballo